SHANGHAI — This summer's "Crazy Rich Asians" yielded strong revenue figures for a Hollywood production featuring an all-Asian ensemble, becoming the highest-grossing romantic comedy of the last decade. But just over three months later, the blockbuster received a frigid wintertime reception in China.
On Friday, "Crazy Rich Asians" — whose Chinese title translates to "An Unexpected Tale of Picking Gold" — premiered in the country to lackluster ticket sales, with box-office revenues sliding further over the course of the weekend, according to movie-review and revenue-tracking website Maoyan.
By Monday, the film had made a paltry 8.6 million yuan ($1.3 million) in China; meanwhile, the 2016 Mel Gibson movie "Blood Father," released the same day, had raked in 11.8 million yuan, and Bollywood flick "102 Not Out" had amassed over 23 million yuan. On Chinese movie-review site Douban, "Crazy Rich Asians" has earned a middling score of 6.2 out of 10.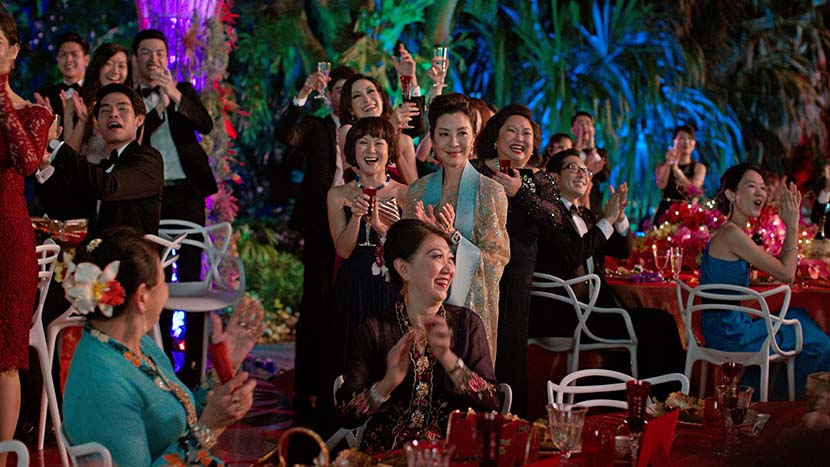 A still from the movie 'Crazy Rich Asians.' VCG
Joanne Liu was one of many moviegoers who felt disappointed after finishing the film on Friday afternoon. She said that the plot was too "Mary Sue" — a pejorative referring to the trope of shallow, unconvincing female characters in works of fiction — and that the lead actors' poor Mandarin abilities were a letdown.
"I think foreigners will like [the film] more," Liu told Sixth Tone inside a Shanghai theater on Friday. "Their takeaway from the movie will be that Chinese people are mysterious and exotic, but we think this representation is far from the truth."
Adapted from Singapore-born writer Kevin Kwan's 2013 novel of the same name, "Crazy Rich Asians" tells the fictional love story of New York University professor Rachel Chu and Singaporean real estate heir Nicholas Young — played by Constance Wu and Henry Golding, respectively — set against the opulent backdrop of the Young family estate in Singapore. The movie is jam-packed with rom-com ingredients — including a stubbornly oppositional mother played by Michelle Yeoh — leading some to describe it as "so Bollywood."
But with Hollywood continuing to face criticism for lacking adequate representation of minority groups, "Crazy Rich Asians" came as a breath of fresh air in the U.S. American audiences turned out in droves to spend a total of $173 million on tickets by November — making the flick one of 2018's top-grossing movies — while critics hailed its all-Asian cast. The soundtrack has also received praise for highlighting Chinese standards and vocalists, from Chinese jazz singer Jasmine Chen's take on the classic "Waiting for Your Return" to Katherine Ho's Mandarin adaptation of Coldplay's "Yellow."
Chu Mufeng, a Beijing-based film critic, said the movie was largely made with Western audiences in mind, which may explain its poor performance in China over the weekend, as well as the low number of advance bookings at several Shanghai theaters in the days ahead. Yet despite its portrayal of the nouveau riche and the East as a whole, the movie still manages to depict Asians as ordinary people, he said.
"At least it's not like other films that portray Asians, especially Chinese people, as sick and tiny," Chu told Sixth Tone on Friday. "By comparison, the Asians in this movie seem normal."
The bootleg DVDs and pirated versions easily found on the internet could also have contributed to the film's mediocre debut. Penny Peng, a 26-year-old freelancer, told Sixth Tone on the day of the movie's premiere that she wouldn't be making a trip to the theater, and would instead opt to watch it online. Though she was well aware of the film's weaknesses after reading reviews, she said she still planned to see it out of a sense of duty and pride. "The movie may present a 'rich and willful' stereotype that foreigners consider negative, but as an Asian, I'm proud of this stereotype," she said.
In recent years, Chinese audiences have shown an increased interest in topics not typically covered in mainland productions. Foreign films centered on gender equality and social justice — such as the recent Bollywood hits "Dangal" and "Secret Superstar" — were box-office successes, winning the hearts of moviegoers across the country.
"If the cast is definitely important to the Chinese audience prior to the release, the narrative and the cultural approach of the film will determine if it has legs or not," Emmanuel Benbihy, a French film producer living in Shanghai, wrote in a post on his personal WeChat account. "The prospects for 'Crazy Rich Asians' on the Chinese market do not look good ... Nevertheless, it is a well-crafted movie that did create a precedent in North America."
Correction: The box-office revenues for screenings in China are in Chinese yuan, not U.S. dollars as previously reported. This story has also been updated to clarify Emmanuel Benbihy's remarks.
Editor: Bibek Bhandari.
(Header image: A poster for the movie 'Crazy Rich Asians.' VCG)