SHANGHAI — When Benjamin Kontoh rides the subway in Shanghai, he often overhears comments about him from local Chinese.
"His hair is so interesting."
"He's dressed so nicely — this guy is very cool."
"Oh, he's so black."
If they happen to strike up conversation with Kontoh, a fluent Chinese speaker, they soon discover that the Ghanaian expat is a bespoke tailor, fashion entrepreneur, and event organizer with one office in Shanghai and another in Suzhou, a city in neighboring Jiangsu province.
"When they find out I'm a fashion designer, it's like, 'wow, a black guy? I thought you were a DJ or a basketball player,'" says 35-year-old Kontoh, who wears a purple suit jacket and has his hair in dreadlocks. "I'm just glad to help clear a lot of stereotypes."
Shifting assumptions like these is one of the reasons why American think tank staffer Olivia Nadine and Ugandan artist James Sserwadda set up Black Expo, an event held most recently on Sunday in Shanghai. At a historic building in the city's former French Concession, 30 businesspeople — including Kontoh — exhibited their wares, from colorful handmade Ghanaian jewelry to T-shirts emblazoned with the words "Black Legacy." On an outdoor stage, local performers rapped and sang to a mostly expat crowd who had paid the 60-yuan fee to attend the expo, the third one put on by the Beijing-based duo this year.
In 2017, after noticing that black entrepreneurs in China often struggle to get the exposure needed to grow their businesses, Nadine and Sserwadda decided to start up Black Expo. They also hoped to show Chinese and expats alike that products created by black entrepreneurs aren't exclusively for black people, says Nadine. She mentions shea butter, an African product, as an example; during Beijing's dry winters, the plant-based skin moisturizer can be used by people of any background. "Because [these black entrepreneurs] make such high-quality products, everyone — regardless of whether they're black, white, Asian, Hispanic — likes and appreciates it," says Nadine. "If it's a high-quality product, that's what we want to highlight — not only because [the business owners are] black, but because they're doing successful, creative things, and we just want to create that space to expand the capacity."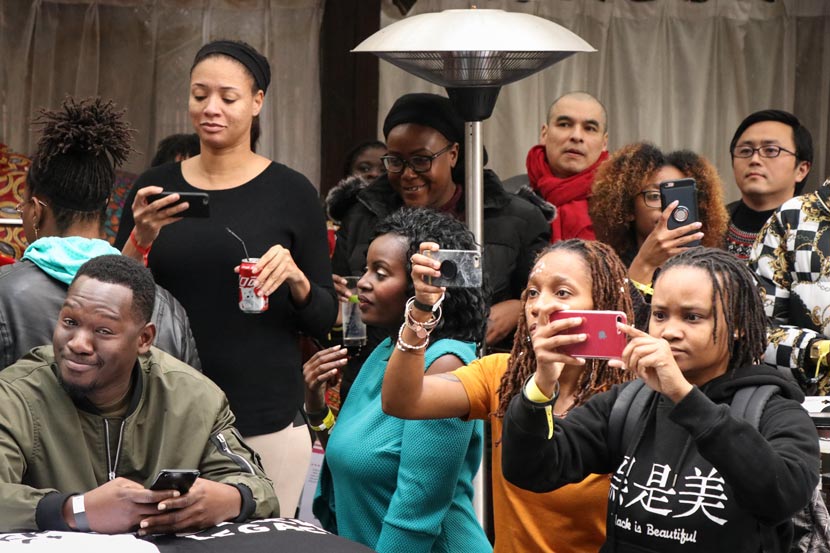 Spectators watch a local rapper perform at Black Expo in Shanghai, Nov. 24, 2018. Kenrick Davis/Sixth Tone
Participants also see such events as helping to break down pervasive racial stereotypes held in China against black people, who are often assumed to be musicians or athletes rather than businesspeople. While the experiences of African entrepreneurs in the southern Chinese port city of Guangzhou have been well-documented in recent years, Kontoh maintains that this is just a small piece of the picture. "Those guys are just trade people — buying and selling — but there's a vast number of Africans [and other] black people in different parts of China … trying to make it out here," he says.
Sixth Tone spoke with four entrepreneurs with ties to Black Expo about their experiences of running businesses in China.
Whitney Omari-White: Education and Fashion Entrepreneur
Running a business as a black woman in China can feel like an uphill struggle, says Whitney Omari-White. A self-professed superwoman who runs two businesses on top of being a mother and a full-time teacher, Omari-White often feels like she's not taken seriously by potential business partners until she shows her U.S. passport. Compared with America, the racial discrimination she faces in China is less life-threatening but more frequent and overt, she says.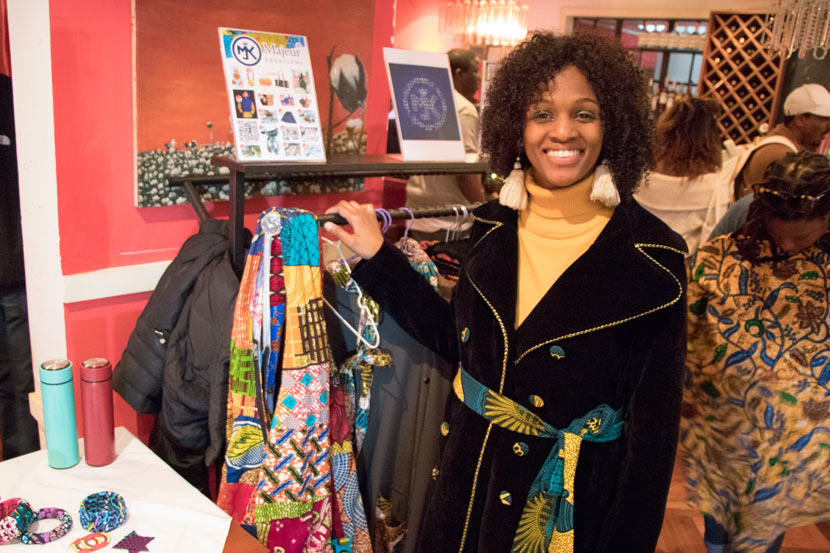 Whitney Omari-White poses next to Ghanaian-made clothes at her Black Expo stall in Shanghai, Nov. 24, 2018. Kenrick Davis/Sixth Tone
"The common concept in China is, if you're black, you're from Africa, and they have a very horrible perception of what Africa is," says Omari-White. In Chinese media, Africa is often connected to war, poverty, and disease.
Last month, Omari-White launched Majeur Kreations, a startup helping Ghanaian women sell clothing to China and the U.S. "I saw that there were many seamstresses and designers who do wonderful work but don't have the opportunity to expand their markets to other places," says the entrepreneur, who displayed a long row of brightly colored Ghanaian-made garments and accessories at the expo.
Through her business, Omari-White hopes to showcase Africa's many good sides, such as the talent and dogged persistence of its people. "All too often, Africans — especially women — are painted as helpless people who sit around and wait for others to pick them up," she says. "Our goal with Majeur is to debunk that myth and show the creativity and persistence that the continent exudes even when facing extreme obstacles."
Anita Nuo-Ire Maala: Health Product Entrepreneur
In between studying surgery and dermatology, Ghanaian medical student Anita Nuo-Ire Maala runs her own brand for skin and hair care from her dorm in Zhangjiakou, a city in northern Hebei province. She launched the business, Nuobelle, a year ago and now sells a line of nine products — including shampoo, hair conditioner, shea butter, and body oil — mostly one-on-one via the social app WeChat.
When Maala came to China in 2015 to begin her studies, she couldn't find appropriate care products for her Afro-textured hair. So she began making her own, sourcing raw ingredients from back home. Three years on, the chirpy 22-year-old is now looking to expand her business and hopes that events like Black Expo can bring in more sales. She says she's just one of many African students at her university that have started side businesses while studying.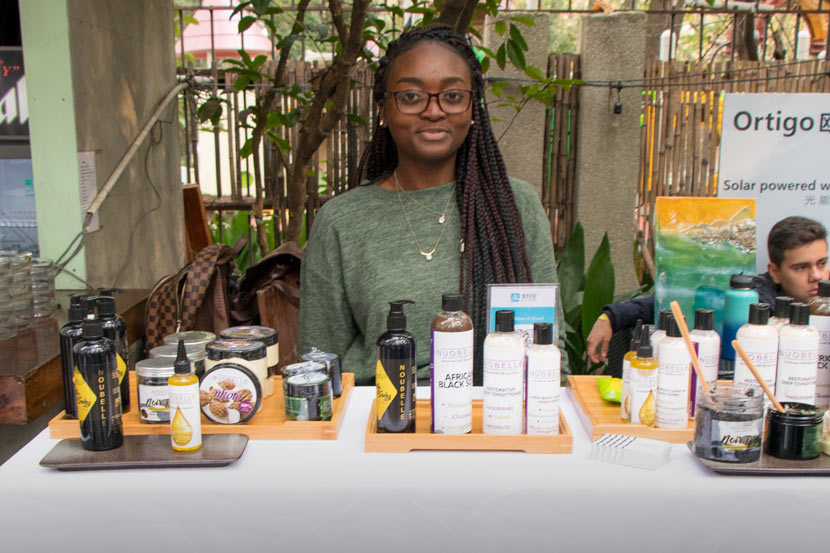 Anita Nuo-Ire Maala poses at her booth for hair and skin care products at Black Expo in Shanghai, Nov. 24, 2018. Kenrick Davis/Sixth Tone
Chinese locals are curious when they come across Nuobelle, especially its skin care products, she says. "I'm black, and they're just curious about what it is we blacks are up to … [or] what the stuff is, and some of them are really excited to try them out," she tells Sixth Tone. Although Maala sometimes encounters the common assumption that African products are only for African users, Maala says her skin care items are for everyone. "It doesn't matter what type of skin you have," she says.
SKINNY O.G.: Music Producer and Performer
I'm in the KTV talkin' about the music and the history,
drinking like a fish, like my liver had immunity.
In China, we laugh, live, love it the most,
and if you don't come through, then you just won't know
about the tai chi and about the pig feet
and about the baijiu, so my homie, let's meet.
So goes a recent rap from Isaac Eugene — aka SKINNY O.G. — and fellow performer Queen Diamond, who performed at Black Expo, in a newly released track. In early 2016, the duo set up Black China Music Company, or BCMC, a Shanghai-based hip-hop and entertainment outfit that produces music in addition to organizing events and tours.
A native of New York City, Eugene came to China in 2015 on a mission to import authentic hip-hop and raise the profile of China's music scene. Since arriving, he has toured dozens of cities — including China's hip-hop capital Chengdu — and has visited places that had never before seen any foreign performers, let alone black ones. "There are relatively few black people in China," says Eugene. "So anywhere we went, we immediately stood out."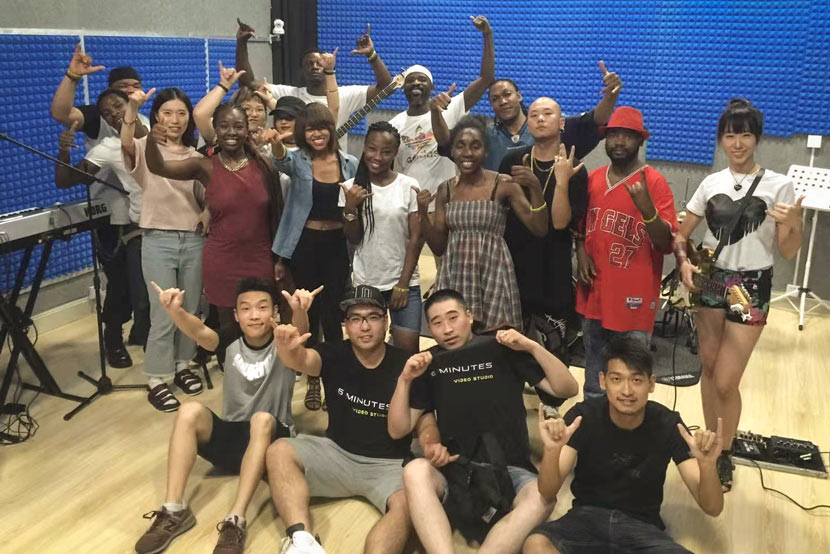 Isaac Eugene (back row with white bandana) poses for a photo with artists and technicians from Black China Music Company in Shanghai, 2017. Courtesy of Isaac Eugene
But sometimes BCMC stands out for the wrong reasons. Last year, the organization arranged for some of its dancers to wear bikinis while twerking in subways and other locations around Shanghai, with clips of the performances soon going viral online. "Needless to say, there were a lot of people who took exception to seeing some girls in bikinis on the train dancing," says Eugene. "But at the same time, there was a huge amount of people who found it very, very entertaining." After the stunt, BCMC's parties started selling out.
During his time in China, Eugene says that he has felt "extremely respected" by local Chinese, which he attributes to the authenticity and quality of his act. He says there is a growing body of discerning hip-hop fans in China who know the real thing when they see it. "If you're good at what you do … then there's no problem in China, because you are what they're looking for," says Eugene.
Benjamin Kontoh: Bespoke Tailor
After moving to London from Ghana as a teenager, Benjamin Kontoh picked up the craft of bespoke suit-making on the famed Savile Row. He moved to China in 2010 first to study, and went on to teach English in Suzhou. After work, Kontoh started taking up tailoring jobs from his apartment, which soon grew into his full-time business: B&S Bespoke, which sells bespoke suits starting from 6,800 yuan ($979) each.
Last year, Kontoh spearheaded Black Fashion Week, a Shanghai catwalk event that was once for the black community but now aims to promote the work of little-known designers from all backgrounds. He was amazed at the number of black participants in last year's show. "Every designer came out with their collection to say: 'Hey, I'm from Wuhan,' 'I'm from Beijing,' 'I'm from Guangzhou,' 'I'm from Suzhou.' It was beautiful."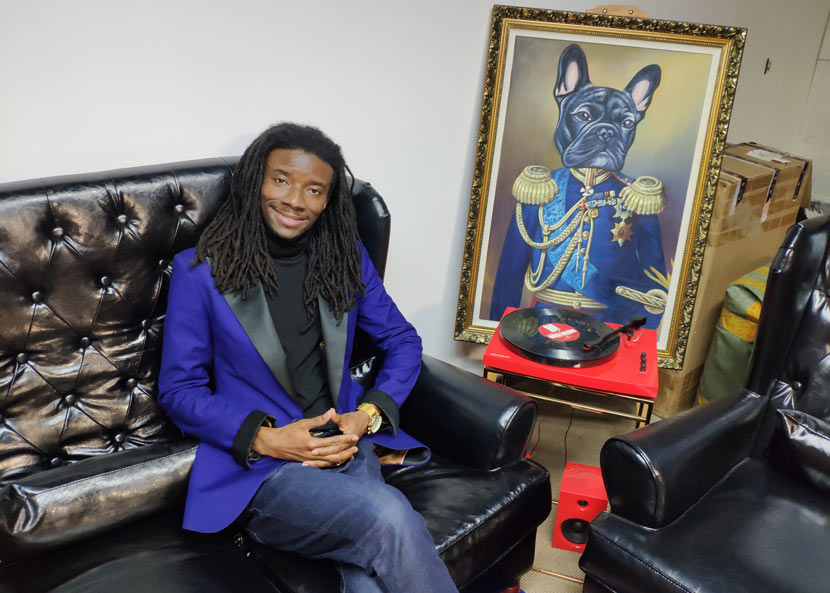 Benjamin Kontoh poses for a photo at his office in Shanghai, Nov. 2, 2018. Kenrick Davis/Sixth Tone
Kontoh gets 70 percent of his business from local Chinese and admits that being a black tailor in China has its benefits. Many clients — some with little need for a suit — are curious to try out his services just for the novel experience. "They want to show to their friends: 'Hey, my designer, my tailor, is black. I didn't buy this from the shopping mall,'" says Kontoh. When the suits are done, clients post pictures of them and Kontoh to social media, which often leads to more sales.
Kontoh's biggest challenge is not his background, but rather the country's lack of interest in bespoke suits. While the superrich have moved beyond conspicuously branded attire from luxury designers, China's middle class remains fixated with brand names. Nevertheless, he keeps an optimistic outlook. "Life is not easy for anybody, whether you're black or not," he says. "But if you do a good job, people will accept you."
Editor: Julia Hollingsworth.

(Header image: Visitors watch a performance at Black Expo in Shanghai, Nov. 24, 2018. Kenrick Davis/Sixth Tone)