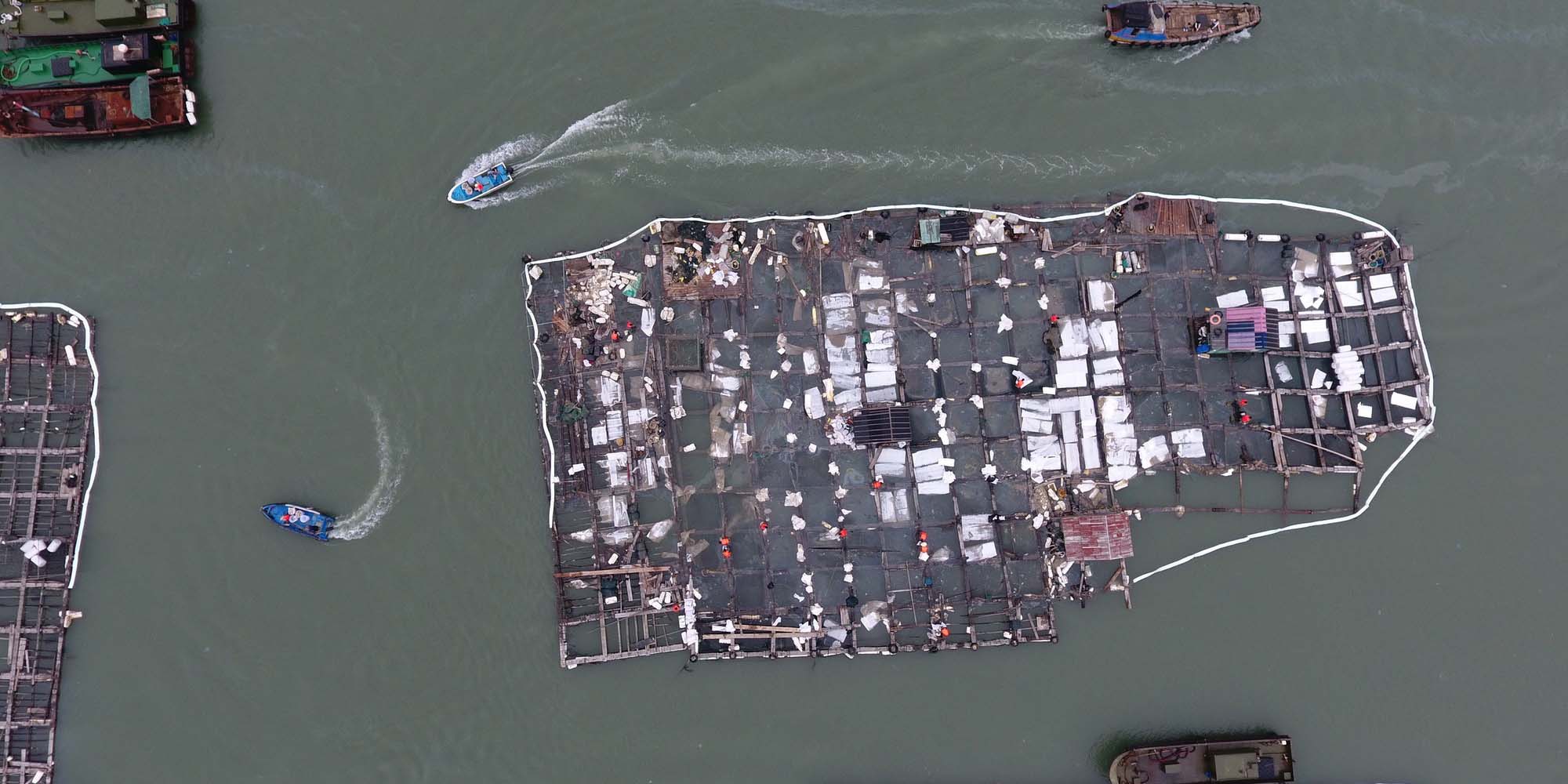 NEWS
Chemical Spill Cover-Up Erodes Trust in Local Government
Quanzhou residents suspect actual amount of leaked C9 fraction still far greater than updated figure of 69.1 tons.
Seven people have been arrested and several officials held accountable after an investigation found that the amount of chemical leaked into the sea earlier this month in eastern China's Fujian province was 10 times greater than initially reported, according to a statement from the Quanzhou municipal government on Monday.
The spill happened at a harbor in Quangang District on the morning of Nov. 4, while Fujian Donggang Petrochemical Industry Company was transporting a chemical from its factory to a tanker ship. Later that day, the district government said that 6.97 tons of C9 fraction — a petroleum derivative that's potentially harmful to humans — had been spilled because of a worn-down connector on the transporting hose.
In the latest statement on Monday, however, the Quanzhou municipal government confirmed that senior management from the company — including its legal representative, Huang Tianren — had held a meeting at which they agreed to hide the fact that 69.1 tons of C9 had actually been leaked. And rather than an old connector being the culprit, Quanzhou authorities said, the pipe had burst from being pulled taut as the tanker ship listed with the tide. Huang was among the seven arrested.
To Quangang District resident Zhuang Longzhang, the disclosure of the actual amount of C9 spilled confirmed suspicions he and other residents had harbored since the day the incident occurred. Zhuang — who lives in Shanyao Town, about 10 kilometers southwest of the harbor — remembers there being an acrid odor in the air on the morning of the spill. "A chemistry teacher at the town high school said there should be more than 7 tons of leaked chemical since even we who live so far away could smell it," Zhuang told Sixth Tone. He and other villagers remain skeptical of the updated figure for the spilled chemical, given that some who participated in the cleanup claim to have collected several hundred tons of C9 each.
"We want the government to apologize because they have been misleading us from the beginning. Furthermore, the government should have explained to us what C9 is in a timely manner," said Zhuang, who knew nothing about the chemical until he looked it up online. It was four days after the spill when the local government revealed details about the leaked C9, a hydrocarbon mixture that contaminates seafood and dissolves Styrofoam fish cages. In severe cases, it can cause headaches and loss of consciousness in humans. Following the spill, 69 residents living near the harbor were hospitalized with symptoms including dizziness, nausea, and throat soreness.
According to Monday's statement, eight government officials in Quangang District have been held accountable for dereliction of duty, with most being either suspended or removed from their posts.
"Local government officials guarded their words as if they were gold, and did not respond to the public's concerns according to the facts — and this is what caused so much panic and anger among residents," an environmental activist who asked to be identified by his pen name, Xianxin, told Sixth Tone. He arrived in Quangang on Nov. 7 and spent six days investigating the aftermath of the spill. "When I arrived, the place was still a mess, despite the government's assurances that everything had been 'basically cleaned up,'" said Xianxin, who has been advocating online for more transparency regarding the spill.
On Nov. 19, a reporter from financial news outlet Caixin said that four men in police uniforms had barged into her hotel room around midnight while she was in Quanzhou reporting on the spill. Although the municipal police bureau later apologized for the officers' misconduct, whether the unwelcome visit was related to her reporting remains murky: She said several people she had seen previously at a government event had followed her on the day of the intrusion.
Zhuang, the Quangang resident, told Sixth Tone that he now has "zero trust" in the local authorities. Although the municipal government made repeated assurances that both the air and water were safe, Zhuang said people in the area didn't dare to eat seafood after the spill, and so the fishers didn't go out to fish. He was alarmed when he realized that C9 can contain benzene, a known carcinogen. Zhuang's 9-year-old son was diagnosed with leukemia in 2012: The boy recently exceeded his expected five-year survival rate. "The symptoms of benzene poisoning don't manifest immediately, which is a horrible thing," said Zhuang.
Quangang is home to several petrochemical factories that began popping up around 2007, when an area near the harbor was designated a base for petrochemical production by the Fujian government. According to a Nov. 9 report by China Youth Daily, some of these petrochemical factories are located less than 200 meters from residential areas, in violation of environmental standards. In 2016, the district government proposed a 550-meter "safety zone" around the petrochemical production area and promised to relocate 52,700 residents living in the area by 2020. Sixth Tone could not determine how many of these residents, if any, have been moved to date.
"The rich people who could afford it moved to other places like [central] Quanzhou and Xiamen," said Zhuang, the local resident. "If it hadn't been Fujian Donggang this time, it would have been someone else causing the pollution." According to Guangzhou-based Southern Metropolis Weekly, residents in Quangang resorted to protesting in front of the city hall in 2009 after their complaints about a factory's sewage went unheeded.
In Monday's statement, the Quanzhou government promised to award 5 million yuan ($720,000) in subsidies to fishers who suffered economic losses as a result of the spill. "Even if there were actually hundreds of tons of leaked chemical, the government should inform the people and tell us how to stay out of harm's way," he said. "In any case, life is more important than compensation, isn't it?"
Correction: A previous version of this story incorrectly stated that the Quangang residents' protests were reported by Southern Weekly. They were reported by Southern Metropolis Weekly, a different publication.
Editor: David Paulk.
(Header image: An aerial view of aquaculture ponds after nearly 7 tons of a leaked chemical dissolved local fishers' Styrofoam traps in Quanzhou, Fujian province, Nov. 9, 2018. IC)