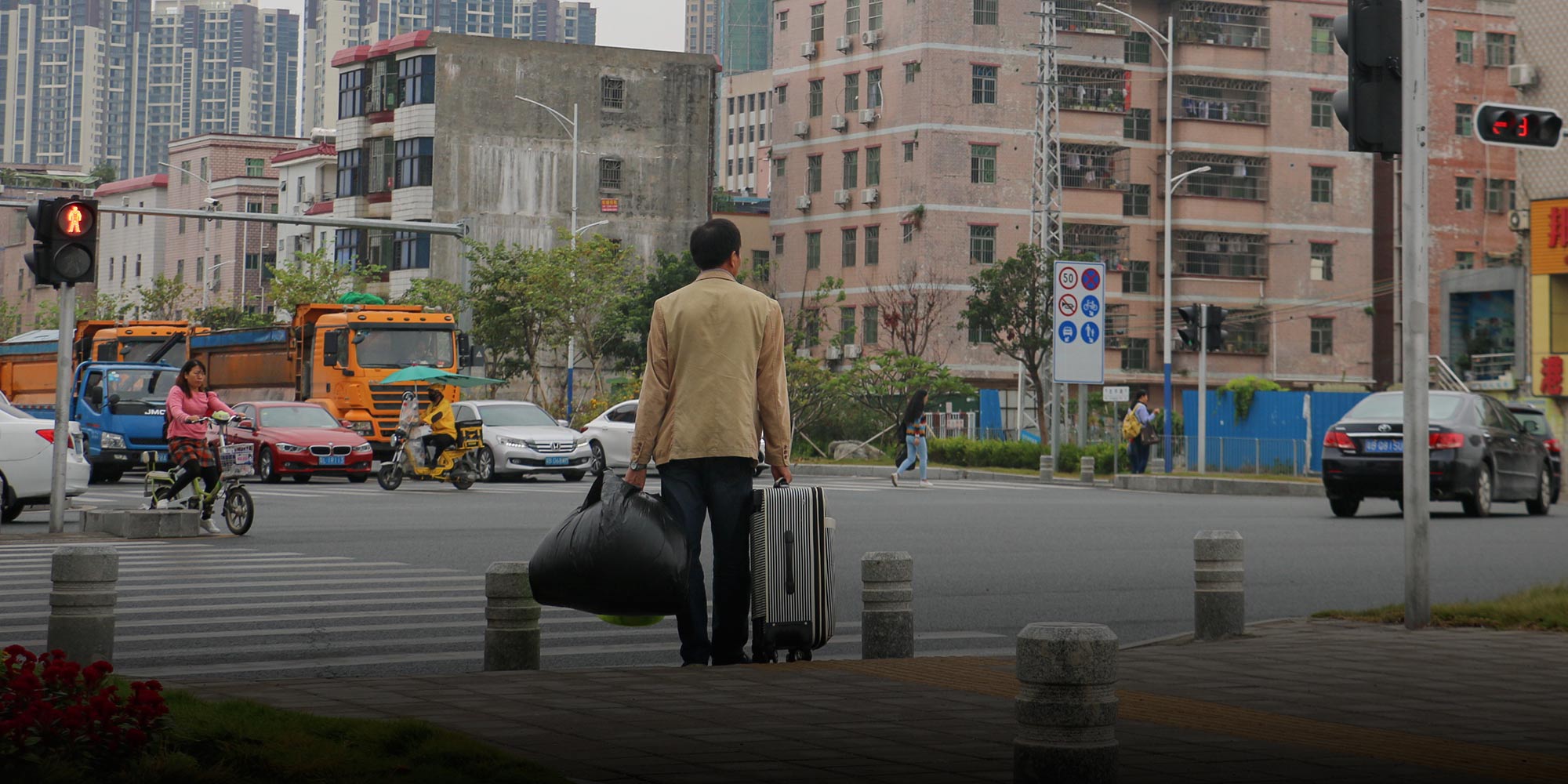 FEATURES
China's Aging Migrant Workers Are Facing a Return to Poverty
As first-generation rural migrants near retirement age, many find themselves back in economic straits.
GUANGDONG, South China — At 6 a.m., the pounding of construction-site machines in Shenzhen signals the start of a new day. In the canteen, 47-year old cook Tan Song'an is busy preparing food for his colleagues — mostly migrant workers from other parts of China.
Tan, a migrant worker himself, never imagined that he'd spend most of his life here. In 1991, he left his village in rural Chongqing in southwestern China and traveled four days to find work in Shenzhen. As part of the so-called first generation of migrant workers, Tan's labor helped his family escape poverty and transformed Shenzhen from a backwater into a shining beacon of economic development. But as he moves into the twilight of his working years, Tan is facing another problem: Years of casual labor, combined with complex and intransigent government policy, means he is unlikely to receive a healthy pension when he retires. Other migrants, having spent decades constructing the megacities of China's economic boom, will live out their days on paltry state stipends back in their hometowns.
China's first-generation migrant workers are edging closer to retirement age, defined as 60 for men and 50 for most women. (Female civil servants retire at 55.) Government statistics show that the number of migrant workers over 50 is growing rapidly, from around 40 million in 2012 to more than 61 million last year. However, less than a quarter of Chinese migrant workers pay into so-called social insurance schemes — Chinese pension plans — and few have enough in private savings to live comfortably after retirement. As a result, millions of migrants face futures that seem unnervingly similar to their impoverished pasts.
Of the 10 long-term migrant workers Sixth Tone interviewed for this story, only one plans to stay in Shenzhen after retirement, because his children have acquired permanent residency in the city. None say that Shenzhen feels like home. A common refrain is the feeling that the city is giving hardworking long-term migrants the cold shoulder as they approach the tail end of their careers. "Shenzhen didn't just grow naturally into what it is now," Tan says. "It was built with the blood and sweat of people like me."
An Uncertain Future
Tan doesn't finish work until 8 p.m. Under glimmering streetlights, he rides his e-bike between the barrack-like workers' dormitories, back to the 25-square-meter studio apartment he shares with his 45-year-old wife, who works at a watchstrap factory, and his 17-year-old son, a high school student.
In the 1990s, as China embraced the market economy, Shenzhen had an aura of power. It was the country's first special economic zone and an early haven for foreign investment and private enterprises. In 1991, the average income in rural areas was 700 yuan (then around $60) per year, compared to more than 5,000 yuan per year in Shenzhen. Tan came here at the age of 20, after reading in a newspaper that families in Shenzhen spent several hundred yuan a month on food — the kind of outlay that was unthinkable to residents in his hometown.
When Tan arrived in Shenzhen, Pingshan District — the now-thriving industrial hub where Tan lives — looked just like his immiserated rural hometown. "It was all hills and paddy fields. The district government building was a beat-up old mud house," says Tan, a man with rough, tanned skin and gray hair. "Back then, hundreds of young people from all over the country lined up outside the factories to compete for one job."
Tan worked at two printing factories during his first nine years in Shenzhen. He often worked on the production line until midnight, for around 200 yuan a month — then around half the average wage in Shenzhen. The work was dangerous: An acquaintance at a nearby competitor's factory lost a hand in an embossing machine. Soon after that accident, Tan quit printing and became a cook. In the 18 years since, he's served meals at eight different factories and construction sites. His current job pays 5,000 yuan a month — still just over half of the Shenzhen average.
For most of his working life, Tan never had social insurance. These days, when Chinese companies sign contracts with employees, each party is legally obligated to pay a monthly contribution to the employee's social insurance scheme. When the employee retires and claims their pension, they receive a monthly stipend based on what they have paid into the scheme. But because the majority of first-generation migrant workers, including Tan, rarely signed contracts with their employers, few of them put away any money for the future. At the time, Chinese companies enjoyed access to a vast supply of casual labor, and gave short shrift to migrants hoping to build up nest eggs. "They could just fire us and replace us with new workers," Tan says.
In the freewheeling '90s, retirement rarely crossed Tan's mind. "When I was in my 30s, [it] seemed so far away," he says, adding that he didn't expect to stay long in Shenzhen and instead spent his wages on more immediate financial concerns. "I was only thinking about my day-to-day life, and dating my girlfriend."
The years passed. Tan found jobs, quit them, and found others. His girlfriend became his wife, and then mother to their son. In 2011, when Tan turned 40, he began wondering what would happen when he couldn't work anymore. The couple barely had any savings, despite both working in Shenzhen for two decades. "I started to worry that we had little in the way of a safety net. When I was between jobs, I had no income. I figured that we had to do something," Tan remembers.
At that point, only one employer had regular social insurance payments with Tan: a company he worked for as a cook between 2008 and 2009. Tan now realizes the importance of keeping up with the payments. In China, there are two main types of social insurance schemes: those for people classified as "employees," and those for people classified as "residents." In Shenzhen's version of the former scheme, individuals pay 8 percent of their monthly salaries, and companies pay an amount equivalent to 13 percent of the employee's monthly salary, resulting in a comparatively large windfall when the individual retires. In the latter scheme, individuals save what they can, and local governments pay a small contribution. Because employees contribute more money to the scheme than residents, long-term rural migrants sometimes re-register as urban employees in the cities where they work and benefit from local social insurance schemes.
But although certain cities have allowed migrants to become fully fledged urban employees since 1999, many companies still shun workers who ask them to pay into their social insurance scheme. Tan says that when he tried to get another employer to pay the contributions in 2012, the company dismissed him. In addition, because few migrants stay in one area for very long and social insurance policies vary by place, most such workers prefer to save money themselves, rather than set up often-complex pension schemes. In 2017, about 62 million migrant workers had signed up as urban employees, about 22 percent of the total number of such Chinese workers.
For Tan to obtain an employee pension in Shenzhen, he must pay at least 15 years of social insurance contributions prior to retirement. The scheme is exacting, but the payoff is worth it: Shenzhen is one of China's wealthiest cities, and its pension schemes are some of the highest in the country. Last year, the average retiree here received 4,400 yuan a month. By comparison, the basic residential pension in Tan's hometown was just 90 yuan a month.
But until recently, Tan only had two years social insurance payments to his name despite having worked in Shenzhen for 27 years. If he couldn't prove more of his substantial work history to the authorities, then upon his retirement the government would only return him his two-year contribution, minus the money paid by the state and his former employers. Tan would have been reclassified as a rural resident, destined to receive a pension of a paltry 90 yuan a month. The gaps in Tan's social insurance record were causing problems for his family, too. Earlier this year, his son's first-choice high school demanded that Tan provide evidence of three years' social insurance contributions before enrolling the boy.
To resolve the issue, Tan quit his job as a cook and began an exhausting three-way battle with his former employees and the authorities to prove his work history and back-pay his social insurance contributions. So far, he has won back a total of seven years' social insurance — still short of his total labor contribution to Shenzhen, but enough, at least, to get him over the 15-year mark if he works until 60. If he retires then, Tan's pension might be 1,300 yuan per month — low for Shenzhen, but far higher than the basic pension in his hometown, where Tan plans to return.
Apart from their social insurance contributions, Tan and his wife also have a property in their hometown and about 100,000 yuan in personal savings, but they don't plan to use the money on their pensions. Instead, it will go toward their son's high school and university tuition. In the family apartment, his son's paintings plaster the door, and his bookcases and desk dominate the small room. Tan hopes his son will get into the country's top art college.
"I go through all these troubles because I hope to at least have some insurance when, someday, I'm unable to work. I'm not a young man anymore," he chuckles, yawning and settling deeper into a chair. "We have worked hard for years in this city. We are still contributing to it. But it's not returning the favor," Tan says.
'We Need to Keep Working for 20 More Years'
Despite Tan's woes, he will at least have some money to get by in retirement. But other long-term migrants may spend their later years with virtually no financial support.
Yang Xiufeng is a 52-year-old former factory worker from the central Chinese province of Hubei. She has worked in Shenzhen for 22 years, but says that for most of her working life, she neither knew about, nor fully understood, the notoriously complicated social insurance system and its role in providing money for her retirement. Instead, she spent most of her earnings on her family.
She and her former employer — a plastics factory — only started contributing to Yang's social insurance scheme in 2013, when she was 47. According to current Shenzhen regulations, if migrant women start paying social insurance after the age of 40 and migrant men after 50, they cannot be reclassified as "employees." Since Yang left the factory at 50, she has received some of her individual contributions, but is still only eligible for an official state pension of 90 yuan a month. Like Tan, she is locked in a protracted battle with her former employers to prove her work history to the state.
Yang worked at the plastics factory since she came to Shenzhen in 1996. She sacrificed a lot for the job, she says, recalling her relationship with her now-estranged son whom she entrusted to her parents to raise, her lost connection to her hometown, and her health problems — like short-term deafness and a uterine fibroid she had removed — that leave her feeling fatigued.
Yang and her husband, a security guard who also hails from Hubei, managed to put aside 140,000 yuan in personal savings over the course of their decadeslong careers. But like Tan, they were reluctant to use that money on themselves. A few years ago, the couple spent all the money on the down payment for an apartment in Zaoyang, a city near their family home in Hubei where their son — a seller of automobile components with a variable income — lives. Yang and her husband hope the apartment will one day help their son find a wife. The mortgage is 3,000 yuan a month; the couple pays 2,000 yuan of it, and the son pays the remainder. A further 500 yuan goes toward the rent in Shenzhen, a city with high living costs. Yang's husband currently earns less than 4,000 yuan a month, so although Yang has reached retirement age, she recently took on a job in a spa that pays just under 3,000 yuan a month, to help keep the family afloat. "Realistically, we probably need to keep working for 20 more years," Yang says.
Many migrants choose to spend their personal savings on their children's futures instead of funding their own pensions, says Lu Huilin, a sociology professor at Peking University, adding that in many parts of rural China, children would customarily return the favor by financially supporting their parents in old age. But as more and more young people take on chronically low-paid jobs and living costs continue to rise, that trend is reversing. "Most of the first-generation migrants' children can't support their moms and dads after retirement," says Lu. "If their sons get married, the parents often go out to work again to earn more money for the betrothal gifts and the apartment."
Yang wants to return to her hometown and take care of her own elderly parents. But with her son's mortgage, she doesn't think she can afford to stop working. Jobs in her hometown are scarce, and those that do exist are often menial, like cleaning or road-sweeping. Other returnee migrants farm their own land, but a state-affiliated village collective has requisitioned Yang's land in her family's absence, without paying her any compensation. "I don't know what I'll do if I go home," she says. "I'll have no land and [a low] pension. So, I don't want to give up [fighting for an employee pension]."
Having spent so much of their lives away from their birthplaces, many long-term migrant workers say they no longer feel truly welcome in the villages and towns to which they plan to return. "In all my years here, I've never once felt like I belonged," says Tan.
Back in his family's little apartment, Tan sits back in his low wooden chair. "What's home to me?" he muses. "How about a place where I at least own an apartment and can't be evicted at any time?"
Nowadays, ultramodern skyscrapers have supplanted the muddy marsh that greeted Tan all those years ago. The workers he cooks for are building Pingshan District's brand-new commercial hub. After construction began on the project last year, housing prices in this once-affordable area skyrocketed, and Tan's rent doubled. In essence, Tan is working to price people like him out of the places where they live.
Outside his window, brand-new buildings soar into the sky. "So many high-rises, so many apartments," he murmurs. "But none of them will ever be ours."
Editor: Matthew Walsh.
Correction: This article originally misstated Yang's retirement status and the sources of her family's household income. This has now been corrected.
(Header image: A man carrying luggage waits at a crosswalk in Pingshan District, Shenzhen, Guangdong province, Nov. 3, 2018. Cai Yiwen/Sixth Tone)