November is peak season for marathons in China, with almost 60 such races packed into a mere 30 days. Yet even as interest in running has exploded around the country, far too many of these events have been overshadowed by tragedy: More than 15 runners have passed away mid-race over the past four years, including one this January at a race in Hong Kong. The leading cause of death? Cardiac arrest.
Unfortunately, the way the media covers these incidents has given rise to a widespread misconception that the deceased are all amateurs who spent too little time preparing and paid the price — a characterization that lets race organizers off the hook. Even elite athletes are not immune to mishaps, and while many Chinese marathons abide by stringent safety standards, some organizers cut corners or skimp on their emergency response systems, leaving event staff to try and make emergency medical interventions without adequate training.
That's where organizations such as the one I work for, First Respond, want to help. Since 2013, First Respond has provided first-aid training and emergency management services to over 300 marathons around the country. In that time, our staff have administered lifesaving emergency aid to 14 runners suffering from cardiac arrest. In a sign that China's national racing authorities are finally waking up to the need for improved safety procedures, in 2017, the Chinese Athletic Association and RunChina.org contracted us to provide emergency support services at their events as well.
Cardiac arrest is a risk in any endurance sport, including marathons. But an individual's chances of survival are much higher if they receive effective CPR or AED defibrillation within the first four minutes — a crucial stretch known as the "golden period." Although organizers keep ambulances on site, it's not realistic to expect them to respond in such a short amount of time, especially given the presence of crowds and closed-off roads. This can lead to deadly delays in treatment.
The aim of emergency first-aid organizations such as ours is to help bridge the gap between the onset of symptoms and the provision of professional care with a network of certified first-aid volunteers. We train staff and volunteers to alert organizers and medical professionals to the existence of an emergency, conduct effective CPR, and use a defibrillator. The goal is to keep the patient alive long enough for the ambulance to arrive and for them to be transferred to a nearby hospital where they can receive the specialized care they require.
The first person treated by a First Respond volunteer was actually a spectator, not a runner. During the 2013 Shanghai Triathlon, our volunteers administered effective and prompt care to a woman who had collapsed, keeping her alive long enough for an ambulance to arrive. After her recovery, she — together with many members of her family — took part in our first-aid trainings, and they still volunteer with us today.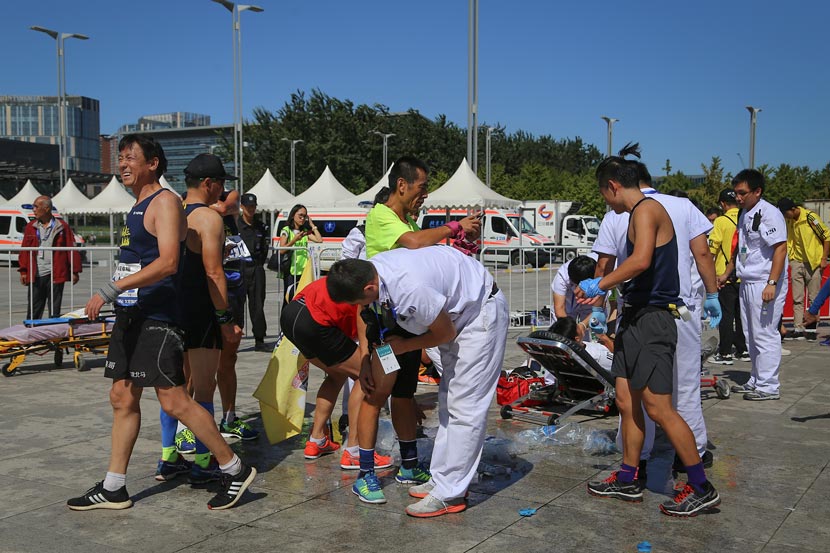 Medical staff care for injured runners during the 2017 Beijing Marathon in Beijing, Sept. 17, 2017. Chen Muyuan/VCG
I had joined First Respond as a volunteer earlier that year, and in 2015 I was promoted to a paid full-time position. One of my most vivid memories of my time as an advocate and first-aid worker involves a runner who went into cardiac arrest at the 22-mile mark of the 2015 Shanghai International Marathon. Thankfully, trained members of our staff were on hand to administer first aid, saving his life. At our post-race debriefing, we made sure to thank each and every one of the 283 volunteers on duty that day, regardless of their role. Without enough volunteers to ensure coverage of the entire racecourse, there's a chance the outcome would not have been as happy.
The sad truth is that cardiac arrest is far more likely to be fatal in China than in a country such as the United States. While there are no reliable statistics on marathons, the overall cardiac arrest recovery rate in Chinese cities is under 1 percent — well below the U.S. national average of 15 percent, a figure that includes rural areas. Large American cities like Seattle and New York boast recovery rates of over 50 percent.
Part of the problem — and one reason why safety remains an issue at many Chinese marathons — is a lack of first-aid equipment and basic medical knowledge. A nationwide shortage of defibrillators is a common source of frustration for marathon organizers, and only makes it more difficult to ensure runner safety.
Equally troubling is the widespread lack of basic first-aid knowledge among ordinary Chinese. Last year, First Respond surveyed almost 40,000 netizens to get a better idea of people's ability to act in emergency situations. The questions covered basic medical problems ranging from nosebleeds and burns to drowning, electric shock, and cardiac arrest. The results surprised us: Only 14 percent of respondents passed.
In other words, it can be hard for marathon organizers to recruit enough trained volunteers to staff their events. To address this deficiency, we partnered with the American Heart Association (AHA) to hold first-aid training sessions in 39 cities around China. To date, we've conducted Heartsaver First Aid CPR AED courses — based on a curriculum designed by the AHA — for roughly 20,000 trainees. We've also trained more than 100,000 young Chinese in basic first-aid and CPR procedures. Although this is a drop in the bucket when compared to China's overall population, we remain optimistic that organizations such as ours will one day empower millions to respond to health emergencies and save the lives of the people around them.
The growth of China's marathon industry has largely outpaced efforts to regulate it. Even as demand for health and emergency response services has spiked, investment in equipment and training has lagged. Ultimately, the safety of an event depends on organizers' commitment to and awareness of these issues; If they try to cut costs on health and safety, the risk of participating rises accordingly. This cannot be allowed to happen.
At present, China does not host any of the six World Marathon Majors. If and when it does, however, I hope that runners will be able to participate secure in the knowledge that everything possible has been done to ensure a safe and enjoyable race.
Translator: Clemens Ruben; editors Wu Haiyun and Kilian O'Donnell.
(Header image: The starting line at the 2018 Shanghai International Marathon, Nov. 18, 2018. Shen Zhenyu/VCG)