Age has taken its toll on Zhu Chengying. Never particularly tall, the 82-year-old has acquired a slight stoop, and his silver hair is starting to recede. Only his eyes, fiercely intelligent and brimming with energy, offer any hint that the man standing before me is a legend: Zhu is among China's last master coffin painters, a guardian of one of the country's most ancient and endangered cultural traditions.
The Chinese word for coffin — guancai — implies a blessing of sorts. The term is a pun on shengguan facai, an idiomatic expression that translates to: "May you be promoted and become wealthy." This invocation isn't meant for the benefit of the coffin's inhabitant — though many Chinese believe it's possible to accumulate both power and wealth in the afterlife — but their descendants. It's become cliché to point out that funerals are for the benefit of the living and not the dead, but this saying holds especially true in China. One of the core tenets of the traditional Chinese practice of ancestor worship is that a person's forebears can intercede on their behalf, protecting their living descendants from evil and helping them flourish on earth.
Of course, spirits have feelings, and so if they're neglected, they may decide to let their heirs fend for themselves. Those looking to secure their ancestors' good favor and their own good fortune might throw extravagant funerals for their family members, splurging on everything from flowers to paid mourners. Equally important was providing the deceased with a worthy final resting place. For as long as most residents of the northwestern city of Lanzhou can remember, this has meant placing a call to either Zhu Chengying, his sons — Zhu Keshan and Zhu Ketang — or one of their fellow coffin painters.
What is coffin painting? By Liu Jingwen/Sixth Tone
The highly specialized nature of coffin painting, along with Chinese cultural taboos surrounding death, have dissuaded many would-be practitioners from taking up the craft, which has in turn made it a lucrative business. In the early 1980s, Zhu Chengying could earn more than twice the monthly wages of the average Lanzhou worker from painting a single coffin. Today, however, the industry is on its last legs. Following a government-imposed burial ban and the broader erosion of traditional culture and faith brought about by China's rapid modernization, there just isn't much call for coffin painters in Lanzhou anymore. With Zhu and his sons — who are both already in their 60s — not getting any younger, there's a real risk that one of China's most ancient and culturally significant traditions will soon permanently disappear.
One of the oldest and most well-known painted coffins so far discovered in China dates back over 2,000 years, to the ancient kingdom of Chu. Unearthed in the central province of Hubei, the coffin's interior is painted red, whereas the exterior is a smoky black. The outer paneling is covered in an exquisite dragon and phoenix pattern, its craftsmanship a symbol of the deceased's noble rank.
Like so much else in China, however, coffin painting is a highly regionalized art form. The Lanzhou style practiced by Zhu and his family is a more recent innovation, with roots that can be traced back 450 years to Peng Ze, a Lanzhou native and high-ranking official during the Ming Dynasty. After Peng died, the Longqing Emperor had him buried with honors, and Peng's coffin was painted to match his official robes: jade bands against a red background. At the coffin's head, the artist painted a python, which was a symbol of Peng's official rank; At the base he painted a crane, which was a sign of the emperor's faith. Ever since, Lanzhou residents have adopted this unique pattern as their own, spurning the plainer, predominantly red and black designs found elsewhere.
Zhu Chengying's coffin-painting career began when he was 18, when he took an apprenticeship with the well-known Lanzhou artist Zhang Ye. Master Zhang, as Zhu still refers to his teacher, taught Zhu to paint both coffins and temple murals — skills that would sustain him for the rest of his life.
It took decades of practice and countless coffins for Zhu himself to be called a master — and he, like other coffin painters, prefers not to use the term when referring to himself. Coffin painting is not a simple process and requires a knowledge of techniques and materials that go well beyond a brush and palette. Some, such as "floating" — one of Zhu's specialties, in which figures from Chinese mythology are sculpted from cardboard and wire and fastened piece by piece onto the coffin — are known only to a select few. Having always been a rare skill, floating now verges on extinction: Even Zhu's sons, who learned at their father's feet, are not as proficient as he is.
The most difficult piece the Zhus have ever had to paint, however, was difficult for reasons other than technique. In 1993, after Zhu Chengying's mother died, father and sons joined together to give her a coffin fit for a queen. Eschewing showier techniques, they settled on a classic: the baishou. While it may not be as visually arresting as a sculpture, the baishou — which consists of 100 variations on the Chinese character for "long life" lining the exterior panels of the coffin — has deep roots in Chinese culture. In experienced hands, its exquisite detail can be every bit as beautiful as the most complex piece.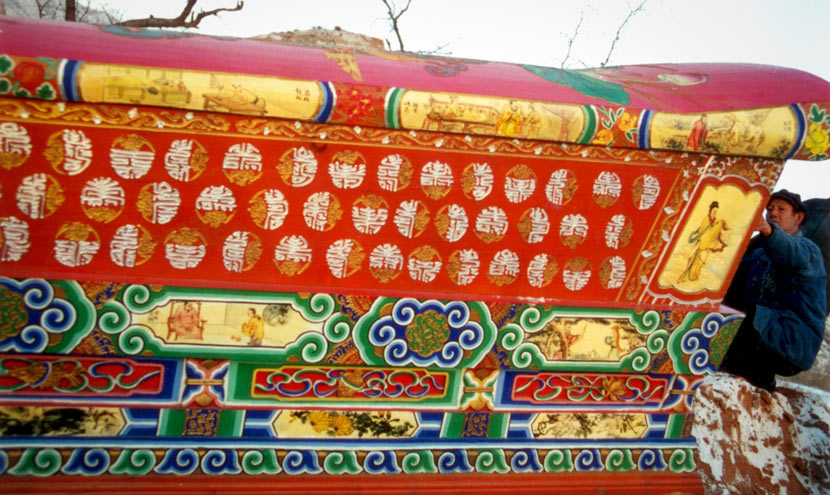 A 'baishou' patterned coffin in Lanzhou, Gansu province, Jan. 16, 2005. Courtesy of Li Hui
Unfortunately — though the family did not know it at the time — the coffin painting industry in Lanzhou had already peaked. Beginning in the late 1990s, to conserve farmland, the local government began enforcing longstanding rules that required bodies be cremated instead of buried. Lanzhou's coffin painting industry has withered away as a result, and Zhu is now mostly retired, while his sons make their living by painting temple murals, not coffins.
Zhu Chengying and his family were among the lucky ones. Zhang Ye taught Zhu Chengying how to paint temples in addition to coffins, a skill that he later passed on to his sons. This has provided them with a steady source of income, even as coffin work has dissipated. Many of Lanzhou's other coffin painters were not so fortunate. After the government tightened regulations, most simply retired. Some now tutor their grandchildren in more traditional arts, while others have simply taken jobs working as security guards
The tradition no longer commands the same respect from the broader public anymore. Zhu Chengying likes to tell the story of a man who came to him with a very particular request: He wanted a bust of a tiger's head affixed to his coffin. Zhu patiently explained to the man that tiger imagery was reserved for those of some accomplishment, such as having graduated from university. Upon hearing this, the man haughtily informed Zhu that his son was a high-ranking official, and demanded Zhu sculpt a tiger's head for him anyway, but Zhu wouldn't budge.
"Coffin painting is all about cultural meaning," Zhu tells me. "We have to show respect and care in passing on the traditions of our ancestors. We cannot treat them lightly."
Although the public may be apathetic about such matters, the local government has taken note of the practice's gradual demise. In 2011, it designated coffin painting part of Lanzhou's "intangible cultural heritage" and started collecting resources and images of painted coffins to preserve for future generations. Yet there are few signs it has any intention of doing the one thing that could save the industry: loosening the burial ban.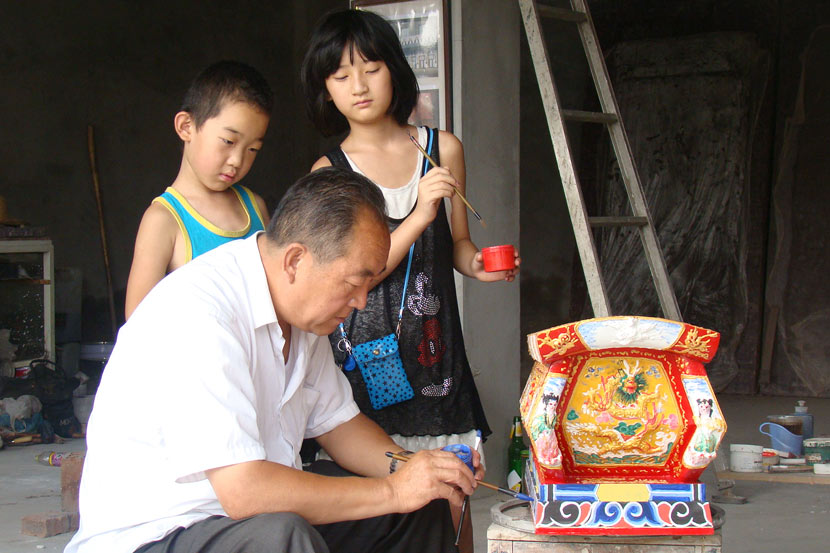 Zhu Zongchen paints a 'small coffin' — an urn designed to look like a coffin — in Lanzhou, Gansu province, Aug. 15, 2018. Courtesy of Li Hui
Not everyone has accepted the industry's downfall as inevitable, however. Since 2010, 70-year-old Zhu Zongcheng — who is not related to Zhu Chengying, but who once served as his apprentice — has started painting so-called small coffins: coffin-shaped urns that are the closest most locals will come to a real coffin without violating the burial ban.
And while requests for full coffins are few and far between these days, Zhu Zongcheng tells me he still gets the occasional call. In late October, a family in a nearby village contacted him with a request for a traditional Lanzhou-style coffin. Zhu Zongcheng quoted his standard price — 2,000 yuan ($290) — and, after some haggling, he grabbed his painter's kit and rushed off to the deceased's home. Amid the sobs and wails of mourners, the old man suppressed his excitement and got to work.
Translator: Matt Turner; editors: Wu Haiyun and Kilian O'Donnell.
(Header image: A coffin painter at work in Lanzhou, Gansu province, Oct. 30, 2007. Courtesy of Li Hui)