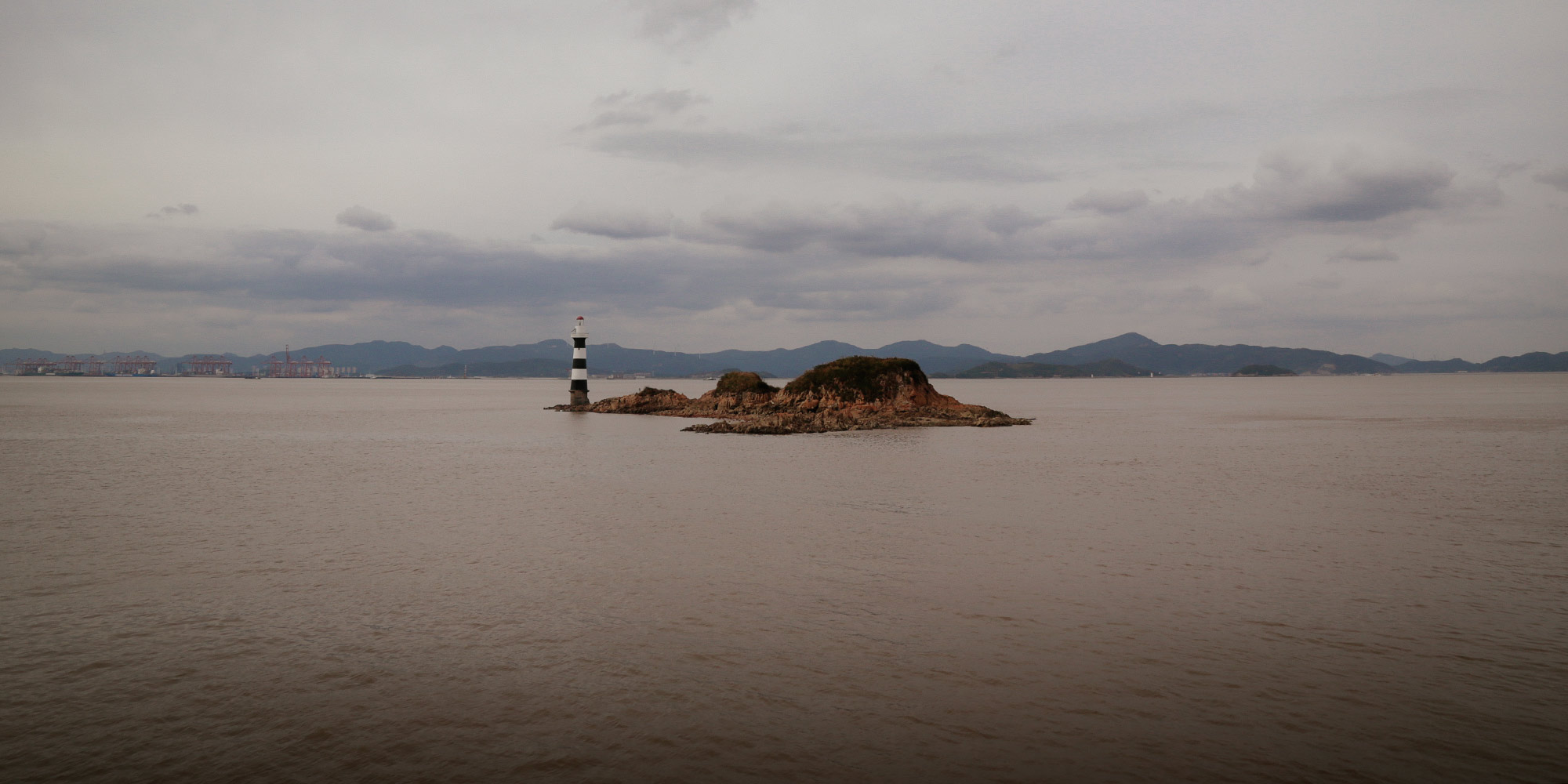 FEATURES
Rough Waters Ahead for China's Desalination Drive
An archipelago's efforts to combat its water crisis is testing profits and palates.
ZHEJIANG, East China — Sixty-year-old Chen Yi clearly remembers the severe drought that parched her hometown on Liuheng Island in 1996. It began without a single drop of rain for several weeks. Then, the rivers and reservoirs dried up. Marooned on an island locked in by seawater, thirsty villagers dug a deep well on a patch of farmland and sent boats on desperate missions to the mainland, just to get something to drink.
Liuheng, which these days is accessible by a 40-minute ferry from the Chinese mainland, has seen other droughts since then, but none as serious as the one in '96. And thanks to modern technology, memories of the island's once-common water shortages are now evaporating. In 2016, the government completed phase-one construction of a 740-million-yuan ($112-million) seawater desalination plant on Liuheng. The plant — called the Liuheng Island Seawater Desalination Project — can produce up to 50,000 tons of fresh water a day and supplies water to most of the islanders.
Today, Chen still uses well water to wash clothes and tend to her vegetable garden, but like Liuheng's other 100,000 or so residents, desalinated water flows freely from her kitchen tap. Islanders no longer concern themselves with Liuheng's once-dwindling freshwater sources, Chen says. "I'm not worried about droughts anymore," she says with a small smile. "The sea will never dry up."
Liuheng's experiences with desalination come at an important time, when the Chinese government seeks to make the technology more widespread to ease the country's crippling water scarcity. The state aims to boost the nationwide desalination capacity from about 1.2 million tons of water a day in 2016 to 2.2 million tons by 2020. But although Liuheng's residents no longer lack water, the initiative has its downsides, too. Ocean desalination requires more energy than any other water treatment technique. It may also pollute ocean ecologies, kill marine life, and leave harmful chemicals behind in drinking water, according to a report by the American nonprofit Food & Water Watch.
Although desalination does not have widespread applications in China — it currently accounts for less than 1.2 percent of the domestic water supply — it's nonetheless a crucial part for guaranteeing fresh water in isolated island communities and water-scarce coastal cities. The Zhoushan Archipelago, a group of islands including Liuheng that scatter like cookie crumbs off China's eastern coast, is already home to 33 of the country's 131 desalination projects. The islands have little surface water and high evaporation rates, meaning that their combined 1.2 million residents each have access to a paltry 707 cubic meters of fresh water per year on average. That's not only equivalent to around one-third of the amount enjoyed by the average resident in Zhejiang, the province that administers Zhoushan; it also places the islanders well below United Nations' "water scarcity" designation. In fact, Zhoushan's inhabitants get about as much fresh water a year as Egypt's, whose country is mostly desert.
Zhoushan's insufficient water is an inconvenient truth at a time when the local government is thirsty for development. In 2011, officials designated the Zhoushan Islands a "state-level development zone," outlined plans to transform the area into a large international port, and called on the islands to modernize its marine fisheries. The archipelago's prospects for growth hinge on improved access to fresh water, and Liuheng's desalination plant is sometimes held up as a model for the chain's 100 or so other inhabited islands to emulate. Since the plant was finished in 2016, Liuheng's ferry port has been augmented by giant cranes, piecing together huge international cargo ships as part of a shipbuilding industry that now accounts for half the island's economy.
For Liuheng's government officials, though, the main problem is that desalination isn't making any money. Quite the opposite, in fact: The plant currently hemorrhages around 15 million yuan a year, according to Mao Jia, chairman of the board of Zhoushan Electric Power Construction, a semi-private enterprise that owns and operates both the plant and the water supply it generates. "Far from turning a profit, it's just a question of how much money we lose," Mao tells Sixth Tone.
Desalination is an expensive and energy-intensive process. Liuheng's plant uses a technique called "reverse osmosis," whereby seawater is filtered through a series of membranes to remove salt and other minerals. The plant operates at night, when electricity costs are lower, but still spends 6.3 yuan on every ton of desalinized water it produces.
However, government caps on water prices — a relic of China's pre-reform planned economy — mean that Zhoushan Power sells its desalinated product at only 2.5 yuan per ton to households and 6 yuan per ton to businesses. It's a pattern repeated at desalination plants across the archipelago, most of which struggle to turn profits despite ongoing state efforts to better regulate water prices and conserve the supply. Around 30 percent of regular water treatment plants in Chinese urban areas operated at a loss in 2012, according to domestic media reports.
Mao, a neatly dressed man of about 60 in regulation khaki overalls, says that state price controls ensure that the plant continues to be a loss-producing enterprise. The government holds a partial stake in Zhoushan Power, has forked out 30 percent of the Liuheng plant's construction costs, and has granted the local government about 46 million yuan between 2007 and 2015 to split between all desalination plants on the Zhoushan Islands.
State involvement means there's no risk that the Liuheng plant will go out of business, but Mao says that state funding falls far short of the plant's needs. The plant continues to fund most of its day-to-day operations from revenues generated through water sales, but will remain in the red without other preferential policies such as cut-price electricity and tax breaks, according to Mao. "There is no clear policy at the moment. We don't know how much money we'll get from year to year," he says. "But even if the plant was given one million yuan … it would still only be like throwing a glass of water on a raging cart fire." Plans to double the Liuheng plant's capacity have been temporarily shelved due to money concerns.
Jiao Lei, an associate professor specializing in sea water desalination at Zhejiang University, says that similar problems beset desalination plants across the country. China had built 131 ocean desalination projects by the end of 2016, half of which serve island communities, according to the State Oceanic Administration. (By comparison, more than 2,000 such plants currently operate in the United States.) "The government is very much pro-desalination," he says, "but how to sell desalinated tap water, what price to sell it at, and predicting how much will be consumed — these mechanisms haven't been properly coordinated. So, you have many newly built desalination plants propped up by government subsidies."
"At the moment, cost reduction is a difficult problem [for desalination facilities] around the world," Jiao continues, adding that China remains heavily reliant on imported components, mainly from the U.S., and creating homegrown versions might help to lower costs. "But developing new desalination techniques is hard," says Jiao.
Nonetheless, China is forging ahead with further desalination plants. At the end of 2017, the national government published guidelines to build or upgrade around 100 desalination projects serving more than 200 islands with inadequate freshwater sources or storage facilities. One target is Miaozihu Island, home to around 2,000 people and part of the Zhoushan Archipelago. In recent years, crowds of summer tourists — around 1,600 per day, according to news reports — have caused isolated water shortages on Miaozihu, riling residents. Now, the government plans to drastically expand its existing desalination plants.
Jiao agrees that desalination might guarantee the islands' clean-water supply but adds that it's a very costly solution. "Much of the focus on desalination isn't based on real need," says Jiao. "[Many islands] have populations of 1,000 or 2,000 people, and you can't scale up these projects." Many facilities in the area are built on nonindustrialized islands, meaning that companies can only sell water at the lower residential rate and thereby struggle to operate over the long term, Jiao adds.
Despite the country's rising household incomes, strong social opposition has left the Chinese government reluctant to raise water prices, leading to widespread overconsumption and water waste. Keeping utility costs low is a political issue for a government that is nominally socialist, even though it renders initiatives like desalination largely unprofitable. "The water price doesn't reflect the value of the resource," says Wang Shenghui, deputy head of the Island Water Resources Research Center at the Institute of Seawater Desalination and Multipurpose Utilization in Tianjin. "Therefore, the high cost of seawater desalination dulls the passion of investors." In practice, water departments are keener on promoting water-diversion projects, which they are more familiar with and have subsidy support, Wang says — although this is not an option for many offshore islands. 
Pro-desalination researchers claim that the technology will mitigate water shortages and environmental problems, including the overexploitation of underground water. But other researchers have contended that China's desalination plans will consume huge amounts of energy and that brine — water containing high concentrations of salts — discharged from the plant might damage the oceanic environment. "Discharging brine into seawater may harm near-coast creatures and ecosystems," says Wang Hongrui, a professor of water resources at Beijing Normal University. 
Wang Haizeng, an ocean chemistry professor at Ocean University of China in the eastern city of Qingdao, brushes off the suggestion. "The vast majority of waste water from desalination goes straight into the ocean, and nothing's happened yet," he tells Sixth Tone. But other researchers are less equivocal. "The effects of discharging brine into the sea are long-term and cumulative," says Liu Zhensheng, researcher at Second Institute of Oceanography in Hangzhou. "They are hard to observe over a short period."
For now, desalination remains a supplementary source of fresh water in China. Residents tend to taste the difference between desalinated water and groundwater, because the former contains residual salts. Evidence suggests that drinking desalinated water carries a greater risk of coronary heart disease than drinking non-oceanic source water, and the World Health Organization has warned of the health and environmental effects of certain chemicals, among them boron and bromide, that can reach unsafe levels in water from certain kinds of desalination plants. However, the research remains inconclusive. Chinese desalination plants, like many of their overseas counterparts, add minerals to the final product that are good for human health.
But the results still taste funny to some of Liuheng's residents, who say they can tell when their tap water comes from the plant and when it comes from underground. Taxi driver Sun Hualiang says that his tap water tastes "salty" even after boiling it, adding that he's found salt-like crystals encrusted the bottom of his teapot. "To be honest, I don't like desalinated water," says the 39-year-old.
Until a decade ago, Sun worked as a fisherman. While at sea, his crew used a small on-board desalinator. "But we only used it for bathing," he says. "We never drank it back then … Is the water from the plant really better than the water on my old boat?"
Editor: Matthew Walsh.
(Header image: An islet near Liuheng Island, Zhejiang province, Nov. 2, 2018. Li You/Sixth Tone)