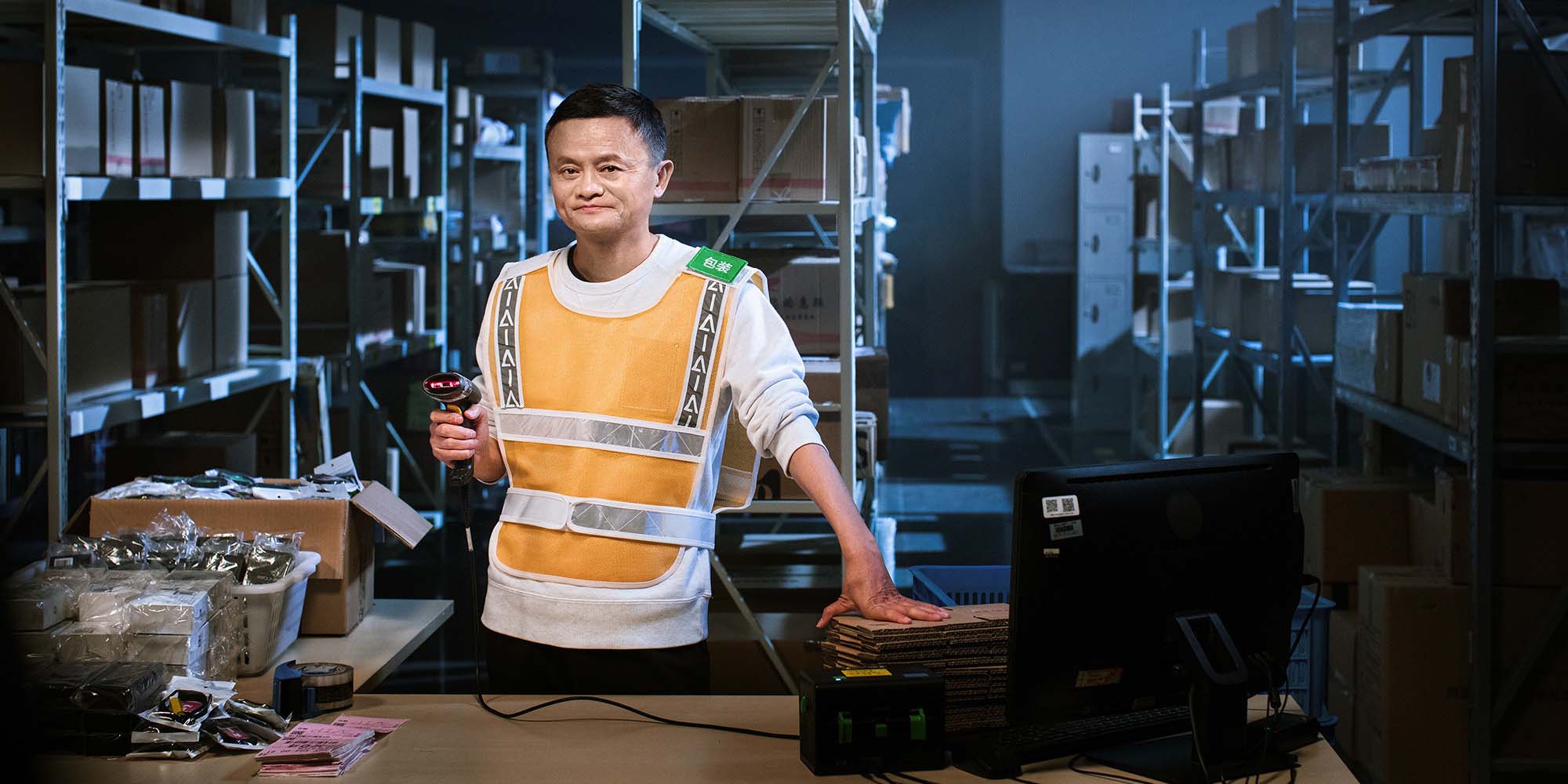 FEATURES
Jack Ma Mania Borders on Religious Fervor
To many of his most fervent devotees in China, the billionaire tech tycoon is today's god of money.
Qiao Aisen knows he shouldn't be religious. "I'm a communist," he said, "which requires me to be an atheist." But he likes keeping a shrine in his apartment nonetheless. Back in college, he kept a shrine to Confucius, the sage known for his commitment to education. "We would worship Confucius to pray that we wouldn't fail our courses."
But then Qiao moved to Beijing, where he got a job in marketing, and suddenly the old sage didn't seem so relevant. Qiao was trying to make money. He works 12 hours daily — from 9 a.m. to 9 p.m. — and spends two hours commuting. And so the 25-year-old communist swapped out the picture of Confucius for one of billionaire tech tycoon Jack Ma.
"It's a gift from my college friend, who saw my Weibo handle [that translates to 'worshipping at the church of Jack Ma']," Qiao said. Today, when he smokes in his apartment, Qiao lights some incense for the mini-Ma as well.
The fandom surrounding Alibaba Group Holding Ltd. founder and Executive Chairman Jack Ma has reached spectacular levels. To many, Ma is more than a celebrity — he's an idol. And to some, he's more than an idol — he's a god. As Taobao'sSingles' Day shopping festivalof Nov. 11 approached, his most fervent devotees in China gave offerings to their shrines for good fortune. And while many set up their shrines in a tongue-in-cheek manner, their messaging was clear: Jack Ma is today's god of money, and the idolatry surrounding him isn't going anywhere anytime soon.
Ma is arguably China's most charismatic billionaire. His unique story is oft-parroted by his fans as evidence of his superior character: Ma began as an English teacher, and he recently announced his plan toretirenext year and devote himself to education once again. Photos and videos circulate online of Ma years ago, speaking passionately about his dream for a company at a time when no one was listening to him.
The stories of Ma's peers simply aren't as inspiring as his. Tencent Holdings Ltd.'s Pony Ma has made a fortune off video games, which have been blamed for widespreadinternet addiction. Wanda Group's Wang Jianlin comes from a stodgier military background and grants few interviews. JD.com's Liu Qiangdong, also known as Richard Liu, was himself the object of worship for his rags-to-riches origin story, but he was recently accused in the U.S. ofrape.
Most importantly, Alibaba is the most famous Chinese tech company on the world stage, and Ma is its charming ambassador."When we were kids, we learned to 'be disciplined when poor and be generous to others when rich,'" Qiao said. "But right now I am still in the 'poor' stage, and I can only discipline myself. But a man needs the dream that one day he will be rich and make contributions to society. And Jack Ma has done that."
This attitude is consistent with "idol worship," according to Yue Xiaodong, a professor of applied social studies at City University of Hong Kong who studies fandoms that verge on religious fervor — a category he thinks applies to the cult of Ma."Idol worship used to be predominantly religious. It's only with modern society, and particularly mass media, that idol worship became recreational," Yue told financial news outlet Caixin. Today's idols are a curious mix of pop culture icons, businesspeople, and politicians. "For college students, there is an increasing trend of identifying with political or business luminaries," he said. Teens and younger people idolizemovie stars and musiciansmore.
The "idol worship" Yue studies is distinct from mere fandom. The cult of Ma is more than that as well. The first time Ma worship made headlines was in November 2015. Images went viral of a group of online merchants in southern China's Guangdong province bowing before shrines to Ma ahead of that year's shopping festival.Search Alibaba e-commerce platform Taobao for Jack Ma shrines today, and you will find independent vendors selling plenty of options. Some are rife with religious symbolism. Some depict him wearing traditional red robes. Others are less serious. One is a ceramic action figure featuring Ma's face on Superman's body.
Danny Li, a creative director at an advertising agency in Shanghai, created artwork for Ma fans to worship. "As the biggest e-commerce platform, Alibaba is always a topic of discussion," he said. "On social media, a lot of people call Jack Ma the 'god of wealth.' So I thought I could create a better-looking poster for them to worship." Li's poster features a cartoon Ma sporting a cowboy hat, riding a bull, and waving a lasso.
"On social media, a lot of people worship him, but of course they're kind of kidding," Li said. "Worship is one of our traditions when celebrating some festivals, so it's normal. I think it's interesting and very cute," he added, calling the ritual a "daily superstition."
Many "worshippers" view their practice with a sense of humor. Case in point: One image that went viral around Singles' Day 2016 was of a miniature Jack Ma shrine with robots bowing in unison in front of it.But this ritual has caused controversy on microblogging platform Weibo, where some users say this kind of worship is highly disrespectful to Jack Ma.
Most figures worshipped by Chinese in such rituals are already dead; it is believed that worshipping a person who is still alive will shorten the person's life. Other users have criticized the shrines as too fanatical about money and wealth. One netizen commented: "Whoever can help these people make money is a god. What a distorted outlook on life."
Perhaps the worship of Ma can be better compared to that of a pop culture celebrity. Last year, when Maperformedthe theme song of a Jet Li film alongside pop star Faye Wong, the track hit No. 1 on streaming site Xiami. Jack Ma doesn't even sing well.
Qiao's worship is only semiserious, but his admiration is real."I'm not really bowing to him," he explained. "Instead of saying that I am worshipping Jack Ma, I say I am worshipping my dream. So many religions tell us to be nice to people, to be generous to people. [Ma] has money and he has done that, which can lead us to believe that one day when we have money, we can also do that. I probably won't be able to reach the level of Jack Ma, but at least I can work in that direction."
Qiao's plans for Singles' Day? No shopping. No mingling events for singles. Instead, he said with a laugh, "I'll be working overtime." Perhaps that's the best way to honor Ma after all.
This is an original article written by Noelle Mateer and Charlotte Yang of Caixin Global, and has been republished with permission. The article can be found on Caixin's websitehere.
(Header image: Jack Ma prepares to face off against a star worker in a parcel-processing contest at a distribution center of Alibaba's logistics arm, Cainiao, in Shanghai, Nov. 5, 2018. IC)