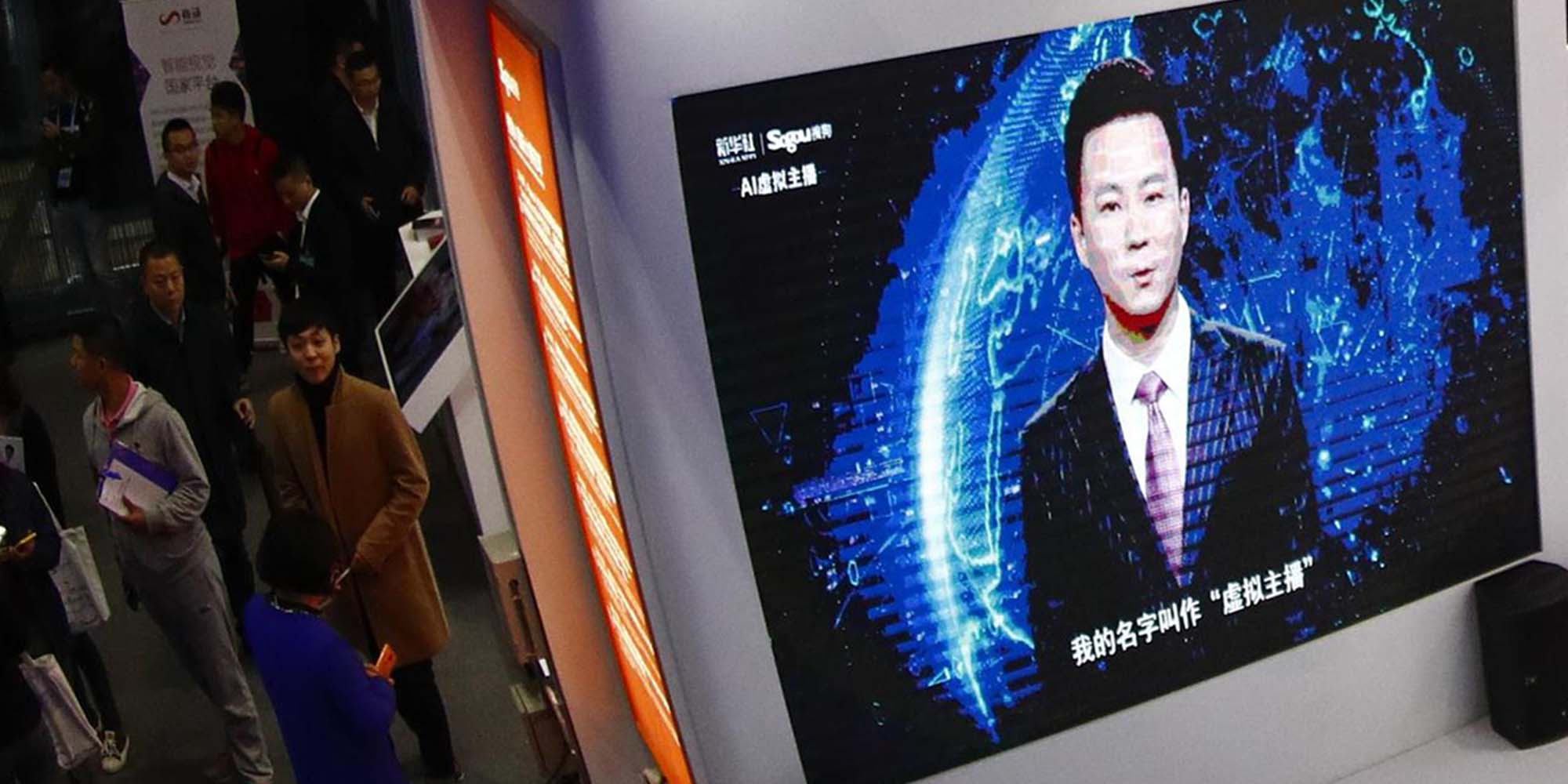 NEWS
AI Anchors: Xinhua Debuts Digital Doppelgangers for Their Journalists
A Chinese state media outlet says the new technology will aid in breaking news coverage and improve television reporting.
On the eve of China's annual Journalists' Day, the country's state media introduced audiences to the latest additions to its team: two artificial intelligence-powered news anchors.
Xinhua News Agency debuted the digital avatars of two television journalists — English-language anchor Zhang Zhao and his Chinese-language counterpart Qiu Hao — on Wednesday. The AI-powered news anchors, according to the outlet, will improve television reporting and be used to generate videos, especially for breaking news on its digital and social media platforms.
"I'm an English artificial intelligence anchor," Zhang's digital doppelganger said in introduction during his first news telecast, blinking his eyes and raising his eyebrows throughout the video. "This is my very first day in Xinhua News Agency … I will work tirelessly to keep you informed, as texts will be typed into my system uninterrupted."
Co-created by Xinhua and search engine company Sogou, the newscast incorporates cutting-edge technology like facial recognition, deep learning, 3D reconstructions of human faces, machine translation, and facial expression modeling, according to Chen Wei, a voice technology development manager at Sogou. He added that it took the company three weeks to model an individual AI anchor and that the new technology will liberate the labor force.
"The tech can be used for various situations, such as for news broadcasters, virtual teachers, virtual doctors, and virtual customer service," Chen told Sixth Tone.
Xinhua's push for automation has left many wondering whether news anchors and reporters — jobs that once exclusively belonged to humans — would be replaced by machines. On the Chinese internet, netizens questioned if the AI versions of the journalists would seem as real as the human reporters.
"It looks like anchors will lose their jobs," one user commented on microblogging site Weibo. "The AI's voice is too stiff, and it has trouble making the right pauses during speech," another user wrote.
With AI being developed and adopted at an unprecedented pace, many experts are concerned that it could disrupt and devastate the labor market in countries like China that would struggle to compete with such advanced technology. However, a new report by the consultancy PricewaterhouseCoopers suggested that AI would not hurt, but instead would help contribute to a net gain of around 90 million jobs in China over the next two decades.
This is not the first time Xinhua has turned to automated solutions for its reporting. In April 2017, a professor from the University of Science and Technology of China developed an interactive robot named "Jiajia" that would "revolutionize journalism." Jiajia was able to deliver speeches, make micro facial expressions, and move its body parts during interviews like flesh-and-blood reporters. Other outlets, including Southern Metropolis Daily, have also jumped on the bandwagon, using a "robot reporter" to write headlines and news stories.
But Chen from Sogou said that despite the technological advancements, humans will still be more versatile than the machines. "AI anchors are created to assist humans in their reporting, not replace them," he said. "Machines can replace the faculty of perception in part, but there's no way that machines can replace humans in terms of high-level activities such as recognition."
Editor: Bibek Bhandari.
(Header image: A screen shows an AI anchor speaking at the World Internet Conference in Wuzhen, Zhejiang province, Wednesday, Nov. 7, 2018. VCG)