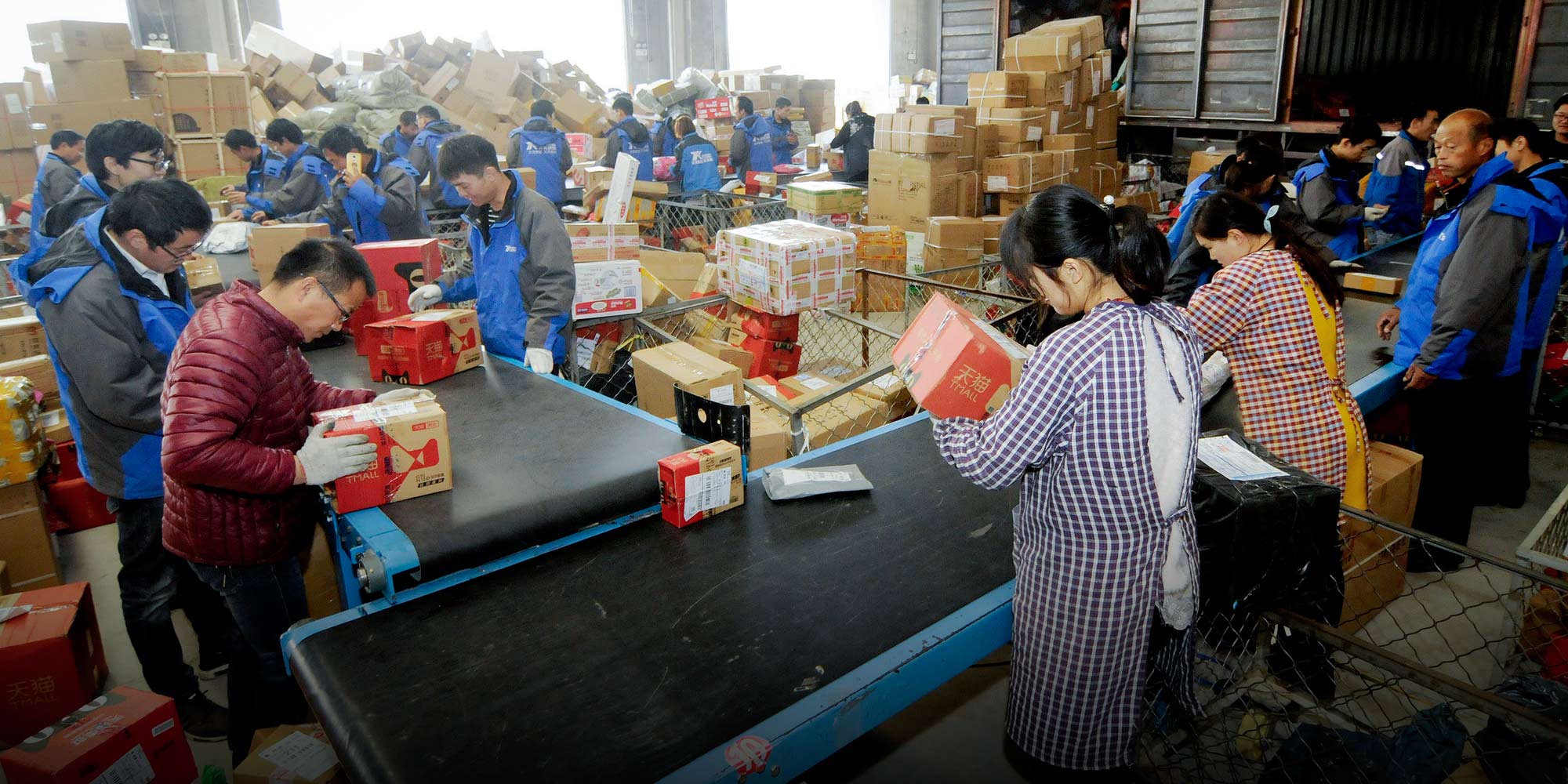 VOICES & OPINION
Why China's E-commerce Model May Not Work Elsewhere
It may be time to pump the brakes on talk of an internationally applicable 'China Model' of e-commerce.
In 2017, Chinese e-commerce platforms processed roughly $1 trillion in sales — and the industry still has room to grow. This is especially true in rural areas, where sales grew by 39 percent year-over-year in 2017.
Rural Chinese aren't just buying, either; nudged along by local governments, they're using online platforms to sell local produce and other goods directly to consumers. Officials in rural areas have made e-commerce a key part of the country's campaign to bring wealth, jobs, and economic development to China's long-marginalized countryside — a campaign that, according to government statistics, has so far lifted more than 60 million rural residents out of poverty.
Some international organizations and developing countries view the success of China's rural development model — and the role of e-commerce in it — as having potentially global implications for rural economies in the future. The World Bank, for example, has encouraged other emerging and developing economies to follow China's example and launch e-commerce initiatives in their own rural areas, while companies from these countries have already begun to incorporate elements of China's online ecosystem into their own business models.
In light of e-commerce's impact on the Chinese economy and its success in bringing jobs back to the countryside, I was curious what lessons the industry had to offer other countries. Earlier this year, I visited the city of Heze in the northern province of Shandong, where some of the first villages in China to achieve online sales success are located. While there, I asked Li Yaohua — a leading official with the Heze Bureau of Commerce who has participated in international conferences on the subject and met with foreign delegations about Heze's success — whether he thought China's e-commerce model could be exported elsewhere. His answer surprised me: No.
"I think that imitating China's e-commerce model overseas will not necessarily yield the same scale of development as in China," Li told me. Some variation of this was repeated by almost everyone with whom I met during the weeks I spent investigating e-commerce in rural China.
One reason local officials may have been hesitant to make predictions about the model's widespread applicability has to do with the origins of Shandong's first rural e-commerce villages. Beginning in 2009, the e-commerce industry in Cao County — which is administered by Heze and was previously one of the province's poorest counties — developed organically, without government intervention or guidance. It was the villagers themselves who first noticed the potential of online retailing and seized the opportunity it presented. Eventually, as more and more villages — both in Shandong and elsewhere — began setting up online stores, they attracted the attention of national-level policymakers. In 2015, six years after local villagers went online in Cao County, the national government established a set of initiatives to support and encourage other villagers across the country to follow in their footsteps.
Yet it's important to point out that China's early rural e-commerce sellers benefitted from the country's advanced internet and physical infrastructure, as well as a growing willingness on the part of consumers to buy goods online. Attempting to implement rural e-commerce programs in countries without these preconditions could prove challenging.
While it may sound obvious, a high level of internet penetration, including in rural and remote regions, is crucial to any e-commerce development program. Most Chinese have readily available access to the internet: In 2018, the number of internet users in China surpassed the 800-million mark. It should be noted, however, that it took the country the better part of two decades of continual investment to reach this point. India, an emerging economy with a similarly large population, is also hoping to build out its e-commerce industry, but it does not yet have the infrastructure in place to do so. According to a Pew Research Center report, in 2016, 71 percent of Chinese reported owning a smartphone or using the internet at least occasionally. In 2017, just 25 percent of Indians could say the same. It was China's internet penetration rate that really set the scene for e-commerce to take off — particularly in more remote rural areas.
Perhaps even more critical to China's e-commerce ecosystem, however, is the scale and degree of professionalization of the country's logistics services. In some areas, it's possible to purchase a product in the morning and receive it that same afternoon. The growth of the country's logistics services has in part been fueled by the widespread adoption and success of online shopping. As consumers grow more accustomed to the convenience of having whatever they need delivered to their doors, they increasingly begin to expect this level of service in all things.
Currently, the rise of e-commerce in more remote and rural parts of China is driving Chinese logistics companies to invest further in their supply chain. At present, there are over 35,000 express delivery companies in China, which combine to deliver over 100 million packages a day. It's this nationwide network of service centers, warehouses and trained workers that means Chinese buyers can reliably get goods from the other side of the country within days. It's a capacity that simply does not exist in many other countries, something that will make expanding e-commerce to rural areas difficult.
Consumer mindsets are another important piece of the puzzle. To return to the example of India, consumers in that country are more skeptical of e-commerce than their Chinese counterparts. According to a Boston Consulting Group report on Indian consumers' online shopping habits, buyers there prefer to identify products online, but buy in person — a practice known as online-to-offline shopping. Getting people to trust e-commerce platforms and sellers takes time, but it is a necessary step in any country looking to develop its e-commerce industry.
This isn't to say that other countries cannot successfully use e-commerce to help lift rural residents out of poverty. For emerging economies — such as those in South Asia or West Africa — that are trying to bring prosperity to the countryside and stem the tide of economic migrants flooding their cities in search of economic opportunities, e-commerce offers an attractive means to keep rural populations in place and potentially revitalize rural communities. But in most cases, expecting quick, or even moderately paced results from the China model would be overly optimistic.
China's rural e-commerce industry represents the culmination of years of investments in infrastructure and changing consumer preferences. Other countries may want to learn the secrets of this model, but they should not forget to develop new e-commerce strategies that play to the strengths and unique needs of their own countries as well.
Editors: Zhang Bo, Matthew Walsh and Kilian O'Donnell.
This article was funded by the Sixth Tone Fellowship. In 2018, Sixth Tone sponsored eight young scholars to come to China for a six-week research trip to conduct fieldwork in eight provinces all over the country.
(Header image: Employees sort packages at a logistics company in Heze, Shandong province, Nov. 14, 2017. Deng Xingyu/IC)