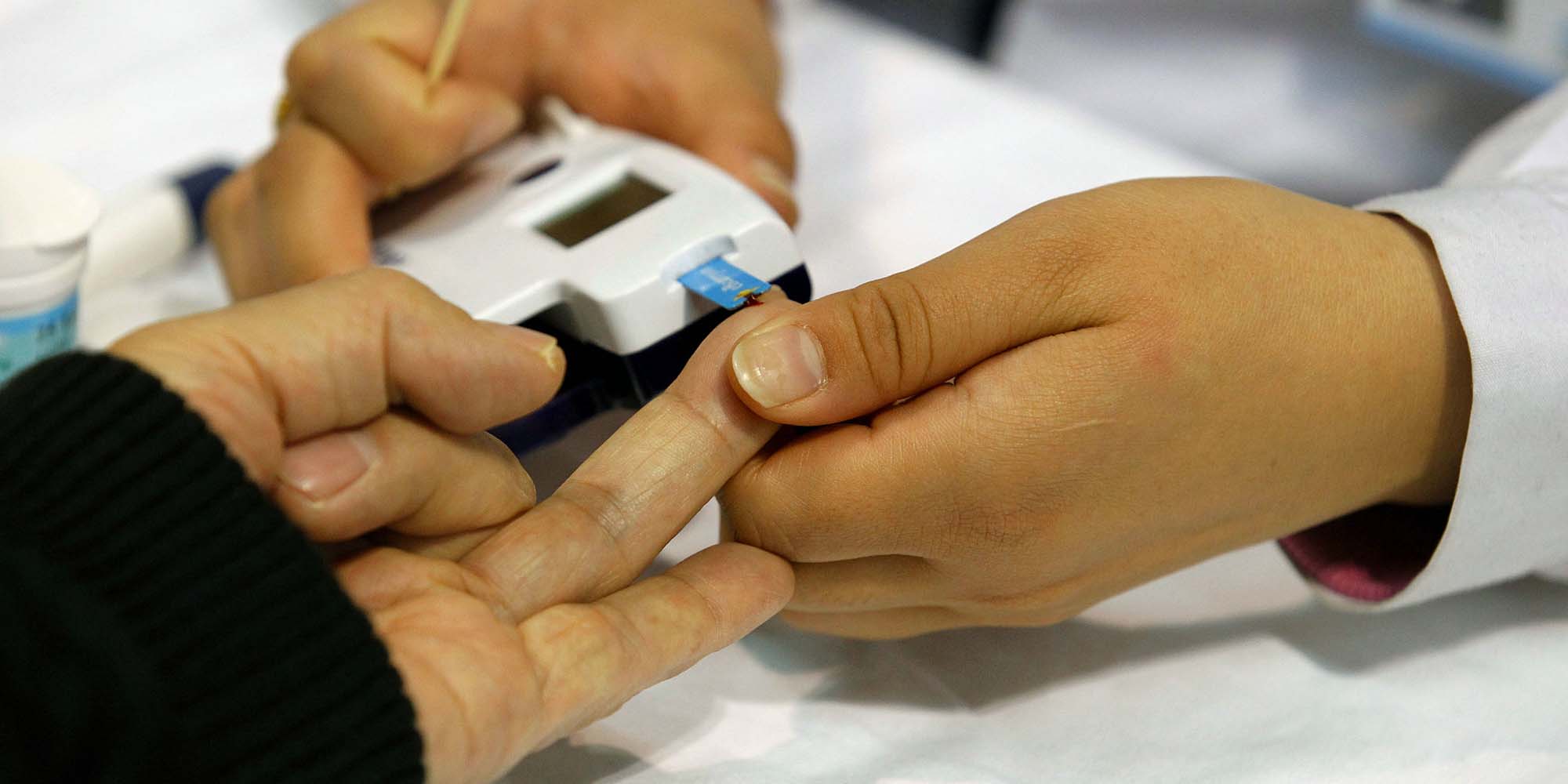 NEWS
How Artificial Intelligence Will Help China's Diabetics
Foreign med-tech companies hope awareness campaigns and technological breakthroughs will change the way China treats diabetes.
SHANGHAI — For Chinese diabetics struggling to control their fluctuating blood-sugar levels, imported artificial intelligence might just provide a solution.
New products exhibited at this week's China International Import Expo in Shanghai show that by wearing a tiny sensor around their waist, diabetics can have their blood-sugar levels monitored in real time as well as the appropriate dose of insulin automatically calculated and injected into their bodies. At present, diabetics in China have their glucose levels tested and must then manually administer their insulin shots or program an insulin pump to inject a set dosage every few hours.
The U.S. Food and Drug Administration approved the "smart" insulin pump, the MiniMed 670G, in September 2016, but the product has not yet been given the green light in China. Its developer, American med-tech company Medtronic, however, is hoping for a streamlined approval process that would give Chinese patients access to the device sooner than later. 
"Chinese diabetics need personalized medical plans. This product targets Type 1 and mid-to-late-term Type 2 diabetics," Yu Wei, the vice president of Medtronic's diabetes division in China, told Sixth Tone, adding that these patients' blood-sugar levels tend to be harder to predict and control.
China has 114 million diabetics, more than any other country in the world, according to the International Diabetes Federation (IDF). Meanwhile, the IDF says that the proportion of diabetics in China who receive proper treatment is 12.9 percent, just above the global average of 12.5 percent.
People with Type 1 diabetes — the less prevalent form, accounting for 5 to 10 percent of all cases worldwide — produce little or no insulin; as a result, their blood-sugar levels can fluctuate to the point of being life-threatening. In China, many Type 1 diabetics must keep a careful record of their food intake and exercise habits in order to estimate the amount of insulin they'll need and when to inject it. Medtronic's device monitors the body's glucose levels in real time, continuously injecting insulin whenever there's an imbalance, thus reducing the risk of dangerous fluctuations.
In addition to being consistent, the Medtronic pump can actually learn and think for itself, its developers say. "From continuously collecting data on how a patient reacts to the injected insulin doses, [the device] gradually forms its own understanding of that person's physical condition," Zheng Yongting, a product manager for Medtronic's diabetes division in China, told Sixth Tone. "We developed these methodologies and algorithms over a period of 10 years."
Yu, meanwhile, estimates that it might take two years for the device to get approved in China, but she hopes the authorities will consider speeding up the process. As to whether Medtronic might soon be affected by Chinese tariffs, Yu isn't worried: She says the company successfully applied to Chinese authorities for an "innovation product" pass for its pumps.
One innovation not presented at the Shanghai trade expo is a Medtronic-developed app called Sugar.IQ, a virtual assistant that analyzes diabetics' behaviors and helps them understand which habits can contribute to dangerous blood-sugar spikes. Zheng said products like Sugar.IQ will also be a boon for China's diabetics, who have yet to see improvements to existing monitoring systems.
"Family medicine has just picked up in China. In most remote or less-developed areas of the country, diabetics are not required to visit doctors on a regular basis. That's dangerous for them, if they don't have a clear understanding of their own conditions," Zheng said. "However, to bring such an app to China, there needs to be a solid local database to provide correct and useful instructions."
In May, Ali Health, the health care arm of internet giant Alibaba, launched an "artificial doctor" system called Dia-Doc that specializes in diabetes. Designed to help doctors across China better serve the country's diabetics, Dia-Doc collects the experiences of diabetes specialists practicing in the field, analyzes this data, and plays the role of specialized expert to guide doctors less familiar with diabetes toward making more accurate diagnoses and recommending more effective treatment plans.
While Medtronic hopes to change China with advanced technology, the world's largest insulin producer — Danish pharmaceutical company Novo Nordisk — is using awareness campaigns and education to help people understand the threat of diabetes and how they might reduce its economic burden on society.
"We will continue to work with the government and the health care community to promote awareness of diabetes and healthy lifestyles," Zhou Xiaping, the president of Novo Nordisk's Greater China operations, told Sixth Tone. The company organizes diabetes-awareness events across the county, and this year donated 2 million yuan ($290,000) to the Changing Diabetes Fund, a charity it launched in 2017 in co-operation with the China Health and Medical Development Foundation, a government body.
When it comes to better-treating diabetes in China, Zhou has a plan in mind. "We will integrate China into our global R&D system and simultaneously aim to continue clinical research, explore applications for newly registered drugs, and streamline the approval process between China and the world," she said. "This way, patients in China can access our innovative medicines as early as patients in other countries."
Editor: David Paulk.
(Header image: A diabetic man has his blood sugar tested at a hospital in Beijing, Nov. 15, 2013. VCG)