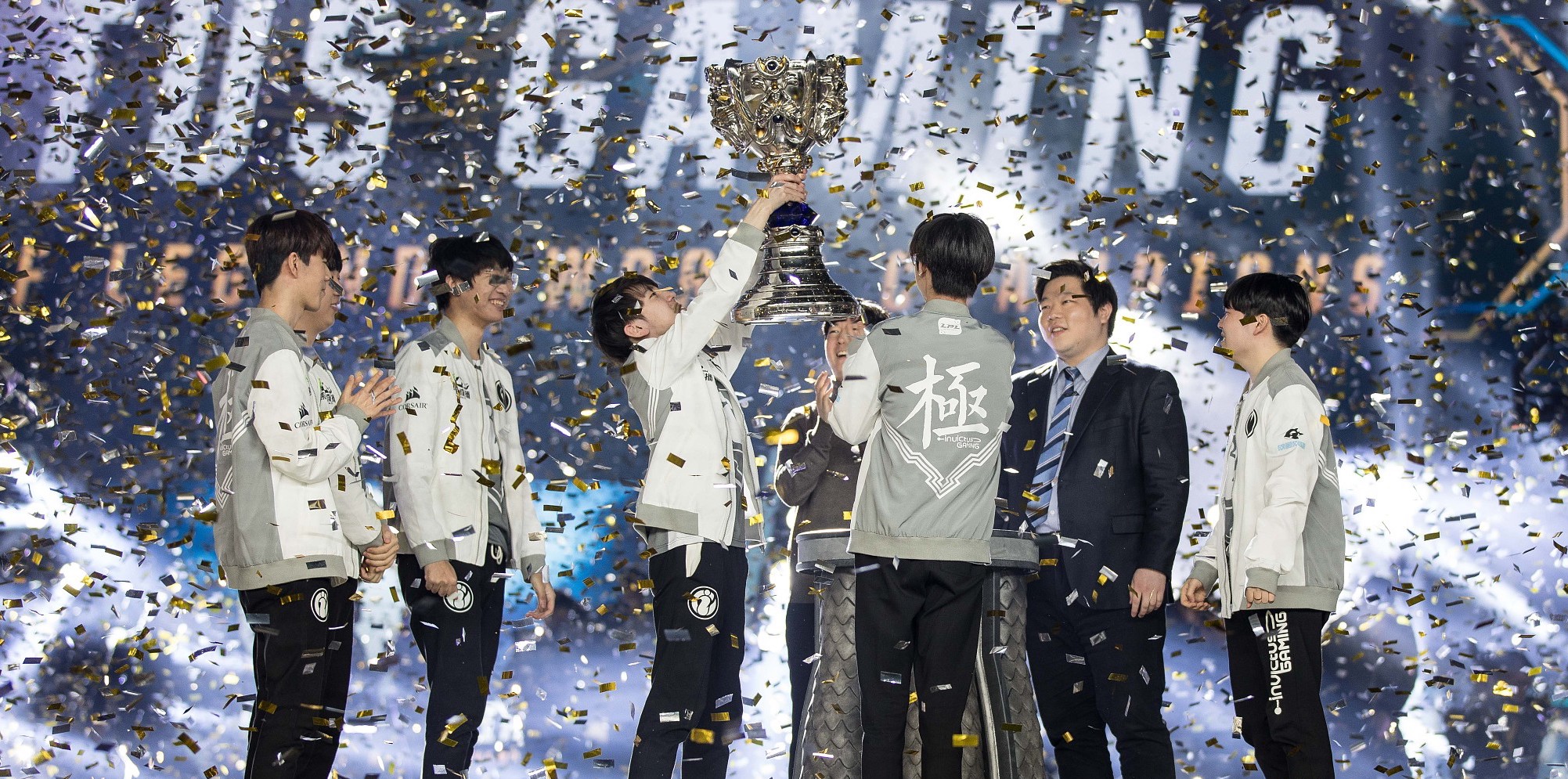 NEWS
Agony and Ecstasy: China Wins First 'League of Legends' Title
Wang Sicong's Invictus Gaming swept European powerhouse Fnatic 3-0 to take home the 2018 'League of Legends' World Championship.
As the Chinese team dealt the death blow to their opponents' base in the final of Sunday's "League of Legends" World Championship, the Mandarin-speaking commentator lost what little was left of his cool-headed veneer.
"We are the champions! The champions of champions!" he yelled, his voice cracking as confetti rained down on the 26,000 spectators who had gathered at the arena in Incheon, South Korea.
The commentator's jubilation was shared by millions in China watching from internet bars, their homes, and paid viewing events at larger venues. Videos of young fans lighting fireworks and bellowing at the top of their lungs in their university dorms flooded Chinese social media on Sunday night. To make good on a lost bet, one student even raced across his college campus in his underwear.
To China's esports fans, they had been waiting for this moment for years. Never before has a Chinese team claimed the title of "League of Legends" world champion. But that doesn't mean China isn't dedicated to the game, which is owned by Tencent, one of the country's "big three" internet companies, and played by over 110 million people in China, according to one estimate from June of last year. The game pits two teams of heroes against each other in tactical five-on-five battles: The team that destroys the enemy base wins.
"Everyone just feels really proud and relieved — this is the first time a Chinese team has won the World Championship," Duan Yushuang, a well-known "League of Legends" event host who also goes by Candice, told Sixth Tone from South Korea. "This is hugely significant for China's gamers — it's a dream come true."
After a hit-and-miss campaign in the competition's qualifying stages, Chinese team Invictus Gaming, or IG for short, emerged victorious yesterday after a decisive 3-0 finals victory over European squad Fnatic — a team they had lost to twice in earlier stages. When the final match ended, IG's three South Korean and three Chinese players — known as Duke, Rookie, Baolan, Ning, TheShy, and JackeyLove — leapt out of their seats and into a group hug. For their efforts, they will take home the tournament's hefty trophy, the Summoner's Cup, and a cash prize of over $840,000.
Prior to this year, the closest a Chinese team had come to the cup was runner-up in 2013 and 2014. "After the win last night, there was an explosion of online commentary. It was a top search result on Weibo — everyone was talking about it," said Duan, referring to China's popular microblogging platform.
Even China's state-owned media outlets have gotten in on the hype. Shortly after the victory, China Central Television posted a slick graphic on Weibo to congratulate the team on their victory. And in response to people going on about "IG" — which sounds like aiji, the Chinese word for "Egypt" — the Middle Eastern country's consulate in Shanghai posted: "Congratulations, Egypt! Egypt is awesome!"
He Feiya, a 27-year-old media marketer, traveled from Shanghai to nearby Hangzhou on Sunday to watch the livestreamed final at a movie theater, where a hundred or so fans had gathered to cheer on IG. "I was nervous while watching the game, but I was really happy with the ending," He told Sixth Tone. "After all, this is the first time China has won worlds — and it was the team I support that won it!"
Esports, or competitive gaming, has a growing fan base in China. And although the authorities have taken measures to control content and curb playtime for minors, esports still enjoys official support: Several Chinese cities have expressed a desire to become esports hubs, and gaming can even be studied as a subject at some universities. Earlier this year, Chinese teams made headlines after winning an international tournament for survival shooter "PlayerUnknown's Battlegrounds" in July and the first-ever esports event at the Asian Games in August.
Some of the hype surrounding IG's "League of Legends" win stems from the team's founder, Wang Sicong — a hugely popular online personality, a business tycoon, and the son of Wang Jianlin, one of China's richest men. A longtime proponent of esports in China, Wang bought an esports team in 2011 for $6 million and renamed it IG. In September, he caused a stir by announcing that rather than just root from the sidelines, he would compete alongside his players — and he did, winning one competitive match.
Soon after IG's big win, photos and memes of Wang devouring a hot dog went viral on Chinese social media. He later posted an image of himself stone-faced and wearing his team's jersey, with the Summoner's Cup trophy edited in. In the accompanying text, he asked his fans to refrain from sharing the unflattering hot dog photo.
Last year's "League of Legends" World Championship was held in China, but the final two teams left to duke it out in Beijing's Bird's Nest stadium both hailed from South Korea. But Chinese teams will soon have another chance for glory on their home turf. On Nov. 1, the game's developer announced that the 2020 World Championship would again be held in China.
Editor: David Paulk.
(Header image: Chinese team Invictus Gaming wins the 2018 'League of Legends' World Championship in Incheon, South Korea, Nov. 3, 2018. Hannah Smith/ESPAT Media for Mastercard via Getty Images/VCG)