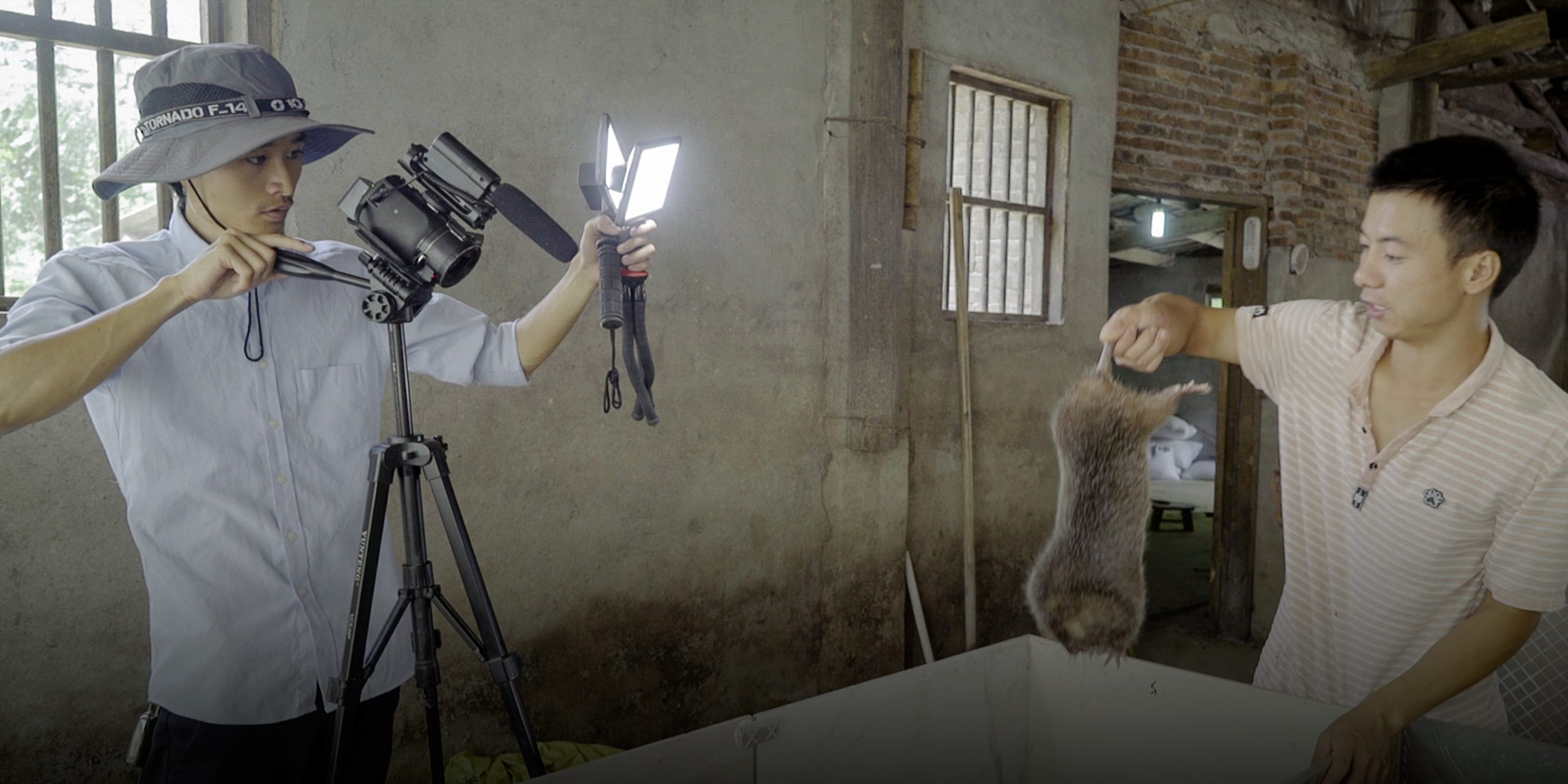 FEATURES
From Field to Camera: The Online Pursuits of Rural Farmers
As farmers harvest fame from creating videos about their rural lives, surrounding communities are improving their fortunes as well.
JIANGXI, East China — In a dim barn that smells of freshly cut bamboo and rat droppings, Liu Suliang stands in front of a camera, holding a squirming, chubby rodent by its tail.
"It might have depression," Liu glibly tells the camera, explaining that the rodent has refused to eat for three consecutive days. It's just one of Liu's many humorous — and sometimes absurd — excuses for what always ends the same way: with the fluffy rat in question on a dinner plate.
For almost a year, 29-year-old Liu and his former classmate Hu Yueqing have been making videos under the internet name "Huanong Brothers" — literally, "Chinese farmer brothers" — from their rural, mountainous home of Nanjing Town in Jiangxi province. In September, their videos went viral, catapulting the pair to internet stardom. "We never meant to be funny," says 30-year-old Hu.
The key to their success is the bamboo rats, large rodents sometimes bred for food in southern China, where they can be sold for several hundred yuan each. In the pair's videos, frontman Liu raises the rats in a rudimentary barn, before boiling them in stews, roasting them on handmade barbecue racks, or braising them with soy sauce. (Hu, who is uncomfortable in front of the camera, is the mastermind behind the operation, as well as the cameraman and video-editor.) Audiences pounced on the clips, creating guichu video mashups and reposting them so frequently that topics like "100 reasons to eat bamboo rats" began to trend on Weibo, the Chinese equivalent to Twitter. Liu's catchphrase — "very pretty," a compliment he uses in various scenarios, including those in which the rats are about to meet their maker — became prime meme-fodder.
Hu and Liu are among a growing army of rural content creators charming netizens nationwide with their online videos and stories. To these countryside-based videographers, turning their day-to-day lives into online content can earn them fame, money from clicks, and even a leg-up for selling their local produce. Online media platforms are encouraging these so-called sannong creators — meaning those who produce content related to agriculture, farmers, and villages — as part of their plan to alleviate poverty and revitalize rural areas. It's a win-win for the media platform's perspective: Rural content tends to be popular, and supporting rural communities helps them fulfill their social responsibilities.
In July, internet platform ByteDance vowed to spend at least 500 million yuan ($75 million) to support sannong creators, and in August it launched a talent program in cooperation with local governments. A spokesperson from ByteDance tells Sixth Tone that the company was encouraging local talents-turned-web celebrities to promote their local specialties and hometown scenery as part of an initiative to bolster local industries, boost incomes, and help with the sustainable development of poor areas. On ByteDance's platforms, there are more than 32,000 creators producing content about rural areas, while Kuaishou, an app known for rural livestreaming, recently launched a "Happy Village" campaign aiming to empower its over 3.75 million active users from poor areas.
These days, Hu spends at least three hours a day filming Liu. To protect himself from bugs and snakes, Hu wears a gray fishing hat, a longsleeved shirt, long pants, and a pair of sneakers or slippers, depending on the day's activities. His once-fair skin is now tanned from traipsing around the countryside. The trunk of Hu's new Volkswagen sedan is packed with the tools he now depends on for his livelihood: a high-resolution video-recorder, tripods, and portable lights.
Not too long ago, Hu's future looked very different. Back when he was a 16-year-old middle-school graduate, Hu moved to Shenzhen, the manufacturing hub in neighboring Guangdong province. For the next decade, he followed in the footsteps of millions of other migrant workers, toiling in factories and inspecting electronic parts that would end up in iPhones. "This is a common choice for young people from our area," says Hu as he drives through the empty streets of his hometown. Although he earned around 5,000 yuan a month in the factory, he found the job tedious and wasn't able to save much due to the high cost of living.
Tired of his dull job, Hu and his wife returned to their hometown in 2014, where Hu began running a business growing traditional Chinese medicinal herbs. In March last year, he heard that being a zimeiti — a Chinese internet term for a self-employed media worker — could be lucrative. Despite being camera-shy, Hu decided to give it a shot. "You'll never make a difference [in the world] if you're just a migrant worker," Hu says.
The initial stage was riddled with setbacks. Hu split with his first partner, who headed back to the big city after they couldn't stop bickering, and his whole family was against his new career. "Holding a camera and wandering around all day long … What kind of job is that?" Hu's wife Li Yongmei tells Sixth Tone. She gave him half a year, vowing to pressure him into finding a regular job if it didn't work out. But after only three months, he was already earning the same as he did in his tedious factory job. At the end of last year, he paired up with Liu, a bamboo-rat breeder who spends his days tending to his 1,000 rodents which, in turn, spend their days chewing and scratching their enclosures. Now, with his adventure actually panning out, his wife now even helps him copy edit the subtitles.
Although he makes videos for a living, Hu still gets nervous if he's ever in front of the camera. He pauses between sentences and stumbles over his words; as he talks, he calms himself by squeezing and crunching autumn leaves. But he's confident when talking about videos. "I have high standards for visuals," says Hu, who's never been professionally trained. He's already spent over 10,000 yuan on high-tech gadgets, and as the views keep on coming, he's planning to upgrade.
Liu, meanwhile, has less lofty ambitions: He only wants to introduce his bamboo rats to more people, so he can secure more orders. "I'll keep raising my bamboo rats, and my partner will keep filming. No matter what, that won't change," Liu says. "Zimeiti for me is more like a side-job, some extra money." It's not yet the season for selling bamboo rats, but he hopes that the pair's newfound fame will boost sales. "It's a great strategy: Use village media to help farmers sell their products online," says Liu. "In the past, farmers had very few ways to market their products to the outside world." Fans have already expressed interest in sampling the rodent meat, and, in response, the duo is considering increasing their stock.
While there hasn't yet been a boost in their incomes from selling bamboo rats, the pair has already had a brush with fame. While in Beijing to sign contracts with ByteDance, they were recognized by fans. "In our village, it's normal for everyone to know us," says Liu, "In a city as big as Beijing with that many people, I was a little shocked that someone would recognize me."
Back in their town, though, Hu and Liu's stardom carries little weight. When they meet fellow locals, they're greeted with a nod or some small talk — the same as always.
GUANGXI, South China — Suwutang Village is hidden among the twisted, hilly roads in Lingshan County, Guangxi Zhuang Autonomous Region. At the end of a yellow dirt path dotted with rocks, there's a roofed terrace overlooking a fish pond and a two-room brick cottage. Off to the side, there's a chicken coop and a garden with green peppers, okra, beans, corn, papayas, and bananas.
It's here that 38-year-old Gan Youqin churns out three videos a day for her 2.6 million fans. Each morning, Gan pulls her hair into a ponytail, puts on a bit of makeup, and drives to her cottage where she spends her day cooking, tending to the vegetables, fishing, catching ducks — and recording it all on video.
Gan, who's better known by her online name "Qiaofu Jiumei" — meaning "Wise Woman Ninth Sister" — is a rural-media success story. Her online videos have helped turn around the town's fortunes, and she's become so popular that ByteDance has named her one of their model rural content creators, meaning she's a kind of poster-girl for village media. Earlier this year, ByteDance held its rural content press conference in her hometown, and Lingshan County's women's federation presented her company with a "Model Women in E-commerce Entrepreneurship" award. In case anyone wasn't aware of her identity, there's a large billboard near a villager's passionfruit vines that reads: "Qiaofu Jiumei Poverty Alleviation Model Garden."
Like the Huanong Brothers, Gan went to Guangdong before she had even finished middle school, taking on odd jobs as a waitress, factory worker, and salesperson. In semitropical Lingshan County, there have been so many young people heading to the city and turning away from the more traditional farming life that there are mountains of arable lands now deserted, left to be overtaken by weeds.
In May last year, Gan's husband, along with her nephew Zhang Yangcheng, encouraged her to start making videos. Zhang's the visionary behind her first video, which features her making savory egg tarts for her beloved teenage son. Gan's logo became a cartoon blonde woman wearing an apron and wielding a spatula.
When she first saw the camera, her blood froze, her limbs numbed, and her mouth dried. "When we first started, I was really stressed out," recalls Gan, who normally converses in her local dialect. "I was nervous, because I didn't know how to speak Mandarin well, and didn't know what zimeiti even meant." Now, after over a year's training and practice, she feels natural in front of the camera and even finds herself coaching her videographer — though she still doesn't quite understand the appeal. "I'm a village woman who isn't especially beautiful or talented," she says. "To be honest, I don't understand why people like watching my videos."
At the beginning, other villagers were not very supportive. "They didn't understand what we were doing," says Gan, who has tanned skin and gapped teeth. "People in this backwater didn't know what zimeiti was." Worse than that, many believed that a proper housewife shouldn't appear on-camera. "A woman who shows her face in public [too often] is a bad influence," she says.
But Gan ignored the comments, and soon, the village set such concerns aside. As her fans began inquiring about her produce, the video operation expanded into an e-commerce business. "They eat fruit, but don't know that it grows on trees," Gan says of her city clientele. "People who come from villages and struggle in big cities, they miss home; people who have always lived in cities, they're curious about village life."
Today, Qiaofu Jiumei has become a massive undertaking. It has partnerships with many fruit farmers in the village, and other growers in the county are also working with the company, hoping to ride on Gan's coattails. Her company has expanded to include an accountant, social media editors, and a whole section devoted to e-commerce. Zhang, the brains behind the first video, now works for the company's media department and is an anomaly among his fellow university-graduate peers. "They don't understand why I went back home," he says, sitting at the tea table where he often holds business meetings.
Gan's work can be bittersweet. "Sometimes, I want to take a day off, but I can't bear the thought," says Gan, who's recovering from a cold, but refuses stop working. After a long day of shooting, she stays up late, sending personal messages to fans. "It's the farmers I'm worried about," she adds, bursting into tears. "I'm worried I won't meet their high expectations."
There's barely any time for her personal life, either. "We barely fall asleep or wake up together," says her husband Lu Qisong, who sometimes jokes that his wife may leave him, now that she's famous. "It's pretty exhausting."
When asked about the company's income, Gan is evasive. "Do you believe the rumor that I make 10 million yuan?" she grins. Even now, she isn't interested in luxury goods or fancy clothes. Regardless of their earnings, however, Gan's not afraid of her fame someday fading. "Before I was a web celebrity, I could make a living on my own," says Gan, "I can still make a living on my own when I'm no longer popular."
Editor: Julia Hollingsworth.
(Header image: Hu Yueqing (left) films Liu Suliang (right) in a barn holding a bamboo rat by its tail, Nanjing Town, Jiangxi province, Sept. 26, 2018. Tang Xiaolan/Sixth Tone)