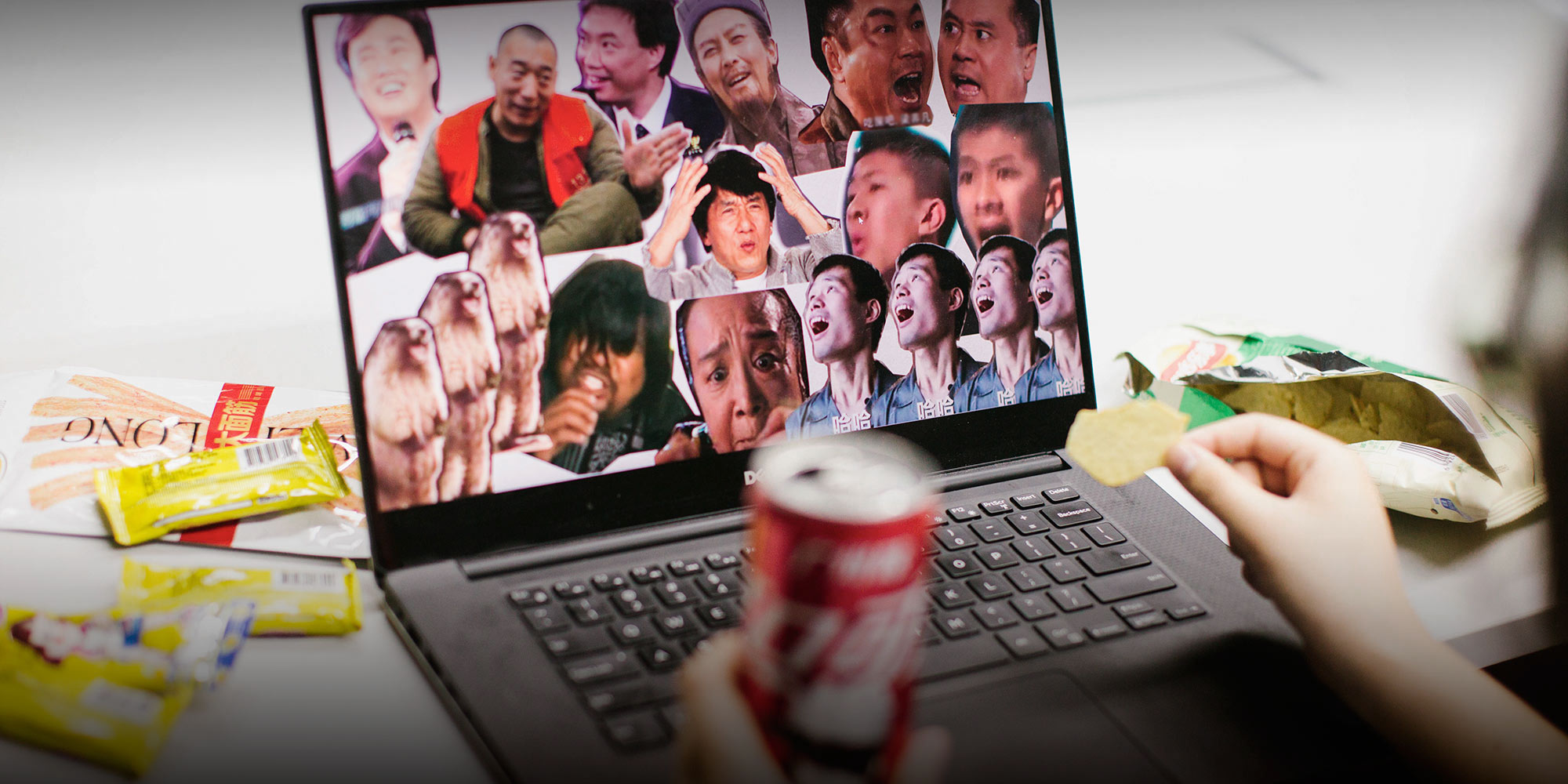 FEATURES
The Manic Mashups Charming China's Internet
Viewers use them to relax, and creators use them to make a living. But could new rules spell the end of these unusual audiovisual assaults?
SHANGHAI — Ronald McDonald. Bear Grylls. A dog howling. Hitler. The disparate clips flash by, each segment auto-tuned to generate a cover of the Vengaboys' 1999 hit "Boom, Boom, Boom, Boom." Brightly colored comments from ecstatic viewers flood the screen, occasionally obscuring the video entirely.
This is guichu, a bizarre and sometimes overwhelming genre of comedy music video created by combining, repeating, and auto-tuning clips until they form song lyrics and melodies. Viral memes, period dramas, news clips, and variety shows have all found themselves twisted into these two-minute videos.
According to guichu creators, the mashup style first entered China's cyberspace from Japan around a decade ago. The genre draws its Chinese name — meaning "ghost beast" — from an early video made in the style. By 2012, a community of content creators had developed on Chinese video site Bilibili; three years later, after a 2015 guichu take on a Jackie Chan shampoo ad went viral, big-name brands rushed to make their own similarly catchy clips. These days, video editors can earn a living from guichu, and their soundtracks are even published on music streaming platforms, alongside the likes of Taylor Swift and rapper Kris Wu hits.
But while guichu continue to flourish on Bilibili, where a whole section is dedicated to these mashups, some fear that guichu's heyday has passed. Public interest in guichu has waned in the past two years, and increasingly stringent government regulations have put video creators under constant threat of falling foul of the law.
To the new viewer, a guichu clip may seem like a riot of color and sound — and not necessarily in a good way. But fans praise the clips for their witty word play, catchy melodies, and sheer absurdity. In the Jackie Chan guichu, which catapulted the style toward more mainstream viewers, the famous actor's words are twisted into a rap about how the shampoo he's advertising made him go bald. Another popular guichu warps an educational speech so that the instructor is rapping pure absurdities, such as: "The main reason you're not studying well is that you're ugly." Videos often pay homage to past clips, and over the years, some people have had the dubious honor of becoming guichu royalty, including an unsuccessful googly-eyed singing-competition contestant.
But the repetitive clips are about more than just entertainment for 24-year-old Fang Jiahang, who makes a living crafting guichu for his almost 1 million Bilibili fans. "Guichu really get stuck in your head: It could be a funny line in the clip, or even a catchy melody," says Fang. He started making the clips in 2015, and now has a combined 81 million views on his 185 creations. His most popular clip, which has over 17 million views, shows the singing contestant singing a nonsensical ode to barbecued dough, a much-loved – if somewhat bland – snack in China. "They'll leave a deep impression on you after you watch [these clips]," says Fang. "You can't help but watch one again a second or third time."
Fang, who hails from the provincial city of Hangzhou in eastern Zhejiang province, publishes three or four videos a month under the handle "Just One Day Before the Holiday"— some for money, some just for fun. His monthly income varies, but a video commissioned by an advertiser can score him 10,000 to 20,000 yuan ($1,400 to $2,800). He was the mastermind behind the abovementioned Bear Grylls, howling dog, and Hitler video, which was recently produced for a developer of a fantasy mobile game. But it's harder than it looks to become a guichu maker: You need excellent video editing skills and plenty of creativity, according to Fang.
Although the videos are often intense viewing experiences, Fang believes they act as a kind of stress reliever. That certainly rings true for 28-year-old Li Jian, a Beijing-based senior project manager. "With a bit of editing, really average content can be made into something that you'd never imagine," says Li, who watches guichu clips to wind down after work. "They really crack me up."
Chinese people are turning to shorter, more repetitive forms of entertainment, says 26-year-old Lin Jiaqi, a former guichu creator. "Right now in Chinese society, everyone's time is very precious," he says. "People like to get a lot of entertainment in a short amount of time."
After his first time seeing guichu in 2013, Lin began to make them day and night, despite being in the middle of his animation degree. He gained over 1 million fans on Bilibili under the moniker "Vegetarian Lion" — a reference to his astrological sign and dietary preferences — and sometimes earned over 100,000 yuan a month making guichu for commercial clients, including KFC, Mazda, and Intel. Celebrity agents would reach out to him, asking him if he could "guichu" their client — for one actor, he had to watch over 18 hours of a reality TV series just to make a short clip to the tune of "Gangnam Style." He also edited a video of Chinese Olympic swimmer Fu Yuanhui — who rose to fame for her taboo-breaking comments about her period following a competition — so that she appeared to be rapping to a techno track.
Wearing a grey hoodie emblazoned with "NYC," Lin flicks through creations on his phone."Oh, this one was pretty popular, too," he says multiple times, stumbling across yet another viral video that he's forgotten he created.
Nowadays, Lin has little time to make guichu: He runs a video production studio in Shanghai's suburbs that he opened last year. But the genre still means a lot to him. "Guichu changed the course of my life," he says. "I was planning to go to Japan to study and become a game designer. But guichu enabled me to become famous on Bilibili, get an income, and open my own company."
Lin's noticed a dip in interest over the past two years, which he attributes to a dearth of hits as big as the viral Jackie Chan clip and the difficulty of making guichu. (It can take up to a month to create a two-minute clip). Like him, many top video creators have moved on to other things. Lin himself felt he was running out of creative ideas and worried guichu couldn't sustain him long-term.
A potentially bigger problem is the increasingly strict administration of China's cyberspace, which is clamping down on guichu. In March this year, the National Radio and Television Administration sent out a notice prohibiting the cutting, mixing, recaptioning, and redubbing of original works, as well as parodying "classic works." According to the notice, these sorts of productions had caused a "terrible social impact." Media commentators pondered if the notice would sound the death knell for guichu, since most clips were effectively rendered illegal. Although guichu continue to thrive on Bilibili, many guichu videos — especially those drawing on classic works — have since been taken down.
Despite the downward trend, 19-year old Qian Rui's interest hasn't waned. Having watched guichu since she was 12, the Hangzhou student has seen it balloon from a niche interest to a nationally known video genre. "Guichu will carry on into the future," says Qian. "Perhaps, in terms of mainstream popularity, it's not as big as before, but within our circle, it's something we've always been doing and will continue doing."
Videomaker Fang admits that interest in guichu has cooled due to official content restriction rules and "aesthetic fatigue" among viewers who are tired of seeing the same content in videos. But he's not stopping anytime soon. 
"I keep making guichu videos because it makes me happy; it gives me new experiences and allows me to learn new things," says Fang. "Even if I couldn't work as a full-time Bilibili videomaker, I would keep making guichu."
Editor: Julia Hollingsworth.
(Header image: Wu Huiyuan and Ding Yining/Sixth Tone)