A Long March rocket was launched into orbit from the Taiyuan Satellite Launch Center on Thursday with some curious cargo: 50,000 audio poems read by WeChat users around the world.
Tencent's flagship social app teamed up with the Shanghai Academy of Spaceflight Technology and a public WeChat account called "The Poem for You" to launch its "Space Poet" project on Sept. 14. A WeChat team selected 22 famous poems from the Chinese-speaking world and used artificial intelligence to screen users' audio submissions, made via a mini-program within WeChat. In the end, 50,000 recordings were selected and stored on the rocket's HY-2B satellite, whose purpose is to monitor the Earth's oceans.
According to Wan Yuzhu, a senior engineer at the Shanghai Academy of Spaceflight Technology, the poems are expected to remain around 950 kilometers above the Earth for a millennium or longer. "Just imagine, someone might hear our voices a thousand years from now — wouldn't that be romantic?" Wan said in a video interview with WeChat.
In addition to ordinary netizens, prominent figures such as Wang Junkai, the face of boy band TFBoys, and Zhang Qingjun, the satellite's lead engineer, read poems included among the 50,000 successful submissions. "By co-launching this project, we hope to integrate technology and the humanities in a way that reflects Chinese-style romance to the utmost," WeChat's PR team told Sixth Tone on Friday.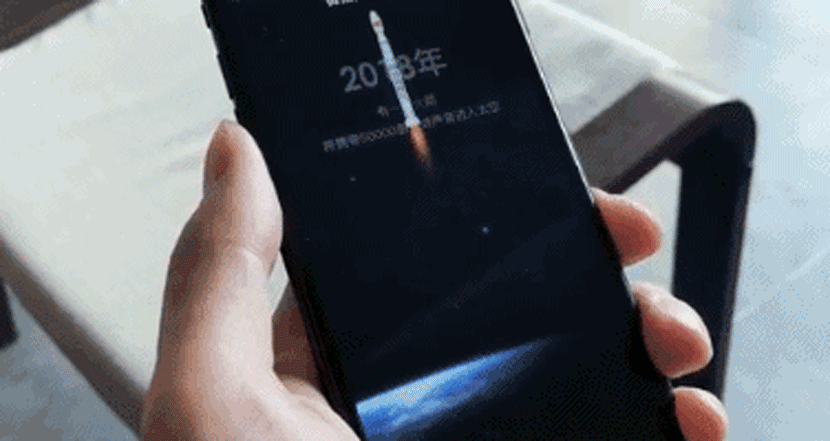 A GIF made from a promotional video for WeChat's 'Space Poet' project.
"I read Mu Xin's 'Time Was Slower in the Past,'" said Liang Yu, a recent graduate of Zhejiang Normal University, referring to a renowned contemporary artist and writer who was imprisoned during the Cultural Revolution. "The pace of life must be so fast a millennium from now," the 23-year-old told Sixth Tone. "I hope that in the future, [my poem] will soothe an exhausted soul who's become worn-out by daily trifles."
Zhang Zhaoxin, a first-year student at Beijing University of Chinese Medicine, picked "Distant Lands" by San Mao, a Taiwanese writer who lived in Western Sahara and the Canary Islands before taking her own life in 1991. "Space is the faraway land symbolizing the freedom I've yearned for," Zhang told Sixth Tone. "To whoever hears my voice: Each of us holds a place in the other's past and future. I feel touched beyond words by this affinity."
In 1970, China launched its first satellite, the Dong Fang Hong I. As it entered the Earth's orbit, it blared "The East Is Red," one of China's most hallowed anthems, into the heavens. But if there's anyone in the cosmos listening to us, they may be more accustomed to hearing English. NASA launched the Voyager 1 space probe in 1977 with a "golden record" — a phonograph time capsule of sounds and images — in tow. And in February of this year, aerospace company SpaceX sent a rocket into orbit carrying its founder Elon Musk's Tesla Roadster, blasting David Bowie's 1969 hit "Space Oddity" all the way.
"Traditionally, aerospace has rarely been within the purview of the Chinese public," said Wan, the engineer. "This project has built a bridge across that gap." The gap may be narrowing from the corporate side, too, as homegrown rocket startups like i-Space and OneSpace hope to bring China up to speed with industry leader SpaceX.
At the end of the article explaining the Space Poet project and announcing the rocket's launch, the WeChat team offers a suggestion to whoever might come across the audio files some day: "Hey aliens, learn some Chinese and feel the beauty of Chinese poetry."
Editor: David Paulk.
(Header image: A Long March rocket carrying the HY-2B marine satellite blasts off at the Taiyuan Satellite Launch Center near Taiyuan, Shanxi province, Oct. 25, 2018. Liang Shuang/CNS/IC)