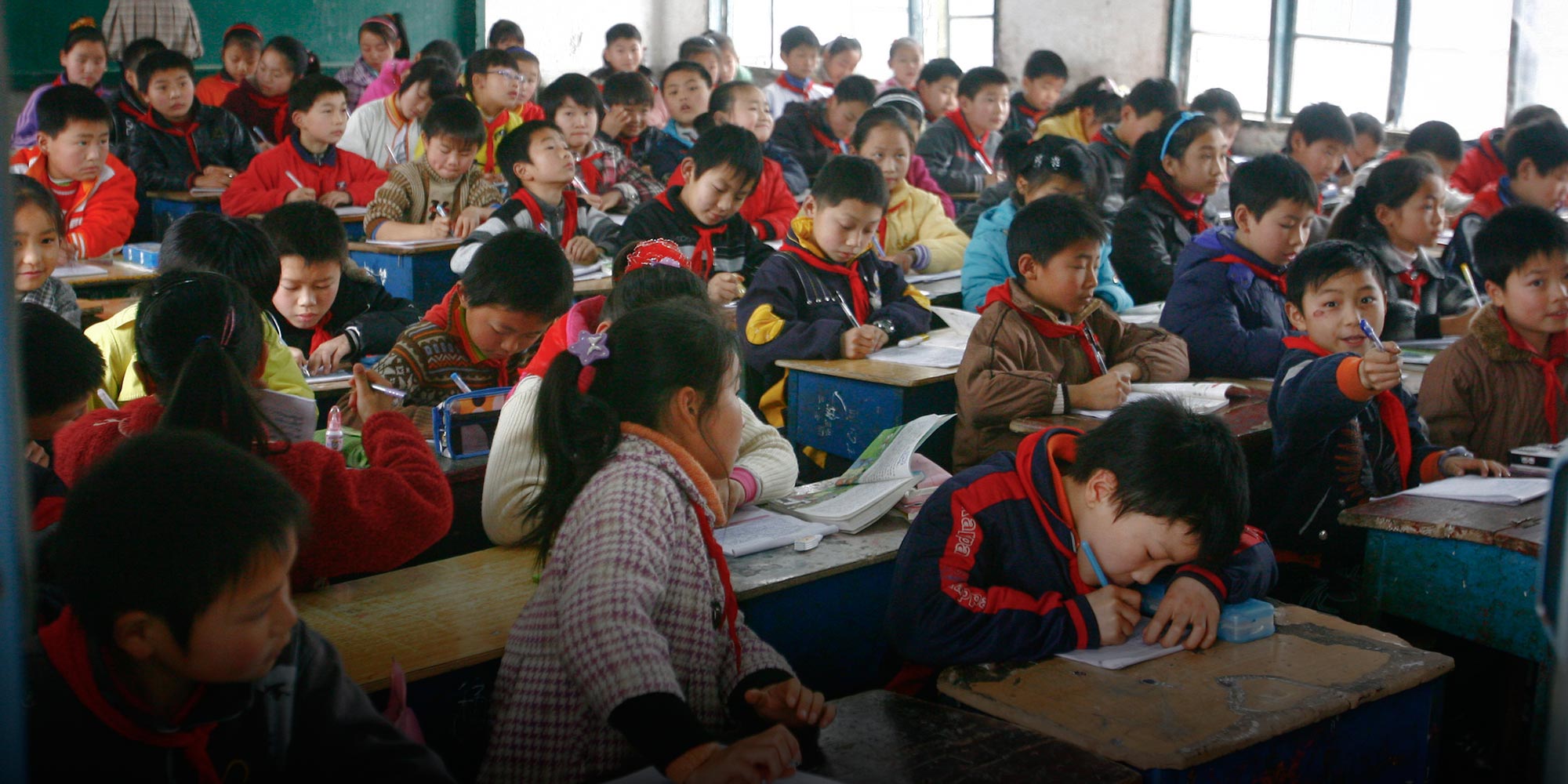 FEATURES
Class of 93: Inside China's Supersized Schools
In central China, an influx of homecoming returning migrant families is leading to overcrowded classrooms.
HUNAN, Central China — Fifteen-year-old Zou Yitong arrives at school by 6.30 a.m. and jostles her way into a classroom she shares with 60 other children. It's a tight squeeze, but compared to last year — when Zou's class contained 93 students — it's positively roomy.
"Last year, so many desks were packed into the classroom that students often tripped on them," said Zou. "I didn't drink much water at school, because there was always such a long line for the bathroom. Sometimes, the rooms were suffocatingly stuffy."
Overcrowded classrooms are a nationwide issue in China, especially in densely populated Hunan province. But in Xinhua, the county of some 1 million people where Zou's family lives, the root of the problem lies — somewhat counterintuitively — in the area's economic rejuvenation. In recent years, government-sponsored poverty alleviation campaigns have brought heavy investment into the region, transforming an expanse of countryside next to the old county town into a vast new residential area called Xinhua New District. The town's resurgence, in turn, is luring home migrant families who once vacated the impoverished county to look for work. As these families crowd into urban Xinhua, demand for local schools has skyrocketed, leaving education officials scrambling for a solution.
Xinhua has 160,000 children in compulsory education, split among 400 or so public schools. On the surface, this ratio seems reasonable enough. But as more and more families move into built-up areas, certain schools are being stretched to their breaking points while others gradually empty out. One-quarter of all classes in the county contain 65 or more children; some accommodate nearly 100. Among the 16 schools in urban Xinhua — which includes both the old county town and Xinhua New District — the situation is so severe that the county education bureau vacated their offices last summer just to convert them into extra classrooms.
China's Ministry of Education advises schools to limit primary school class sizes to a maximum of 45 students and middle school classes to 50, but these guidelines are not legally binding. Xinhua's education bureau told Sixth Tone that it aims to comply with state regulations on class sizes by 2019 and to eliminate all classes with more than 56 students by 2020. Further expansions of existing schools are also underway.
Those changes can't come soon enough for returnee children like Zou. Her parents, both of whom hail from Xinhua, used to run a printing business in Leshan, the city in southwestern China's Sichuan province where Zou was born. In 2016, Zou's father moved the company to the Tibet Autonomous Region, while her mother, Lei Yan, decided to move back to Xinhua with Zou and her two siblings. The family spent 400,000 yuan (then around $60,000, a considerable sum for the area) on a three-bedroom apartment near the new district, qualifying the children for a place at the well-regarded Mingde School nearby. "My kids are all registered as residents of Xinhua, meaning they eventually have to sit the gaokao here anyway," Lei said, referring to the nationwide college entrance exams taken at the end of high school. "I thought they should adjust to the local education system before taking their tests."
Back in Leshan, Zou shared a classroom with about 40 other students. At Mingde, there were more than twice that amount. "Even the playground was too small to accommodate everyone," Lei recalled, "so teachers told children to remain in crowded classrooms during recess."
Most parents Sixth Tone interviewed accepted packed classrooms as a fact of life, but many expressed concern that extreme overcrowding might pose a threat to their children's health. Common complaints included a lack of space for the kids to exercise during class breaks and their increased exposure to transmissible diseases. And because many schools in urban Xinhua have hurriedly added new classrooms, some parents also said they worried about their children coming into excessive contact with the potentially harmful chemicals used in China's interior decoration industry.
Parents also lamented what they perceived to be a delayed official reaction to ballooning class sizes and an unwillingness to resolve the problem. In Xinhua County as a whole, 8,000 more children per year begin compulsory education than finish it, according to the local education bureau. And because many migrants move home partway through their children's school years, secondary schools often have to accommodate unexpected arrivals on short notice.
Despite this, the county government built only one new school between 2010 and summer 2018: Siyuan Experimental School. Even there, classes of more than 60 students are common. "When I was in primary school, I shared a classroom with 50 other kids. Twenty years later, we're seeing classes of 60," said Wang Qi, the father of a fourth-grade student at Siyuan. "There are also classes of nearly 100, but because there are so few of them, the authorities tend to ignore the problem.
"Many people here highly value the quality of education. We have high hopes for our children's futures," Wang added. "So, we hope that schools can reduce class sizes sooner rather than later."
Tang Nianhong, an administrator in the basic education department at Xinhua's education bureau, said that headline-grabbing real estate projects mask a chronic lack of funding in the local government. "We're still a poverty-stricken county, you know," she told Sixth Tone in an interview. "Our county budget is very limited. It's hard for us to finance the construction of so many new schools so quickly."
Toward the end of the last school year, Mingde — the school that Zou attended — informed the education bureau that it no longer had the capacity to enroll any more students. With no time to commission and build a new school, panicked officials took drastic action: They moved out of the bureau's offices in downtown Xinhua and hastily converted the building into classrooms. (Education officials now share an office with the rural road-management bureau.)
When the project neared completion during Mingde's summer vacation, the school notified the parents of all incoming eighth- and ninth-graders that they were being transferred to "Xinhua Experimental Middle School" — the new name of the old bureau building. Angered by educators' heavy-handed tactics, parents rejected the move. Some even held a demonstration outside the county government headquarters, complaining of the disruption to their children's educations.
Although Lei — Zou's mother — didn't participate in the protests, she understood other parents' concerns. "The new school is so far from home and inconvenient to get to. My daughter was already sleep-deprived, and now she has to waste even more time on the road to school," she said, adding that the reorganization of Zou's school life might damage the girl's chances of scoring well on next summer's zhongkao, China's notoriously challenging high-school entrance exam. Xinhua Experimental lies 3 kilometers from Mingde, but is poorly served by public transportation: Zou generally wakes up before dawn and cycles 30 minutes to get to her new school.
After the demonstration, officials took a different approach: They reassigned Mingde's best-regarded teachers to Xinhua Experimental and asked families to voluntarily transfer their children. Worried that Mingde's teaching quality would drop at a crucial point in Zou's education, an exasperated Lei signed her daughter up for the scheme. "What other option do we have?" she said. "Good teachers are all we care about."
In the end, Xinhua Experimental siphoned off around 700 of Mingde's students. Despite parents' remonstrations, the scheme has been a welcome relief to Mingde's principal, Zeng Lixiang. In a telephone interview with Sixth Tone, Zeng explained that enrollment figures at the combined primary and middle school have spiked in recent years. In 2010, when it was still classified as a village-level school, around 300 students studied at Mingde. After being swallowed up by the county's rapid urbanization projects, 5,808 children were enrolled across nine grades last year.
Although the education bureau has previously funded new school buildings and extra teaching staff, Mingde's student numbers still far outstrip its capacity. "Every year, student enrollment is a complete nightmare," Zeng said, adding that most classrooms no longer have the space to fit even one more desk. "Fortunately, [after Xinhua Experimental opened], class sizes in our middle school department no longer exceed 65 students. But the issue with the primary school department has yet to be addressed." Mingde still does not have a single primary-level class with fewer than 80 students.
The move to Xinhua Experimental has given students more breathing room, but it hasn't reduced the burden on the teachers. Zou's homeroom teacher, Kang Dujuan, was one of around 30 teachers reassigned as part of the initiative. For the 32-year-old, the upsides are that her class of more than 90 children has shrunk to around 60, and children are often more engaged in class. "The kids who followed me here tend to be abler students whose families are willing to put up with longer commutes and the [initial] shortage of teaching materials — as long as their children get good results in the upcoming high school entrance exams," she said.
But having fewer students does not mean having less work. Kang, whose specialism is Chinese, now has to teach two additional classes in history, a subject unfamiliar to her. She works 12-hour days for a salary of around 5,000 yuan a month. "My workload has clearly increased," she sighed, "but I understand I won't earn any more from it."
Tang, the education administrator, admitted that a county-wide teacher shortage is exacerbating already-overstuffed schools. In August, Xinhua officials came under fire after passing a teaching candidate who scored just 9 out of 100 on a qualifying exam. "Every school lacks teachers," said Tang. "We're at least 1,000 people short of where we need to be."
According to the education bureau, the average monthly income for local teachers was just over 5,200 yuan last year, a slight increase from 5,000 yuan in 2016 and well above the 3,200 yuan they earned in 2014. But the wage hike has done little to remedy the dearth of teaching staff. "Compared with other places in Hunan, the attraction to Xinhua is still lukewarm," said Duan Xiaohong, another official at the county education bureau.
For Xu Yong, the director of the Center for Chinese Rural Studies at Central China Normal University, Xinhua's troubles are an undesirable consequence of changing migration patterns nationwide. "We're seeing the emergence of a new norm, whereby migrant workers are resettling to their hometowns," said Xu. "This backflow is putting a certain amount of pressure on local public resources, including education. Some have failed to adjust in time and can't cope with the increasing number of incoming students."
The problem is exacerbated by the fact that although most migrant workers hail from rural areas, they prefer to send their children to more highly regarded urban schools when they return, leading to overcrowded classrooms in built-up areas, according to Xu. "This is a type of structural imbalance," he concluded.
After several years of emergency school-expansions, Xinhua's education officials tend to prickle at criticism of the county's supersized classrooms. "This phenomenon has been going on for quite some time in our county," said Tang, the administrator. "Now, all of a sudden, we're being told to figure it all out this year. It's a lot of pressure."
Editor: Matthew Walsh.
(Header image: Qian Bo/IC)