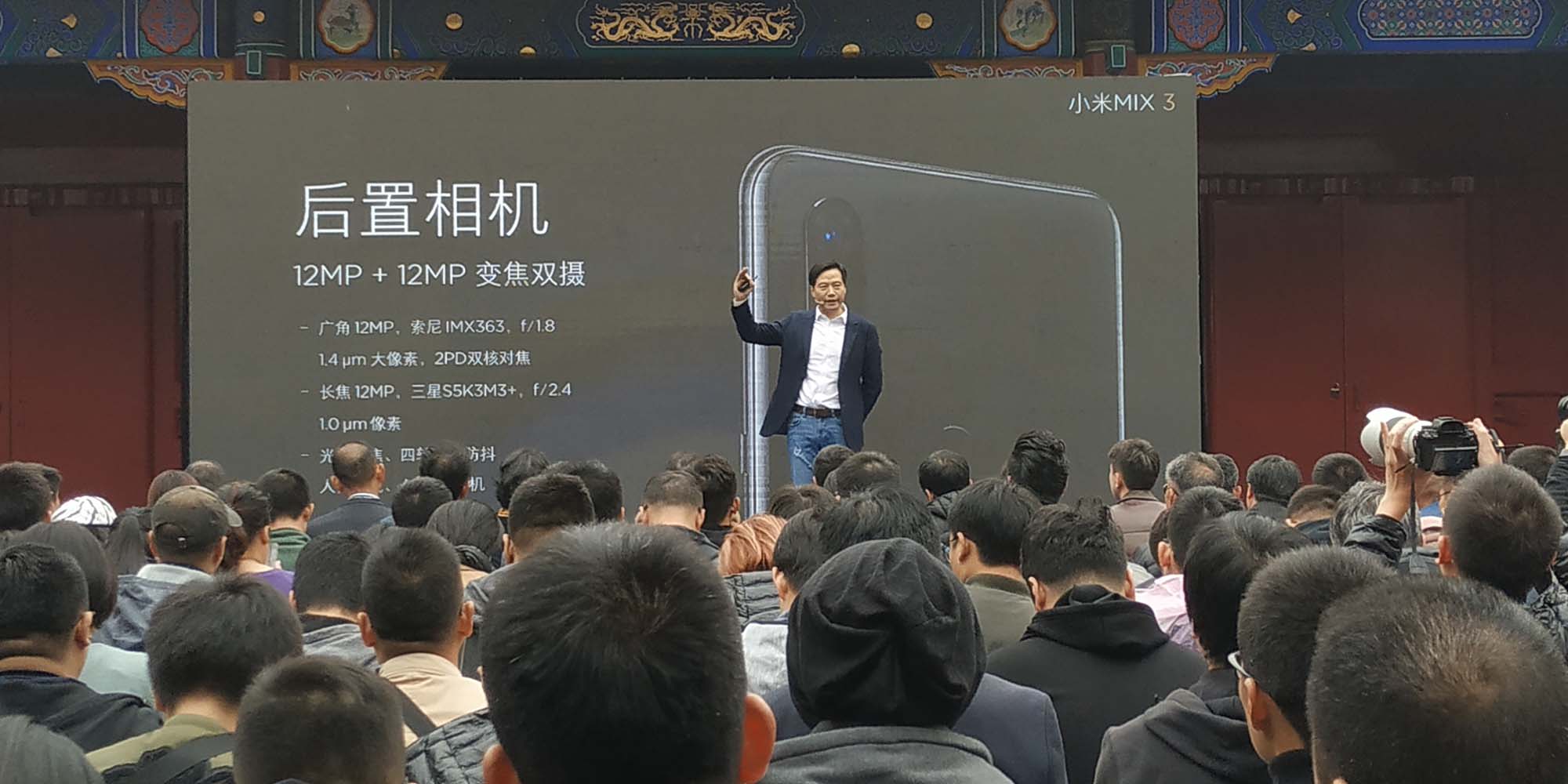 NEWS
Eschewing Bezels and Whistles, Xiaomi Slides Back to the '90s
To experts, the sliding smartphone design shows a lack of innovation; to customers, it brings nostalgia for their decade-old Nokias.
The latest trend in Chinese smartphones is looking a lot like a '90s homage. As Xiaomi unveiled its latest product on Thursday, users noticed a familiar feature: It slides open like the Nokias and Motorolas of yesteryear, a testament to the adage that fashion is indeed cyclical.
The long-awaited Mi Mix 3 includes several flashy features, including up to 10GB of RAM and 5G capability. But the one that has Chinese netizens abuzz is its slide-open design, which allows it to achieve a screen-to-body ratio of 93.4 percent. The partial sliding mechanism reveals a dual front-facing camera, making the 6.39-inch screen of the phone bezel-less — bare of buttons, cameras, or other eyesores.
Over the past two weeks, Xiaomi has been promoting the Mi Mix 3's sliding design in a series of teaser photos and videos. In one video the company posted on microblogging platform Weibo, the click of the sliding phone becomes a percussive part of an impromptu jam session. "Slide it whenever you like — it's the perfect stress reliever," Xiaomi CEO Lei Jun wrote on Weibo.
Xiaomi isn't the first Chinese smartphone maker to favor a sliding design. New and upcoming products from domestic brands like Oppo, Huawei, Lenovo, Vivo, and lesser-known Doogee are also aiming for a phone that's all screen. The earliest adopters were Vivo's NEX and Oppo's Find X, both of which feature a pop-up front-facing camera. Following in the footsteps of these models, Huawei launched its sliding Honor Magic 2 model on Aug. 31. Unlike the Vivo and Oppo phones, whose cameras are powered by electric motors, the Honor Magic 2 has the same design as the Mi Mix 3 and is divided into two parts: the front screen and the main body in which the selfie camera is embedded. To reveal the selfie camera, the top part slides down about half an inch, making the phone more structurally similar to a vintage Nokia than to some of its peers.
So why are Chinese phone makers suddenly enamored with the sliding design? "Bezel-less or borderless phones have always been a hot trend that smartphone designers have been dying to chase," Bo Ying, a technology columnist based in Guangzhou, told Sixth Tone. However, how to hide the front-facing camera has long puzzled the world's phone companies. One possible solution is to embed the selfie camera directly into the screen — a technology that electronics giant Samsung is working on.
However, developing an under-display camera presents challenges. "It's difficult to make such an innovation, and time-consuming for phone companies if they want to research and develop the technology," said Bo. He added that the pop-up camera in the Vivo and Oppo phones had translated to sales, which is likely why bigger players like Xiaomi and Huawei opted to test the waters with slider phones.
"The return of the slider phone will be a dead end and a step back in smartphone design," Huang Zhang, the CEO of Chinese electronics company Meizu, wrote in his company's online forum. In Huang's eyes, the sliding design is a compromise — a clear indication that Chinese phone makers have failed to innovate. What concerns him is not only this lack of innovation, but also consumer backlash. "Apart from any potential troubles the complicated sliding mechanism may bring, slider phones will be as heavy as bricks, or the quality of their photos will decline. The so-called return of the slider phone is just a marketing gimmick," Huang wrote.
But according to Bo, the big push for sliding designs is a sign that Chinese phone makers are desperate to stimulate the stagnant domestic market by experimenting with something new — or at least newish. China is the world's largest mobile market, with over 780 million smartphone users as of last month. According to market research firm Canalys, smartphone shipments from factories to stores suffered their biggest decline ever in the first quarter of 2018, plummeting 21 percent compared with the same period last year. From January through March, Chinese consumers bought just 91 million phones. The slowdown also affected Samsung's sales in China, the South Korean company's largest market: It sold just 800,000 devices in China in the second quarter of 2018, its market share falling below 1 percent. "China's smartphone market has faced its winter. To impress consumers, Chinese phone makers should think about how to compete with overseas brands on true technological innovation rather than minor hardware designs," Bo said.
While experts may not think highly of the sliding designs being touted by Chinese phone makers, consumers are giving the new products mixed reviews. "The Mi Mix 3 reminds me of my first slider cellphone, the Nokia 5300," Du Bolin, a 28-year-old marketing manager in Beijing, told Sixth Tone. "It's making me nostalgic. I miss that little sliding action." As for whether he'd consider buying the phone, however, Du said he would have to be wooed by more than just good looks.
Editor: David Paulk.
(Header image: Xiaomi CEO Lei Jun gives a speech during the Mi Mix 3 product launch in Beijing, Oct. 25, 2018. VCG)