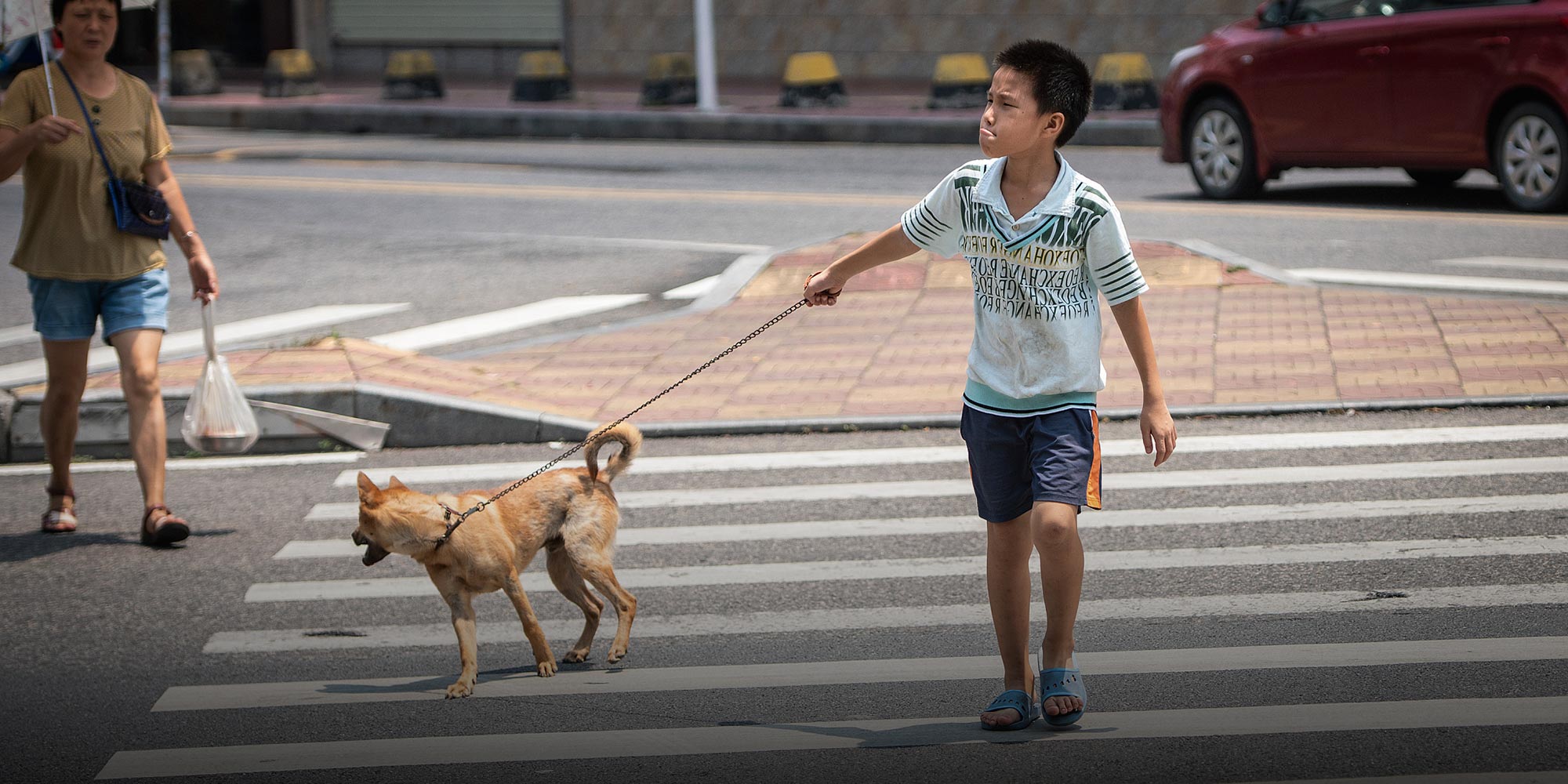 FEATURES
Credit Score for Canines Keeps Dog Owners on a Short Leash
As an increase in pets pits pup-lovers against pup-haters, a new point system tries to keep the peace.
SHANDONG, East China — Ever since she was bitten on the leg at age 5, Zhang Qiaoling has been afraid of dogs. Years later, as a teenager, the sight of an unleashed dog still scared her so much she'd freeze on the spot. "I hate it when owners tell me their dogs don't bite," Zhang, now 25, tells Sixth Tone. "In my eyes, even a cute breed like a toy poodle is basically a wolf — never mind something like a husky."
Dog ownership has increased sharply in China, with over 50 million pet dogs currently registered in China and corresponding increases in sales of everything from high-end pet products to breeding and cremation services. But the large number of pooches has brought resentment among those who don't consider them to be man's best friend and who blame dog owners for raising badly behaved pups.
Luckily for Zhang, unleashed dogs have become a rare sight in her hometown of Jinan. Early last year, the city launched its "Civilized Dog-Raising Credit Score System," a first in China that has since been copied elsewhere. Reminiscent of other point systems introduced throughout the country that aim to improve people's behavior, its stated goal is to make dog owners more responsible.
The compulsory program gives every registered dog owner a license that starts with 12 points. As with drivers' licenses, points are deducted for infractions, such as walking a dog without a leash or tag, not cleaning up poo, or being reported for a disturbance. Good deeds, like volunteering in kennels, are rewarded with extra points.
Over 1,400 owners have thus far been penalized under the new system, 122 of whom lost all their points and had their dogs placed in a government kennel until they passed a test on pet policies. According to police, 10 owners of confiscated dogs have yet to pass so far.
The prospect of losing one's beloved pet is apparently effective. Authorities said in August that 80 percent of dog owners now use leashes — up from 20 percent in previous years — and that in 2017 complaints about barking and biting had decreased by 65 percent year-on-year. State-owned newspaper Legal Daily has praised the point system for its "strong operability and great effectiveness," and argued for its countrywide implementation.
Zhang, too, supports the new system. She feels like almost everyone walks their pups on a leash nowadays, and she rarely sees dog poo on the street. "Civilization does need a strict legal push," she says.
When Xing Ruizhi took her black-and-white foster pet, Coco, to be registered last year, the dog got vaccinated, had her picture taken, and was implanted with a microchip. Xing received a tag with a QR code that now dangles off Coco's collar. When scanned, police can look up the breed, age, immunization status, owner information, and point total for each of the city's 100,000 or so dogs. The tag also comes with geolocation technology that can help Xing find Coco if she ever goes missing. The whole process took less than 10 minutes, but it cost Xing 400 yuan ($58) — and she'll have to pay an additional 200 yuan each year for tag inspections.
The points program also gives police the right to confiscate unregistered dogs, owned by people who might want to avoid such fees or who have more than the one dog per person allowed by the city. Last summer, when Ken Cari was walking 1-year-old Jenny in his neighborhood, passers-by warned him that police were on patrol in the area. Since he hadn't yet applied for the dog registration, Cari and Jenny high-tailed it back home. "I heard the dogs need a license and can only be a certain size," he says while petting Jenny, a decidedly rotund golden retriever. "I wouldn't let them take her away from me. She's my baby."
When Cari, who hails from Montana in the U.S., called the dog management office to ask how to register, he was told that foreigners like him couldn't own a dog, regardless of his fluent Jinan dialect and long-term job in the city. The next day, accompanied by a local friend, Cari took Jenny to the police station. They waited for hours as staff made endless phone calls to their superiors. In the end, he got the license.
Everyone in the neighborhood knows Cari and Jenny: "A big foreigner raising a fat dog," he laughs. Cari has noticed an increasing number of dogs in his apartment complex, from just a few when he moved in about a decade ago to more than 40 now. Not everyone is enthusiastic about the change, however. One major reason for this, Cari believes, is that few owners in China get their dogs spayed or neutered, leading to large numbers of strays and a public perception that the animals are "dirty, scary, and mean." Dog bites are a frequent occurrence: Statistics show that 60 to 80 million doses of rabies vaccines are issued annually in China, and that 644 people died from infections in 2016, mostly from dog bites.
Canine-related tensions turn hostile at times. In July, a Chinese pharmaceutical company was found to have produced and sold substandard rabies vaccines. Following the scandal, a viral post on the social media platform Weibo suggested scattering pieces of meat with isoniazid, a drug for treating tuberculosis, to kill dogs walking around unleashed. The post was ultimately deleted, but not before generating pages of discussion and hundreds of thousands of views. Shops on the e-commerce site Taobao immediately pulled isoniazid off the digital shelves to avoid legal trouble.
When people get hurt by dogs, the public often questions the lack of severe punishment for owners, who usually only need to refund the cost of victims' vaccinations. In September, for example, a court in the northeastern Liaoning province ordered an owner to compensate the family of a child whose face was bitten by an unleashed dog with roughly 19,000 yuan, which equals $2,740 — a fraction of the average amount paid out for dog bite claims in the U.S. last year: $37,051. In addition, almost every U.S. state has laws and regulations on how to raise dogs. But in China, now one of the largest pet-owning countries in the world, regulations and their implementation lag behind.
Xing, the owner of Coco, supports Jinan's point system but says the government should do more to help dog owners in return, such as building parks where the pets can run free. Many dog owners would also like to see an animal protection law. Currently, owners can only file cumbersome lawsuits based on dogs' legal status as property in cases of harm. Especially since the isoniazid post, such scenarios have worried pet parents. "I have no choice but to put a muzzle on my dog to protect her, but I know she really hates it," Xing says.
Jinan dog owner Liu Jin says a friend's dog was poisoned to death last month after eating a piece of sausage laced with drugs. Her own dog, a tricolor corgi called Baobao, now only goes outside on a leash. Liu had a hard time convincing her father to stick to the rule, however. "He is so stubborn," she says. But Liu's father caught on after police spotted him walking a free-roaming Baobao and deducted three points from the family's license. "Ever since then, he has followed the rule because he doesn't want our dog to be taken away," Liu says.
Yet not everyone is a good boy. Thirty-something Leng Bing owns a bar hidden down a lane in Jinan's historical city center. To the delight of his customers, he sometimes goes to work with his aging crossbreed, Dian Dian. Though Leng registered him last year and put a tag around his neck, he still walks Dian Dian unleashed. "I only walk him in my residential area," he says while pouring a beer for a customer. "So I think it's okay to set him free and release his inner nature."
Editor: Kevin Schoenmakers.
(Header image: A boy walks a dog across the street in Dongguan, Guangdong province, Aug. 7, 2018. An Dong/VCG)