Here in 2018, big data is a big deal in China, and nowhere is this truer than in Guizhou, a remote, impoverished province in southwestern China where the provincial government is trying to build a big data industry from scratch. As He Yuan — a manager at the Shanghai-based company Beige Big Data, which has an office in Guizhou — put it to me in a recent visit to the province: "Everyone wants a piece of big data … Many still haven't figured out what the term means, exactly."
Despite this lingering confusion, the Chinese government seems fully invested in what The New York Times columnist David Brooks refers to as "data-ism" — the belief that "everything that can be measured should be measured; that data is a transparent and reliable lens that allows us to filter out emotionalism and ideology; that data will help us do remarkable things — like foretell the future." And Guizhou — a province less commonly associated with cutting-edge technology and more often with rugged mountains, poor soil, and extreme poverty — is trying to position itself at the forefront of this nationwide push. Yet for all its leaders' grand ambitions, several hurdles remain to be overcome. In particular, if the province hopes to train or attract skilled talent, it needs to first revamp its public image.
There are signs of the government's drive all over Guizhou. At a newly constructed plaza in Gui'an New Area — located outside the provincial capital of Guiyang — construction workers smoke on public benches designed to spell out "BIG DATA" in English. In Guiyang itself, the new high-rises lining one of its main thoroughfares, South Changling Road, are all plastered with big data company logos.
The province's embrace of big data dates back to 2014. Tang Chen, the director of marketing at the data-trade startup Global Big Data Exchange, says the provincial authorities' proactive approach to the industry has played a big role in convincing many big data technology companies to relocate their headquarters to the region. Founded in 2015, GBDE — which claims to have registered over 2,000 members and processed more than 300 million yuan ($43.2 million) in transactions — is an example of the kind of businesses now setting up shop in the province.
With an average temperature of 15 degrees Celsius, Guizhou's temperate climate allows companies to save money on data center cooling costs. Massive government tax and land incentives have also helped convince companies such as Tencent, Apple, and Huawei to build new data centers in the province. These centers are needed to store the billions of petabytes — a unit of measure, each equivalent to 1,000 terabytes — of data that comprise the country's nascent big data industry.
The drive to transform Guizhou from one of China's poorest and most underdeveloped provinces into a cutting-edge science and technology hub extends beyond the big data industry. The province is also home to the world's largest single-aperture radio telescope, known as the "Five-hundred-meter Aperture Spherical Telescope," or "FAST" for short. Tucked into a southern Guizhou valley, the FAST site is home to both a world-class scientific research center dedicated to locating extraterrestrial life, and a newly established space-themed amusement park.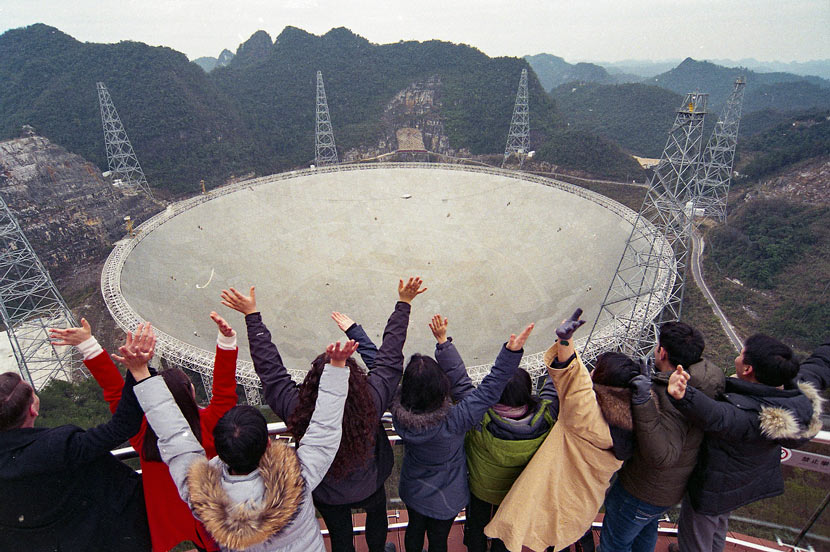 Young people pose for a photo in front of the Five-hundred-meter Aperture Spherical Telescope in Pingtang County, Guizhou province, Jan. 13, 2018. He Junyi/CNS/VCG
By offering commercial tours of FAST, local officials aim to inspire the next generation and instill a passion for science. Yet the government's focus on scientific and technological education is often muddled by the inclusion of some less-than-scientific add-ons. FAST itself, for instance, may be a monument to scientific achievement, but it's surrounded by gaudy statues of the Western zodiac where visitors can locate their zodiac signs and horoscopes as they meander through the mountainside park. The result is a monument to astrology smack in the middle of one of Chinese astronomy's greatest achievements.
Another equally grandiose attempt to blend pop culture and science can be found in the newly opened Oriental Science Fiction Valley Theme Park, located just south of Guiyang. Billed as the first virtual reality theme park in the world, the park — which cost an astronomical 3 billion yuan to build — promises to give visitors a glimpse of the future, which naturally seems to include 53-meters-tall Transformers-style robots with built-in bungee-jumping platforms. The local response has so far been tepid, in part because ticket prices are out of reach for many in the area.
"It's still too expensive," complained one of the visitors I met inside the park grounds. Indeed, even after a recent 33 percent price drop, the park remained eerily empty, and only handful of tourists were wandering the premises on a pleasant summer Sunday afternoon. "Normally on weekdays, there are even fewer visitors," a park employee informed me.
Guizhou's relative poverty means residents are perhaps less interested in the fantastical side of the province's push than in its practical effects — namely the jobs it could bring. According to He, the manager at Beige Big Data, while the big data industry requires skilled technical workers for data analysis, access to a large pool of low-skill workers to parse and produce usable data is just as useful. Only a small percentage of all digital data starts out already "structured" — meaning it exists in a form that can be efficiently processed by a computer. Chinese companies' solution for the rest is to have an army of comparatively low-paid data scrubbers clean and prepare this data — an army Guizhou is well-positioned to supply.
Already, new schools have popped up to help train this workforce. The Huawei Big Data Institute, for instance, was set up in Guizhou by Chinese tech giant Huawei to help train local students for jobs in the big data industry. "We are not training students to become employees at Huawei," the school's dean Huang Jianguo said. "We are preparing students for a wide array of jobs available within the big data industry." For the students — many of whom have their tuitions subsidized by the Guizhou government — any white-collar position would suffice, and big data institutes offer a viable way into the industry, from part-time internships to full-time positions.
Once hired, many wind up in a place like Baiheniao Data Factory, where hundreds of young data-scrubbing employees — sometimes referred to as "data-labelers" — sit in a large computer lab performing the tedious task of labeling data. This work, while monotonous, is crucial to generating and preparing the vast amounts of data needed to train machine-learning algorithms to do everything from identifying objects in dashcam footage to recognizing facial features. When asked about the workers' future prospects, Zeng Yun, a project manager at Baiheniao and a teacher at the big data technical institute Guizhou Forerunner College, grew heated: "We dislike it when the media portrays our students as poor kids working in miserable conditions cleaning data — it's not true! Yes, our students are poor, but they are not miserable. They are thrilled to be contributing to the development of new technologies!"
Watching on as hundreds of workers and interns diligently scrutinized their computer screens, marking tiny details in digital images to help the machines gain information, it was difficult to verify Zeng's claims about the thrilling aspects of the job. Yet for many, their current jobs — although not necessarily glamorous —represent a giant step up from the lifetime of hard manual labor that might have been their fate just a decade ago.
Guizhou, like many parts of China's interior, has a long way to go before it can catch up to the country's more developed coastal regions, both in terms of economic and educational resources. For all its ambitions, the province is not about to emerge as a new Silicon Valley. Even so, the introduction of new economic and job opportunities, combined with a broader governmental push to open up opportunities in scientific and technological fields, is beginning to reshape the prospects of both the province and its residents. These changes anticipate a future in which Guizhou will connect and contend with other centers of technology, both in China and around the world.
Editors: Yang Xiaozhou and Kilian O'Donnell.

This article was funded by the Sixth Tone Fellowship. In 2018, Sixth Tone sponsored eight young scholars to come to China for a six-week research trip to conduct field-work in eight provinces all over the country.
(Header image: A view of the Oriental Science Fiction Valley Theme Park, Guiyang, Guizhou province, April 29, 2018. Ma Mengbo/IC)