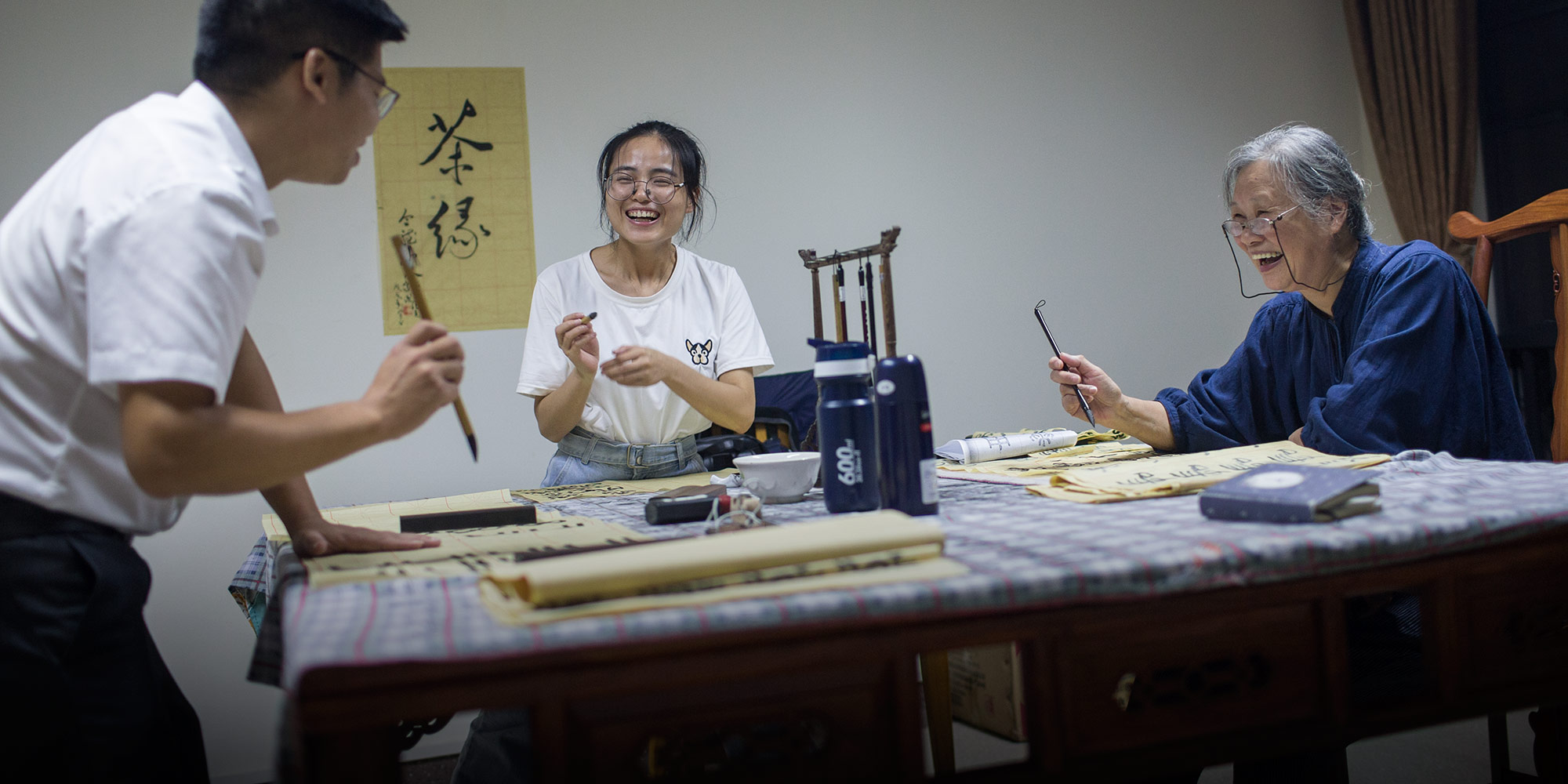 FEATURES
Young, Friendly, and Living in a Retirement Home
New project pairs cash-strapped graduates with lonesome elderly.
ZHEJIANG, East China — Wu Kai, fresh-faced and freshly graduated, never thought he'd be living in a nursing home at age 21. Or that he'd love it.
In July, Wu was among a dozen 20-somethings who moved into Sunshine Home, a state-invested but privately run elderly service center in provincial capital Hangzhou, to take part in a project poetically promoted with the slogan, "Keeping others company is the deepest expression of love."
"What the elderly fear most is loneliness," says Wang Kai, director of Sunshine Home's social worker department. "They want someone to talk with."
The home matches its lonely residents with budget-conscious young people, who have to spend at least 20 hours a month chatting with the elderly, reading books to them, and helping them navigate their electronics. In return, their monthly rent is just 300 yuan ($44) — a significant discount, Wang says, adding that similar apartments in the area go for around 2,000 yuan a month.
Such companionship projects have existed in developed countries for some time but are new to China, where nursing home facilities lag behind the needs of its rapidly graying population. In Hangzhou, the number of residents aged 60 or above increased from nearly 18 percent of the population in 2011 to over 22 percent at the end of 2017 — compared to 17.3 percent nationwide. Yet the city only has 4.2 nursing home beds for every 100 senior residents, according to 2016 findings.
Sunshine Home, which was built in 2017 along a lake in Hangzhou's Binjiang District, has yet to fill about 1,400 of its 2,000 beds. Renting out rooms on the cheap in return for some "volunteer" work made sense. "It makes up for our own limited manpower and our service's shortcomings," says Wang.
However, the project might not be applicable elsewhere in China. Since there is a shortage of nursing homes around the country, few institutions have the rooms to spare. It's been well received, however. The Communist Party's newspaper, People's Daily, praised the initiative as a "win-win" and suggested other private nursing homes with rooms to spare emulate the model. A local government official called the program ahead of its time, but said it was too early to judge its merits.
In May, when Wu was ready to move off-campus and start the pension administrator job he had found in Hangzhou, he noticed a recruitment ad for Sunshine Home. Applicants needed to be single, work in Binjiang District on at least a one-year contract, and could not own a home in the city. Besides the cheap rent, he liked that his volunteer work would be related to his day job.
Two months, one application, and several rounds of interviews later, Wu moved in. He works a 9-to-5, and usually gets home at around 6 p.m. In the evenings, he spends time with his elderly neighbors. "Sometimes, they make an appointment with me and I go to their room at a reserved time; other times, they just come downstairs and knock on my door," Wu says.
Wu is tan, tall, and has a warm, if somewhat shy, personality. At first, he says, approaching his elderly housemates was embarrassing, but it quickly felt natural. "I'm Wu Kai, a volunteer here," he says, introducing himself to the seniors in the activity rooms where they play table tennis and pool. "You can come to me if you have problems with your mobile phone or just want to chat." Most of the elderly around him respond kindly to his self-introduction, with some writing down his room number and adding him on messaging app WeChat.
Sunshine Home tracks how many hours Wu and the other volunteers spend keeping residents company. For Wu, the required monthly 20 hours are a piece of cake. "Technically, I only need to spend less than an hour a day," he says. When Sixth Tone meets him on the 20th of the month, he has already reached his quota.
But not all participants fit in as well as Wu. Of the eight people who joined the program when it started last December, six moved out within half a year, says Wang, the director. Some married, others bought a house. Still others left because they lost interest or did not have enough time. Sunshine Home's quiet location between a lake and mountains is a draw for seniors, but makes for boring living for people in their 20s. There are no shopping malls or movie theaters nearby. The nearest restaurant is a few kilometers away.
By the time Situ Keren, another volunteer, gets home from work, it's usually 9 p.m., and most of Sunshine's seniors are already sound asleep. "At first I thought it would be an easy way to have a good place to live in a big, expensive city," she says. But, unable to fulfill her time requirements during the week, 26-year-old Situ has had to scale back her weekend social life.
The work is also different than Situ expected. "I came here with the idea of helping them with housework or delivering meals to their room when they have trouble walking," she says. But after nearly a month, she's realized what they need most is having someone physically around them: "In most cases, they just want me to be in their room while they are doing their own thing."
Nevertheless, Situ is committed to the program. For one, the rent for her old studio apartment in Binjiang cost her five times as much as Sunshine Home. And she knows how important company can be. "My grandma lives in a nursing home in [Situ's Zhejiang hometown] Jinhua, but I know she doesn't want to, because she feels lonely there," she says. "Some grandmas here feel the same. I want to keep them company, just like how I wish someone would do the same for my grandma back home."
At present, government policy for elderly care focuses on providing medical treatment and places to live, but doesn't pay much attention to quality of life. Sunshine Home's companionship project supplements a team of five social workers in charge of organizing events during the holidays and festivals. There's demand among residents for people who can teach them new things, such as calligraphy — which is something Yang Yunhai, a 29-year-old full-time painting and calligraphy teacher who moved into Sunshine Home in July, can provide.
Like the other volunteers, Yang lives in a 30-square-meter studio that resembles a hotel room. There are floor-to-ceiling windows, a work table, an en suite bathroom, and two single beds. "It's much better than my previous small studio room," Yang says, adding that the place cost him over 700 yuan a month.
Every Saturday from 2:30 to 4 p.m., Yang leads a class for a couple dozen senior students, most of whom haven't tried their hands at calligraphy since childhood. They hang their homework on the wall, hoping to get feedback from Yang.
One of his students, Liu Cuiyu, just turned 80. With her 82-year-old husband, she joined the class for the first time after hearing about it from their neighbors in the dining room. The class has proven popular: Many seniors showed up half an hour in advance to make sure they'd have a table, and so Liu sits deskless behind her husband.
The couple lived with their daughter for the past eight years until May, when they moved to Sunshine Home to reduce the burden on their children. To her surprise, Liu saw young faces walking around the home. "They call me Grandma Liu, and teach me how to use smartphones and my iPad so I can video-call my grandchildren," she says, smiling.
One of Yang's regular students is Huang Jin, 67. In June, when Huang's husband passed away, she sold her Hangzhou apartment and moved into a shared room in Sunshine Home. A retired nurse and longtime Christian choir member, she spends much of her time in Sunshine's music room. "I heard that a volunteer will open up a singing class in the next coming months," Huang tells Sixth Tone, holding her writing brush.
After the class, Huang asks Wu — the volunteer — to order some rice paper for her online so she can practice her calligraphy every day. They've been in contact via WeChat since they met last month. Huang is ambivalent about the companionship project. "I'm happy that [the volunteers] can help me with something that I can't do, but I'm not interested in chatting with them," she says. "I don't want to burden other people with my emotions."
Huang's not alone in the sentiment. There are other Sunshine residents who aren't looking to spend time with young people, Wu says. Some rarely get out of their rooms and others prefer to be with their spouses instead. Wu's been turned down before when he suggests a game of table tennis or pool. "It's a bit awkward, but I think it's still worth a shot," Wu says. "I don't want to overlook a senior who's too shy to ask me for companionship."
Editor: Kevin Schoenmakers.
(Header image: Volunteers practice calligraphy with an elderly woman at Sunshine Home in Hangzhou, Zhejiang province, Sept. 28, 2018. Chen Zhongqiu for Sixth Tone)