A man in central China's Hunan province has been detained for insurance fraud after his staged death led his wife to kill herself and their children last week, according to a statement from police Friday.
The 34-year-old man, surnamed He, said he faked his death by depositing his rental car in a river last month so that his family could receive his life insurance money, the statement said. He had earlier bought an insurance policy worth 1 million yuan ($145,000) and named his wife, surnamed Dai, as the beneficiary. 
But He came out of hiding to reveal his scheme on Friday, two days after Dai killed herself and the couple's two children, police said. According to a message posted on her WeChat account, the 31-year-old wrote that she was tormented by her husband's death and faced criticism from He's family for his disappearance. Dai Xinyan, the wife's cousin, told Sixth Tone that Dai's in-laws blamed her for He's disappearance in September and accused her of abusing him, but He's brother rebutted such claims in an interview with online outlet Red Star News.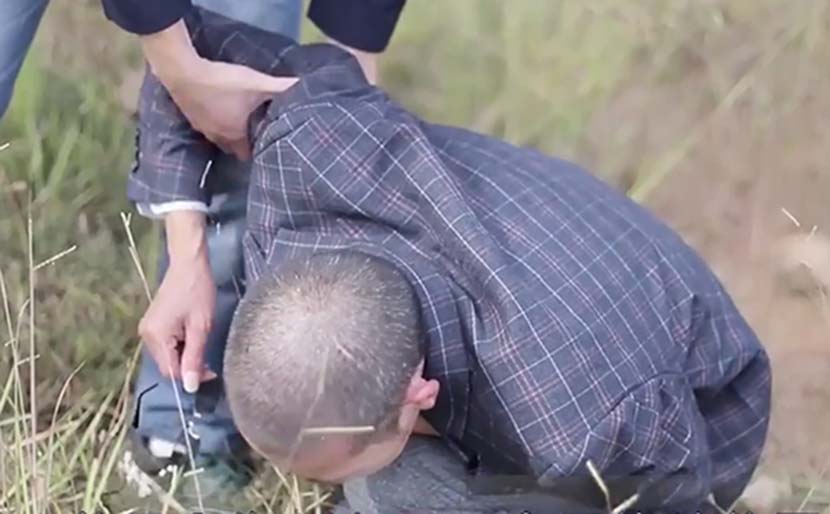 A video screenshot shows a man who authorities say faked his death, surnamed He, held by his friend before turning himself in to police. @逗伞方 on a public WeChat account. VCG
Police said He held debt totaling more than 100,000 yuan, which media reports claim He used for car loan payments and his daughter's medical fees. However, two family members interviewed by Sixth Tone said they were unsure why He had borrowed such a large amount.
Xu Hao, a lawyer at Jingsh Law Firm in Beijing, told Sixth Tone that faking an accident or death to claim insurance money could constitute fraud and may be punishable by criminal detention and fines — but that He could be exempt. "The odds of He being convicted on fraud might be low, since no one has filed an official insurance claim," Xu said.
The Xinhua County public security bureau told Sixth Tone on Monday that the case is under further investigation.
Saddled with hefty debts, students, professionals, and families have increasingly turned to loan sharks in recent years via online lending to meet their financial needs. Borrowers have gone missing, resorted to fraud, and even attempted to kill themselves and their families to be free from their financial obligations.
On Sunday, Dai was buried along with her 4-year-old son and 2-year-old daughter. At the time of the funeral, He was still in police detention.
In China, the Beijing Suicide Research and Prevention Center can be reached for free at 800-810-1117 or 010-8295-1332. In the United States, the National Suicide Prevention Lifeline can be reached for free at 1-800-273-8255. A fuller list of prevention services by country can be found here.
Editor: Bibek Bhandari
(Header image: VCG)