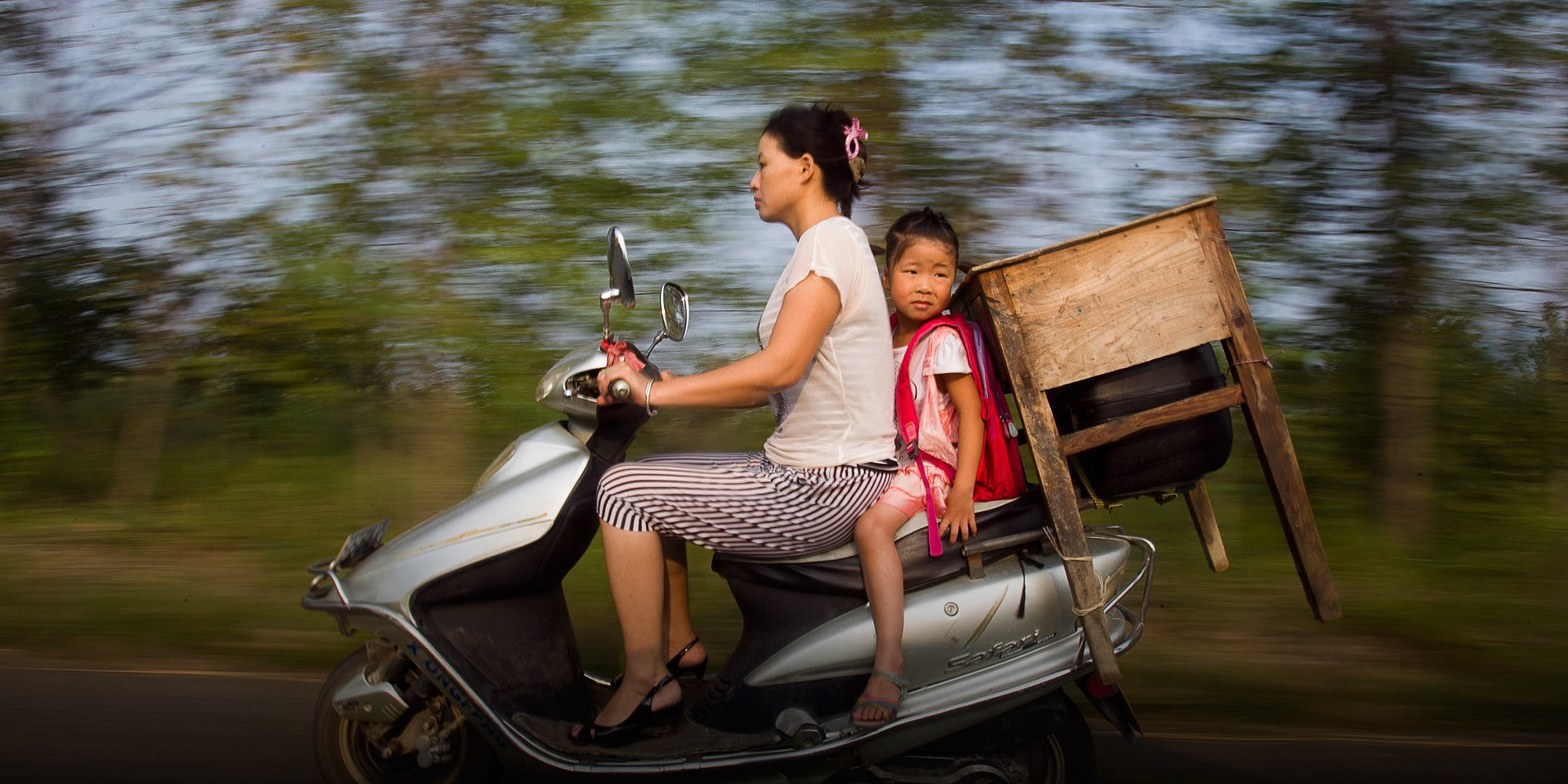 VOICES & OPINION
For Chinese Mothers, Even Doing It All Isn't Always Enough
Why working motherhood can feel like crossing a tightrope without a safety net.
This is the third article in a series on the transformation of Chinese mothers into their children's education agents. The first article can be found here and the second here.
In the first two articles in this series, I focused on how Chinese mothers are gradually becoming education agents for their children and how this trend is related to patriarchal gender norms within Chinese society as a whole — including the belief that mothers are better suited for parenthood, and men the workplace. Despite what the stereotypes may say, however, many modern Chinese women don't have the luxury of committing to just one path or the other; rather, they must figure out how best to juggle their family responsibilities and their careers.
It's a hard choice: Women must either commit fully to both roles and attempt a high-wire balancing act between their household and workplace duties, or resign themselves to a slightly saner — if also less ambitious — set of parental and professional goals. Over the course of my research and interviews with Chinese parents, I started labeling these two types of mothers as "planning perfectionists" and "planning pragmatists," respectively.
The first of these two archetypes, the planning perfectionists, can actually be broken down even further into two subtypes. The first favors a macro approach: planning in advance and prioritizing their jobs and families at different points in their lives. One of the mothers I interviewed, surnamed Shao — who is in her mid-30s and got her doctorate in an economics-related field abroad — put it this way: "I'm not Superwoman. Instead of trying to do everything all at once, I focused on my degree and then my job during my 20s and 30s. Now I've put my work on the backburner to care for my children and family. I figure that by the time I turn 40 and my daughter is entering second grade, she should have already established good study habits, so that's when I plan to start focusing on my career again."
The second subtype prefers a do-it-all approach to work-life balance. These mothers rely on a meticulous, highly detailed approach to planning their day-to-day lives — the only method that allows them to be able to carry out their family and professional duties as efficiently and successfully as possible.
Zhang, a scientist in her late 40s, usually plans her day down to the minute: "If I need to pick my daughter up and take her to extracurricular activities in the afternoon, I'll go to work early — around 7:30 a.m. — and work until 12:30 p.m. To have even a shot at getting everything done, I need to be at my best. Then I'll rush off to take care of her stuff. Typically, when I take her to extracurricular classes at night, I'll still have things I need to get done, so I'll work while she's studying."
Yet Zhang admits the formidable difficulties inherent in maintaining this balance, and says that the combined stress of her job and her parental duties sometimes has her feeling as though she's "drowning" and "hanging on by a thread."
Not everyone is willing to work themselves to the bone like this, even if it means setting their sights lower. For example, Wang, a white-collar professional in her early 40s, openly admits that her job occasionally has to take precedence over her daughter.
Many extracurricular classes require students to dedicate a lot of time outside the classroom to review and reinforce what they are learning, and the material is advanced enough that students typically have to rely on their parents for help. Busy with her actual job — and with her husband working and living mostly in the suburbs, and thus largely absent from parenting — Wang felt she had no choice but to withdraw her daughter from extracurricular courses: "I just feel like I can't do it. If she can't pass these classes on her own, I don't think it's worth it. I have to think about myself too… I can't spend all my time on her."
My interviews indicate that the majority of Chinese mothers fall into this second category. Yet women who choose this path are often plagued with guilt and self-doubt, even though many realize they have little choice. Not only are these women the ones most likely to suffer the so-called motherhood penalty — stunted professional development, resulting in lower wages and fewer promotions — they must also watch as their children suffer from academic penalties, which stem from them not devoting all their time to their children's schooling.
Of course, there are more than just two approaches to parenting. In my interviews, I also came across another, albeit smaller category of mothers I like to call "leveragers." This group is wholly focused on their child's education, but not in the way one might traditionally imagine. Rather than concentrating their efforts in the home, they use their professional skills and backgrounds for their children, and then leverage their success as mothers to advance their careers.
Gu, a Beijing-based software engineer in her early 40s, is an example of this type. Her 15-year-old son is a star on the local International Math Olympiad circuit, but to get him to that point, she had to spend years learning everything she could about the competitive scene in the area and working with teachers and tutors to ensure that her son got the best education possible. These efforts have paid off for her as much as for her son. Her willingness to share her experiences openly on social media earned her a significant online following, and — after her son won a national-level information science award — she herself was hired to teach programming to children at a research institute. It's a job she finds far more fulfilling than her previous one. Success stories such as Gu's are not the norm, but she represents a kind of aspirational ideal for mothers struggling to balance their family and career.
Yet despite the success some mothers have had — and it should be noted that intensive mothering does offer some women a great opportunity to build strong, lasting relationships with their children — we cannot allow these stories to blind us to the fundamental inequality and unfairness inherent in the system as a whole. In many parts of the country, publicly funded schools are unable to meet the expectations of anxious parents, causing families to turn to private extracurricular tutoring classes to fill in the gaps. This means Chinese parents — or more accurately, mothers, since many Chinese fathers are not involved in their children's education — have to constantly keep abreast of the new classes, teaching methods, and tutors available in their area, all while still trying to keep up with their professional responsibilities. Compounding this is a general lack of support for working women at all levels of society — including from their husbands, their children's schools, and the government.
The problem is even more pronounced for those not privileged enough to have flexible schedules. The abovementioned stories all concern women with white-collar jobs, but plenty of mothers work in restaurants or other industries in which they can't afford to take time off during the evening rush to pick their kids up and drop them off at evening classes. These women are faced with a much harder choice: quit their jobs, which in many cases provide a crucial source of income the family cannot do without, or watch as their kids fall behind their more affluent peers.
Perhaps most disturbing of all, however, is the fact that so many of the mothers I interviewed told me they felt as though they were letting their children down. Regardless of whether or not they could afford to devote themselves fully to their child's education, the work put in by the mothers I met over the course of my research had a clear and positive impact on their relationship with their children, yet many women still worry they're not doing enough.
Whatever else can be said about the mother-agent trend — that it reinforces traditional gender norms, that it unfairly burdens women, and that it makes it harder for students from poorer backgrounds to move up the socio-economic ladder — the problem is not the mother-agents themselves. If anything, they're the only ones pulling their weight. Perhaps instead of expecting women to perform impossible feats, it's time to rethink a system that turns motherhood into a high-wire act in the first place.
Translator: Katherine Tse; editors: Wu Haiyun and Kilian O'Donnell
(Header image: A mother takes her daughter to school in Macheng, Hubei province, Sept. 1, 2012. VCG)