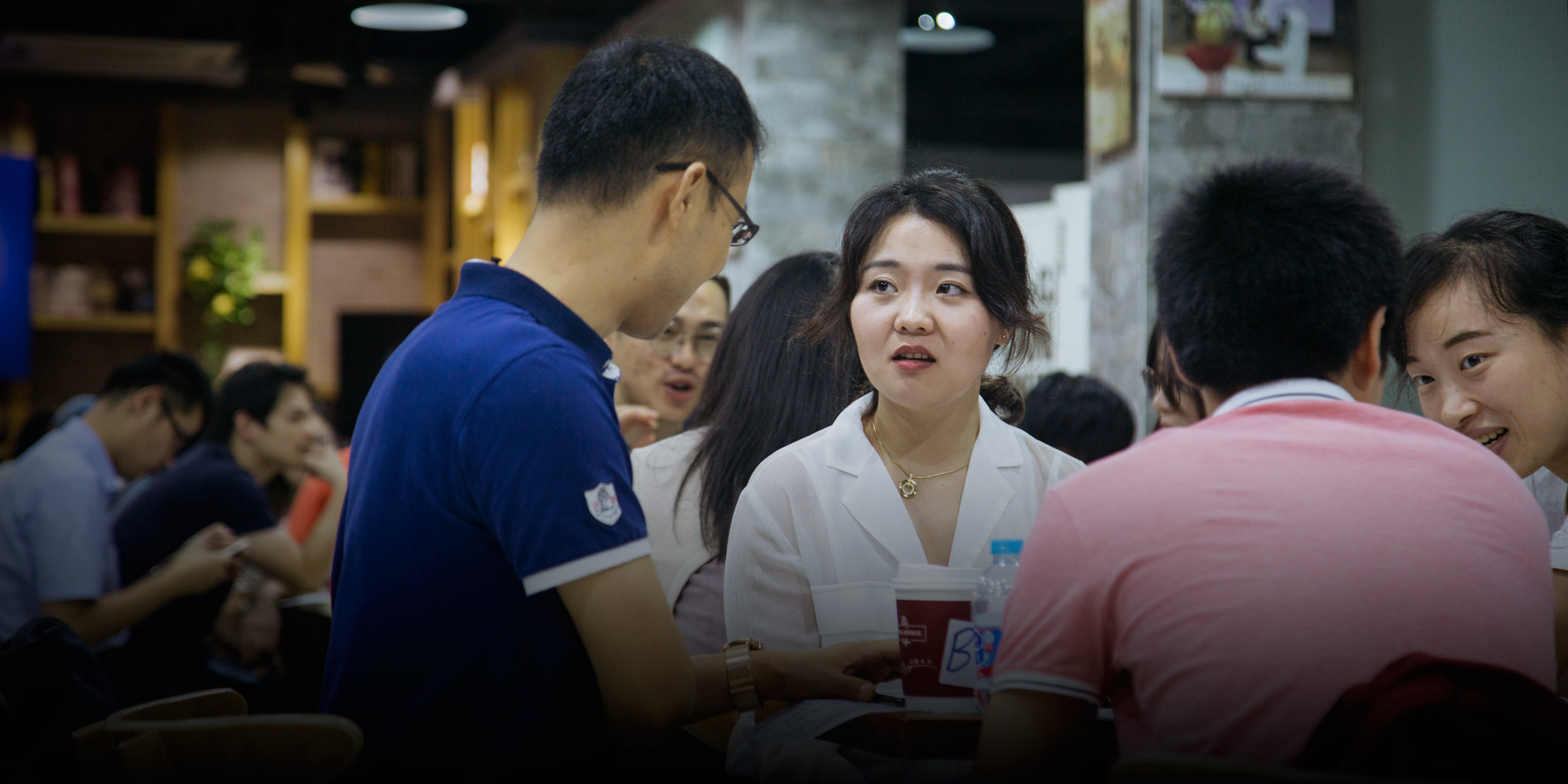 FEATURES
Speed Dating With Shanghai's Social Elites
Multiple degrees and an empty bed? Jiaoda Matchmaker targets the city's educated and unwed demographic.
SHANGHAI — At a downtown café in the historic Huangpu District, graphic designer Shawn Chow stands among 50 men ready to meet 50 women. Everyone here has at least a master's or doctorate — that's what it takes to even get through the door at this exclusive speed dating event held by Jiaoda Matchmaker.
Chow knows exactly what he wants in a partner: "a modern Mulan." He's seeking a woman who is as optimistic, wise, brave, and kind-hearted as the fabled warrior. She also must be a doctor, at least 1.68 meters tall, and have a master's degree or higher, so an event like this could be the perfect place to find her.
Now 40, Chow has been actively looking for his legendary lady for a full decade. The Shanghai native has registered on around 20 online dating platforms, but he says that as he gets older, he more often prefers offline events. For more than four years, he has used the services of Jiaoda Matchmaker, a platform he favors for its elite clientele and detailed listings. For instance, Chow can choose to register for an event if he sees that a physician is among the women who have signed up.
The platform has also drawn controversy for its gendered pricing. For some events, Jiaoda charges women more than men, which it says simply reflects supply and demand.
"Some feminists criticize the price difference as gender discrimination, but it's a fact of the market. It costs us more to find men of high quality," founder Wu Siyi tells Sixth Tone.
"Jiaoda" is the Chinese abbreviation of Shanghai Jiaotong University, and Wu is a doctoral student at the school. The idea for the matchmaking platform emerged in 2013, when Wu and her friends organized some campus speed dating events for single doctoral students. The overwhelming response convinced her that there was a sizeable untapped market for prestige matchmaking services aimed at highly educated singles looking to meet their match. Wu herself is married to a former classmate.
Without commercial advertising, Jiaoda has quickly spread by word of mouth through its target market, attracting 14,400 event registrations each year. According to the company, which now employs eight full-time staff and several part-time event hosts, more than 600 couples who met through its services have since married.
For Chow, platforms like Jiaoda are preferable to the city's famed "marriage market" in People's Park, where many anxious parents shop around for spouses for their adult children. He disdains the public displays of desperation. "The atmosphere at People's Park is not nice. To me, it's like a trading floor for marriage [where] the subjects themselves are absent," he tells Sixth Tone. "Even if the parents agree to a price, they ignore whether their children's personalities and social circles are compatible."
Yet like the personals ads pinned to umbrellas at People's Park, a quick survey of Jiaoda's events and promotions reveals the hierarchy of desirability — as well as how the dimensions of age, sex, location, and class affect dating in China today.
"There are many more highly educated single women than men in a metropolis like Shanghai," Jiaoda founder Wu tells Sixth Tone. While China overall has more single men than women, women make up the majority of graduates from postgraduate programs, according to the latest statistics from the Ministry of Education.
Wu says that often when Jiaoda posts notices of upcoming events on a Monday morning, the spots for women will sell out within hours, whereas places for men will not fill up until the day of an event itself, which is usually on a Saturday or Sunday. To attract more men, the platform posts profiles of the female participants who have already registered, including each woman's age, hometown, occupation, education history, and hobbies — as well as its contentious event-pricing policy.
Jiaoda implements uneven pricing depending on the event's theme and how much interest they expect from participants of different genders. For example for events in which male participants must be over 1.8 meters tall or work in finance or tech, the price is 39 yuan for men but 169 for women ($5.50 and $25, respectively). But for events that they anticipate will be more popular with men — those for women under 28, for example — the price is 99 yuan for all participants.
At the speed dating event in Huangpu, each person is given a sheet with the names and details of all the participants of the opposite gender that they can check off as they proceed. Once the clock starts, two men and two women talk to each other for 8 minutes before the men are asked to move along to the next table.
It takes a whole afternoon to meet everyone — a lot of nice-to-meet-you's and other small talk, over and over. With their pens and paper and patient, focused expressions, some of the participants look more like they are conducting a job interview or competing in the Math Olympiad than dating.
When these rapid-fire rendezvous are all done, each person picks their top three among those they have met. Pairs who mutually select each other are told they're a "match" and receive a small prize. Popularity awards also go to the man and woman who are selected by the most attendees.
For participant Cai Xuesong, a doctoral candidate in architecture at Tongji University, the agency's selective criteria is a major draw. As the 29-year-old meets few women his age in his male-dominated field, he hopes off-campus speed dating will help him find a partner with a similar level of education. Cai says he doesn't care about a woman's age, height, or her family's finances, but education is key as it helps establish a "common language."
"Only a capable girl would choose to pursue a doctorate," Cai tells Sixth Tone. "I appreciate these cool, courageous girls."
According to the name lists left by participants at five Jiaoda events in July, excluding their age-specific events, the average age of 456 participants was 32 for men and 29 for women. Based on data published by the Ministry of Civil Affairs, the biggest demographic among newlyweds across the nation in 2017 was the 25 to 29 age bracket, while according to the most recent figures from Shanghai, the average age of people marrying in 2014 was 34 for men and 32 for women. (The data does not distinguish first marriages from subsequent marriages.)
"In the marriage market, women think that they can't afford to wait, on account of traditional social pressures or [anxieties about] missing the ideal childbearing age, whereas men are not in a hurry," Wu says. "Girls are quite active during events, but boys tend to be shy."
"It's time. I want to have a baby before I'm 35," says Yvonne Wang, an accountant born in 1988. "The post-'80s generation isn't young anymore, and for me it's time to take marriage seriously."
After a speed dating session in early August, Wang secured a "match" with a man from an insurance company. She was also given the award for the "most popular woman." However, matches only indicate that the pair have positive initial impressions of each other, which may not result in anything meaningful.
Peng — a quality inspector at a public institution who asked that his surname be withheld so as not to affect his job — has taken part in two speed dating events. "Not everyone is good at expressing themselves. I think training is necessary for people who are reserved," he says.
Even as an eloquent young man in his 20s, Peng also has his dating disadvantages. "When I tell girls that I come from Lanzhou in Gansu province, a city 1,800 kilometers away from here, they lose interest," Peng says. The prospect of spending holidays visiting his family in the distant, unfamiliar culture of Gansu puts women off. Participants who hail from Shanghai and surrounding areas tend to attract more suitors.
Shanghai native and MBA student Wendy Liu, born in 1991, understands why people care about a prospective partner's province of origin. She herself once took part in a speed dating event with the exclusive theme "310" — the first three digits of the ID number for people born in Shanghai.
In the eyes of nonlocals, Shanghai natives are materialistic and discriminate against outsiders who don't have hukou, or household registration, in the city. On the flipside, Shanghainese people defend such preferences as rooted in a desire for a shared language and culture. Plus, they say, dating a fellow native means not having to worry that someone is just after your residency status.
"I think Shanghainese people are more lin de qing," Liu says, using a Shanghainese term that means shrewd or savvy. "Locals are more sensible and less snobby. It would be much easier for these families to be joined because we have similar habits and customs."
Recently, she started dating someone she did not meet through matchmaking events; however, she still believes in the value of such activities for personal growth. "Even if you don't meet an ideal guy, you can learn about the level of your charm and what kind of people show interest in you," Liu says.
Chow has dated a few women since he started his search for a modern-day Mulan, but nothing has stuck. He still takes part in speed dating events from time to time, alongside using other targeted matchmaking services, but he says he sometimes sees familiar faces reappear. Although he stresses that love has to start with feeling, he never changes his criteria.
"Some people are too logical and always nitpick," he says. "I think outside the core requirements. People could stand to relax their standards a little."
Contributions: Shi Xiefen; editor: Qian Jinghua.
(Header image: Attendees get to know each other during a matchmaking event held by Jiaoda Matchmaker in Shanghai, July 27, 2018. Wu Huiyuan/Sixth Tone)