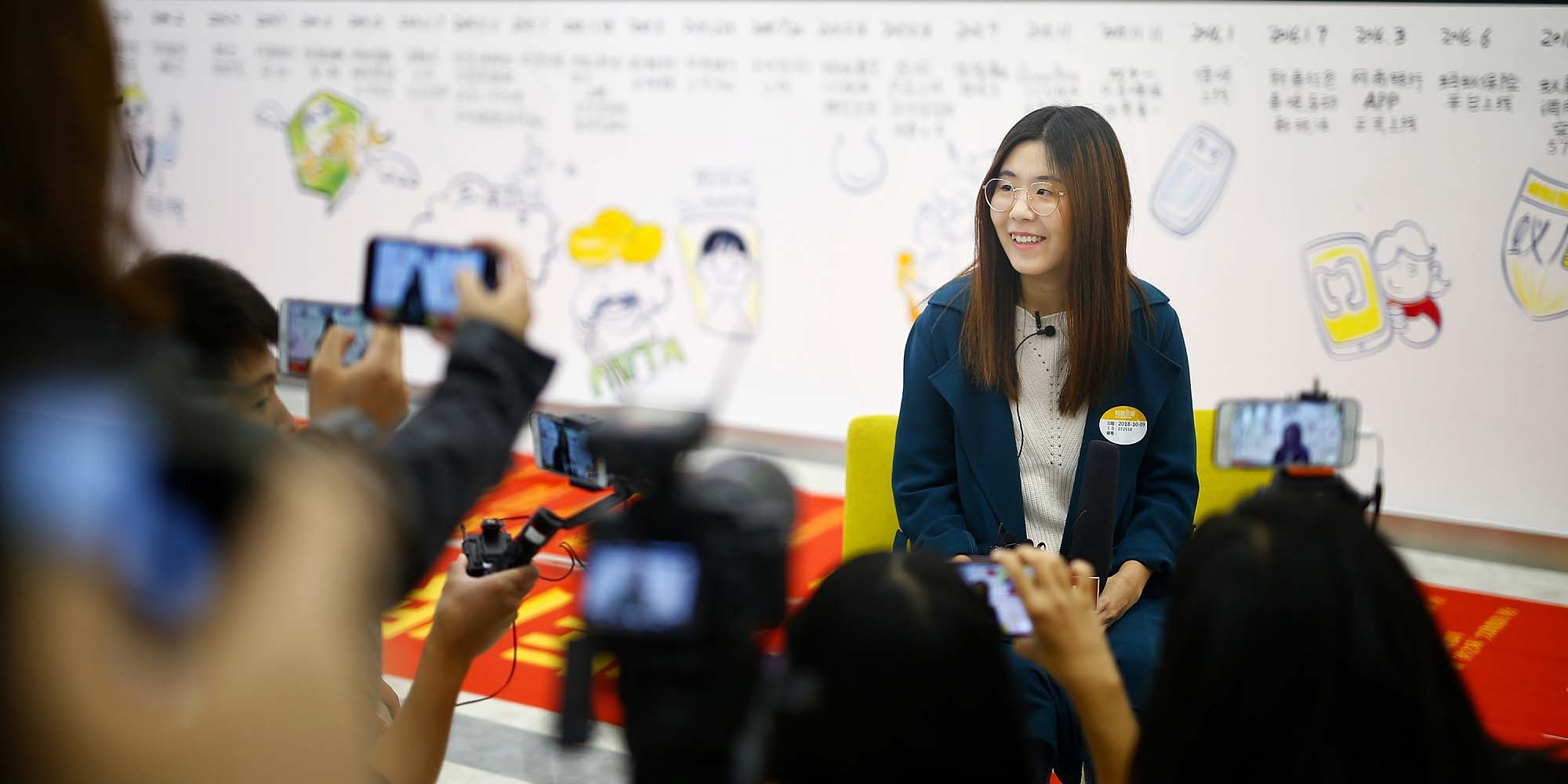 NEWS
The Memes That Bring Good Luck
Alipay contest winner becomes latest fortunate face to be shared online by net users hoping to get lucky.
Ma Huixian, a 25-year-old computer engineer in Beijing, has a new title to add to her résumé: the first "Alipay Chinese Koi" — or online lucky charm.
Koi — a type of fish associated with good fortune in Chinese culture — have taken on a new life on Chinese social media in recent years. Like the auspicious chain emails of yesteryear, many Chinese millennials, superstitious or not, post images on their social media accounts, hoping to score high on exams, secure a job, and even find love. The images don't even need to be fish — many celebrities have found their way into koi status.
Brands have jumped on the koi bandwagon too, aiming to cash in on the subculture. One such brand is Alipay, one of China's largest online payment platforms, whichannouncedthe winner of its "Chinese Koi Lucky Draw" on Sunday. Ma was chosen from over 3 million who tried their luck to become the sole recipient of the luxurious gifts and international trips from Alipay.
"Does this mean that I don't have to work for the rest of my life?" Ma, a Nanjing University of Aeronautics and Astronautics alumna,wroteon her Weibo microblog following the announcement.
"Koi has long since become a cultural phenomenon lately that has transcended its biological definition," Bell Wang, an Alipay spokesperson, told Sixth Tone on Monday. "We named [our lucky draw] 'Chinese koi' hoping not only that Chinese people would use [our] mobile payments overseas but also to bring good luck to the world." Since then, net users have shared Ma's image online, hoping to get some good luck of their own.
The promotion is part of Alipay's push to expand its reach internationally. As more and more Chinese people travel abroad, the mobile payment platform is providing them with the convenience of mobile payments — something they're used to at home — bypartneringwith international businesses.
As the "2018 Alipay Chinese Koi," the company is providing Ma with perks that include vacations across the globe. The fulllistfeatures cruises in Japan, flights to Thailand and the United States, a stay in the Maldives, and numerous shopping vouchers for luxury brands. Ma — as the newest koi in Chinese cyberspace — has meanwhile racked up over 800,000 followers on Weibo since Sunday.
As many lucky Chinese have gained koi status, Sixth Tone looks at some online favorites whose luck has surprised millions of internet users and given fans new koi to share.
Yang Chaoyue
Yang Chaoyue, a 19-year-old contestant on China's hit talent show "Produce 101," received flak for her poor singing and dancing skills this summer, with many describing her performance as a "car crash." Yang, however, was able to rise beyond the criticism and secure third place on the show, thereby making her a member of the pop group Rocket Girls 101.
Yang's luck and rise to fame were soon represented in memes online. One shows the teenager with her eyes closed and hands clasped, along with the caption: "If you forward this Yang Chaoyue image, you can rank in the top 3 without working hard."
Ming Xi
With a topnotch modeling career, Ming Xi had already been deemed lucky — until she tripped on the runway. Netizens derided her infamous slip during the Victoria's Secret show in Shanghai last year, and Xi was branded an unprofessional supermodel after the tumble. However, the American lingerie brand named Xi the company's Greater China Ambassador last month and announced that she would be among the "angels" at this year's fashion show in New York City.
Chinese netizens have used Xi's fall and subsequent rise as fodder for a new koi meme. "Forwarding this Ming Xi image, you can get promoted with a higher salary and exempted from evaluations, even if you've made mistakes at work," reads one caption.

But Xi was quick to respond. "Making errors at work won't bring promotions and high salaries," she wrote on Weibo in September. "Instead, you should work harder and move on without giving up. If 'koi' really exists, I hope it will bring all people comfort and good luck."
Wei Yingluo
Wei Yingluo, the protagonist in this year's hit soap opera "The Story of Yanxi Palace," has recently become the "lucky charm" on the Chinese internet as well. Viewers have adored the character — a young woman played by actress Wu Jinyan who is on a quest to find those responsible for her sister's murder — for her ability to triumph over evil. On social media, Wei is praised for her resilience and ferocious attitude. "Forwarding this Wei Yingluo will make all the people you hate disappear," reads one such meme, as the character is shown praying to heaven for her enemies to be struck down by lightning.
Editor: Bibek Bhandari.
(Header image:Ma Huixian,winner of the "Alipay Chinese Koi" contest, speaks to a crowd in Beijing, Tuesday, Oct. 9, 2018. VCG)