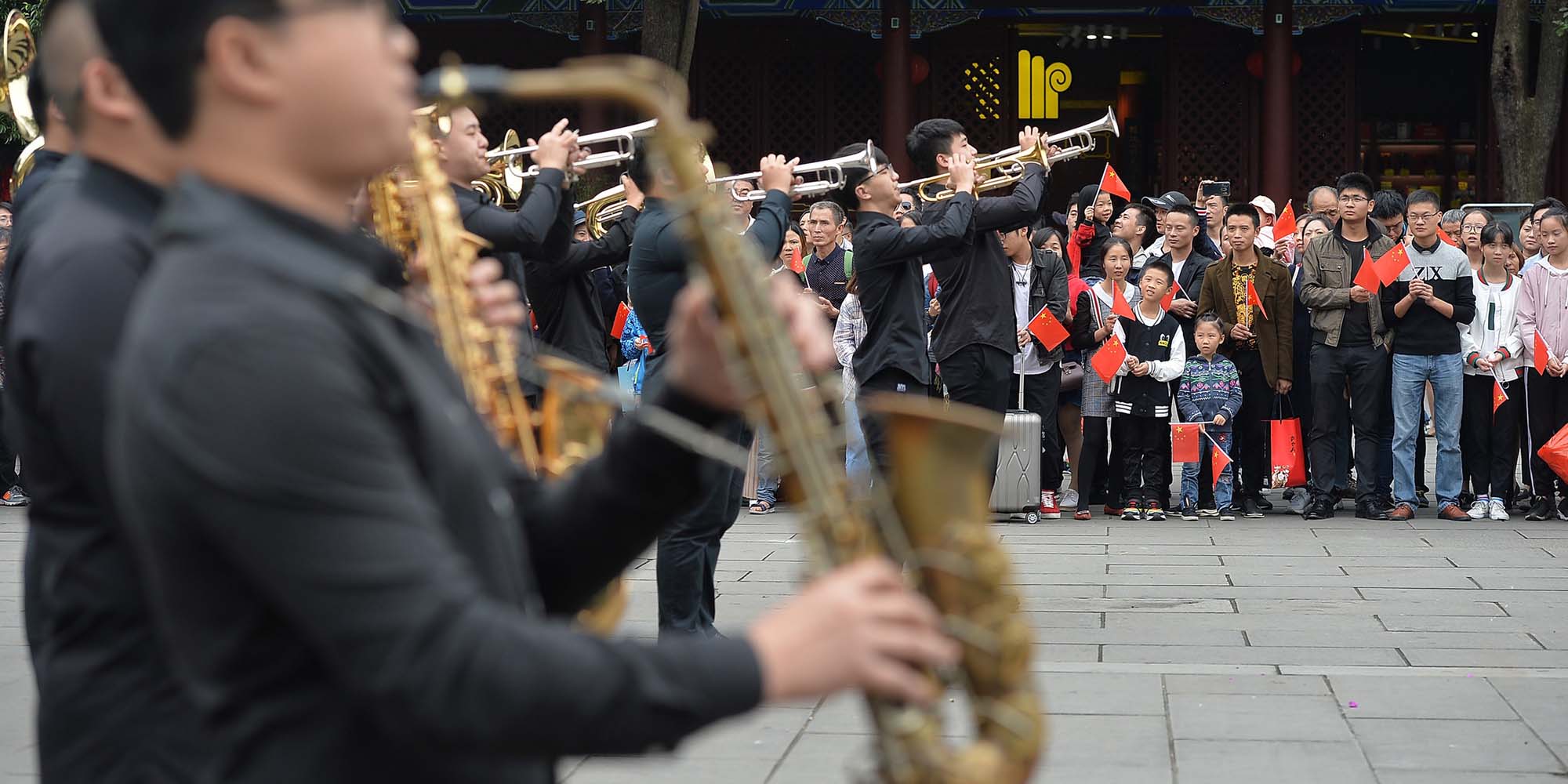 NEWS
China's National Day Travel in Millions, Billions, and Trillions
A numerical summary of this year's October holiday period.
For most Chinese people, Monday marked the first day back to work or school after the National Day holiday in the first week of October. Every year, hundreds of millions of travelers celebrate the founding of the People's Republic in 1949 by flocking to top travel destinations on a scale rivaled only by Chinese New Year, falling a few months later. The October holiday is also a prime time for outbound tourism, e-commerce, wining and dining, and even weddings.
Here's a rundown of notable numbers from this year's National Day holiday.
726 million domestic travelers
Over half of China's population traveled within the country over the holiday, a 9.4 percent increase from last year, state news agency China News Service reported Monday. The holidaymakers spent a total of 599 billion yuan ($86.5 billion) during their travels, a similarly high uptick from last year's figure.
The October holiday is a peak period for consumption. According to China's Ministry of Commerce, the retail and food industries made 1.4 trillion yuan throughout the holiday week, with products such as organic foods, clothing, ultra-high-definition TVs, smart watches, smart home appliances, and vehicles standing out as some of the most popular purchases.
49 million visitors to Guizhou
The southwestern province of Guizhou was one of this year's most popular holiday destinations. Despite being one of the poorest regions of China, Guizhou saw 49 million tourists, a 37.6 percent increase from last year, according to China News Service. The province benefits from the increasingly trendy phenomenon of "rural tourism" — traveling to experience the scenery, food, and culture of the people and ethnic groups living in China's vast countryside. Tourists to Guizhou can partake in activities such as rice and wheat harvesting, fishing, horseback riding, bonfires, and folk performances.
21 million couch potatoes
China's ubiquitous social app WeChat also doubles as a fitness monitor — and this year, the app's WeRun function found that many people took the phrase "holiday break" rather literally. According to data WeChat released on Sunday, 21 million people covered less than 100 meters per day during the National Day holiday with their phones in tow. Of this number, 56 percent were born after 1980. WeChat's report dubs this especially sedentary demographic the "hundred-step youth." China's most populous province, Guangdong, contributed the most members of the 100-step club, and its residents also spent the most money of any province on food over the holiday.
The same WeChat report also sheds light on Chinese people's holiday reading habits. According to WeChat Read, a mini-app accessible within WeChat, "The Three-Body Problem" and "Stories About Ming Dynasty" were the most-read e-books during the holiday. The mini-app's most prolific reader — likely a member of the 100-step club — spent an astounding 82 hours with their nose in an e-book over the holiday.
6.6 million outbound tourists
Border exits from China increased by 9.8 percent to 6.63 million during this year's October holiday, according to state broadcaster China Central Television. The total number of outbound tourists around this period, however, is actually far higher, given that many tourists take off work and leave their homes before the start of the holiday to avoid crowds and sky-high airfares.
According to a report by travel service provider LY.com, the most popular international destinations this year included Thailand, Japan, Australia, New Zealand, Russia, Canada, the U.S., France, the U.K., and Italy. Makeup and local delicacies were among the most common purchases made abroad, while previously popular items such as electric rice cookers and fancy toilet seats saw their sale numbers dip.
45,999 newlywed couples
Because of the convenience afforded by the entire country being off work, the National Day holiday is a popular time for couples to tie the knot, to the extent that the week has even earned the nickname "national wedding season." This year, around 46,000 couples got married in the eastern province of Shandong alone, and on Friday, wedding guests in the city of Zaozhuang were flabbergasted to discover that a single venue was hosting 12 ceremonies simultaneously.
3,000 stranded hikers
On Oct. 2, thousands of tourists visiting waterfalls outside the city of Jiujiang, in eastern Jiangxi province, were left stranded for as many as four hours because there weren't enough shuttle buses to accommodate the crowds. When The Beijing News wrote about the logistical snafu on microblogging platform Weibo, the post received over 45,000 likes and 36,000 comments from netizens amused by what has seemingly become an annual ordeal.
1000s of spikes
Throughout the holiday week, photos and videos showing a "carpet of spikes" keeping tourists from encroaching on off-limits rock formations in Dunhuang Yardang National Geopark, in northwestern Gansu province, were circulated online, with one netizen referring to the unnecessarily pointed measure as a "battalion of hedgehogs." In response to the online outcry, a spokesperson for the tourist hotspot explained that despite their appearance, the spikes were not dangerous, and had in fact been installed long before the holiday period.
100-yuan "local delicacies"
In a country with such a rich culinary heritage, it's common practice for tourists to bring home techan — or local delicacies — for family, friends, and co-workers whenever they leave their homes to travel. But not all local delicacies are deserving of the name. A Beijing News investigation found that homemade vinegar costing just 2 yuan to produce was being branded as "Old Chen's Vinegar" and sold to tourists for 100 yuan per bottle in Pingyao, an ancient town in northern Shanxi province that in 1997 was named a UNESCO World Heritage Site. While visiting the workshops that produced the vinegar, The Beijing News' reporter found dead flies floating on the surface of the vats.
7 Chinese Characters
On the very first day of the National Day holiday, a tourist named Wen Pingtao caused a furor online by painting his name, along with an additional four Chinese characters, onto a stone monument at West Lake, an iconic tourist destination in the eastern Chinese city of Hangzhou. The stone was soon cleaned up, but images of the graffiti were widely disseminated online, along with the hashtag "Wen Pingtao, you owe Hangzhou an apology!" On Sunday, People's Daily reported that Wen the vandal had been apprehended by police — after returning to the scene of the crime to leave his mark again.
Editor: David Paulk.
(Header image: A band performs at Wuhou Temple in Chengdu, Sichuan province, Oct. 2, 2018. Wang Qin/Chengdu Business Daily/IC)