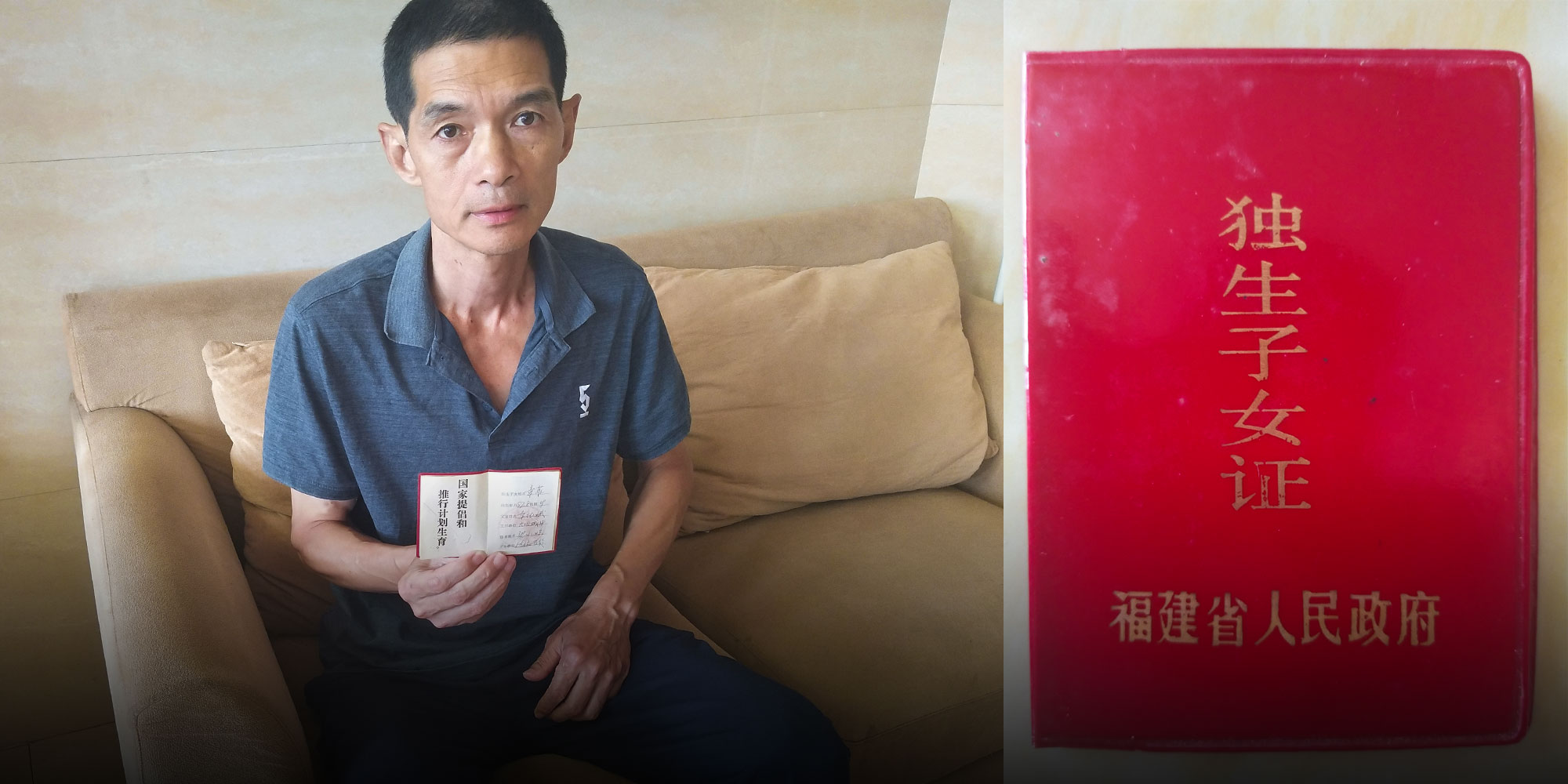 NEWS
Couple Who Adopted After Son's Death Sue for Bereavement Subsidy
Zhang Debin, who adopted a daughter after losing his only child, says that a 2016 amendment protects his right to a bereavement subsidy.
A 57-year-old father has sued a county health department in eastern China for denying a subsidy given to bereaved parents of only children, Sixth Tone's sister publication The Paper reported Sunday.
After filing a lawsuit in August, Zhang Debin, a middle school teacher in Datian County, Fujian province, got his day in court on Saturday. Both Zhang and the lawyer representing the health department agreed on the basic facts of the case. The point of disagreement, however, is familiar to many bereaved parents of only children, or so-called shidu families: whether they should continue to be eligible for subsidies after adopting or giving birth to another child. Zhang and his wife adopted a daughter in 2014, four years after the death of their biological son.
After over three decades under the one-child policy, abolished in January 2016, many Chinese couples in their 40s and 50s have just one child — and in cases where the child dies young, the parents are left with no one to care for them in their old age. A report published by the Chinese Academy of Social Sciences in 2013 estimated that there were over 1 million shidu families in China at the end of 2012, a figure the researchers predicted would continue to grow.
Zhang's family is one of these 1 million. He and his wife lost their 22-year-old son to suicide in 2010, four days before his 23rd birthday. "To us, our son's death was like a mansion losing its foundation: Everything suddenly fell apart," Zhang told The Paper. At that time, both he and his wife were nearly 50, and unable to bear more children.
Four years later, the couple decided to adopt a girl. But when they did, Zhang noticed that the bereavement subsidy they had been receiving was cut off.
The Chinese government began offering the subsidy in 2008, to provide some degree of compensation to couples who lost their only children. When it was first implemented, the policy was only intended for families who did not adopt or bear children after the death of their first child.
One concern for families like Zhang's is that raising a young child at 50 or 60 is challenging, both physically and financially. Cui Shuyi, director of the population institute at the Shandong Academy of Social Sciences, published an article this year saying that the economic and employment status of shidu families is worse compared with other families. Couples with children tend to rely on the younger generation for additional financial support, while many shidu couples rely on the bereavement subsidy.
According to Zhang, the choice to have another child late in life or continue receiving the bereavement subsidy is so difficult that even couples who desperately want to have children are deterred from doing so.
But a new amendment implemented in 2016 canceled restrictions that would prevent bereaved families from "receiving aid." Though the amendment does not specify whether this aid means the bereavement subsidies for shidu families like Zhang's, it gave him enough hope to file his lawsuit and claim back payment from 2016, when the amendment was implemented, to the present.
The local health department believes it has acted in accordance with local regulations, which are modeled on the framework of China's national law on population and family planning. Zhang, meanwhile, argues that the local policy allowing for his subsidy to be denied is a violation of the 2016 amendment.
In 2016, Zhang and his wife would have been eligible to receive 12,000 yuan ($1,750), according to a provincial guideline. He has asked the court to resume the subsidy, and to pay him what he believes he is owed since the 2016 amendment was passed. The judge at Sunday's hearing said a verdict would be announced at a later date.
Editor: David Paulk.
(Header image: Zhang Debin poses for a photo while holding his deceased son's 'only-child certificate,' the cover of which can be seen in a zoomed-in photo on the right, Datian County, Fujian province, Sept. 29, 2018. Wang Xuanhui for Sixth Tone)