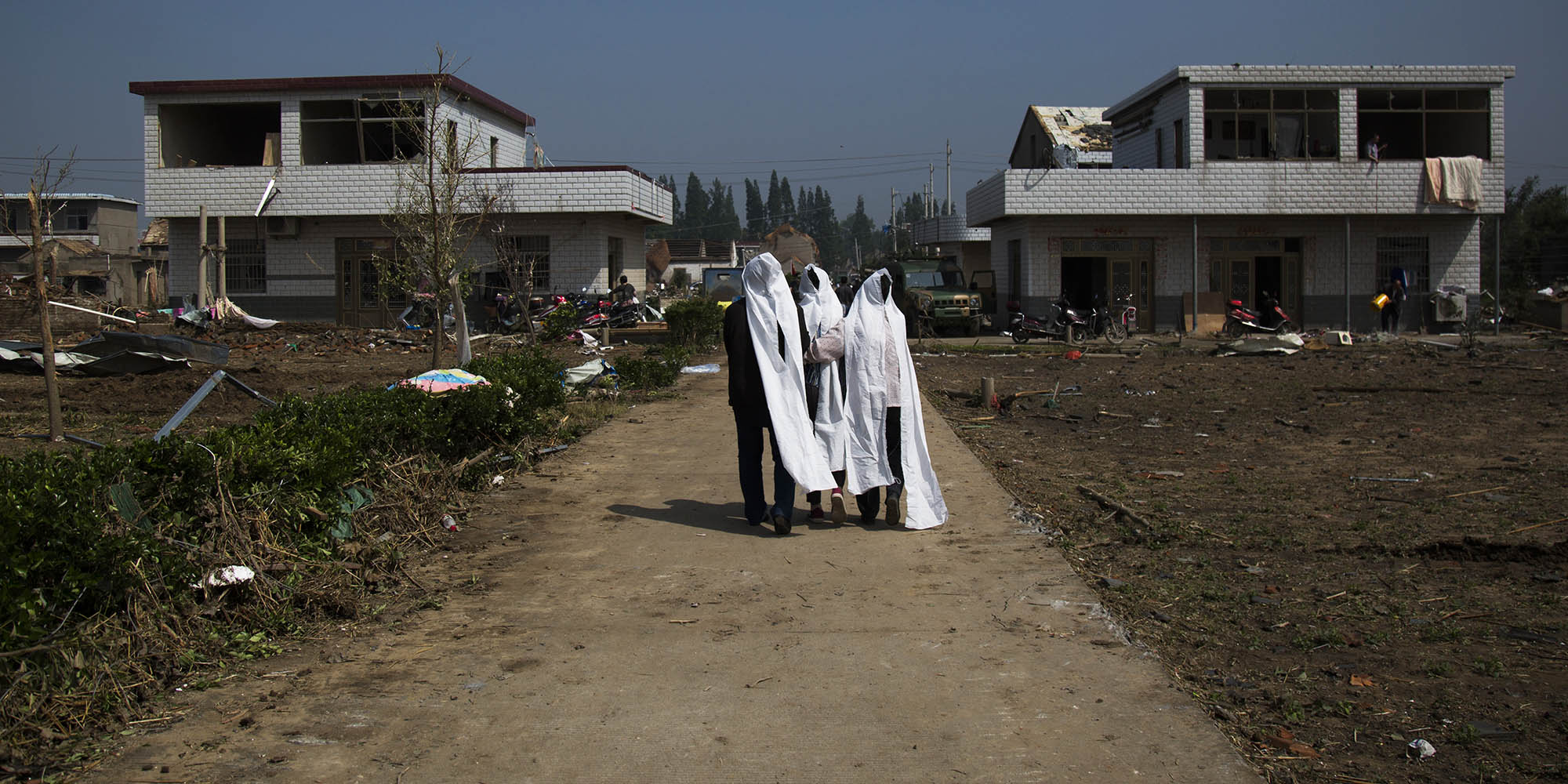 NEWS
'Left Behind Elderly' at Eye of Jiangsu Tornado
Dead and injured include many old people who live alone in the countryside.
Many of those who died or were injured in Thursday's tornado in eastern China's Jiangsu province were elderly people in rural areas whose children had left for the city in search of livelihoods.
These "left-behind" parents were left to fend for themselves as the storm struck, and received little or no warning of the tornado's approach or formal disaster preparedness training even though extreme weather patterns are not uncommon in the area.
The tornado, which hit around 2:30 p.m., killed 98 people and injured hundreds more. The last time a comparable tornado struck the area was 50 years ago when 87 people died.
China's economy is supported by an army of migrants who leave their homes in the countryside in search of a better life in the cities. In 2015, there were an estimated 277 million such migrant workers. Usually they travel alone to the urban areas in search of work, often leaving behind spouses, young children, and elderly parents.
In a crowded ward at Funing People's Hospital on Friday evening, 71-year-old Zhang Sumei told Sixth Tone how the tornado ripped through her house, submerging her up to chest-level in debris. When she climbed out of the ruins she discovered her husband had been completely submerged in rubble and was dead. "It happened all of a sudden," she said, as she wiped her tears from her eyes. "The tornado was so strong."
"Us old people think too slowly," she said. "We didn't think of running out at that time."
Zhang, who sustained a head injury in the tornado, and her husband were alone in their home when the disaster struck — her son lives in Shanghai. She said she heard that eight people from her village died in the disaster.
For Liu Zhishan, 78, the impact of the tornado was rendered even more terrifying by his disability — he is blind.
Sitting in makeshift sleeping area at Funing People's Hospital and wearing a camouflage-patterned T-shirt, Liu said he lived alone in the village of Danping. He heard the wind grow louder and he tried to close the door but it was impossible, he said. The force of the wind blew him out of his house and he only survived by latching onto a tree branch for dear life. When the wind subsided 10 minutes later, Liu said all he could hear were cries for help in the distance.
The tornado brought down the tile-roofed house of Qian Liangxian and his wife in Tianshe Village, Funing County, trapping the couple in the ruins. They clawed through the debris with their bare hands. His wife escaped with only minor scratches, but Qian Liangxian broke a leg and had to have one of his fingers amputated.
The Qians' children work in the city of Suzhou, which is in the southern part of the province, and at first the couple didn't want to tell them about the tornado. "I couldn't tell our children about the disaster," said Qian Liangxian's wife, who declined to give her name. "They would be so worried."
When 50-year-old Xu Lin heard about the tornado, he got on the first available bus from Shanghai the following morning to return to his village of Danping in Funing County to help his 79-year-old mother, who he was told had broken both of her legs in the tornado. "My heart was trembling," he told Sixth Tone. "I was very worried about her."
Xu migrated to Shanghai three decades ago to work in the home decoration business. All five of his brothers and sisters are also migrant workers and his mother lives alone and farms the land. He said the roof of his family home was ripped apart and the remaining structure completely destroyed. The house had been constructed in the 1980s, he said.
Thursday's tornado hit Jiangsu, an industrialized and relatively prosperous province north of Shanghai. The areas worst hit by the tornado were the mainly rural counties of Funing and Sheyang, which form part of Yancheng City, in the eastern part of the province. Funing County, which was the worst-hit area, has a population of just over one million people, and is home to extensive natural wetlands. It has also been looking to develop its high-tech industries, especially in new energy, including solar power.
When the tornado hit, Chen Dashu, 30, was in a meeting at Canadian Solar Technology Co., a solar cell factory near Beichen Village, Funing County, when all of a sudden there was a power outage and the outside grew extremely dark. "I didn't know what was happening," Chen told Sixth Tone. "All I knew was that the wind was really strong. I grabbed a flashlight and started to run. In less than one minute, the building collapsed on top of me. My colleague pulled me out but my head just kept bleeding."
Villagers near the same factory confirmed that there had been no warning before the disaster. Pointing to an expansive area where only mounds of bricks remain of what once was his house, Qian Changhua, 52, told Sixth Tone of his sense of loss for his childhood home. Qian Changhua is not related to Qian Liangxian.
He blamed nobody for such a "natural disaster," adding that there had been no talk of compensation by the authorities. Qian Changhua said he expected it would take some days before those in charge of compensation would reach Beichen. "That's understandable," he said. "There are many villages in need."
All of those people whose lives had been touched by the tornado who spoke to Sixth Tone appeared calm and there were no signs Saturday of frustration or anger.
A local newspaper from the area worst hit by Thursday's devastating tornado had warned readers to not believe internet chatter of an impending storm. "Rumors about a big rainstorm in Yancheng have taken over people's newsfeeds," said an article in Wednesday's edition of the Yancheng Evening News that cited the local weather bureau.
Few of the people interviewed by Sixth Tone on Friday and Saturday in the tornado-hit area said they had ever taken in part in a disaster-preparedness training or drill related to tornados, to which Jiangsu province is particularly prone compared with other provinces in China. Between 1956 and 2005 there were 1,070 tornadoes in the province — or more than 21 per year, according to the meteorological department of Jiangsu province. According to a government list, at least nine tornadoes resulted in lives lost. The last major one on par with Thursday's occurred in 1966 when 87 people were reportedly killed.
High-school student Qi Hanying from Jiqiao Village, Funing County, said that her school held earthquake drills once a year, but never anything specifically related to tornadoes.
Wei Xueshen, 53, who came back to his hometown of Danping Village in the aftermath of the tornado to help out his family, said the only survival techniques for tornadoes he can recall came from his mother when he was 8 years old. She had told him and his brothers that it was best to run outside in the case of a tornado and not stay in the house. One of Wei's brothers did just that on Thursday. He survived.
Additional reporting by Yin Yijun. With contributions from Shen Zhefan.
(Header image: Three villagers wear white clothing as they mourn family members who died during a tornado that hit the eastern Chinese province of Jiangsu on June 23, 2016. Beichen Village, Funing County, Yancheng City, Jiangsu province, June 25, 2016. Wu Yue/Sixth Tone)