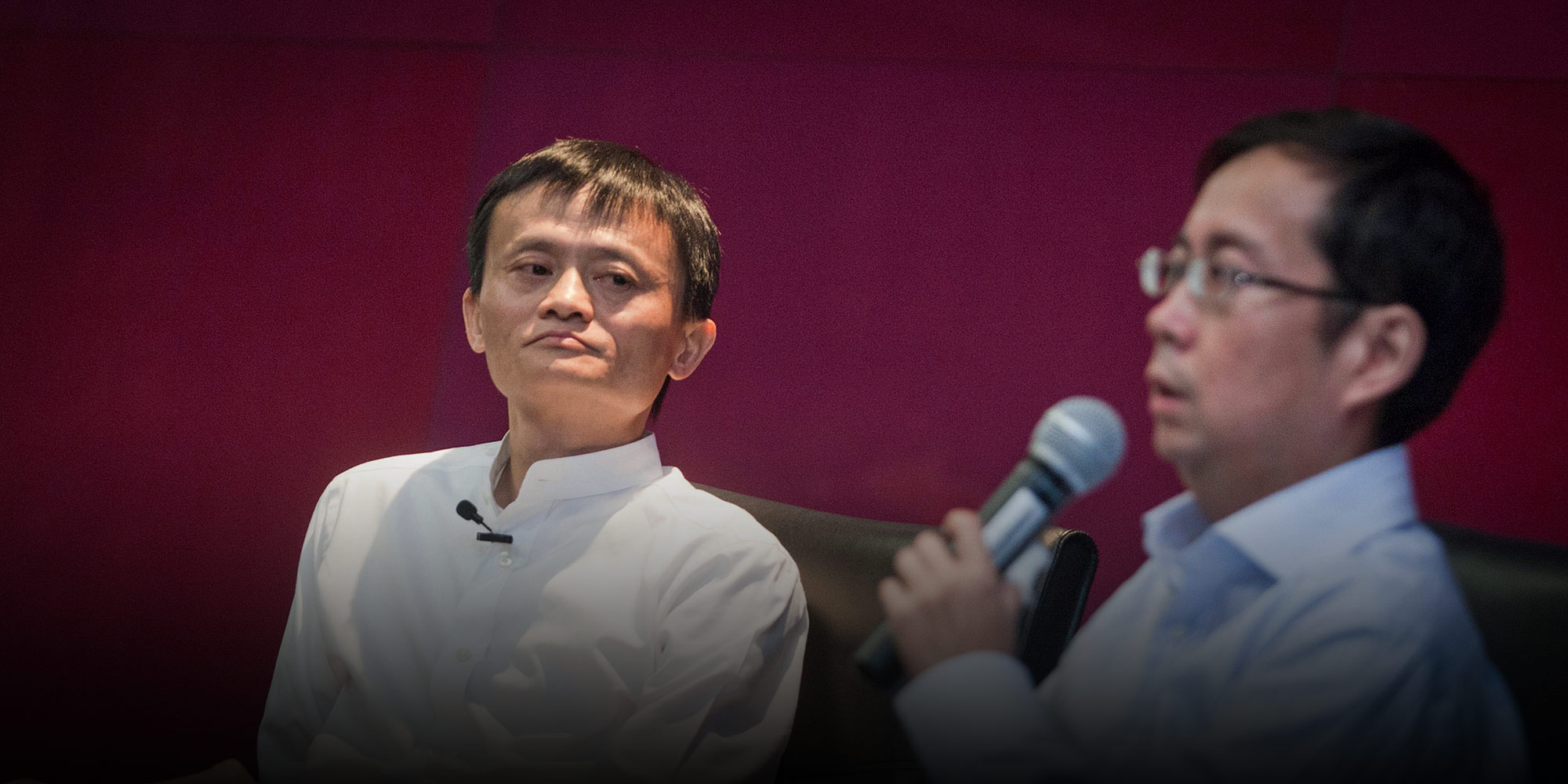 VOICES & OPINION
Alibaba Prepares for Life After Jack Ma
Alibaba's chairman and founder is taking a step back, so what comes next for the tech giant?
Jack Ma certainly knows how to make an exit. When the former English teacher and founder of Alibaba — one of China's largest tech companies — first announced his retirement, almost offhandedly, in a Sept. 7 interview with The New York Times, he left local Chinese media scrambling to confirm the news. It wasn't until days later, on Sept. 10 — a date notable for being both Teacher's Day and Ma's own 54th birthday — that he finally confirmed his exit in an open letter titled "Happy Teacher's Day!"
As outlined in his letter, the plan seems to be for Ma to step down from his position as chairman of the board one year from now, on Sept. 10, 2019. Replacing him at Alibaba is his hand-picked successor: CEO Daniel Zhang. Market reaction to the news was swift, but surprisingly measured. After a quick dip, the company's stock price appears to have stabilized.
Yet while the market appears cautiously optimistic about the post-Ma era at Alibaba, investors would be forgiven for harboring doubts about the company's future. After all, the Chinese mainland's market economy is still quite young, and Alibaba will be one of the first of its major founder-run businesses to attempt this kind of leadership change.
Founders occupy a crucial and irreplaceable position in a company. Chinese businessmen like Jack Ma and JD.com's Richard Liu are often treated as avatars for their company's culture. A successful transition requires companies to keep threading the needle: They must simultaneously preserve and pass on this culture — which is what made them successful in the first place — while also ensuring their leadership ranks are filled based not on loyalty, connections, or tenure, but on who is most qualified for the job and who is best prepared to lead the company in the future.
This last point is where many Chinese companies have run into trouble. Although there is a dearth of case studies from the Chinese mainland, Wang Laboratories — a U.S.-based technology firm founded in 1951 that was once a major IBM competitor — offers an instructive look at how leadership transitions can play out in the Chinese corporate context.
Over the course of almost 40 years, Wang Laboratories' founder, Wang An, built his company into a behemoth. By 1988, it had $3 billion in annual revenue and more than 30,000 employees. Yet for all his business acumen, when it came time for him to choose a successor, Wang stubbornly insisted the company be run by his 36-year-old son — another common phenomenon in the Chinese business world. Despite opposition from key figures within the company, who cited the younger Wang's lack of experience, Wang refused to budge.
In the ensuing crisis, many of the company's key figures resigned. In 1989, Wang — who had been diagnosed with cancer and would pass away the following year — finally caved, replacing his son with a more experienced CEO. By that time, however, it was too little, too late, and in 1992 the company had to file for bankruptcy protection.
According to Ma, Alibaba has been planning for his eventual exit for the past 10 years. In that time, the company seems to think it has found a potential solution to the problem of orderly succession: what it calls the Alibaba Partnership. The program, which was founded in 2010, was designed so that when Ma eventually stepped back from day-to-day operations, he could ensure both that the culture he had built would be protected, and that this would not come at the expense of fresh talent and ideas.
The Partnership program has two tiers. The first consists of "Alibaba Partners" — whose numbers fluctuate, though currently there are 36 of them — who nominate candidates for the company's board of directors. The second is the five-member Partnership Committee, on which both Jack Ma and Daniel Zhang sit. The Committee administers elections for new partners and allocates their bonuses.
Together, their primary task is to safeguard Alibaba's culture. Though this is not unique to China, many Chinese founders have proven particularly reluctant to cede decision-making authority to outside investors. Wang An went so far as to fund his company's expansion through loans — rather than stock offerings — in order to keep control within him and his family.
Ma and the rest of Alibaba's leadership team are no exception. The Partnership program is meant to keep Alibaba's culture just the way it is. It does this most prominently by giving authority over the company's board to loyal employees, as opposed to outsiders. All partners must have spent a minimum of five years at Alibaba, and one of the criteria is that nominees must be what the company calls "culture carriers."
As for the committee, Ma plans to keep his seat even after he steps down, a perch that will allow him to continue to wield influence in the company, even after Zhang takes over. Currently, of the committee's five members, three — including Ma, who has a permanent seat — have been with Alibaba since the beginning, giving Ma's old guard a distinct numerical advantage in any vote. Ma and the rest of Alibaba's leadership believe this structure will insulate the company from the demands of short-term, profit-hungry investors.
In a 2013 letter to the Hong Kong Stock Exchange, Joe Tsai — Alibaba's executive vice-chairman and the other permanent member of the company's Partnership Committee — made this view explicit. He dismissed criticisms that the Partnership program constituted a violation of shareholder rights, such as the right to choose a company's board, by bluntly stating that Alibaba's first priority was protecting its culture.
Alibaba has another reason for its embrace of the Partnership program: The company believes it will help avert stagnation. Each year, old members are cycled out — partners are required to retire when they turn 60 — and new members are selected, forming a bench for leadership roles. This system has functioned smoothly for almost a decade now, and each year, senior Alibaba partners "graduate" and are replaced by younger executives in their 30s and 40s. This gradual turnover is a key part of how the company plans to maintain stability during future leadership transitions.
Zhang himself is an example of how this system can work. A non-founder, he joined Alibaba in 2007 and held multiple positions within the company as he worked his way up the corporate ladder. By 2014, he was a partner, and he was named CEO the following year. Zhang's rise is also an example of one of the side-benefits of the Partnership system: It assimilates new employees, encouraging them to immerse themselves in the company's culture and ensuring they are loyal to its founding mission before they are promoted to higher positions.
Still, for all the program's theoretical advantages, any governance structure will have flaws, and Alibaba's Partnership program is both relatively unique and almost completely untested. For one, it's not clear how active Ma plans to be on the committee after he steps down. As long as he is in a position of power, his influence and reputation as Alibaba's founder will pose a challenge to his successors. What happens if Zhang makes a decision with which Ma disagrees? The mechanics of the system are unclear, but in practice, it's likely Ma could exert some kind of veto power, if he were to choose to do so. What would happen next is anyone's guess.
In this sense, Ma's retirement is a test for him as much as it is for his company. Many Chinese founders think of their companies as children, for them to raise as a parent would, but Ma has always seemed to prefer the teacher-student metaphor. While both parents and teachers are responsible for preparing their charges to face the world, the former will always be there, whereas the latter must eventually step back and let the student take the exam on their own.
Ma has stated that his goal is for Alibaba to span three centuries — 102 years. Barring miraculous advancements in life-extending medicines and technology, he will not be around to see his dream realized. He feels he's done what he can for his brainchild. Now it's time to see if what he has built over the past two decades can survive without him.
Translator: Katherine Tse, editors: Yang Xiaozhou and Kilian O'Donnell.
(Header image: Jack Ma and Daniel Zhang attend a conference in Hangzhou, Zhejiang province, Oct. 17, 2011. Chen Zhongqiu/VCG)