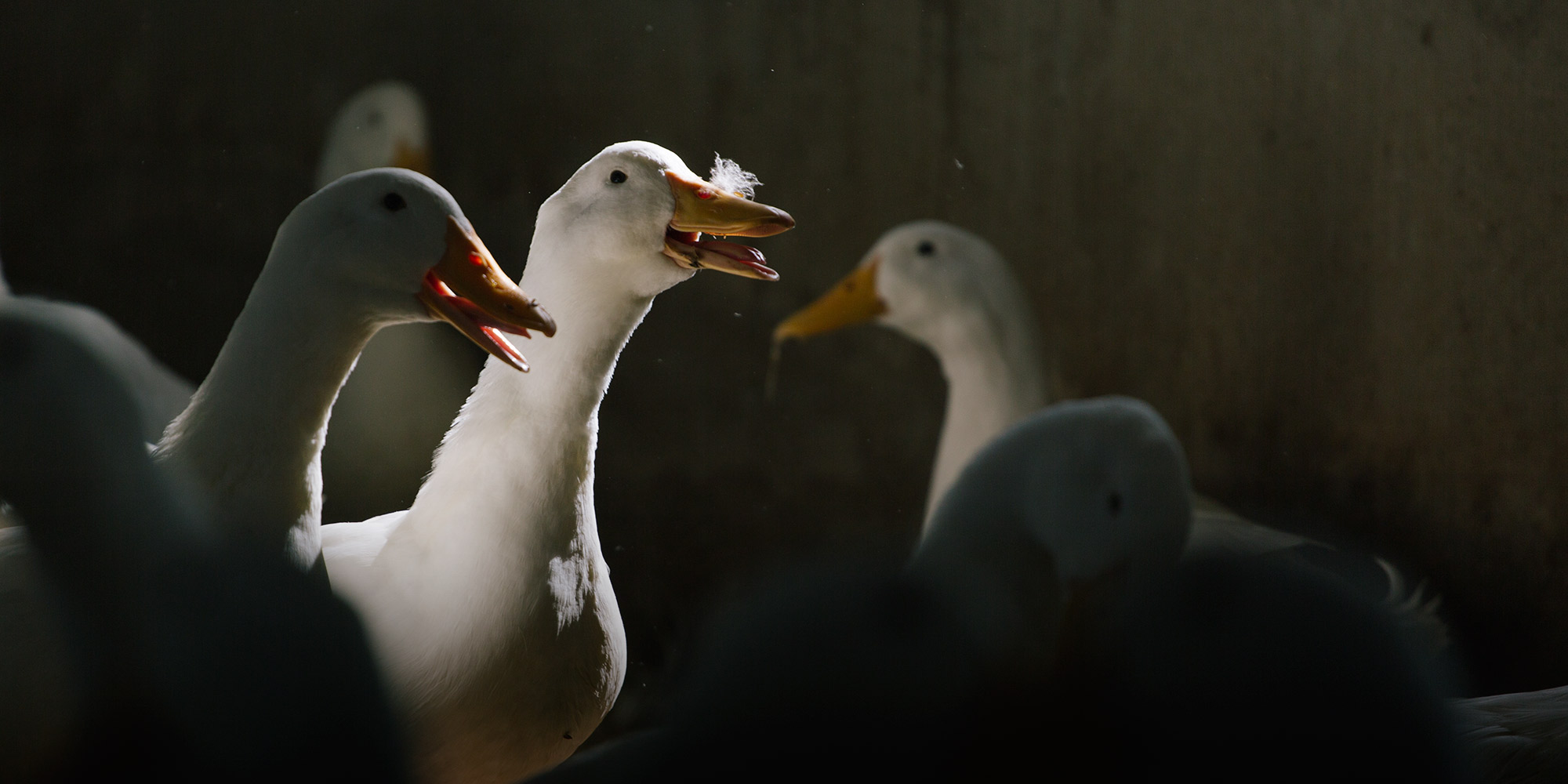 FEATURES
Duck Tales: The Origin of the Birds in Beijing's Famous Dish
The ancestors of the Peking duck you chow down on in Beijing probably once roamed the English countryside. But that could be about to change.
BEIJING — Wu Shuiping misses the old days, when Beifu — the village of 300 households near Beijing where he grew up — was filled with fat, waddling ducks. Their incessant quacking was the soundtrack to his childhood, and their meat — particularly delicious when made into that symbol of gastronomic decadence, imperial Peking duck — appeared on dinner tables across the capital and beyond. "About half of all households here farmed them," he says. "It was like a world of ducks."
But these days, those who savor arguably the most iconic Chinese dish are more likely to gobble up imported breeds than domestic ones. Overseas competition has forced most villagers out of the duck business, and 46-year-old Wu is the only such farmer left in Beifu, located in the county that once supplied most of the region's ducks.
Wu raises a breed somewhat confusingly called Pekin duck, which was domesticated in Beijing about 600 years ago. In the late 19th century, Pekin ducks were imported into the U.K., where they were also reared for meat. Later, Pekins were interbred with a local variety to produce leaner birds that catered to British tastes. In the 1980s, as China began opening its economy to foreign imports, the U.K. began selling interbred Pekins back to China.
Today, a British company called Cherry Valley is the biggest importer of breeding ducks to China. Based in the northern English county of Lincolnshire, Cherry Valley started importing interbred Pekins to China in the 1980s. By 2016, at least 75 percent of all ducks sold in China were Cherry Valley breeds. The British firm's market dominance has particularly affected farmers like Wu, who insist on raising purebred Pekins. "Cherry Valley ducks are too cheap," he says. "They're driving us out of the market."
Fortunately for Wu, help is now at hand: Chinese breeders are looking to seize back some of the lean duck market and ensure that the country's most renowned duck dishes are domestically sourced.
Cherry Valley duck meat differs from purebred Pekins. The latter have a fat percentage of more than 30 percent by weight; when roasted in one of Beijing's traditional ovens, the fat saturates the skin within 60 minutes, making it extra crisp. But Cherry Valley ducks have a lower fat ratio and therefore leaner meat — which makes them less suited to roasting, Chinese gourmands say. "Cherry Valley ducks are drier, so when you roast them, the skin isn't as crisp," says Zhen Yi, sous-chef at an imperial duck restaurant in Sanlitun, an upscale shopping district in downtown Beijing.
Zhen's restaurant, for its part, only uses locally sourced Pekin ducks. But these days, it's an exception to the rule, Wu says. For the last decade or so, many of the capital's imperial duck restaurants have been replacing homegrown ducks with Cherry Valley's products. Today, only old-fashioned, big-name imperial duck restaurants still roast locally bred Pekin ducks, says Wu, who transports around 3,000 animals to some of the best-known outlets. A 2017 report by Economic Daily estimates that Cherry Valley supplies 90 percent of the capital's roasted duck market, but Wu believes that the proportion is probably closer to 60 percent. (Cherry Valley's parent company declined Sixth Tone's request for an interview.)
But in fact, the country's biggest duck markets are actually farther south, according to Hou Shuisheng, a researcher at the Chinese Association for Agricultural Studies (CAAS). Hou says that 2.5 billion ducks are consumed every year across at least nine provinces in central, eastern, and southern China, while consumption in the north and west tends to hover roughly in the hundreds of millions. Traditionally, southerners bred shelducks, but in the past decade, Cherry Valley's mixed-breed ducks have superseded the majority of the shelduck market, too, Hou adds.
The Cherry Valley ducks themselves are not sold for meat. The company sells so-called breeding units, each of which contains about 110 female and 25 male ducks. Breeding units are sold to Chinese farms, where the ducks are raised and eventually produce offspring. This following generation, in turn, is sold on to retailers for meat. Cherry Valley charges China's duck farms a one-off payment for each breeding unit, and a percentage of the profits that farms make in onward sales to retailers.
Wu, the Beijing-based duck breeder, admits that farmers have their reasons for choosing Cherry Valley ducks over local varieties. A Cherry Valley duck grows about three kilograms of meat in only 38 days, while a traditional Pekin duck takes at least 40 days to grow the same amount. A Cherry Valley duck also consumes less feed — the biggest expense in raising ducks — to grow the same amount of meat. And they sell at half the price of Pekin ducks: A plucked version of the former costs around 25 yuan ($3.50), while the latter costs at least 50 yuan.
Cherry Valley's model has proven highly successful in China. In 2002, the company sold around 325 million ducks to Chinese farms, occupying around one quarter of the domestic duck market. By 2017, sales numbers had risen to 2.5 billion animals. When Chinese investors bought Cherry Valley the same year, the country's media outlets — somewhat half-heartedly — celebrated the news as a kind of homecoming. The company continues to base its research in the U.K. and maintains hatcheries in Germany and eastern China's Shandong province.
But not everyone is a satisfied customer. The company keeps its breeding technologies under lock and key, and charges Chinese duck producers 500 yuan annually for each parent duck. It also takes 50 percent of all profits that farmers make on the animals when they sell them to retailers. Li Bingquan, general manager of Sai Fei Ya, a duck-breeding farm based in the Inner Mongolia Autonomous Region, tells Sixth Tone that the company used to pay up to 30 million yuan a year for Cherry Valley ducks. "Not only are their products expensive, they also have limited output at times of peak demand," Li says.
Fifty-nine-year-old Hou, the researcher, has worked at CAAS since 1983. He was one of the first researchers in China to court private investment in the country's breeding farms in order to secure further funding for his research interest: breeding high-quality ducks for China's huge domestic market.
Since 1999, Hou has headed a duck-breeding center — still one of only two farms in China breeding Pekin ducks — in Changping, a suburban area of Beijing. At first, the center was virtually falling apart due to years of mismanagement, and its four duck sheds sported broken windows and leaky roofs. Hou's task was twofold: revive the farm as a research base from which to optimize domestic duck breeding, and make sure the farm turned a profit.
Hou rebuilt the duck sheds and streamlined the breeding process with investment from commercial partners — he says millions of yuan were sunk into the initiative — and four years later, the farm was back in the black.
In 2006, Hou commenced a new task: developing new breeds of duck that could go toe-to-toe with Cherry Valley. "When I visited [duck-breeding] companies, they complained that they have to pay millions every year for the breeding ducks from Britain," he recalls, eventually deciding to breed a strain of Chinese duck that could offer the market another alternative.
Hou has brought tech innovation to China's duck-breeding process. At the research center, his team records data on the feeding and breeding patterns of around 10,000 ducks. Each duck sports a tag on its wing, stamped with a QR code that, when scanned, allows researchers to access the animal's biometric data. The team then select and breed the best-performing specimens for optimal meat production.
Hou sells this technology to two major duck farms, Sai Fei Ya and the Shandong-based New Hope Liuhe Co. Ltd., for an initial 8 million yuan, plus 10 percent of the profits of each duck bred from his program. Because Hou's ducks tend to consume less fodder than the Cherry Valley variety while putting on the same amount of meat, producers earn an average of 0.46 yuan more on every duck they sell to retailers.
Sai Fei Ya no longer sources its animals from Cherry Valley and now relies on Hou's breeds, according to Li, the general manager. "With Hou's varieties, [Sai Fei Ya] can also become a distributor of breeding ducks, selling animals in greater supply at cheaper prices [than Cherry Valley]," claims Li. He predicts that Sai Fei Ya's share of the lean duck market will expand from 10 to 50 percent in the next three years.
Today, Hou's breeding farm raises 12 varieties of duck. Some breeds are fatter, some leaner; some are particularly disease-resistant. Since 2015, the team has been trying to breed a type of duck with an extra vertebra in its neck. If successful, Hou estimates that retailers of marinated duck-neck — a delicacy in eastern and southern China — stand to make an average of 0.14 yuan more on every product sold.
Hou's main breed, a variant of Pekin duck, now commands about 25 percent of the Chinese market for lean duck meat, he says. The scale of the business remains small compared to Cherry Valley, but caters to a high-end market that values quality over quantity, Hou says. He has confidence that it will eventually stave off competition from Cherry Valley to win back more than half of the domestic market. "In less than a decade, we will see it happen," he says.
Editor: Matthew Walsh.
(Header image: Pekin ducks at CAAS's duck research center in Beijing, Sept. 18, 2018. Wu Huiyuan/Sixth Tone)