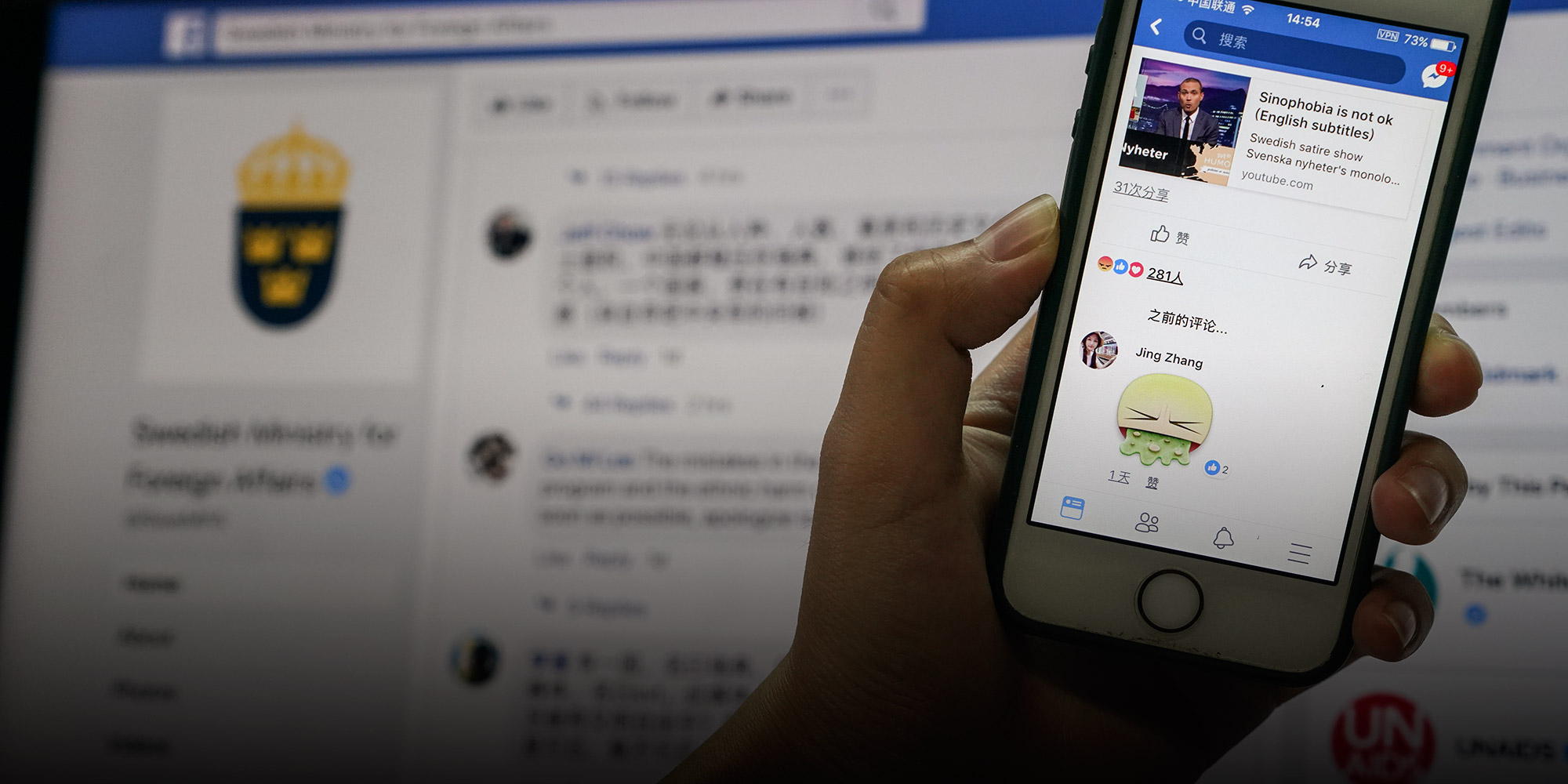 NEWS
China Slams 'Racist' Satire Segment on Swedish TV
Sweden's national network says it 'made a mistake' in lampooning a much-publicized dispute between a hostel, police, and a family of tourists — but will not apologize to China.
A group of patriotic Chinese netizens bombarded the Facebook page of the Swedish Ministry for Foreign Affairs (SMFA) with criticism on Monday in retaliation against a satirical news segment aimed at badly behaved Chinese tourists. The online attacks are the latest development in the aftermath of a Chinese family claiming they were mistreated by Swedish hostel staff and police, a case that sparked anger and resentment from both countries.
The online army — called Di Ba, or literally "Emperor's Bar" — is a collective of 31 million users on Tieba, a forum run by internet giant Baidu. Originally a gathering place for fans of Chinese soccer star Li Yi, Di Ba has evolved into a sanctuary for patriotic Chinese who take to their keyboards to stand up for their country. When Di Ba members discover a particularly egregious slight against China, they rally their compatriots, connect to proxy servers, and leap over the Great Firewall to flood their enemies' social media accounts with creative curses, caustic memes, and demands for an apology.
This most recent Di Ba-orchestrated cyberattack follows the Friday broadcast of a satirical news segment on Sweden's national network, Sveriges Television (SVT), which many Chinese have since called racist and deeply insulting. In the 10-minute segment — which SVT posted on YouTube with English subtitles — host Jesper Rönndahl is unequivocal in summing up national sentiment: "Swedes hate racism. As long as we're not talking about the Chinese. And the Russians, of course." Rönndahl rehashes the accommodation dispute involving the Chinese family and enumerates tidbits about China in an attempt to educate his Swedish viewers — while a map of China in which Taiwan and part of Tibet are conspicuously absent is displayed in the background.
The segment ends with a satirical promotional video aimed at Chinese tourists. "Here are a few tips to avoid cultural clashes," says the blond narrator, her tone earnest. "We do not poop outside historic buildings," she admonishes, pointing to a sign showing a defecating silhouetted figure wearing a conical hat and holding a bowl with a pair of chopsticks. "Another important cultural difference is that you Chinese are racists," the woman continues, emphasizing Sweden's acceptance of "black people, Jews, Arabs, and even homosexuals," all of whom have equal value. "However," she adds, "this principle does not apply to Chinese."
The segment — which SVT also posted on video-streaming site Youku with subtitles in Mandarin — caused an immediate stir in China. On Sunday, state news agency Xinhua published a commentary slamming the show's "ridiculous actions," which the writer called "a reflection of arrogance."
"The host's remarks are filled with discrimination, prejudice, and provocation toward the Chinese and other races," Geng Shuang, a spokesman for China's Ministry of Foreign Affairs said on Monday. "This is a complete betrayal of media ethics." Geng added that China has demanded that SVT take immediate measures to "eliminate the horrible effects" caused by the segment.
The wide backlash from China and its net users prompted a response from the Swedish network on Monday. "Our editorial board made a mistake," SVT said on its official website. The network added that the intention of the broadcast was to satirize the accommodation dispute while also highlighting the issue of Sinophobia, which it claimed is not being taken seriously enough by Swedish citizens. However, the statement quotes SVT program director Jan Helin as saying that the network will "not apologize to China for the satire."
SVT's official response did little to placate China's patriotic netizens, who were quick to issue a call to arms. On Monday, Di Ba wrote in a Facebook post that members should begin targeting accounts belonging to SMFA, SVT, and Rönndahl at 8 p.m. the same day.
"We welcome objective and sincere suggestions, but we will not tolerate the 'humor' of distorting rumors. I hope that Swedish TV station will correct the mistakes in time and apologize," commented one Facebook user under a post on SMFA's official page. The post — a Q&A with an expert on masculinity and men's health — had garnered 5,600 mostly irrelevant comments by Wednesday, almost all of which were contributed by China supporters.
Similar comments — and some far more disparaging of Sweden and its citizens — could be found under other official posts on SMFA's page. "China has a great history, Sweden has only stinky canned fish," commented a Facebook user with just one friend on the social network.
Di Ba's keyboard crusaders are no strangers to politically sensitive issues. In September 2017, the group allied itself with pro-mainland students in Hong Kong in a Facebook war-of-words against their pro-independence counterparts. The nationalist group's slogan doubles as a warning to those who might otherwise risk offending China: "Where Di Ba treads, not an inch of grass will be left."
Editor: David Paulk.
(Header image: Han Xinyu for Sixth Tone)