One afternoon in late June, I watched as dozens from a local cancer rehabilitation support group filed through a nondescript street-level door on Nanjing Road in downtown Shanghai. They had come for the first session of the "Post-Cancer Enlightenment Through Tai Chi" class, which was being offered by the Shanghai Philanthropic Academy. Although perhaps ambiguous from the building's unassuming exterior, the Academy is housed inside one of Shanghai's most historic buildings: Hong Temple.
Before class, the new students received a tour of the recently renovated interior from Wu Kaiyu, the Taoist master in charge of the Academy's programs. Many of the visitors that day had heard of Hong Temple — some had even visited it as children — but most believed it had been closed decades ago, and few had any idea that it had been reopened as a Taoist community center.
It was a fitting choice, given the temple's history. In addition to being one of Shanghai's most important religious sites, Hong Temple has long been central to Taoist community outreach efforts. Founded during the Ming Dynasty (1368-1644), the temple was originally designed as a shrine to the ancestors of the Qu family clan. Some time later — the records are not entirely clear — it was turned into a Buddhist temple dedicated to the bodhisattva Guanyin — the goddess of compassion and protector of women and children, according to Chinese folk custom. Then, in 1722, it was sold again and converted into a Taoist temple, though Guanyin remained a central part of the temple's religious rituals.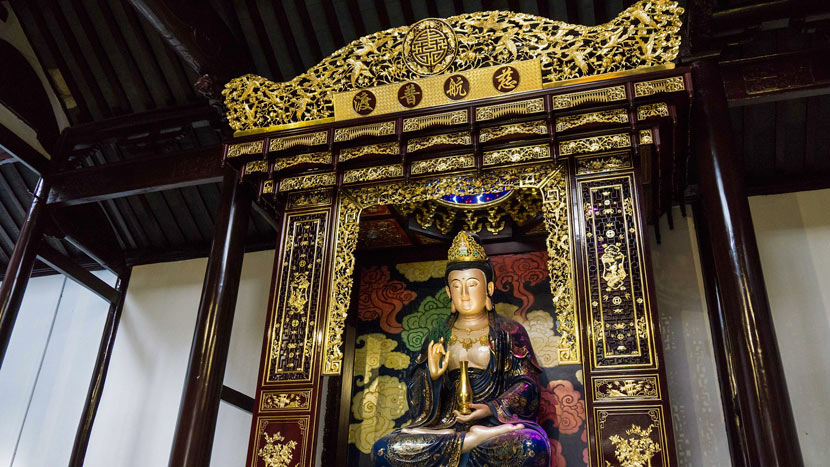 A statue of the bodhisattva Guanyin inside Hong Temple in Shanghai, Sept. 11, 2014. VCG
Perhaps inspired by the bodhisattva, the temple's new Taoist leadership made charity and supporting the community a key part of its mission. In the summer, monks passed out traditional Chinese antidiarrheal medication to residents suffering from malaria — a common affliction in the poorer sections of Shanghai at the time — and in the winter, they handed out clothes. When an impoverished person died, their family could apply to the temple for a coffin, and the abbot made regular donations to nearby hospitals and orphanages. In 1875, abbots Zhang Shaoyan and Zhang Yutang lent unused rooms in the temple's east wing to an outside charity.
By that point, however, Hong Temple had become known for more than just its charitable activities. In the 1840s, after Shanghai was forcibly opened to trade with the West, Hong Temple fell under the jurisdiction of what was then the British Concession — later the International Settlement. Soon, trade was booming, and prostitution right along with it. On holy days, many of the devotees that filled Hong Temple hailed from the nearby Fuzhou Road red-light district.
Although Fuzhou Road is more famous today for its bookstores and literary scene, prior to 1949 it was home to a thriving sex trade. The temple's popularity among this community was such that on worship days it would also receive visits from a wide cross section of the city's male population — from rich playboys to young boys with nothing better to do. On some days, the numbers of these pious young men were so great that there were reports of stampedes — one of which nearly knocked down the temple gate.
Left: A painting of Hong Temple from Vol. 83 of 'Picture Daily,' 1909-1910; right: Female worshippers at Hong Temple, published in 'The Blooming of Nanjing Road.' Courtesy of Zhu Yiwen
Much of our knowledge of the temple's history comes from contemporary Shanghai zhuzhi folk poems and songs. These portrayed Shanghai's prostitutes visiting Hong Temple to pray for money and salvation. As marginalized workers in a taboo industry, prostitutes were in constant contact with all sorts of illicit activity, and in popular works from the era, the temple was romanticized — and occasionally mocked — for its connection to them.
The temple was a fixture of Shanghai folk culture for other reasons, too. Many of the prostitutes on Fuzhou Road were from the southern province of Guangdong, and they brought with them the practice of using pig heads as religious offerings. Though Hong Temple was not the only Taoist temple in Shanghai to allow meat offerings, most contemporary temples only accepted vegetables or fruit. As such, this unusual practice was another reason for Hong Temple's prominence in popular — and slightly mocking — Shanghai folk ditties.
After the founding of the People's Republic of China in 1949, however, new policies targeting the country's feudal traditions gradually forced the temple to end some of its more popular services. Fortune-telling and the sale of immortality spells were banned, and the concurrent crackdown on the sex trade cost the temple some of its most well-known patrons.
This gradual tightening of restrictions continued into the 1960s, when the temple was closed to the public. The temple's main gate on Nanjing Road was replaced by a shop selling scissors, and the temple itself was converted into a storehouse for a Shanghai-based pharmaceutical company. For unclear reasons, but perhaps because the pharmaceutical company needed the storage space, the temple largely escaped structural damage during the upheaval of the Cultural Revolution in the late 1960s and early '70s — which saw many similar temples destroyed — though the idols inside were defaced.
Although the Cultural Revolution ended in 1976, it was not until 1993 that the temple was restored to Taoist control, though the gate was not restored. Even then, the usage of the space for worship remained off-limits. Instead, the temple was used for movie screenings and art shows aimed at residents of the rapidly gentrifying Nanjing Road area.
It was not until 2014 — after being remodeled and rebranded as a "Taoist Culture Center" —that it was finally allowed to host religious ceremonies again. Unfortunately, both because of what happened to the main gate, and because local officials — worried that smoke from burning incense would adversely impact Nanjing Road's upscale atmosphere — banned the practice, Hong Temple has been unable to reclaim its place among the city's main Taoist centers of worship.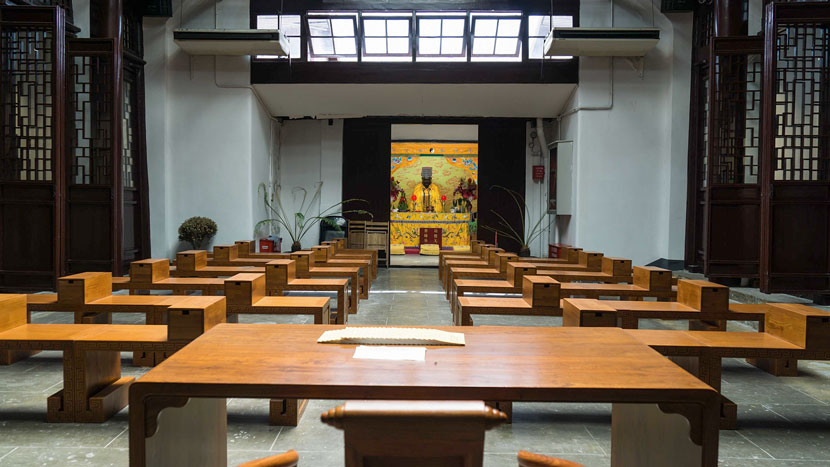 The interior of Hong Temple's Taoist Culture Center, Shanghai, Sept. 11, 2014. VCG
Instead, the temple's leadership is trying to find a niche for the temple to fill. Beginning in September 2014, and up through yet another round of renovations in early 2017, the Shanghai Taoist College hosted a regular series of lectures at the temple — turning it into a place where young Taoist students could discuss the canon with one another and members of the public. In addition to the religious and philosophical value of such activities, these events had the added benefit of showing locals that Taoism was still capable of attracting young followers.
Most recently in June 2018, the — once again — newly-renovated Hong Temple space was handed over to the Shanghai Philanthropic Academy, a Taoist charity operated under the auspices of the government-backed official Chinese Taoist Association. The temple's latest redesign seeks to turn it into both a center for transmitting traditional Chinese culture and a hub of charitable activity. At present, the temple hosts classes for lay converts to Taoism and the abovementioned program for recovering cancer patients. There are also plans to put on a variety of parent-child reading groups and classes in Chinese history, and the temple's leadership has promised to revive the 19th century practice of providing local charitable organizations with event space.
Today, Hong Temple is an interesting case study in the ongoing revival of China's religious sites after a freeze on religious activity during the 1960s and '70s. All over China, temples are being renovated and reopened, but regulations and official wariness of religion often mean they are barred from fulfilling their original purpose as houses of worship. Instead, many of these institutions have taken government funds to effectively transform themselves into monuments and centers for the study of China's history and traditions.
In this case, the government's goal seems to be to inject a dose of traditional culture into the highly commercialized environment of Nanjing Road. But if history is any indication, it is unlikely to be the temple's last incarnation — Hong Temple has always evolved to meet the changing needs of society and the community around it.
The temple's traditions have not been entirely forgotten, either. Back in the 1960s, when Hong Temple was first closed down, worshippers would still sometimes gather outside its walls on holy days, in spite of the risk involved. It's a practice that continues even today, and pedestrians on Nanjing Road will still occasionally catch a glimpse of believers standing outside the temple's walls, burning incense and whispering a quiet prayer.
Translator: Matt Turner; editors: Wu Haiyun and Kilian O'Donnell.
(Header image: Women pray outside of Hong Temple in Shanghai, Aug. 25, 2018. Johannes Eisele/AFP/VCG)