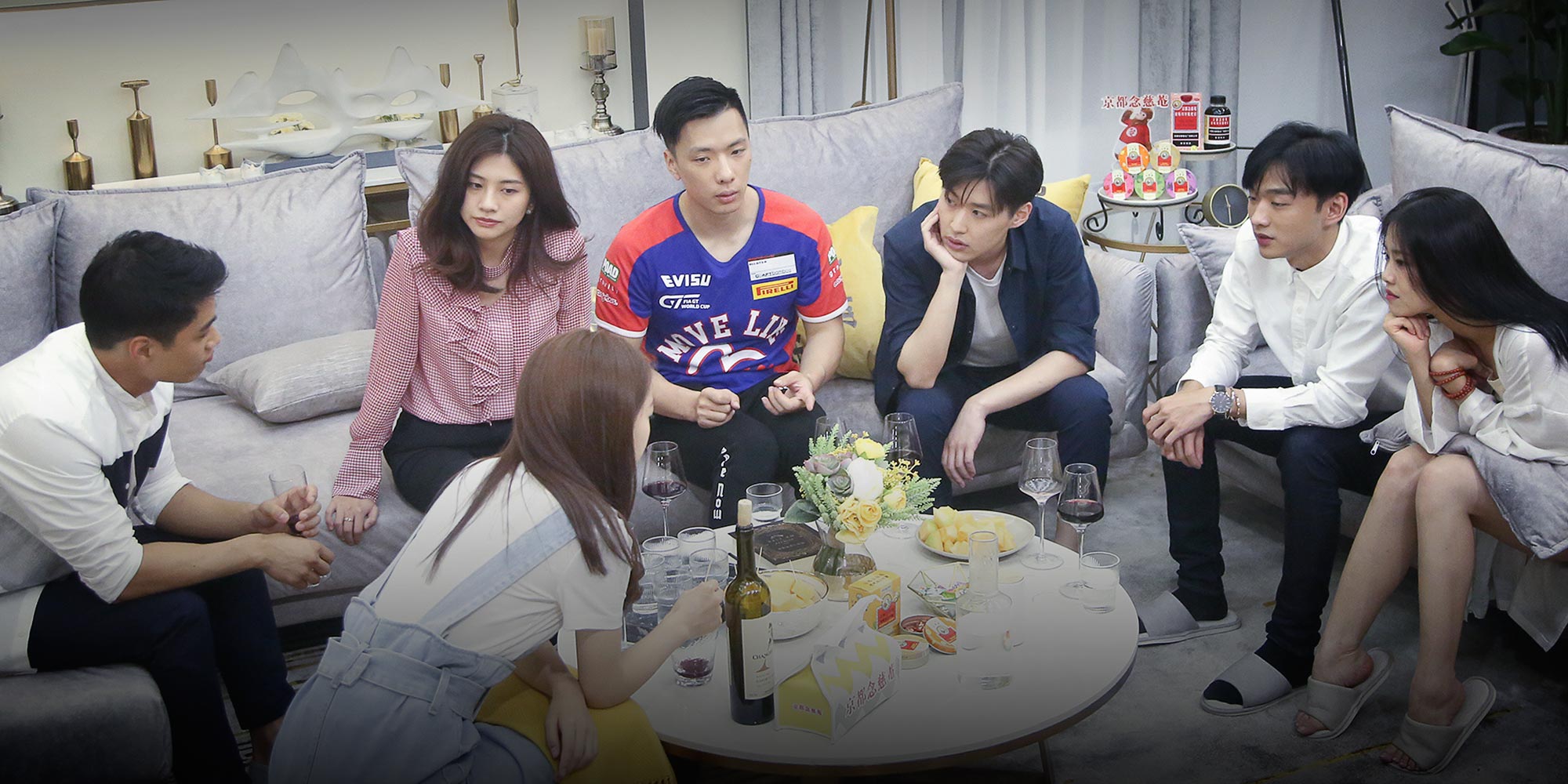 FEATURES
Heartbreak and Hormones: A History of China's TV Matchmaking
From flashy hosts to fake romance, the evolving format of China's televised dating shows reflect changing attitudes toward dating and marriage.
China's latest dating show has a simple formula: one month, one cozy abode, and eight lonely hearts who keep their feelings under wraps as a panel guesses who's falling for whom.
It's called "Heart Signal," and — as the name suggests — the ordinary singletons with extraordinary looks must give only romantic signals to their crushes, not full-on confessions. Each night, the contestants — who include a sports car racer, a model, and an English teacher — must text each other anonymously in an attempt to woo the object of their affections.
The show is a Chinese spin-off of a popular South Korean show of the same name and premiered on tech giant Tencent's video site at the end of August. Since then, the four episodes have sparked plenty of discussion online — especially about whether the show is scripted and what covert techniques the contestants use to express their love. The show has a 7.4 out of 10 rating on China's popular reviewing site Douban, and millions have tuned in to watch each of the episodes.
You may think a show about beautiful young people gazing dreamily at each other sounds slow-paced — and you'd be right. It follows a similar formula to Japan's "Terrace House" — a low-drama reality show with minimal intervention from producers that has gained a following in both Japan and the United States. The producers of "Heart Signal" keep viewers interested by arranging dates between possible lovebirds. There's also a panel of presenters made up of entertainment celebrities and an expert on analyzing facial expressions, who play love detectives by trying to sift through the clues to figure out the contestants' romantic intentions.
The subtler approach of "Heart Signal" heralds in a new era of dating shows in China. Unlike previous matchmaking shows in which contestants have been forced to stand awkwardly on a flashy stage in front of a studio audience, these contestants are set free in a house to interact organically, reflecting a growing interest in reality television among audiences. The contestants' lives are seemingly so authentic that they continue working their regular day jobs and return to the "Heart Signal" house after work, in an attempt to minimize disruption to the normal tempo of their lives.
As in any country, dating shows in China consistently attract widespread attention — after all, they're dealing with topics surrounding humankind's most basic needs and desires. But the shows are about more than just coupling up: They also echo the country's rapidly changing attitudes toward romance and dating. We take a look at highlights from China's 30-year history of dating on the small screen.
Not Love at First Sight
China's dating shows had a somewhat shaky start. The first known show in the genre was 1988's "Television Matchmaker," which screened on a local channel in northern Shanxi province. Back then, the public was reluctant to share their love requests. Three months passed before the production crew received their first phone call from a man interested in being recruited.
"TV Matchmaker" would be considered extremely simple by today's standards. There was no flashy stage or gimmicky premise — instead, singletons looking for a lifelong partner simply recited their personal ads on set. Getting women on board proved challenging after the first woman to appear on the show got scolded by her parents for losing face.
If You Are the One
If you know one Chinese dating show, it's likely "If You Are the One," a show with a legendary status that holds the record of being the highest-rated Chinese dating show. Launched in 2010 on Jiangsu Television and hosted by the witty, outspoken, and bald Meng Fei, the show became known both in China and overseas for its colorful characters and unusual personas pursuing true love — or a shot at fame.
In the show, which bears resemblance to the popular British dating show "Take Me Out," 24 women stand behind glowing podiums on a stage that looks more like the set for a game show than a place conducive for romance. One by one, male contestants come to the stage, only to be subjected to intense questioning and often harsh judgement. Even after getting the third degree, the men may still face the miserable fate of being chosen by no one at all.
Some of the show's contestants were so memorable that they gained online fame. Among them was contestant Ma Nuo who became famous for the iconic, materialistic line, "I'd rather cry in a BMW than laugh on the backseat of a bicycle." In editorials, Party mouthpieces lamented that the show was promoting crooked, money-hungry values, and in 2010, the State Administration of Radio, Film, and Television issued a notice announcing it would tighten its grip on "vulgar" dating shows, banning mentions of sex and materialist values.
Nevertheless, the program was a trendsetter, prompting many other TV stations to follow in its footsteps and create their own dating shows. Ever since, meeting your true love through TV has seemed like a viable option — even if the chance of success is low.
Parental Control
In the final round of "If You Are the One," the male suitor finally gets to ask the remaining female contestants a few questions. Among the most asked is: "Do you mind living with my parents after we get married?"
Even when parents are not physically present onstage, they're never completely absent from China's dating shows. In China, parents tend to take more active roles in matchmaking. Shanghai's marriage market is a case in point — each weekend, the park is packed with parents desperately hunting for their children's future spouses.
Thanks to the program "Chinese Dating," parents get a chance to shine on dating shows as well. Launched in December 2016 by Shanghai's Dragon TV, the show gives parents the ability to pick out a date for their child. The children watch from another room, unsure if their mom and dad will choose the person they had in mind. After it was broadcast, viewers noted that the program revealed how male guests and their parents objectified women. The show also brought to light other issues, like the existence of spoiled, immature kidults, and discrimination against single moms.
In March 2018, the face of "If You Are the One," Meng Fei, started a new show called "New Chinese Dating Time." At first glance, it seems like a copy of the original parent-focused show, but this time, the parents seemed to be more open-minded, demonstrating that parents' values are also changing. One mom said she was OK with her son not having children, as long as the couple was able to offer each other lifelong support.
Mothers have also weighed in as part of another show called "Mum, Mate, Computer Date" which aired in November 2017. In it, contestants can choose from three people who've been separately recommended by their mother, best friend, and big data. The show raises a big question: Do you believe your mom, your friends, or science?
Purely Platonic, Nothing Physical
In the West, being a contestant on a dating show comes with an implicit expectation of physical contact. From night vision footage of romps on "Love Island," to the overnight Fantasy Suite dates in "The Bachelor," kissing and sex are often seen as part of the deal.
Unlike their Western counterparts, China's dating shows are seldom sexual. Even in shows about intimate relationships, there's no nudity, and kisses are extremely rare between non-celebrity contestants. The lack of contact is partly due to the commonly held view in China that physical contact is a sign of commitment, but also due to China's lack of a television content rating system. Without late-night slots, the content must be suitable for all ages.
If shows do try to push the boundaries, they'll soon find themselves in trouble with content regulators, which was the case with last year's web-only dating show "Ex Go." In it, women tried to find their ex-boyfriends, and the show aired descriptions of the contestants' most intimate body parts. The series — once available on streaming site iQiyi — is now nowhere to be found.
Dominantly Heterosexual
But a similarity Chinese dating shows share with their foreign counterparts is the overwhelming heteronormativity of the programs on offer. In China, where the authorities adopt a clueless and inconsistent attitude toward the LGBTQ community, producers face restrictions on gay-themed programs of any kind, regardless of whether it's a TV drama or a reality show.
In 2016, Blued, the largest gay dating app in the world, sponsored an online matchmaking show called "Call Me Maybe." Rather than explicitly marketing it as an LGBTQ dating show, the producer chose a more conservative marketing strategy, labeling it a "diverse social show" that's more about making friends than finding partners. The show is also no longer available online.
Fake Love
There's often speculation that celebrities are engaging in fake relationships for publicity reasons, but in China, there's a genre of dating shows that do just that. Celebrities, singers, dancers, and actors are invited onto one of these shows — "Perhaps Love" — to pretend that they are an item and spend quality time together.
Producers of the show, which has now been running for four seasons, rely on the popularity of its guests to attract views and boost ratings. Although the audience is well aware of the celebrity couples' scripted interactions, they knowingly fall for the fabricated romance. While this show may be the most explicitly fake of the dating shows on offer, it's had a reasonable success rate: At least two couples who first met through it are now married in real life.
Editor: Julia Hollingsworth.
(Header image: Singletons on the dating show 'Heart Signal' interact. From the show's Weibo account @腾讯视频心动的信号)