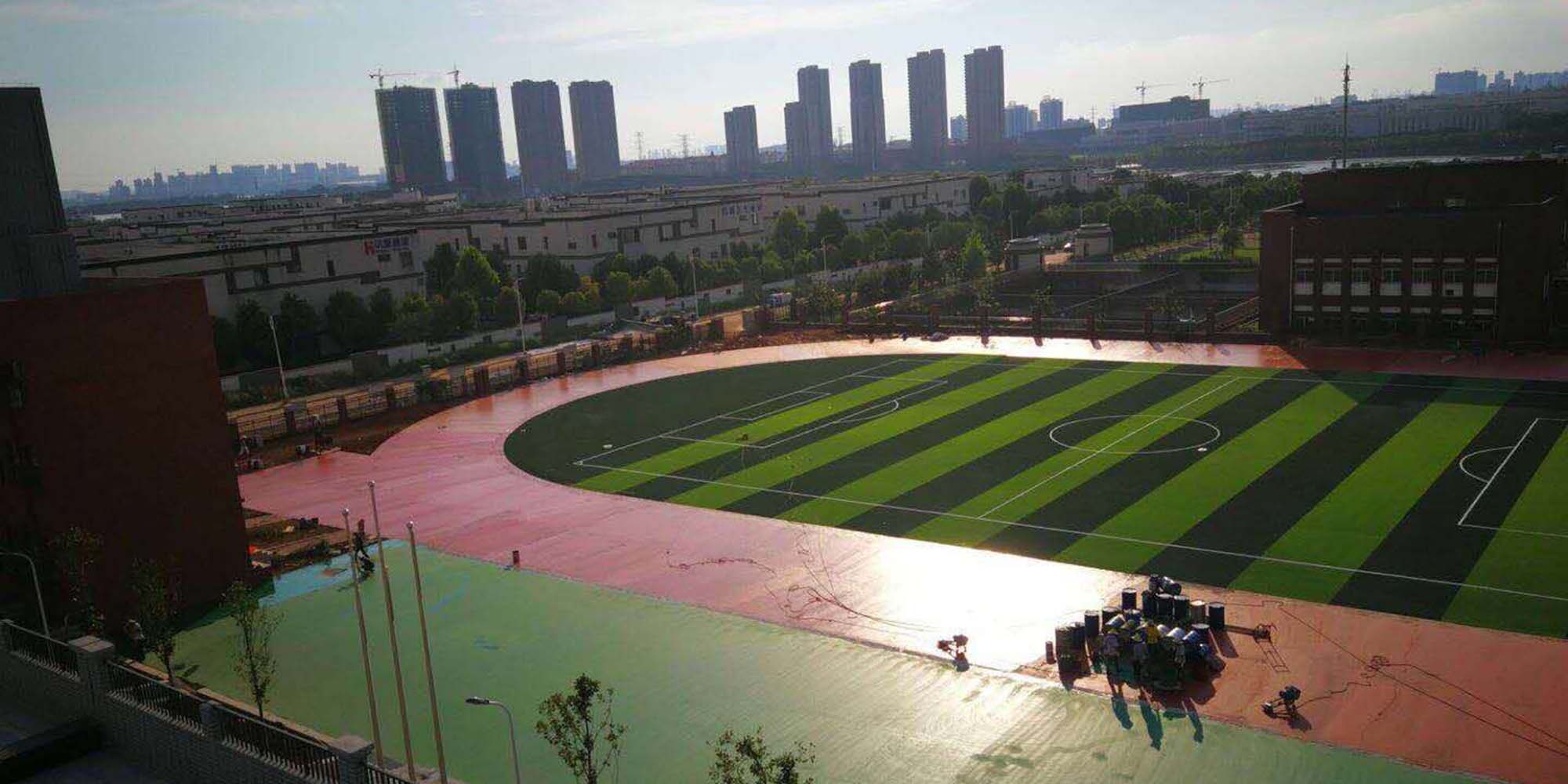 NEWS
Parents Claim Children Sick From Toxic School Grounds
Official inspections conclude that students' illness is not linked to chemical substances, but parents of more than 100 students aren't convinced.
Parents of students in Central China's Hubei province are questioning their school's health and safety standards after 100 children fell sick shortly after the start of the fall semester, China Newsweek reported on Sunday.
Some 132 of the 1,200 students enrolled at the newly built Canglong No. 2 Primary School in Wuhan suffered from nosebleeds, vomiting, and eczema, one parent surnamed Xia — who did not offer her full name for privacy reasons — told Sixth Tone on Monday. The mother of a 7-year-old student claimed that the illness was linked to toxins in the classrooms, running track, and playground.
Earlier this month, after parents staged several protests, the publicity division of Jiangxia District — where the school is located — said the medical diagnosis of some students showed that the nosebleeds were due to the autumn's dry weather. However, Xia disagrees. "The doctors did not explicitly say that the nosebleeds resulted from the dry weather or the school's refurbishing," she said. "But some doctors said that nasal mucosa infection might be related to stimulants present in the campus air." Sixth Tone could not reach the education bureau of Jiangxia District for comment on Monday.
On Sept. 10, Xia had joined several parents to request that officials from the school and the education bureau remove the synthetic surface on the playground and suspend classes until it was deemed safe. However, she said the school administrators rejected the request, citing that construction met standards. Two separate assessments led by the parents also showed that the materials used in the playground met the national standard for synthetic surfaces.
But some experts say that the national standard itself is questionable. Wei Wenfeng, founder of Daddy Lab — a Hangzhou-based company focused on environmental technology assessment — told Sixth Tone that the current national standard on sporting areas with synthetic surfaces only includes tests for eight chemical substances. And it is likely that manufacturers could replace one of the eight substances with something that could be potentially harmful for children.
"The national standard for running tracks is different from the standard required for protecting children," Wei said. "The children fell ill because of other chemical substances, but if the school only tested in line with the current standard, the test would be useless."
In recent years, several cases of children falling victim to toxic running tracks have been reported in the Chinese media. But the reports also indicated that the running tracks met the national standard. Since then, experts in the chemical industry have been advocating for a new standard that would specifically focus on facilities with synthetic surfaces in schools. As a result, the government is scheduled to introduce a standard related to such sporting areas at primary and middle schools in November.
"Now is a window period," Wei said. "But whatever the new or old standards, as long as the children are getting sick, the schools should take this problem into consideration."
Xia and other parents still aren't entirely convinced by the test results. Xia's son stopped going to school since last Monday. Another 116 students are also on sick leave, according to a school document Xia retrieved. "Nobody wants to take the risk," Xia said. "There's an entire family connected to every child."
Editor: Bibek Bhandari
(Header image: A view of the running track and playground at Canglong No. 2 Primary School in Wuhan, Hubei province, September 2018. Courtesy of a parent from the school)