Apple may be celebrating another big iPhone release at its fancy and futuristic Steve Jobs Theater in Cupertino, California, but to most netizens thousands of kilometers away in China, the Silicon Valley tech giant's new product extravaganza on Wednesday was received with considerably less enthusiasm.
Apple introduced three new iPhone models at its product unveiling on Wednesday: the entry-level iPhone XR and two premium models, the iPhone XS and XS Max. In China, the XR model is priced at 6,499 yuan, or $949 — $200 more than in the U.S. — and the XS and XS Max start at 8,699 yuan and 9,599 yuan, respectively. The 6.5-inch XS Max will be the company's most expensive smartphone ever.
"When I woke up this morning, I found everyone on WeChat complaining about the new iPhone's ridiculous price," Xu Nuo, a 32-year-old who works at a phone store in the southern tech hub of Shenzhen, told Sixth Tone. On microblogging platform Weibo, Chinese netizens hotly debated the new iPhones' price points. "A phone that costs over 10,000 yuan? Isn't that highway robbery?" commented one Weibo user, referring to the higher-end models. "Over half of the Chinese population earns less than 10,000 yuan per month!"
Other netizens left comments about how Apple was treating Chinese consumers like fools by pricing the new phones so high. "Whoever buys that new iPhone is a complete idiot," posted another Weibo user. "I couldn't afford that even if I sold my two kidneys."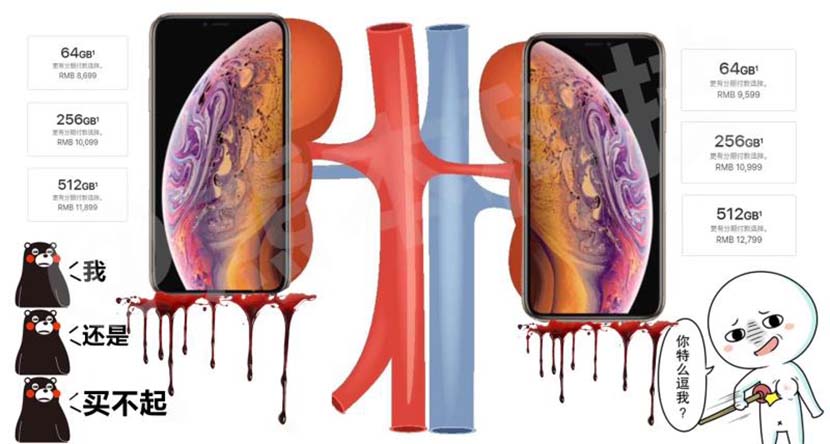 A netizen-created image shows two new iPhones in place of kidneys, in accordance with the running joke that even if you sold your kidneys, you wouldn't be able to afford a new iPhone. From a WeChat group of Apple fans
While Apple has complied with Chinese regulators numerous times in the past — by removing gambling apps, accepting Alipay at Apple Stores, and removing the Taiwanese flag emoji in China, for example — this year marks the first time Apple has tailored its hardware to the China market. The iPhone XS model unveiled comes with an "eSIM" feature that supports two cellular services and allows users to easily switch between carriers. But this technology won't be available in Hong Kong, Macau, or the Chinese mainland: Instead, new iPhones in these regions will have space for two physical SIM cards.
But this China-exclusive feature did little to impress the country's consumers. "China's Android smartphone makers have been selling phones with dual SIM capability for centuries!" complained Liu Fengrui, a 21-year-old college student from Shanghai, in an interview with Sixth Tone.
Netizens, too, have voiced their disappointment about the new iPhone's scant innovations. On Weibo, the topic "What did Apple innovate?" had received over 10 million views by Thursday evening. Weibo user "Genius Little Panda," who gained a following of 7 million users for his comic reviews of Apple's annual product launches, apologized to his followers at the end of this year's review for copying some of the same content from his previous posts — "there's really nothing much new to write about," he explained. On Thursday, meanwhile, nationalist state media outlet Global Times posted an article on its official WeChat account questioning why Apple had listed China, Taiwan, and Hong Kong separately at the product launch.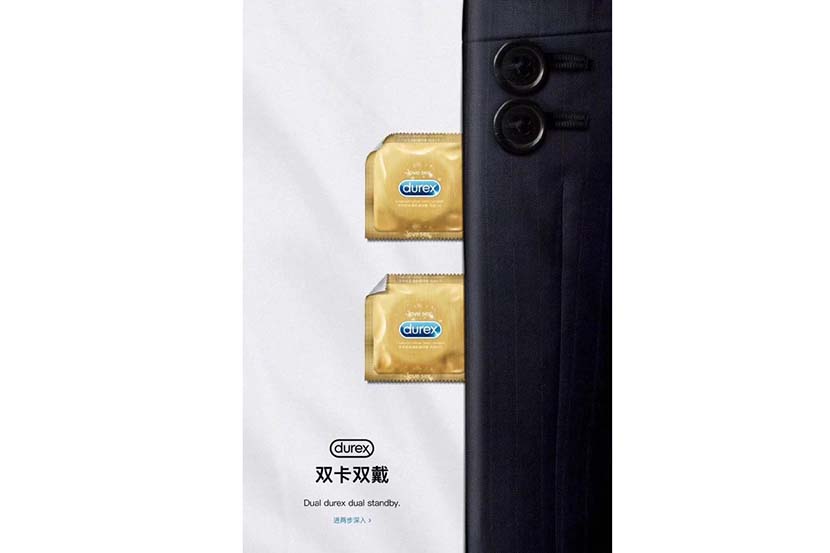 Following Apple's product launch, a parody advertisement from Durex shows two condoms next to a pair of men's pants, meant to resemble the new iPhone and its dual SIM cards. From Durex's official Weibo account
On the other extreme from disillusioned Chinese consumers are domestic phone makers, who could hardly contain their glee after watching the event. Richard Yu, the chief executive of Huawei's consumer business group, posted on Weibo immediately after the Apple event asking consumers to stay tuned for Huawei's own unveiling of its new model, the Mate 20, in the U.K. next month. "Phew! See you all in London on Oct. 16!" he wrote.
As the world's largest smartphone market, China has been a growth engine for Apple for years — but the iPhone's market share is hovering around a stagnant 10 percent as the company struggles to expand amid competition from domestic players Huawei, Oppo, Xiaomi, Vivo, and others. Notably, Huawei surpassed Apple in the second quarter of this year to become the world's second-largest smartphone company, trailing only Samsung. Apart from slowing growth, Apple is also faced with a bitter trade war between the U.S. and China. Last Saturday, U.S. President Donald Trump said he would impose another $267 billion in tariffs on imports from China, which is expected to seriously threaten Apple's supply chain, given that the vast majority of iPhones are assembled in China.
"The gap between Apple and Chinese phone makers is narrowing because of factors both internal and external," Cynthia Wang, an independent research analyst based in Hong Kong, told Sixth Tone. But although the trade war and the rise of domestic players are creating uncertainties for Apple and its new iPhones, Wang affirmed that the Cupertino company still holds a leading role in the global smartphone market. And to her at least, the Chinese internet's negative reaction to Apple's product launch wasn't much of a surprise. "Everyone was making fun of the top of the iPhone X's screen last year," Wang said, referring to how the screen extended to the upper corners, reducing the camera to a small slip of black space. "But after a few months, the Chinese phone brands all started making phones using the same design."
Editor: David Paulk.
(Header image: Phil Schiller, the senior vice president of worldwide marketing at Apple, speaks during the company's product launch event at the Steve Jobs Theater in Cupertino, California, Sept. 12, 2018. David Paul Morris/Bloomberg via Getty Images/VCG)