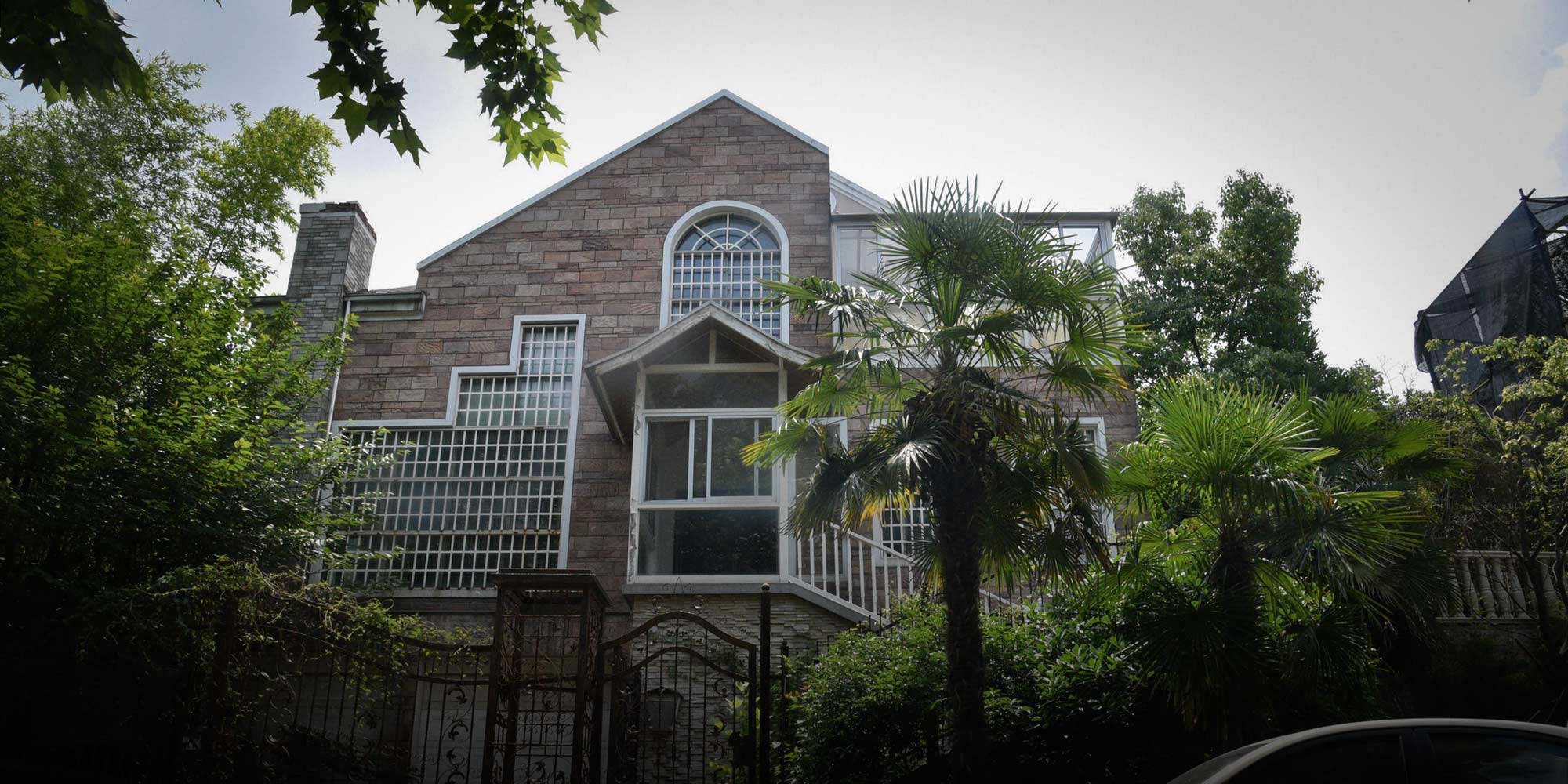 FEATURES
Specters and Speculators: The People Buying Haunted Homes
As property prices skyrocket, some buyers are turning to homes with violent histories. But is it wise to invest if a ghost is believed to be part of the deal?
JIANGSU, East China — On the outskirts of Nanjing, there's a three-story villa with a dark past and a low price tag. It's seen better days: Vines creep across the rusty, wrought iron gate, the front steps are covered in lichen, and the entryway has fallen into disrepair.
Seven years ago, this brick villa was the scene of a brutal murder. This year, it was at the center of a viral online auction.
According to Chinese superstition, houses in which people have met untimely or abnormal ends are haunted by their vengeful spirits. Most Chinese investors avoid such properties, believing the homes bring bad luck to their careers, health, and businesses. As a result, properties in which an unnatural death has occurred often sell at a discount — or not at all. But as housing prices in major cities see double-digit increases, some bargain-hunting investors are targeting estates colloquially known as xiongzhai or "haunted homes."
When the Nanjing villa was put up for auction in June, its reserve price was set at 4.35 million yuan ($676,000) — around 10,000 yuan per square meter. For a 420-square-meter villa with nine bedrooms, seven bathrooms, two living rooms, a swimming pool, and a garden, it was a steal. By comparison, other properties in the same district can fetch around 40,000 yuan per square meter — a significant price in Nanjing, where the average annual disposable income last year was 48,104 yuan. A similar villa nearby is valued at 20 million yuan, according to property agents in the area.
The house's low price was in large part due to its morbid past. In February 2011, 49-year-old Tian Mingcheng was killed and dismembered in the garage of his wife's villa — one of 46 buildings in a newly built residential compound. Two days later, hikers found a bag full of his body parts abandoned halfway up the mountain behind the property, according to media reports.
Tian's murder was a particularly convoluted one. When police found his body, they were surprised — he'd already been reported dead in a 2006 car crash. After further investigation, police discovered that it was actually Tian's younger brother who had died in the car crash years earlier. Tian and his wife Xue Liping had decided to conceal the identity of the real victim from police so they could claim 10 million yuan in life insurance.
For five years, Tian lived in hiding. Eventually, he got fed up and went back to the villa to collect his passport so he could leave the country. When he returned, his father-in-law Xue Jinggong and his wife killed him with an ax, afraid that his reappearance would expose their insurance fraud. In December 2013, the Nanjing Intermediate People's Court found them both guilty of murder, sentencing Xue Jinggong — who was in his 70s — to a suspended death sentence and Xue Liping to life in prison.
The following year, a businessman surnamed Zhang purchased the property from a Nanjing district court. When Zhang's business failed, he mortgaged the villa to the bank. But when Zhang went bankrupt and defaulted on his loan, the bank auctioned off his villa, seemingly reinforcing the belief that haunted homes bring bad luck. By June this year, the house was back on the market.
Over 400,000 people registered to watch the bidding on Alibaba's e-commerce platform Taobao. After 138 rounds of bidding between 22 users, the home sold for 7.86 million yuan to a buyer named Liu Jianhong. Even at well over the reserve price, it was a bargain: On average, properties at the compound sell at 32,000 yuan per square meter, meaning the villa should have been worth at least 13 million yuan, by Sixth Tone's calculations.
Sixth Tone was unable to contact Liu, and during a visit to the villa in early September — more than two months after the sale — it remained empty. But prospective buyers who visited it before the auction give some sense of what Liu might have been thinking. "It's not terrifying at all," one woman told Chinese media outlet Pear Video. "Of course I'm not afraid of living inside the villa. There are very few properties that have never had people die in them. The price is so good."
Those discussing the auction online pointed out that, even with the discount, it still wasn't affordable for average office workers, since properties sold on Taobao require the successful bidder to pay the full sum upfront. Another netizen quoted in a July news report showed why people might be prepared to ignore the taboo. "The concern over haunted properties is just the fear of ghosts," he said. "What's there to fear? I'm already being haunted by poverty."
Despite the widely held belief that properties with a dark past are haunted, Chinese feng shui master Qiu Hongxiang said that properties couldn't be deemed haunted under traditional feng shui theories. "Accidents that happen inside the house are caused by the clash of a person's fate with the [metaphysical] attributes of the property. Someone might have died here, but it doesn't mean you can't lead a good life here," he told Sixth Tone. But he said homes do have "memories" that cannot be explained by modern science, and Taoist rituals are sometimes required to clear them away.
Justified or not, the beliefs have seen Chinese investors buy up so-called haunted properties for years. The difference now is that now many of the sales are done online rather than through traditional real estate agents.
Real estate company Lianjia once had a database collecting comprehensive information on all of their properties — including whether a house had a bloody past — while other real estate companies helped connect xiongzhai with potential buyers. In 2015, media reported that in Beijing alone, there were around 3,000 haunted apartments in Lianjia's database. Centaline and 5i5j.com both told Sixth Tone that they no longer provided services to help buyers find haunted properties, while Lianjia's publicity officer He Xiangxi said he wasn't aware of the database, adding that the company had stopped dealing with such properties in 2014. When Sixth Tone searched the Lianjia website for xiongzhai, there were no results. While there's still the odd agent willing to flout company rules and link potential buyers with haunted properties, many xiongzhai are put up for sale by the courts on Taobao.
This is partly because selling xiongzhai can be risky. In October 2014, for example, Lianjia found itself in court after buyers of a Beijing apartment discovered while redecorating that a man had died there in an accidental fire. At trial, Lianjia's lawyer argued that the apartment shouldn't count as a haunted property, because there hadn't been a murder or suicide. Lianjia eventually lost the case and was told to refund the family for the cost of both the house and their renovation efforts.
Despite the risks, Yu Xiao, a Nanjing-based real estate agent with Lianjia, said that xiongzhai are completely worth it if one can afford the price. "[Buyers] don't need to live here themselves. After holding down the villa for a couple of years, [Nanjing buyer Liu] can definitely sell it for a good price once discussions about the auction and murder are over," Yu told Sixth Tone. "Land is a treasured resource. Purchasing this villa means they have the right to use the land on which the villa is built. The value of the land will definitely keep rising." Nevertheless, when Yu shows prospective buyers around the infamous compound, he takes care to avoid a lane that passes by Liu's villa. "It's such a famous villa nowadays," he said. "Many would insist that they need a house as far from the murder villa as possible."
Even 65-year-old Xu Zefeng, who lives in a Shanghai-based xiongzhai himself, said he wouldn't live in the Nanjing villa. In 2004, Xu bought a property in a residential compound in Yangpu district for 20 percent lower or 100,000 yuan less than the market average. "It was a big sum of money back then when banks would only give very small mortgages," Xu said.
The previous landlord of his house, a woman in her early 70s, died from a gas leak and was found two days after the accident occurred. Before Xu bought it, he asked close neighbors about the accident and the victim. "It depends on how the death has happened [...] It wasn't a ferocious murder — just an accident," he said. "The neighbors told me she's a nice lady. There's no bad blood between [me and the previous landlady]. Above all, I'm a rational man, and I'm not afraid of ghosts."
Xu doesn't regret his choice, and he hasn't suffered from any obvious bad luck. He bought the apartment when his son was getting married, meaning Xu and his wife could leave their previous two-bedroom apartment for the new couple. "Without much money, we had no choice but to consider this kind of property," he said. The neighborhood, which was built in the early '90s, is home to many senior residents, some of whom have since died. "Many pass away in their homes, and [their caskets] will be placed inside their homes for three days. That's fine. We've grown accustomed to that," said Xu.
But the Nanjing villa is still too creepy for Xu. He's even skeptical of how it would work as an investment property, given how widely its history has been reported in the media.
Xu may be right that the property isn't a solid investment — at least for now. Memories of the murder appear to be affecting the properties around it. During Sixth Tone's visit, many of the surrounding houses were empty — without furniture, curtains, or clothing drying outside. Around 10 of the properties were for sale.
Tian Wei — no relation of the murder victim — moved into the compound in 2016, and has a clear view of the villa from her backyard garden. She's now trying to sell, saying her family wants to live closer to the city center. But she's having trouble: The 200-square-meter, three-story property — around half the size of the nearby xiongzhai — has been on the market since late June with no takers. She's already dropped the asking price from 8 million yuan to 7.5 million.
When asked if the nearby property is playing into her selling troubles, or her decision to sell in the first place, Tian dismissed the idea as nonsense. "This neighborhood guarantees a high level of security," Tian told Sixth Tone. "The murder is just a one-off case and happened a long time ago."
Editor: Julia Hollingsworth.
(Header image: An external view of the villa where Tian Mingcheng was killed in Nanjing, Jiangsu province, June 7, 2018. Jia Shiqing/IC)