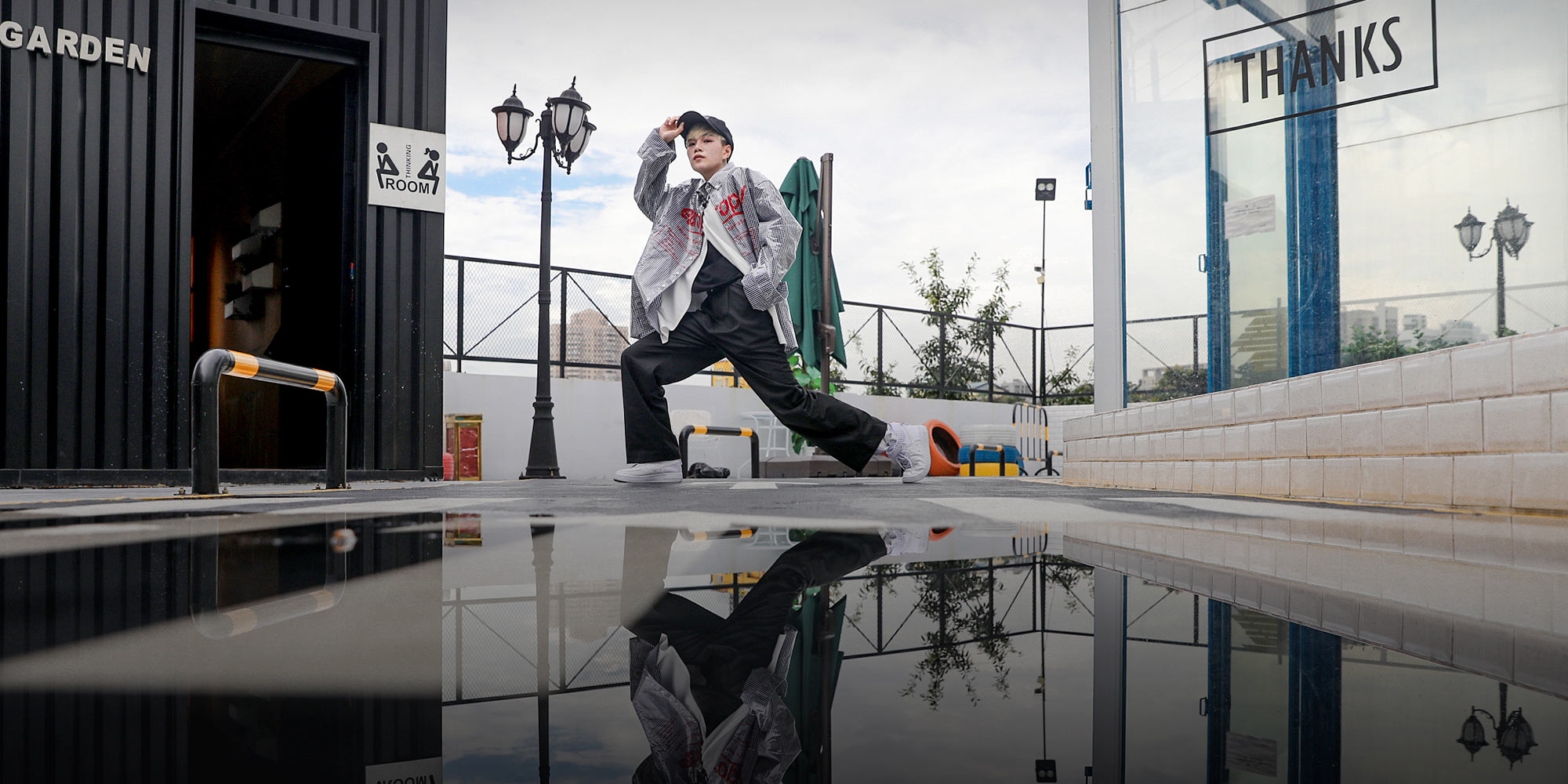 FEATURES
The Chinese Streetwear Brands Hoping to Reign Supreme
Domestic streetwear brands are on the rise — but their slogan T-shirts and sneakers haven't gained traction internationally.
SHANGHAI — Yue Xing wears an oversized white T-shirt, sneakers, and a bucket hat that mostly hides her shoulder-length blonde hair. It's a casual look — but it didn't come cheap.
Yue can't remember exactly how much she's spent over the past year on her overflowing luxury wardrobe that includes Gucci, Givenchy, and Hermes. When the 25-year-old graduated in May from her college in New York, she brought home six suitcases full of high-end goods. Her current favorites are her street-style pieces — 30 Supreme T-shirts and eight pairs of Yeezy sneakers — which together set her back over $15,000.
"Collecting Supreme and Yeezy is far more difficult than buying a Gucci bag," Yue tells Sixth Tone in a Shanghai café, her silver rings glinting as she talks at a rapid pace. There's a limited number of Yeezys released, prompting the accountant to buy five of her Yeezys from unofficial resellers in the United States for over $1,000 per pair — far higher than the $200 retail price. She's also spent hours waiting in line in New York just to shop at her beloved Supreme, which currently has no outlets in the Chinese mainland. "Today, if you don't have any streetwear elements in your daily look, you'll seem out of date," she says, wrinkling her nose in disdain.
Yue is one of a growing number of young Chinese fashion lovers embracing street style, inspired both by local idols like Chinese singer Kris Wu and international hip-hop acts. An industry report released in March by market research company Nielsen found there was a 62 percent increase in streetwear consumption in China last year compared with the year before. The growing interest has spawned a crop of Chinese designer brands hoping to get fashion-conscious consumers to buy in — and buy domestic. Recent research from tech giant Tencent shows that it's working: People born in or after 2000 tend to be more interested in domestic brands than international brands, believing that "buying local" means they're supporting the country.
Since Yue came back to China this year, she's been buying more domestic brands in a bid to stand out — and save money. With counterfeit street-style items readily available, Yue's worried people won't know she's donning the real deal. She recently bought items from Chinese streetwear brand Random Event, which has been worn by domestic celebrities. "It's kind of niche, so there aren't that many people with the same items of clothing, and they have great designs," Yue says.
Random Event was founded in 2012 by Hong Yang, who was inspired by the streetwear in Japan and Hong Kong. The label was relatively unheard of until last year when it was worn by Chinese actor Hu Yitian. Over the past year alone, Hong has sold more than 30,000 T-shirts printed with a Chinese slogan meaning "not so nice" — the brand's most successful design. "I hope our shirts can be worn by people with the same values and lifestyle as us," Hong tells Sixth Tone. "We won over those consumers — now we're ready to become mainstream."
Business owner on e-commerce site Taobao and designer Cai Huakun has also seen the impact of celebrities on the streetwear scene. The 24-year-old, who lives in the coastal city of Xiamen, saw sales at his Taobao business reselling Supreme T-shirts boom after singer Kris Wu wore one of the label's T-shirts during last year's "The Rap of China." Cai's shop is now worth millions of yuan, and ranks in the top 50 for Taobao menswear sellers. But Cai believes his luck will come to an end: Sooner or later, foreign streetwear brands will notice the untapped market in China and open flagship stores that he can't compete with, he says.
For now, Cai's taking advantage of the streetwear trend by making his own T-shirts. Inspired by an official collaboration between Supreme and Louis Vuitton, Cai printed nearly 300 T-shirts that have panels across the chest — mimicking Supreme's rectangular logo. Instead of text, the panel was filled with stripes that reference Gucci's iconic stripes. He sent them to New York, where his business partner scouted for models in skate parks, and photographed them wearing the samples. Cai advertised the shirts on his store as being for "real skateboarders, who can't afford Supreme's high prices." The trick worked. "Half the shirts sold that night," Cai says with a smirk.
But people like Cai are often treading the line between tribute and imitation. Brands face a balancing act: They must look Western enough to attract customers, but not so Western that they are seen as copying other brands. "[Some Chinese consumers] can't afford international brands, so they opt for a domestic brand that looks like the expensive one," Chinese streetwear designer Yi Ran — real name Li Xiong — tells Sixth Tone.
Yi started his brand Yeenjoy in 2012. One of the 34-year-old's most popular designs — "Fuck Anti Social Social Club" — was made in response to an item by United States brand Anti Social Social Club (ASSC) which made a political statement with which Yi disagreed. His design, which referenced ASSC's logos, was printed on T-shirts and hats, and tens of thousands of the roughly 300-yuan ($44) T-shirts were sold. His designs are polarizing: Some see them as a smart response to ASSC, while others boycott his brand, viewing it as a form of plagiarism.
Yi's also seen the benefit of trying to bring more Chinese elements into his work. Yi recently collaborated with Warrior, a Shanghai-based footwear brand which was founded in 1927. Yi says the design was inspired by a recent footwear collaboration between Nike and Italian streetwear brand Off-White. Warrior's shoes usually sell for around 100 yuan a pair, but the shoes from the collaboration sell for 1,000 yuan — even counterfeit versions of the collaboration are selling for 300 yuan on Taobao. "It proves that Chinese people are nostalgic and have connections to domestic brands," Yi says. "That's what foreign brands can never achieve … Domestic streetwear shouldn't just mean cheap."
Although the trend of domestic designers emulating overseas styles is a lucrative one, it's also harmful to the public perception of local designers, says streetwear brand founder Liang Dong. Liang is based in Wuhan, in central Hubei province. It's no fashion hub, but is nonetheless full of young people skateboarding in oversized T-shirts and over-the-knee socks. "Sometimes we joke that the second someone produces a design [that looks like Supreme], they can sell enough to buy a new car," he tells Sixth Tone. But privately, designers are worried about what they're doing. "It's a quick way to make cash, but it really hurts the public's impression of how creative and original domestic streetwear can be," Liang says.
Despite his timid nature, 27-year-old Liang first got into streetwear because he wanted to stand out. His brand Attempt is now 3 years old, but he's constantly looking for new ways to improve it. "I have to bear in mind that the coolest thing about a streetwear brand is its clear attitude and unique lifestyle," Liang says. "I try to focus on designing clothes that can adapt to different situations and be worn in a variety of ways."
His method seems to be working: Liang pulled in 4 million yuan in profit last year. But Liang worries about whether streetwear will one day cease to be stylish, as China doesn't have a long history of street culture. "In the United States and Europe, most streetwear brands originated from people within a niche subculture such as hip-hop artists, skaters, and bikers. From there, these brands gradually became more popular with mass consumers," Liang tells Sixth Tone at a café near his studio. "But in China, we lack the first step — people just wear streetwear clothes because they want to be different."
Yeenjoy's Yi believes China is still some way away from having its own Supreme. Although the occasional Chinese streetwear brand has shown at overseas fashion shows, they've yet to make a big splash in the international market. "What's the point of being on foreign fashion week runways? There are two reasons: paying for fame and making money domestically, and gaining a foothold in global markets," he says, implying that for most brands, it's still the former. "There's still a long way for domestic streetwear brands to go."
Clarification: An earlier version of this story reported that millennials tend to be more interested in domestic brands than international brands. This story has been updated to clarify that the relevant age bracket is people born in or after 2000.
Editor: Julia Hollingsworth.
(Header image: A model in streetwear poses for a photo in Guangzhou, July 8, 2018. Niu Jing/VCG)