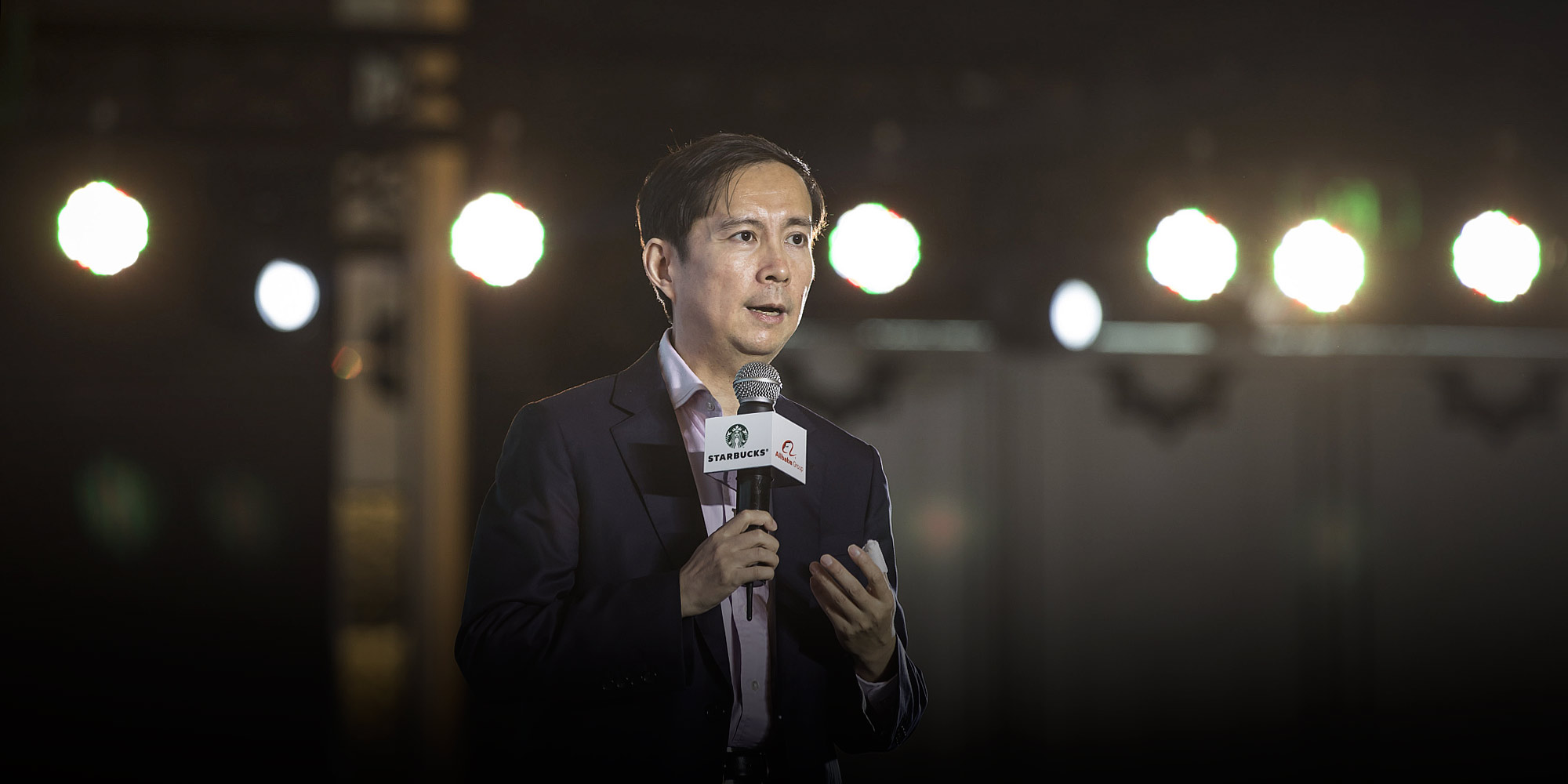 NEWS
Daniel Zhang: The New Face of Alibaba
Jack Ma lauds his successor as a 'next-generation leader,' but many say Zhang has big shoes to fill.
Nineteen years after Alibaba Group's founding, the company's executive chairman, Jack Ma, has announced that he will step down from the position next year and named chief executive officer Daniel Zhang as his successor.
Zhang will take the helm of one of China's biggest e-commerce companies on Sept. 10, 2019, after having served as its CEO for just over four years, Ma said in a statement on Monday. Ma, who co-founded the company in 1999, will remain Alibaba's executive chairman until then, and afterward will stay on as director of the company's board and a permanent member of the Alibaba Partnership, a cohort of 36 people involved with the company who embody and promote its mission, vision, and values.
"Starting the process of passing the Alibaba torch to Daniel and his team is the right decision at the right time, because I know from working with them that they are ready, and I have complete confidence in our next generation of leaders," Ma wrote in a letter addressed to Alibaba customers, employees, and shareholders.
Duncan Clark, author of "Alibaba: The House That Jack Ma Built," told Sixth Tone that Zhang, who has been credited as the architect of Alibaba's ever-expanding e-commerce outlets, is a well-respected figure within the company — and that while he might not match Ma's popularity and high profile, Zhang has demonstrated sufficient expertise to take the reins of the company.
"He is known to investors and seen as a safe pair of hands," Clark said. "But Jack will remain a very important figure — so the question is, what will he actually do? Will Daniel be able to take on more responsibilities, or will he still focus on day-to-day business? We have yet to see."
Ma describes his 46-year-old successor as a man with "superb talent, business acumen, and determined leadership," as well as the "guts to innovate." Zhang started his career at Alibaba in 2007 as chief financial officer for online retailer Taobao, and quickly ascended the rungs of the company hierarchy. Just a year later, he was named Taobao's chief operating officer and the general manager of Taobao Mall, now known as Tmall.
Zhang is also known for introducing China's 1.3 billion people to the world's biggest online shopping frenzy: the equivalent of Black Friday in the United States, but on a much grander scale. The annual Singles' Day shopping event on Nov. 11 started as a small promotional project under Zhang's leadership in 2009, and has set new global records for consumerism each year since. Every November, Zhang can proudly point to a screen projecting an astronomical sales figure, which last year reached a whopping $25 billion, up from just $7.8 million in 2009.
A Shanghai native, Zhang studied finance at the prestigious Shanghai University of Finance and Economics from 1991 to 1995. However, he never wanted a routine job or a predictable life — a message he imparted to students during a 2016 event at his alma mater. "Investing in yourself is the best investment you can make," he said at the time.
Alibaba employees refer to Zhang as xiaoyaozi — a term for a "free and unfettered" spirit that comes from kung fu writer Jin Yong's novel "Demi-Gods and Semi-Devils." But while at work, Zhang plays the part of the versatile, well-rounded leader, qualities that set him apart from Ma, according to a 2017 profile on Alibaba's company news site, Alizila. "The focus on even the smallest of details highlights a key difference between Alibaba's founder and Zhang," it said.
On microblogging platform Weibo, thousands of netizens have left glowing comments about Ma's plan to pursue philanthropy and educational projects, and some users are referring to Zhang as the company's "stepfather" — the precocious heir apparent to Ma, whose charismatic personality, eloquent public speaking, and keen mind for business have been etched into the world's ninth most valuable brand. A former English teacher who is now one of China's richest people, Ma cultivated a strong fan following not only through business sense and philanthropy, but also through showy antics like starring in a kung fu film alongside Jet Li and performing a Michael Jackson-inspired dance to celebrate Alibaba's birthday.
Clark said that one of the major tests for Zhang will be to maintain and eventually build on the company culture that Ma created. "How will Daniel be able to excite the team and customers?" he said. "It's not an easy thing to replace the founder. [...] If this is successful, that will be another big achievement."
According to Ma, the leadership transition is a shift away from relying on individuals and toward promoting collective talent. "The one thing I can promise everyone is this," said the chairman. "Alibaba was never about Jack Ma, but Jack Ma will forever belong to Alibaba."
Contributions: Fan Liya; editor: David Paulk.
(Header image: Daniel Zhang speaks during a press conference in Shanghai, Aug. 2, 2018. Qilai Shen/Bloomberg/VCG)