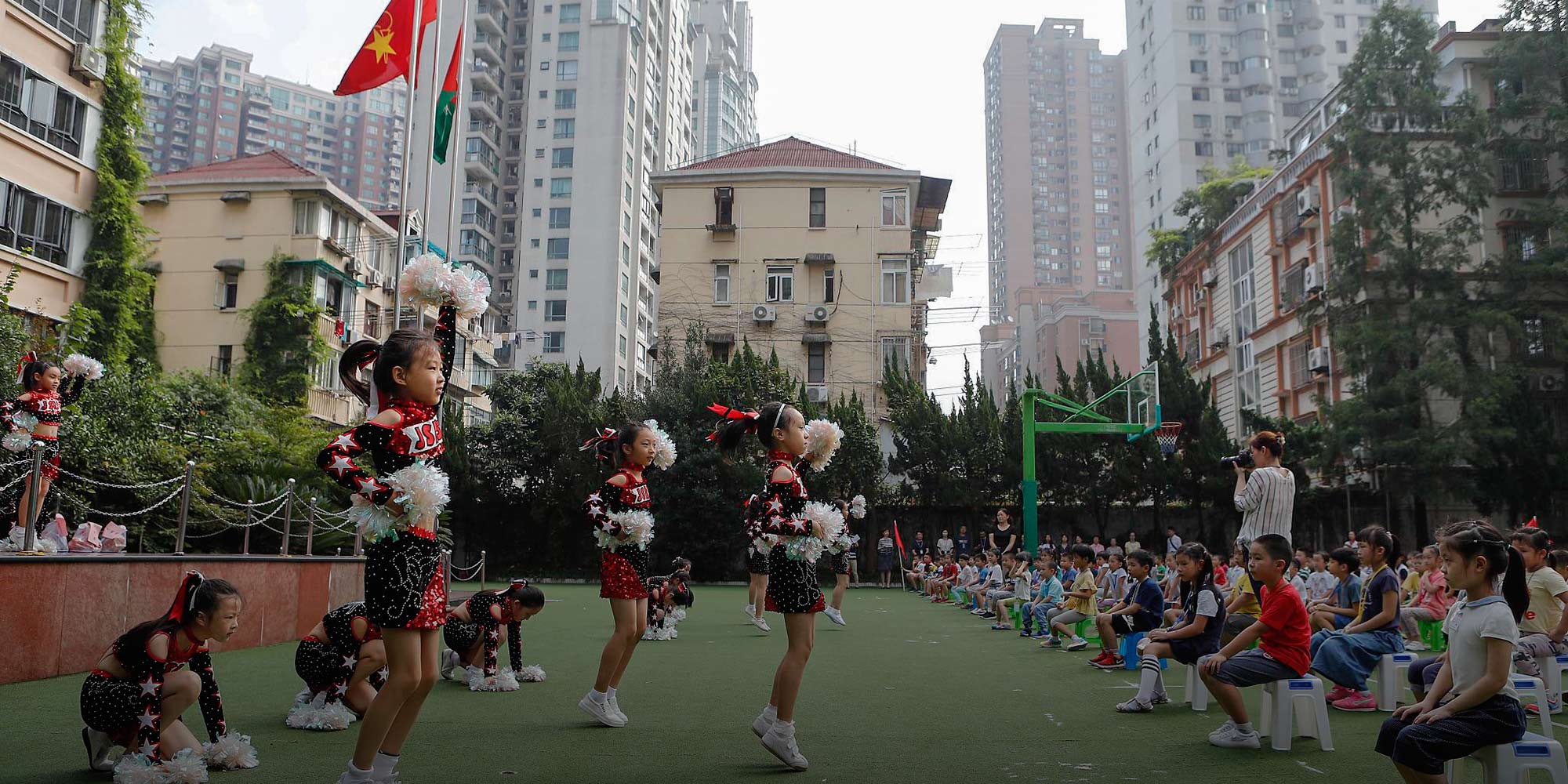 FEATURES
Chinese Parents Are Paying a High Price for Free Education
Desperate to enroll their children at the best public schools, middle-class parents are spending millions on rundown 'school-district houses.'
SHANGHAI — It's been an exhausting summer for Yu Xi and her son, Fengfeng, but ultimately a successful one. The 6-year-old will start his first year at one of Shanghai's best public primary schools this month — to the relief of his parents, for whom securing Fengfeng's seat in the classroom has cost them sleepless nights and millions of yuan. "It's been driving me crazy," says Yu.
Like many middle-class parents in China's big cities, Yu and her husband prepared for this summer years in advance. In 2015, they paid 2.6 million yuan (then around $400,000) for a 30-square-meter apartment in Lujiazui, an area of Shanghai better known for its glitzy waterfront skyscrapers than for its decades-old housing. It was an extortionate fee for a small, dilapidated property; a few streets away, more comfortable apartments sold for much less money. But Yu's flat boasted one crucial advantage: It was located in the school district where the family hoped to enroll Fengfeng.
China's middle class is expected to rise from 430 million people today to 780 million people by the mid-2020s. A substantial proportion of them are young, urban families anxious to guarantee a bright future for their children. A good education is key to realizing that dream, but the quality of public education in even the most developed Chinese cities remains highly variable. Consequently, reasonably wealthy parents are spending huge sums of money on xuequfang — school-district homes — in urban areas renowned for educational prowess. Children registered as residents of such homes are more likely to be placed in nearby schools.
In China, local education bureaus are in charge of regulating the enrollment requirements for public schools. Generally speaking, officials consider the information on the parents' hukou, or household registration permits, and whether the family owns property in the desired school district. As families target certain neighborhoods, a buoyant market for school-district properties has emerged. Near Fengfeng's school, housing prices have soared from around 25,000 yuan per square meter in 2011 to around 110,000 yuan per square meter today.
But the influx of buyers also makes schools less able to ensure a spot for every child, and leaves local education authorities in popular areas prone to knee-jerk policy changes that occasionally exclude large groups of children from schools they thought they had secured.
Yu herself began scouring minute changes in local policy when Fengfeng was barely out of diapers. On online forums like Qianfan and Liba.com, she read rumors about upcoming changes to school-district boundaries and residency requirements. In some chatrooms, parents gave exhaustive feedback on the quality of the city's first- and second-tier schools. "I don't think many parents who buy school-district properties know exactly what makes their chosen school a top-tier one," says Yu. "Fame just spreads by word of mouth. Nobody wants their child to be left behind in the battle for the best education."
Yu and her husband, both of whom work in Lujiazui's financial sector, bought their school-district home after catching wind of proposed changes to the education policy in Pudong New Area, the district that administers Lujiazui. Back in 2015, the family lived in Baoshan — a large, mostly suburban district in northern Shanghai that lacked Pudong's reputation for academic excellence. Fengfeng's school days were still a long way off, but rumors abounded that only families who had owned property in one of Pudong's school districts for at least three years would be guaranteed a desk in the classroom.
Yu knew that, technically, the family couldn't meet the three-year rule anyway: Fengfeng's enrollment was due to be confirmed in April 2018, and she'd only started looking at apartments in Pudong in late summer 2015. "If it didn't work out, it would have been millions of yuan down the drain," she says. Despite the rumors, authorities have yet to announce any reforms.
The couple decided to shell out anyway. And in the end, their decision paid off: Fengfeng's place was secured in April, and the family breathed a sigh of relief.
"We definitely didn't want our son to end up at a 'wet-market school,'" Yu says, using a colloquial term for mediocre public schools. "Many other families were trying the same thing. If we didn't buy [the apartment] then, we would have felt guilty."
Yu's family doesn't live in the apartment themselves. Instead, they occupy another two-bedroom unit just outside Fengfeng's school district and rent out their second home to a young office worker for 4,200 yuan a month — around the average price for the area.
Although the next five years of Fengfeng's life are settled, "we're still worried," Yu says. "I've heard that the school might check each family's household registration permits and property ownership deeds every year." Official guidelines say nothing about maintaining property ownership throughout a child's time at school, but many families worry that living outside the school district may lead to repercussions. "The short distance [between our two apartments] means that if the school pays us a random visit, we can respond immediately," Yu says, adding that she'd asked the tenant to pretend to be her cousin if teachers came knocking.
Financial concerns play on Yu's nerves, too. In the three years since buying their school-district apartment, Yu has seen its value rise to 3.3 million yuan, or 110,000 yuan per square meter. A couple streets away, homes on the wrong side of the school-district boundary sell at around 70,000 yuan per square meter. Yu hopes to cash in on the property while the market is still strong, so that the family can invest in another flat near Fengfeng's first-choice middle school, which is located in a different district. Fengfeng will not start middle school for five years.
The market for school-district properties has boomed since 2010, says Lu Wenxi, a market analyst at Shanghai Centaline Property Agency. "Previously, parents judged local public schools based on the city districts in which they were located," Lu says. "But these days, families are increasingly homing in on individual schools, thanks to a stronger focus on extracurricular offerings like training for math competitions, graduation rates into top-ranked middle schools, and the emergence of privately run online forums and WeChat groups where parents give feedback on local educational resources."
Lu says that in Shanghai, government-sponsored relocation projects such as those preceding the 2010 Shanghai World Expo moved many families out of central districts that historically boasted high-quality schools, and into suburban areas where the quality varied. "This, in turn, prompted some families to consider purchasing a small property downtown to guarantee better schools for their children in the future," he says.
Since 2011, government regulations have restricted Shanghai's citizens to a maximum of two properties per household in order to cool the city's overheated housing market. Education authorities introduced further policy changes in 2014 designed to curb the emergence of school-district property speculation and ensure school places for as many children as possible. That year, an unassuming school-district apartment in Jing'an — a downtown area of the city — fetched 80,000 yuan per square meter, 30 percent higher than a brand-new apartment nearby that fell outside the school district's boundaries.
Housing prices in the most sought-after school districts — that is, those affiliated with so-called first- and second-tier schools — peaked in 2015 and 2016 at between 15 and 20 percent higher than surrounding properties. "Within a day or even a few hours, landlords were selling their apartments for good prices," remembers Guo Bing, who specializes in school-district accommodation at the real-estate agency Lianjia. "Just-married couples without kids were rushing to buy up these properties."
Amid the ensuing public outcry, eight of Shanghai's education bureaus ruled that each school-district house may only guarantee school enrollment to the children of one family for a maximum of five years. Although this has curbed speculative buying and steadied housing prices, it has not fully resolved more deep-seated issues of school access. And the vicissitudes of local policy — a redrawn boundary here, a tighter hukou restriction there — can cause the value of school-district homes to plummet.
A few miles from Fengfeng's school, Shanghai Fushan Foreign Language Primary School — another leading public primary school — earmarked around 500 places this year for children whose parents hold both a local household registration card and own property in the area. But the school was so oversubscribed that it only offered places to families who satisfied these conditions for the longest period of time.
"They said 'no' to people who have held both certificates for less than two years. Even some of us who have owned properties for between two and three years were also turned down," says one mother, who declined to give her name, fearing that other nearby schools might also exclude her daughter. Last year, her family spent 3.5 million yuan on a dilapidated apartment in another part of Lujiazui, hoping to enroll their daughter at a local first-tier school. Her child may now end up in a nearby second-tier school with substandard teaching, she claims.
When Sixth Tone contacted Shanghai Fushan for comment, the school referred us to the municipal education commission. A publicity officer at the commission told Sixth Tone Thursday that they did not know the enrollment procedures of specific schools.
In January, another policy change further entrenched competition for good public schools. In an effort to prevent private schools from hoovering up the most talented local students, Shanghai's municipal education commission announced that from this year on, families who apply to private schools will waive their right to a seat at first-choice public schools. In essence, that means that if their children fail their private school interviews, they will be automatically assigned to a random public school regardless of where their parents reside or own property.
Parents say that the policy only funnels more children into the fight for a place at a good public school. "Fewer families with school-district houses applied to private schools this year," says Tang, another Lujiazui-based mother whose daughter was transferred to a second-tier public school in the area. "More and more people are registering interest in leading public schools instead, and that's very unfortunate." The municipal education commission told Sixth Tone that significantly fewer children had applied to private schools this year compared with previous years.
Lu, the analyst, takes a dim view of the intricate tangle of policies emerging at the local level. "As long as school admissions continue to link enrollment to property ownership and household registration, these practices won't disappear," he says.
Other major Chinese cities have rolled out similar reforms to Shanghai. In April, families in Dongcheng — an area of Beijing — were informed that they could no longer apply to a single school if they bought property in the school district after June 30 this year. Instead, they must register interest in several schools of varying quality, to which their children will be randomly assigned. The drastic change prompted local parents to protest to the Dongcheng education bureau in May; under pressure, the bureau decided to delay the rollout of the initiative until next year.
But Dongcheng's deferral wasn't enough to prevent jitters in the local property market. "I've had no inquiries since I put my property on the market in May," says Wen Zi, who in 2014 purchased a two-bedroom school-district apartment in the area for around 5 million yuan and is now trying to sell it for 8 million. "If I can't say it's in a school district, then this place doesn't hold much appeal."
Editor: Matthew Walsh.
(Header image: The opening ceremony of a public primary school in Shanghai, Sept. 3, 2018. Yin Liqin/CNS/VCG)