A deadly swine disease is spreading south through China, with Jiangsu witnessing another outbreak on Monday. It's the eastern province's second reported case in two weeks, and the eighth outbreak nationwide in the last month.
Yixing, a county-level city in the south of Jiangsu, saw 12 pigs infected with highly contagious African swine fever (ASF), nine of which died, according to the Ministry of Agriculture and Rural Affairs (MARA). The recent case follows three outbreaks in neighboring Anhui province on Aug. 30, Sept. 2, and Sept. 3 that killed nearly 300 pigs in total.
ASF is a virus that infects pigs, warthogs, and wild boars. First discovered in Kenya in 1921, the virus spread to Europe and Latin America, and was detected in Russia as recently as this year. While the virus does not infect humans, it has a high mortality rate among pigs and no known cure.
In early August, China reported its first-ever ASF breakout in the northeastern province of Liaoning. In the weeks that followed, central Henan province and eastern Jiangsu, Anhui, and Zhejiang provinces reported similar outbreaks. The most severe was in Wenzhou, a city in southeastern Zhejiang where 430 pigs were infected, 79 percent of which died.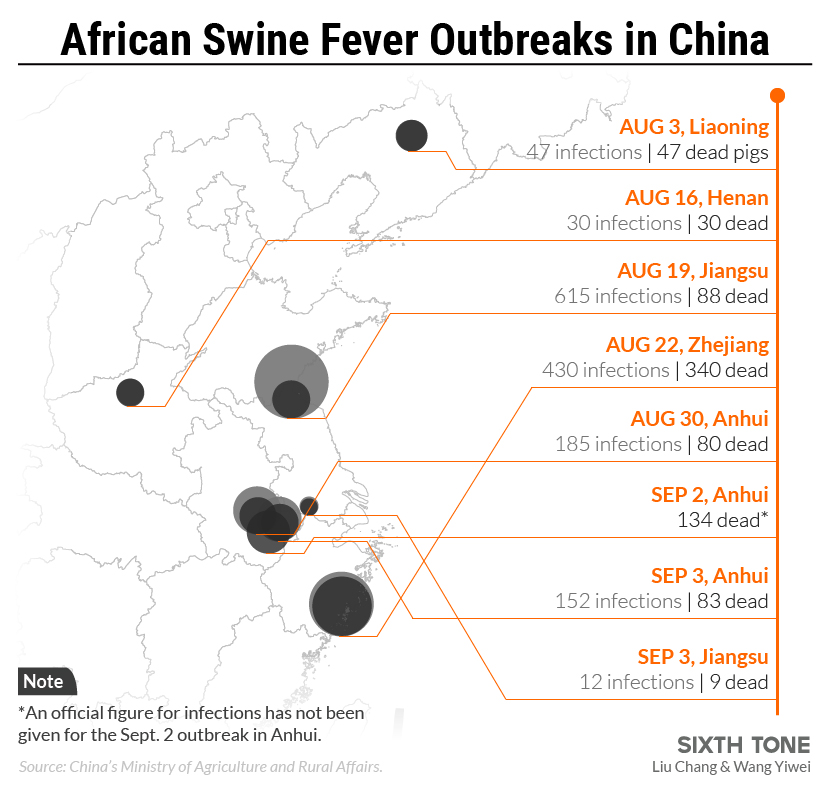 "We are still investigating the transmission mechanism and pathway," an officer at the China Animal Health and Epidemiology Center, a publicly funded research facility in Qingdao, Shandong province, told Sixth Tone on Tuesday on condition of anonymity. Direct contact with sick pigs, exposure to contaminated food and waste, or bites from ticks and other parasites are the primary ways ASF is spread.
Financial news outlet Caixin reported on Aug. 24 in a since-deleted article that the outbreaks in China may have originated in Russia, because part of the genetic sequence of the Chinese ASF virus matches that of an ASF virus found in Russia in 2017. The animal health center officer, however, said there is no concrete evidence to support such a claim.
Shortly after the first breakout on Aug. 3, the MARA issued a Level II emergency response, which includes measures for quarantining and culling pigs. By Saturday, the ministry had screened over a billion pigs — 85 percent of all swine in China. Since August, animal health authorities have culled 38,000 pigs to prevent the disease from spreading further.
Guang Defu, a spokesperson for the MARA, said on Sunday that although the situation is complicated and the prevention work formidable, the current epidemic is "controlled overall."
China supplies roughly half of the world's pork, according to the U.S. Department of Agriculture. The spread of ASF has been disastrous for pig farmers in the affected areas, who are suffering great financial losses from having to put down so many of their animals. The MARA has advocated for greater regulatory oversight of pig farms to prevent further disease outbreaks, including a more rigorous pasteurization process, stricter quarantine protocol, and a ban on feeding pigs unpasteurized swill or food waste.
The United Nations warned last week that ASF in China could soon threaten Southeast Asia or the Korean Peninsula, and a number of European countries, including Romania and Poland, have reported ASF infections in recent months. Guang of the MARA said that even if this year's epidemic is contained, the risk of the disease returning to China from other countries "should not be underestimated."
Correction: A previous version of this story gave an incorrect date for one of the African swine fever outbreaks in Anhui province.
Editor: David Paulk.
(Header image: Pigs on a farm in rural Anhui province, Aug. 31, 2018. An Xin/IC)