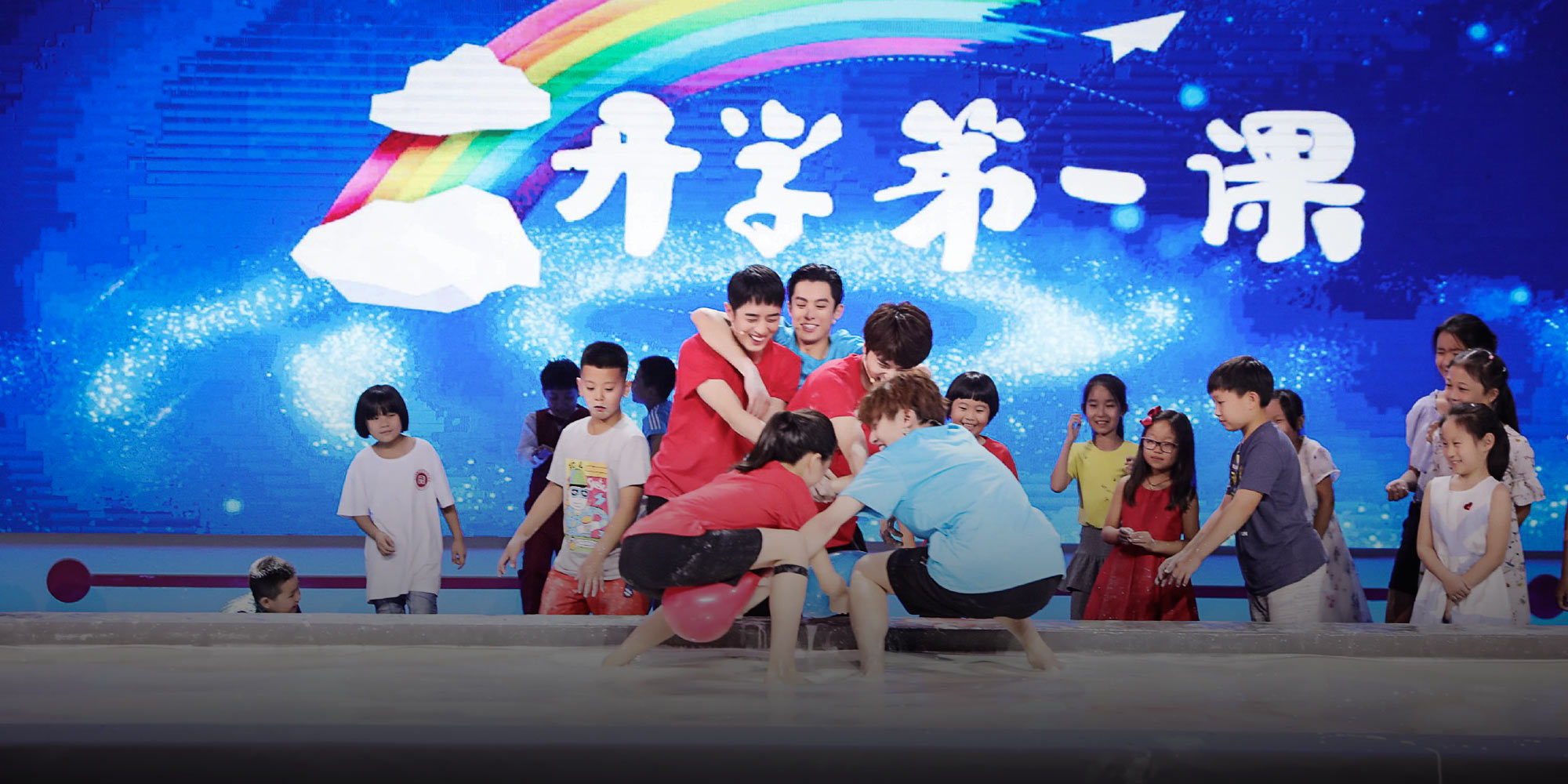 NEWS
CCTV Apologizes for Bombarding Student Show With Ads
The annual show promoted services discouraged by the government and delayed programming by over 10 minutes.
China's state broadcaster has publicly apologized for flooding its annual back-to-school television show with back-to-back commercials, after outrage from parents.
Jointly produced by China Central Television (CCTV) and the Ministry of Education (MOE), "First Class for New Semester" has become a mandatory viewing activity for parents and students on the first day of the fall semester. But on Saturday, millions of parents watching the show disapproved of the "endless" ads delaying the show by 12 minutes.
"We have broadcast too many ads before 'First Class,' which has prevented the parents and students from watching it on time," CCTV said in an apology statement Sunday. "We will strive to provide better service for our audience."
Since "First Class" debuted in 2008, the 100-minute program sprinkled with inspiring speeches and performances has aired on Sept. 1 every year, and officials have gone to great lengths to ensure that no one misses it. Previously, parents have been made to take photos of themselves watching the program or post reviews online as evidence. This August, MOE instructed local governments and schools to inform every child and their parents to "watch the show together."
However, several parents who stayed home for the yearly tradition disapproved of a range of content from Saturday's show. Online, many of them argued that the show's delayed transmission broke their children's concept of punctuality, and also criticized the non-commercial TV show for surrendering to commercial advertisements. The majority of the ads were also promoting extracurricular education institutions — which have been condemned for putting extra academic pressure on students — despite the government's directive to curb such result-oriented activities earlier this year. Meanwhile, some parents also objected to the show's opening act that featured men in makeup for being "sissy." The comments, however, immediately came under fire for sexism.
By Monday, "First Class" had created so much discord over its content — including the ads — that the show disabled the comment section on its official Weibo microblog account. Responding to the fiasco, an MOE spokesperson told The Economic Observer on Sunday — the article has since been deleted — that they were only involved in the production of the program's content, and are unclear about the arrangement of commercial ads.
While the show has drawn condemnation from parents and commentators for diverging from its values and setting a negative example, some are questioning if the show sets a positive example to begin with. "What if they hadn't broadcast the ads and aired on time; what if the producers had invited stars of whom parents didn't accept and approved — would everyone be happy watching the show and believing that this kind of education isn't problematic?" journalist Lüqiu Luwei wrote on the BBC's Chinese site on Monday. "It's better refusing to watch the show, which would be more beneficial for the children."
Editor: Bibek Bhandari.
(Header image: A photo from state broadcaster China Central Television's annual TV program 'First Class for New Semester,' broadcast Sept. 1, 2018. From the show's Weibo account @CCTV开学第一课)