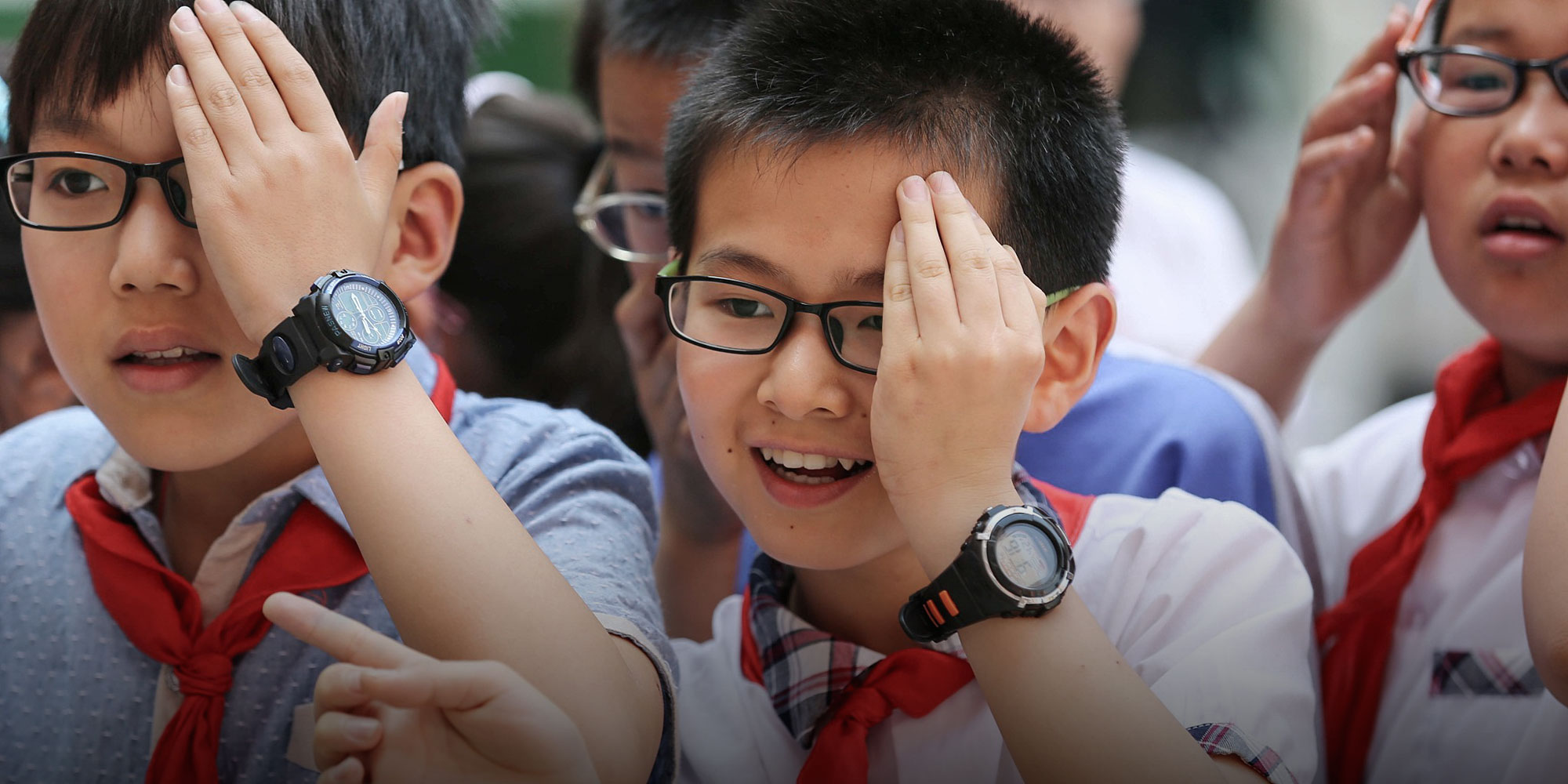 NEWS
New Policy Envisions Better Eyesight for Chinese Children
Eight central government agencies have committed to slashing the myopia rate in screen-struck young people.
With nearsightedness affecting nearly half China's population, authorities on Thursday introduced a new plan to curb the country's rising number of myopic children and teens.
Eight national-level departments, including the Ministry of Education and the National Health Commission, jointly issued a guideline aiming to maintain the nearsightedness rate in 6-year-old children at around 3 percent until 2030. The government is also targeting a lower incidence of myopia in adolescents: below 38 percent for primary schoolers, and below 60 percent and 70 percent, respectively, for middle schoolers and high schoolers. Currently, around 40 percent of primary schoolers and 70 percent of high schoolers and university students in China are nearsighted.
Yu Qiaoling, a sixth-grade teacher at a school in eastern Zhejiang province, told Sixth Tone that around 60 percent of her 50 students are nearsighted or bordering on nearsighted. She said the government's new policy — and the apparent sense of urgency — is an indication that the problem is growing more serious.
"My school often gives kids electronic schoolwork: Lots of homework needs to be done on computers and iPads," Yu said. "Having to use electronic products harms the kids' eyesight. As a teacher, I'm conflicted — but all I can do is remind them frequently to protect their eyesight."
The new guideline said the performance of local governments and public officials would be evaluated in part based on how well they control myopia in children under their watch. The new directive recommends that parents and schools involve students in more outdoor activities while limiting the amount of time they spend gaming or handling electronic gadgets, which are often blamed for deteriorating eyesight.
On Friday, a day after the announcement, share prices of Tencent — one of the world's leaders in online gaming — dropped by 5.3 percent on the Hong Kong Stock Exchange, according to Reuters. Chinese youth make up a significant portion of the country's burgeoning gaming industry, which was worth 64.3 billion yuan ($9.4 billion) in the first quarter of 2018.
Editor: Bibek Bhandari.
(Header image: Bespectacled children test their eyesight at a primary school in Hanshan County, Anhui province, June 4, 2014. Cheng Qianjun/VCG)