When 18-year-old real estate agent Wu Zhengqiang walked into a salon in Hangzhou on Tuesday, he expected to get a haircut. What he didn't expect was a bill of nearly 40,000 yuan ($5,850), or for the experience to turn him into a top-trending meme on Chinese social media.
"I don't know how I became so popular on the internet," said Wu — who now has 80,000 followers on microblogging platform Weibo — in an interview with a local news program. But Wu's comic disillusionment with the unpleasant salon experience seems to have struck a chord with both netizens and businesses, with the former appropriating his incredulous expression for a variety of memes and the latter approaching him about being their brand ambassador.
In the interview with "1818 Huangjinyan," a news show that airs in Hangzhou, capital of eastern Zhejiang province, Wu's distinctive look — perfect hairline, furrowed brows, flared nostrils, and full lips — paints a crystal-clear picture for many netizens of how it feels to be swindled.
An 18-year-old man in Hangzhou became a meme on Chinese social media after getting an expensive haircut. By Zhu Yuqing/Sixth Tone
Wu shows the reporter his receipt from the salon, which includes several exorbitant charges for skin rejuvenation, pore extraction, and hairline trimming, as well as an unspecified charge of 8,000 yuan. The bill amounts to 39,600 yuan. Yu told the reporter that he earns less than 3,000 yuan per month.
Wu explained that the salon, called Shangjin Beauty Spa, had asked if he would like to try their free grooming treatment, which he accepted. However, before the treatment was finished, he said that three employees came and presented the bill for him to sign. When he objected, they refused to let him leave unless he paid a reduced price of 18,000 yuan — still more than double the average monthly salary in Hangzhou. After calling his employer and the police, Wu finally agreed to pay 2,500 yuan for the salon's services.
"I don't think their grooming had any effect," said Wu — though he admitted his friends have told him the salon's work on his eyebrows makes him look "even fiercer."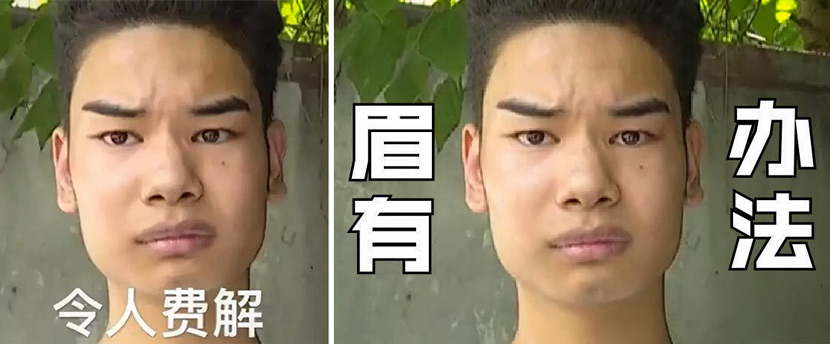 Memes of Wu Zhengqiang: 'very confusing' (left) and 'there's no way' (right). From Wu's Weibo account
When "1818 Huangjinyan" visited Shangjin Beauty Spa after interviewing Wu, the manager present said he didn't understand how the pricing schemes worked. After the program's coverage drew more attention to Wu's story — including from law enforcement — the owner of the salon, a man surnamed Chen, told the news show on Thursday that he had refunded Wu's payment, closed his business for two days, and fired the manager on duty when the incident occurred.
This is not the first time "1818 Huangjinyan" has exposed salacious salon scandals. Earlier this month, the show reported that a man surnamed Jiang had topped up his credit at a hairdresser's by 70,000 yuan because the manager had promised to set him up on blind dates.
Editor: David Paulk.

(Header image: Wu Zhengqiang looks at internet memes of himself at his office in Hangzhou, Zhejiang province, Aug. 30, 2018. Chen Zhongqiu/VCG)