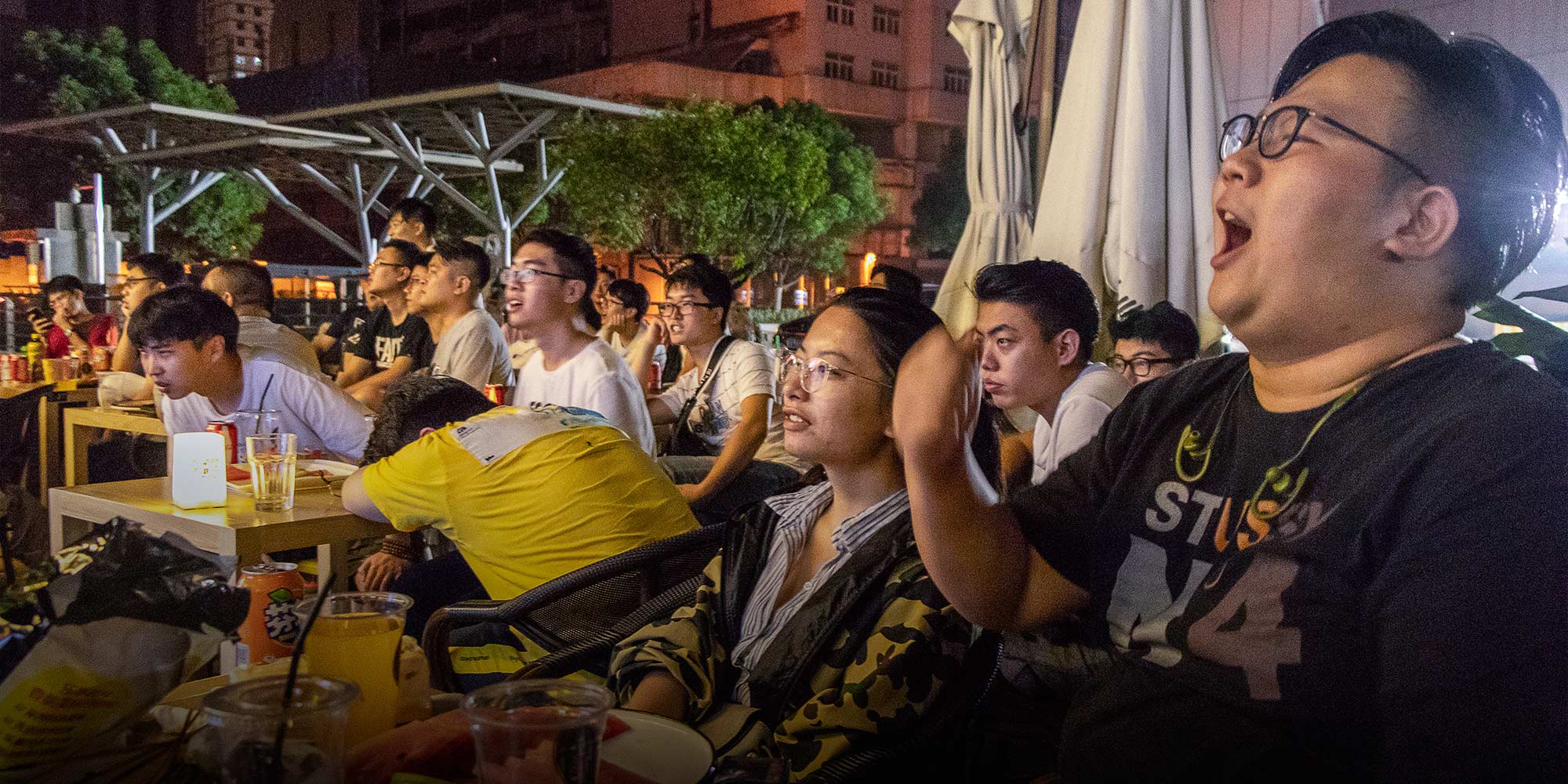 FEATURES
On-Screen Athletes: Overnight at an Esports Marathon
Fans supporting a Chinese team in an international final experience euphoric highs and knuckle-biting lows.
JIANGSU, East China — It's 10 p.m. in Nanjing, but for some, the night is only just beginning. As shoppers head home, a stream of excited young men trickles into a mall café, hoping to secure good seats. Outside, a man wearing a black "World of Warcraft" T-shirt emblazoned with the words "Never Surrender" smokes in silence.
These are esports fans, and they're gearing up for a long night.
Around 100 spectators have gathered to support a Chinese team in the final games of The International, an annual five-day tournament of strategic fantasy video game "Dota 2," played between two teams of five. Across China, there are hundreds of similar meet-ups in cinemas, bars, and internet cafés tonight, all held to support competitors some 9,000 kilometers away in Vancouver, Canada, where the day is just starting. Though esports still doesn't attract the fandom of traditional sporting tournaments like the FIFA World Cup, viewing events — which barely existed 10 years ago — are increasingly common.
"It's just like supporting China in football or basketball. This is a sport we love, the feeling is just the same as a sporting event or the Olympics," the event's main organizer, Qian Lei, tells Sixth Tone. The 22-year-old's life is esports: By day he works for a company promoting esports education, and he gets goosebumps watching replays of former Chinese esports victories. "If we win tonight, I'll be happy for a year," Qian says.
"Dota 2" is by no means China's biggest esports title, but it has a loyal fan base. Saturday's audience is just the tip of the iceberg in China, where esports — or competitive gaming — claims over 120 million fans. And as audience sizes grow, gaming is gaining more mainstream exposure. On Sunday, China's players took gold for the game "Arena of Valor" at the Asian Games in Jakarta, Indonesia, marking the first time esports was held as an exhibition event at the sporting tournament.
The Nanjing viewing party is now in its second year, and is the culmination of two months of planning for Qian. He has barely slept — he was up all night Friday watching qualifying games — but he still lights up when talking about esports. "The beauty of esports lies in its unpredictability and competitive mentality," says Qian. "In the top tournaments, we can feel their ferocity so clearly because we play this game ourselves."
Over the course of The International's eight-year history, Chinese teams have won the tournament three times. Last year, they secured second, third, and fourth places but missed out on the gold, coming up short against a team from Europe. China's teams have performed particularly badly this year, meaning the country's hopes now rest on its sole remaining team, PSG.LGD, which takes its name from its sponsors: French soccer club Paris Saint-Germain and Guizhou Laogandie, a Chinese food company famous for its spicy cooking sauce.
"They're our last hope, China's last hope," says Peng Yufeng, another of the event's organizers, as he sets up the indoor projector.
PSG.LGD have a grueling task ahead. They must first win best-of-three games in the semifinals against Evil Geniuses, an American squad. An average round takes around 40 minutes, and often results in a spectacular showdown with incantations, walls of ice, and flaming meteors as two teams of five heroes battle in a symmetrical tree-filled arena. If PSG.LGD can best their rivals, they'll advance to the finals against European team OG for a best-of-five. It will be hours before the spectators know who will lift the shining trophy and take home $11 million in prize money. If PSG.LGD don't win their first faceoff, "I guess most of the people will go home," says Peng.
Zuo Siyuan has come straight from his education consulting job. At university, Zuo spent a lot of time playing "Dota 2," but working six days a week means he now has little time to play it. He's confident PSG.LGD will win tonight. "If China wins, it'll prove we're strong. I'll be happy for many days," says the 26-year-old.
Zuo turns to his friend Cen Luya, a keen gamer and one of the event's few female attendees. Zuo is explaining the rules — at one point, he uses his lighter and a bottle cap to elucidate a point about hero positioning. "There's a lot to take in, but it's interesting," says the 22-year-old Cen, who works in foreign trade.
At 1 a.m., the live broadcast begins. A team of four Chinese presenters analyze the teams' strategies and assess their relative strengths. Suddenly, there are shiny, futuristic skyscrapers along a winding river — Shanghai's familiar cityscape. Viewers whoop — it's a reminder that next year they won't need to watch the competition in a café, as The International will be coming to Shanghai's 183,000-seat Mercedes-Benz Arena.
On screen, the China team — known by their handles Ame, Somnus M, Chalice, fy, and xNova and each wearing their team's red Nike jersey emblazoned with the Paris Saint-Germain logo — enter Vancouver's Rogers Arena to thunderous applause. As the game begins, a nervous hush settles over the café. Gradually, the fans get louder as PSG.LGD gains the upper hand. With enemy heroes falling, the audience roars like spectators of dueling gladiators. "All must die! All must die!" cries Zuo as the opposing team's remaining heroes flee.
PSG.LGD wins two rounds in a row against Evil Geniuses, securing their place in the finals. Morale in the café is up, but everyone knows it's far too early to celebrate — the biggest match is yet to come.
It is now 4 o'clock in the morning, and the fans have another hour to wait before the finals. At 18, Han Xiao is one of the youngest at the event. He's traveled 100 kilometers from Hefei, in neighboring Anhui province. A dedicated player of the original "Dota," or "Defense of the Ancients," he often takes part in informal esports tournaments. "I'm feeling good, I'm not tired," Han says. Ten minutes later, he's fast asleep.
Outside, the sun is beginning to rise, turning the sky a lighter shade of yellow. It starts to drizzle. The finals are about to kick off.
PSG.LGD lose their first game against OG but come out on top in the next two. Just one more win and the trophy is theirs. In game four, PSG.LGD start strong but make tactical errors at crucial moments. Around the room, fans are locked in a state of anxiety: They're perched on the edge of their seats, arms folded, some with hands over their mouths.
This is what esports fandom looks like in 2018. If you weren't paying attention, you might mistake the scene for fans watching an intense game of soccer.
PSG.LGD loses, meaning the final round will decide the tournament winner.
"I feel ill. It was so close," Qian says of the tight fourth match. He bows his head, hands clasped, apparently praying for PSG.LGD. He looks drained but still picks up the mic, attempting to rally the troops.
"Laogandie!" he shouts, as the mic cuts in and out.
"You can do it!" the audience cries back.
"Paris Saint-Germain!" he screams again.
"Dong, dong, dong!" they cry back, mimicking the beat of a drum.
"Who is the champion?"
"Laogandie!"
As if they can hear the cheers from back home, PSG.LGD start out well, landing a succession of early kills. In the café, the fans stand, cheering deliriously as their team's lead increases. But once again, against all odds, OG take control, pushing deeper into PSG.LGD's territory. After a protracted struggle, OG destroy PSG.LGD's stronghold. OG have won the tournament.
It's now past 11 in the morning — over 12 hours since the first guests arrived — and the room is full of anguished faces. Occasionally, someone lets out an exasperated moan. Before the European victors collect their trophy, the livestream is abruptly cut off, and the sullen spectators file out of the venue. Wait staff, weary after the overnight shift, wander around cleaning up the night's spoils: coke cans, uneaten watermelon slices, and plastic cups that were once filled with sweet fruit tea or beer. After the competition, the coach of PSG.LGD posts a single English word on his Weibo microblog: "Sorry."
Soon, Qian is the only fan left in the café. Two nights of no sleep have taken their toll. He shrugs his shoulders, and a few seconds pass before any words come out.
"There's always next year," he says with a sigh. "They won't let us down. It's right on our doorstep."
Editor: Julia Hollingsworth.
(Header image: 'Dota 2' fans watch an international esports competition at a viewing party in Nanjing, Jiangsu province, Aug. 26, 2018. Kenrick Davis/Sixth Tone)