China's most downloaded free app this week isn't a fun game or a well-known platform: It's a new messaging service by cellphone maker Smartisan that appears to be trying to challenge WeChat's dominance.
Zidan Duanxin, or "Bullet Messaging," was launched on Aug. 20, and has prompted discussion over whether it could topple WeChat, China's ubiquitous messaging app, from its title of most popular social messaging platform. Since its launch, Zidan Duanxin has ranked among the Chinese iOS App Store's most downloaded free apps — and when Sixth Tone checked on Wednesday, it was still at No. 1. On Tuesday, Smartisan confirmed to Sixth Tone that its app had scored 150 million yuan ($22 million) in its first round of funding.
Zidan Duanxin promotes itself as "fast as a bullet" and "born for efficient communication." The app, which has a blue-and-white logo that mimics Facebook Messenger, appears to have solved some common complaints with WeChat. The app's main selling point is its automatic voice-to-text function, supported by voice recognition company iFlytek, which converts voice messages to text. Users on WeChat have to complete an additional step: They need to first click the transcription button to see the text.
The voice messages also have an audio progress bar allowing users to jump ahead in a message rather than having to listen to the whole voice message again — a common problem on WeChat, where messages can last for up to one minute. Users can also send voice messages without clicking into a specific chat by clicking a small microphone icon next to the recipient's name. The app even has a function to remind a user who a particular contact is by displaying their first messages exchanged.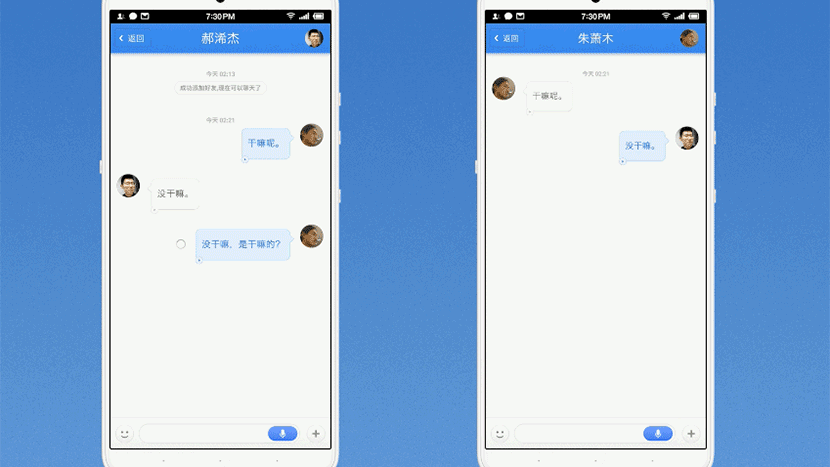 Combined screenshots demonstrate Zidan Duanxin's voice-to-text feature. From Smartisan's official website
As for why the app is suddenly in the spotlight, it could be thanks to Luo Yonghao, the outspoken founder of Smartisan who has inspired a fandom. Luo has 15 million followers on microblogging platform Weibo, and his brand's loyal fans were among the pilot Zidan Duanxin users. In 2016, iFlytek's voice input app went viral on social media and soared to the top of the most downloaded free apps list after Luo demonstrated how to use it at a product launch conference.
The new app is aimed at a specific group of people rather than at "challenging WeChat," Luo wrote in a Weibo post on Aug. 24. "We are creating a niche product for people who care about the efficiency of communication," he wrote.
Zidan Duanxin will also include a payment feature from Alipay, the mobile payment rival of Tencent's WeChat Pay, Luo announced on Aug. 25. In a statement to Sixth Tone, Alibaba affiliate Ant Financial said that "as an open platform, Alipay welcomes all eligible businesses to incorporate Alipay solutions into their products and services."
Xu Wentao, an insurance agent and Smartisan phone user living in Shanghai, has downloaded the app. "Zidan Duanxin embodies Smartisan's style of caring about details and user experience, and it's easy-to-use," he told Sixth Tone. "It's a very familiar feeling to 'Smartisan friends,'" he added, referring to the company's fans. But Xu barely uses the app, he says, in part because it still looks like an unfinished product with room for improvement.
But challenging WeChat is likely to be an uphill battle for Zidan Duanxin, as the larger service boasts over 1 billion monthly users, and hosts other apps including bike-sharing and food delivery platforms, making it an indispensable tool in everyday Chinese life.
"Zidan Duanxin is offering another option for users, but the chance of the app shaking WeChat's dominance is slim," wrote Jiang Jialin and Lai Peng, internet analysts at brokerage Industrial Securities. Although the app offers some improvements on WeChat, it will be hard to foster social connections if there is no function for sharing photos and updates like WeChat Moments, they said, adding that the app's next step should be to inspire users to socialize and share — "otherwise," they warned, "Zidan Duanxin will just be a flash in the pan."
Editor: Julia Hollingsworth.
(Header image: A mobile phone user tests the voice-to-text function of the new Zidan Duanxin messaging app in Shanghai, Aug. 28, 2018. IC)