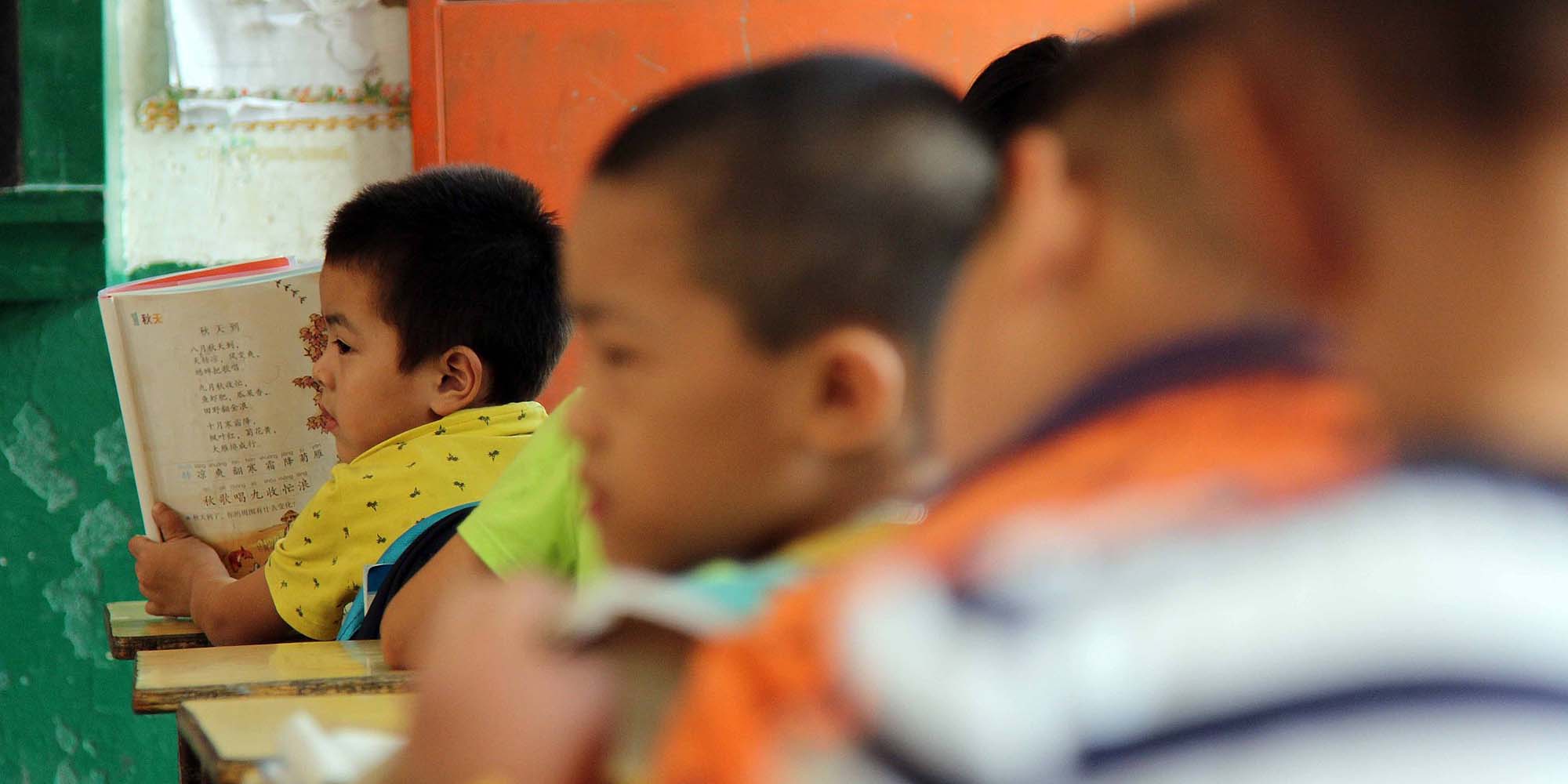 NEWS
Elite School Literally Divided Over Incoming Migrant Students
Primary school's parents aren't happy about sharing the campus with migrant workers' children.
A century-old primary school in eastern China has divided its campus in two, Sixth Tone's sister publication The Paper reported Friday: One side is for 800 children from migrant families, the other for 400 children whose parents own expensive apartments within the elite school district.
The decision to physically segregate the school in Suzhou, Jiangsu province, follows parents' complaints of their children having to share precious educational resources with the new arrivals from lower-class households. These 800 students, most of whom are between the ages of 8 and 12, previously attended Lixin Primary School, a private school that catered chiefly to the children of migrant workers. But when Lixin's land lease expired in June 2017, the school did not move or even try to find another site. Eventually, the land's owner, a local education investment company, sued the school. In July 2018, a court sided with the plaintiff and ordered Lixin to leave the premises.
The students, meanwhile, had to continue their schooling somewhere — China's compulsory education period extends through ninth grade — and so the Gusu District culture and education committee reassigned the children to Qinxi Experimental Primary School. Founded in 1906, Qinxi was shut down in 2008 but reopened at a new site years later, in 2016. It so happened that Qinxi was the closest school to Lixin with enough space to accommodate so many additional students.
But these students' free entry into the public school system — which would otherwise have been off-limits to them because their parents don't hold local household registration documents — has caused problems. Beginning Aug. 20, news that migrant children would study on Qinxi's campus began circulating among the parents of currently enrolled students via online chat groups, prompting vocal opposition.
In China, children are assigned to public schools based on the proximity of their family's home. But over-eager parents hoping to secure spots for their children at elite public schools have shown a tendency to snatch up properties — even uninhabitable spaces — in desirable school districts, driving up property prices and prompting officials in major cities like Beijing to introduce stricter homebuying policies.
In this case, many of the affluent couples who purchased real estate within the Qinxi school district — where the average home sells for 30,000 yuan ($4,400) per square meter, according to parents interviewed by The Paper — feel cheated at having to share their school with migrant children.
"During [Qinxi's] enrollment process, the school required both the property ownership certificate and household registration. We appreciated the strict enrollment requirements, as we believed they would provide a better academic opportunity for our child," the 34-year-old mother of a Qinxi student told Sixth Tone. "But now, they're letting unqualified students in. If we had known earlier that this would happen, we would never have chosen Qinxi." The woman refused to give her name, fearing negative repercussions for her child.
Many Qinxi parents have voiced similar grievances. Another mother, surnamed Liu, told The Paper that she couldn't believe the school "broke the rules" to take in hundreds of migrant children living 5 kilometers away. "It's unfair to us and the other parents [who purchased homes in this school district]," she said.
The school has promised to set up high barriers to keep the campus segregated, and even assured parents that the students will use communal facilities, such as the playground, at different times.
Since last week, the case has attracted wide attention online, with many netizens criticizing the Qinxi parents for socioeconomic discrimination. "A household registration became a Berlin Wall for segregating different classes," wrote one user on microblogging platform Weibo. Others online, meanwhile, sympathized with the Qinxi parents' indignation. "They spent two generations' savings to purchase a school district apartment to get [their kid] into a reputable school legitimately," wrote another Weibo user. "But in the end, they found that others were admitted to the same school without any restrictions. How could they feel this was fair?"
Jiang Lijun, Qinxi's principal, told The Paper that by enrolling the 800 migrant children, the school aimed to "guarantee all the students' rights to an education," and that she hoped the parents of current students would understand and support the decision.
Editor: David Paulk.
(Header image: Students attend class at a primary school for children of migrant workers in Quanzhou, Fujian province, Sept. 5, 2013. VCG)