When Tropical Storm Rumbia inundated the peninsula of eastern China's Shandong province with heavy rainfall this week, it raised not only the water level in the city of Shouguang, but also questions surrounding the local authorities' decision to open three dams upstream.
Shouguang, a coastal city in northern Shandong through which the Mi River flows on its way to the Bohai Sea, saw immense precipitation on Sunday, after Rumbia moved northeast from central Henan province into Shandong. The local meteorological bureau predicted the storm would bring at least 100 millimeters of rainfall, and issued a series of weather alerts on Sunday.
On Sunday evening, three reservoirs upstream of Shouguang released 320 square meters of water per second into the Mi River, according to local media. The deluge from the dams was gradually reduced until Tuesday evening, when all three stopped releasing water. This, combined with the pouring rain, raised the water level of the Mi River in Shouguang to its highest point since 1974.
Several smaller dams in and around Shouguang collapsed, and the low-lying city — as well as farmland and homes in over 60 communities — was soon flooded. While the local government began evacuating residents on Sunday night, many weren't able to save their properties, and watched helplessly as their villages became lakes.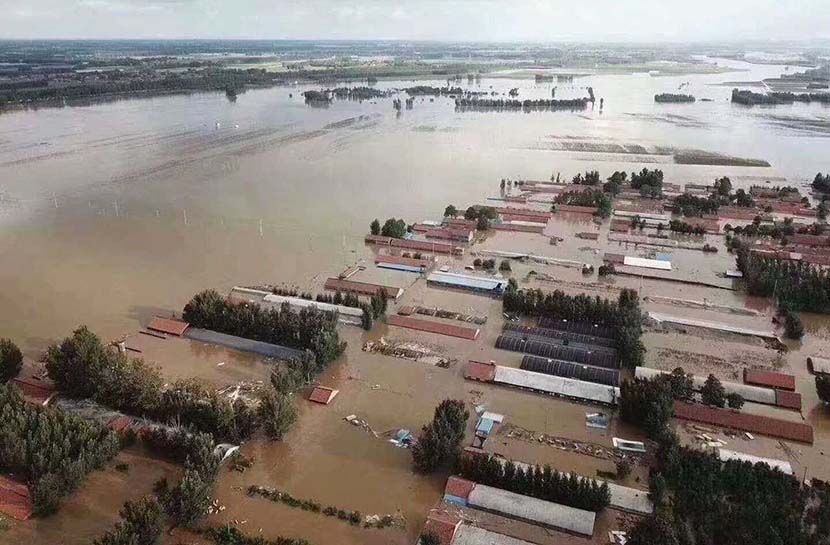 Homes are submerged by floodwaters in Shouguang, Shandong province, August 2018. Courtesy of Bai Xue
Bai Xue, the pseudonym of a Shouguang resident who organized a volunteer group on Tuesday to raise money for and deliver supplies to the flood victims, spoke to Sixth Tone by phone on Friday morning as she traveled to an affected area. For some villagers, she said, "everything is gone." Bai requested a pseudonym because she didn't want recognition for trying to help.
Bai said entire buildings were submerged in some places, and though the flooding had subsided since earlier in the week, the water was still thigh-high in some villages, and furniture and appliances were still floating in people's homes. "Blankets are what we need most now," she said. "Most of them are soaked with water."
Photos and videos circulating online show only the rooftops of some homes visible above the floodwaters. Party newspaper People's Daily reported Thursday that 10,335 homes had been flooded beyond repair in Weifang, the city that administers Shouguang.
In addition to property, the villagers' livelihoods are also threatened. "The corn was ripening, and the autumn harvest was about to come," Bai said. "Now, it's all underwater."
With a reputation as the county's fertile breadbasket, Shouguang and about 70 percent of its 1 million residents rely on farming to survive. By Wednesday, the flooding of greenhouses and farmland in Weifang and its administrative area, including Shouguang, had resulted in an economic loss of 4.5 billion yuan ($657,000). Flooded farms have caused the cost of vegetables to skyrocket at local markets. The price of coriander, for example, has risen to 80 yuan per kilogram — around three times the price of pork.
The local livestock industry is also facing a crisis. Local media reported Thursday that in just one village, nearly 20,000 pigs had drowned or been swept away by the torrent, affecting around 90 families of farmers.
Netizens from Shouguang are furious with the local government for opening the dams and releasing water from the reservoirs, as well as its claim that the typhoon was largely responsible for their losses. "A 'natural disaster'? " wrote one user on microblogging site Weibo. "You can't blame everything on nature."
When asked on Thursday why the upstream reservoirs had not released more water before the typhoon hit, Lin Rongjun, a spokesperson for Shandong's flood control and drought relief headquarters, told The Paper, Sixth Tone's sister publication, that water had to be conserved for the upcoming dry season, which typically lasts from September to the following spring. An employee at Yeyuan Reservoir, one of the three reservoirs from which water had been released, told The Paper on Wednesday that this year's flood season had begun earlier than usual, and that she "didn't expect the problem to be so severe," as she was used to discharging water whenever the reservoir reached its alert level.
Zhang Zhenju, deputy director of Shanghai's flood control headquarters, told Sixth Tone that a lack of preparedness on the government's side had led to the losses. "Shandong typically sees long periods of little or no rainfall," he explained. "So when all of a sudden it went from drought to flood, neither local governments nor residents were prepared." Zhang added that while releasing water should be a solution of last resort, not doing so could also lead to more severe problems, like the complete collapse of a dam.
Zhang said Shandong's hydraulic and meteorological departments should work together to increase the accuracy of their predictions and maintain an open communication flow. "This is a nationwide problem we are facing," he said, referring to inaccurate forecasting and poor communication.
Six years ago, a similar flood occurred in Shouguang when Typhoon Damrey ravaged the region. Then, too, residents and media questioned the timing of dams releasing water from their reservoirs.
Zhang said the local authorities should also conduct disaster drills more frequently, and educate residents of the danger posed by floods. "Many people are reluctant to relocate because they underestimate the danger, so it takes longer to persuade them," he said. On the plains that cover much of Shandong, where moving around is easier, local authorities should notify residents to evacuate at least six hours in advance of a flood, according to Zhang.
In China, the flooding of riverside lands — referred to as "flood-control areas" — has been a recurring issue. These areas are usually impoverished, as frequent flooding cause great material damage every few years. Chinese law requires local governments to educate residents about flood risks and establish a comprehensive mechanism for predicting natural disasters, as well as educating, evacuating, and compensating residents. Yet in practice, evacuation and compensation plans don't always go according to plan.
The flood has killed 13 people within Weifang's administrative region, and three people remained missing as of Thursday evening, according to the municipal government. Nine of the deceased had drowned in their cars, and two Shouguang police officers who were on their way to rescue a stranded resident are among the missing.
The villagers who fled to higher ground are gradually returning to their wet homes, wet beds, and wet crops, according to Bai — but many are returning to nothing at all. "The villagers are devastated, and they don't know who to blame," she said. "All they can do is wonder: Why has God done this to us?"
Correction: A previous version of this story incorrectly classified the severity of the disaster emergency response in Weifang. This article also now includes an updated figure for the number of damaged homes in the city's administrative area.
Editor: David Paulk.
(Header image: A villager walks by his home after heavy rains in Shouguang, Shandong province, Aug. 23, 2018. Zhu Wenbo for Sixth Tone)