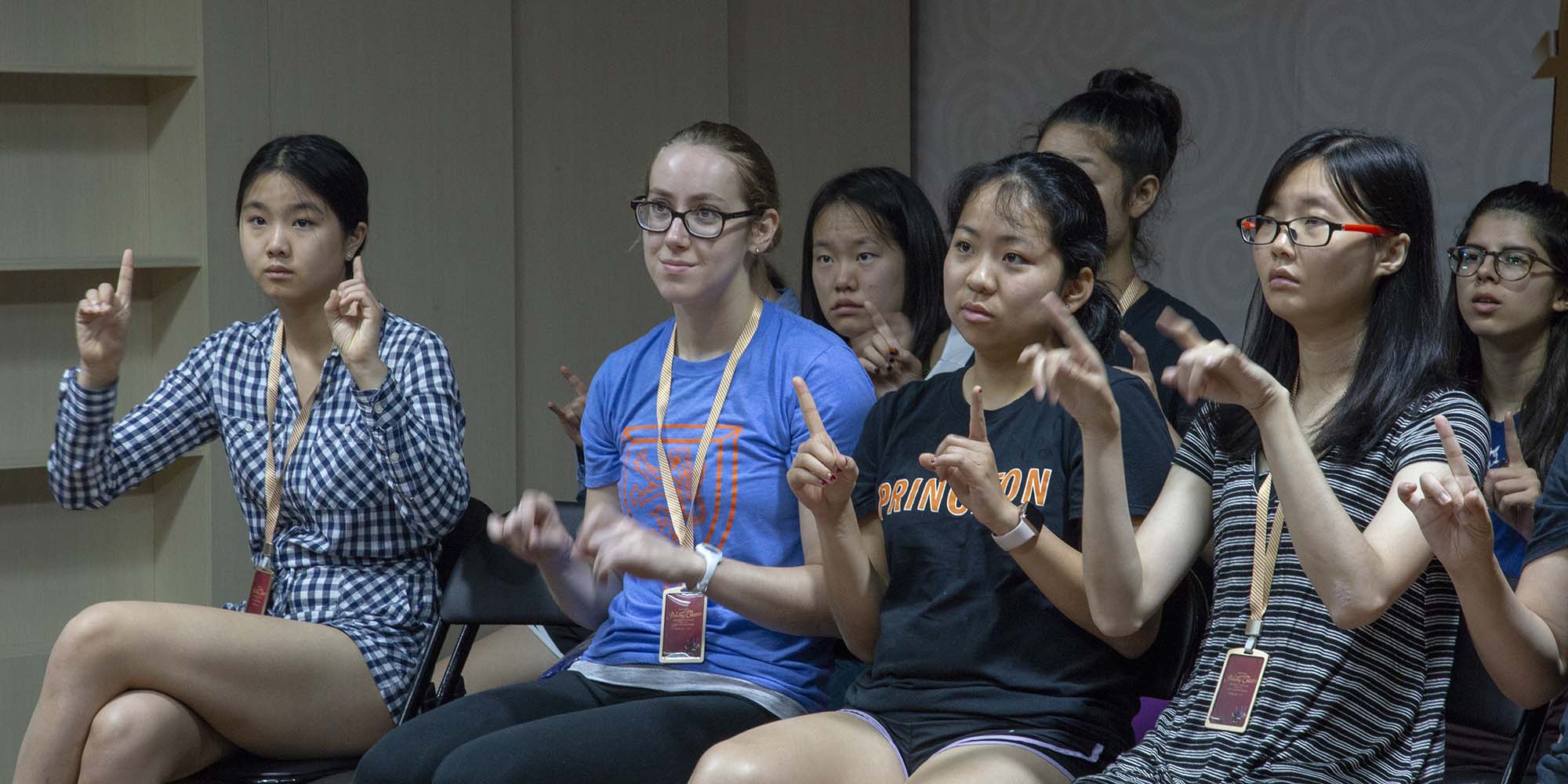 NEWS
First Foreign Students Join Peking Opera 'Immersion Program'
Nineteen students from Princeton University have joined Shanghai Peking Opera Company's three-week intensive Peking opera course.
SHANGHAI — Princeton University undergraduate Kathy Zhang has spent three years poring over classics textbooks, but on Monday morning, she started a class of a different kind: Peking opera.
From Aug. 20 to Sept. 7, Shanghai Peking Opera Company (SPOC) is holding a three-week cultural immersion program for 19 students from the elite American university, along with their three professors, taught by some of China's most renowned masters of the art. The apprentices' schedule is intensive: They will study the ancient Chinese art from 9 a.m. to around 5 p.m., five days a week. From song, soliloquy, drama, dance, combat, and instruments — all common elements of Peking opera — the students will choose at least one to specialize in during their training. Then, when they return to the U.S. at the end of the course, they will showcase their new talents in a performance for their Princeton peers.
Founded in 1955, SPOC has run a cultural immersion program called "Follow Me" for the past 10 years, training over 6,000 students. This year marks the first time the company has opened the program to foreign participants.
The formal training began the next day, on Aug. 21. Female students learned to use their fingers to theatrically express emotions, and to flip their long sleeves in a manner unique to Chinese dance. The boys, meanwhile, practiced their postures, their feet held perfectly perpendicular to one another.
Following his teacher's direction, Calvin Van Zytveld lifted his right arm, clenched his hands into fists, and bugged out his eyes while quickly turning his head to face an imaginary audience, his "beautiful posture" earning praise from his teacher.
A cellist studying music theory at Princeton, Van Zytveld first encountered Peking opera in Changsha, the capital of central Hunan Province, where he his father taught English at Hunan Normal University. Driven by his interest in both China and music, Van Zytveld applied for the Peking opera program in the spring. It didn't hurt that he wasn't expected to foot the bill: SPOC pays for the students to stay at a nearby hotel, and Princeton awarded them scholarships that cover travel, tuition, and meals.
Van Zytveld told Sixth Tone that the program is open to students from all majors and academic backgrounds. This year's participants, for example, are studying international relations, classics, computer science, math, and aerospace engineering.
Jenny Liu, who coordinates the Peking opera immersion program for Princeton, told Sixth Tone that participants are expected to speak intermediate-level Mandarin, the language in which the course is taught. Experience singing, dancing, or acting is also a plus.
Named a UNESCO Intangible Cultural Heritage in 2010, Peking opera is one of the many ways China exerts soft power — or expands its cultural and economic influence — in the international community, and particularly the West. In the fall of 2017, SPOC traveled to Princeton, New Jersey, to perform "Farewell My Concubine," a popular Chinese drama. "It caused quite a sensation on campus," said Liu. "All 800 tickets sold out in three days." The 1993 film "Farewell My Concubine" — which depicts a love story between two male Peking opera actors — was pulled from cinemas in Beijing after only a single screening.
"The arts are a medium for reaching all different kinds of students," Shi Yihong, a well-known Peking opera performer and an actor in the "Farewell My Concubine" troupe that performed at Princeton, told reporters on Monday. "The gap between Eastern and Western cultures is narrowing."
Editor: David Paulk.
(Header image: Students from Princeton University practice finger movements on the first day of the three-week Peking opera 'immersion course' in Shanghai, August 2018. Xi Yue for Sixth Tone)