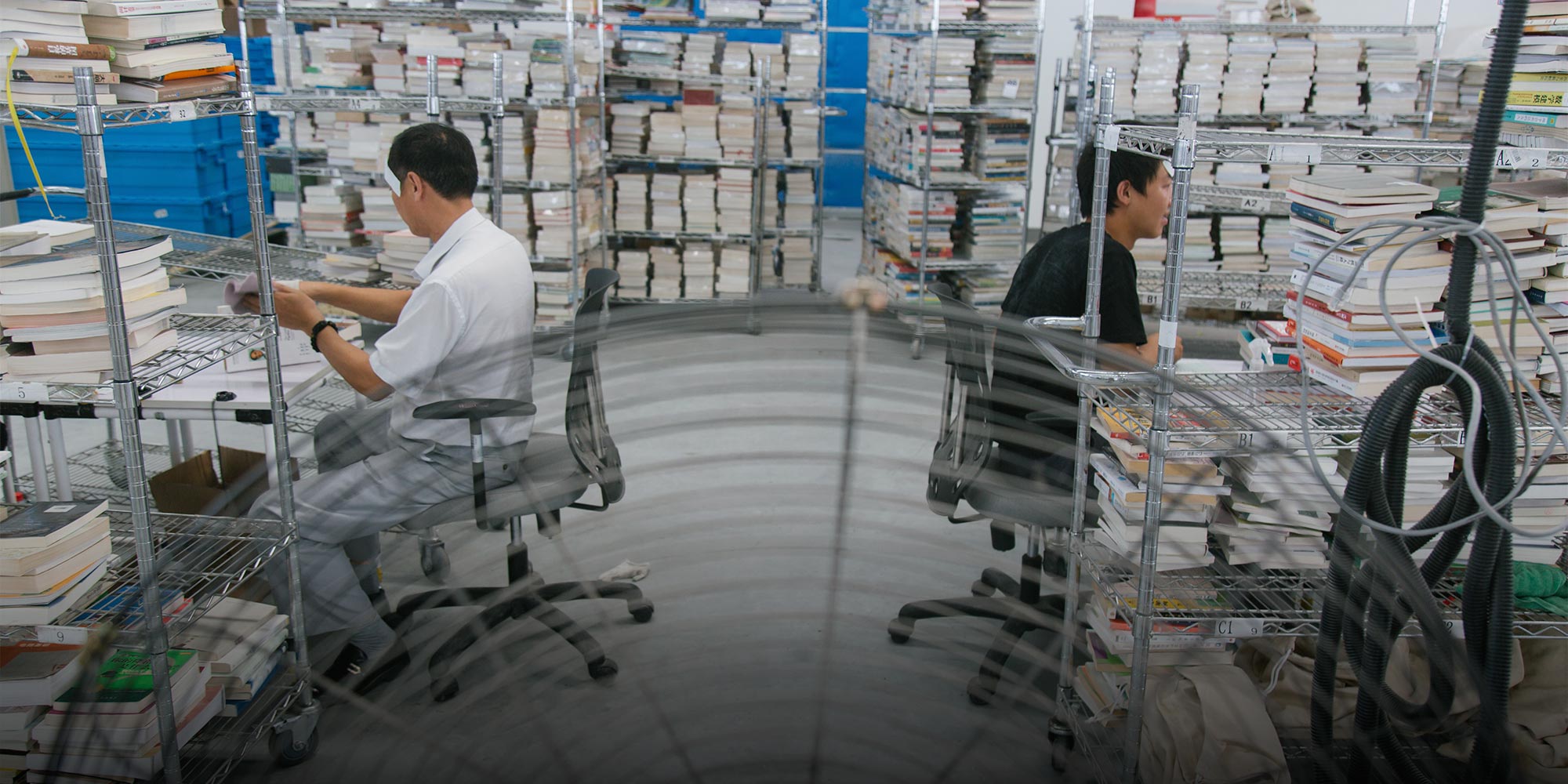 FEATURES
New App for Old Books Finds Frugal Following
With second-hand books, Déjà Vu offers a consumption downgrade to price-conscious urbanites.
TIANJIN, North China — Secondhand books are perhaps an unlikely commodity for a 21st-century tech startup. But Déjà Vu — which buys, cleans, and sells used books — is thriving. As fans turn mostly for show in the stifling August heat, employees in the company's warehouse work among countless stacks of books, some evaluating new arrivals, others sitting behind specially designed desks and sanding off smudges, still others packaging orders. Every day, they process some 12,000 books.
China is the world's second-largest book market by revenue after the United States, according to 2015 data from the International Publishers Association — and it's still growing fast. In 2017, sales reached 80 billion yuan ($11.7 billion), an increase of 15 percent from the previous year. But the secondhand book market is tiny, made up of hard-to-find and semilegal shops, niche websites for collectibles, or online marketplaces where people trade in anything — including scams. People cleaning out their bookshelves have few options beyond selling to trash collectors for petty cash.
On Déjà Vu, selling books is nearly effortless. Users can sell an unwanted title by using their phone to scan the bar code of its ISBN, or International Standard Book Number. Based on supply and demand for that particular book, the app then spits out a price — usually between 10 and 30 percent of what it might cost new. If the user agrees, a courier will come by to pick it up.
Zou Jian, a 26-year-old doctoral student, sold six books to Déjà Vu in July, when his family moved to a new home. "I wasn't sure what to do, until Déjà Vu came to mind," Zou says, adding that he had read about the platform on social media. He earned 65.60 yuan — not much, but enough to make it worth his while. "I think people with a lot of books may not care how much they can be sold for, but they would worry about how to get the books to people who need them," he says.
Déjà Vu's popularity comes in part from taking secondhand book-dealing into the age of the smartphone, and in part from giving users the feeling that by selling books, they can share their love of reading. There might also be economic reasons: The price of new books has gone up considerably in recent years due to stricter environmental oversight of the recycling industry raising the cost of paper. And budget-friendly options are increasingly in vogue as Chinese city life becomes more expensive.
Most books offered on Déjà Vu are Chinese, but some are Western best-sellers such as Arthur C. Clarke's sci-fi classic "2001: A Space Odyssey," which Déjà Vu sells for 30 yuan, or 40 percent off its retail price. Among the most popular books is Margaret Atwood's "The Handmaid's Tale," whose Hulu-produced series has a devout following in China, despite not having an official domestic broadcaster. At 77 yuan, it costs almost as much as a new copy. Highly coveted out-of-print titles are particularly expensive.
Since Déjà Vu's inception in the spring of 2017, it has "recycled" a million books, according to the company. Sellers are mostly between 25 and 35 years old; buyers are a decade younger. It has over half a million followers on WeChat, the social media app through which Déjà Vu can be accessed as a mini app. According to tech news outlet 36Kr, Déjà Vu received 30 million yuan of venture capital from several investors in December, followed by another investment round this year from tech giant Tencent. It has also spawned several copycat apps.
"Compared with individuals trying to sell things on other secondhand websites, Déjà Vu can solve the problem of trust and increase efficiency," founder and CEO Wei Ying tells Sixth Tone in the company's Beijing office. (As a lover of Japanese culture and the internet, Wei, 32, insists on using her online nickname "Nekosuke" both at work and with media — it means "an ordinary cat" in Japanese.)
Nekosuke was inspired when, while traveling in Japan, she walked into a Book Off store, a secondhand book chain established in 1991 that now counts 800 locations across Japan. She decided to copy the business model but forego the brick-and-mortar shops in favor of an online space. As with Japan in the '90s, Nekosuke believes China is entering a phase of slowing economic growth during which consumers will rethink their behavior.
While most Chinese people are still yearning to buy more things and companies are still eager to provide a consumption upgrade, a counterculture is emerging among the urban middle class. With ever-increasing housing prices and other costs, people look for consumption downgrades — making their own coffee instead of going to Starbucks, avoiding designer brands, and buying secondhand. Earlier this month, a Beijing-based literature lover was quoted by an online media outlet as saying that rising rent prices had forced him to reconsider his book budget, despite him earning 400,000 yuan a year. "My income is not low, right? Why do I have to hesitate, even when I'm just buying books?" he wondered.
"We are definitely against consumerism," Nekosuke says, adding that long-term plans include trading secondhand furniture and other durables. "By recycling, people can purchase good-quality products at lower prices, instead of buying cheap fake ones," she says.
Déjà Vu rejects what it calls "bad-quality" books, such as those that promote self-help tips or medical treatments that aren't based on science. But sometimes the algorithms fail and the company ends up receiving a lemon. There's no way to tell the amount of wear and tear when a user scans the ISBN, and 2 percent of books are returned to sender because they are believed to be fake.
Yang Yuqing, a former bookseller, is the piracy expert in Déjà Vu's warehouse. He maintains his own database on how to spot common fakes and trains colleagues in the "10 typical ways to tell," such as paper bands with advertisements and reviews that are printed directly onto the cover. English books are less often pirated, but best-sellers are the exception. "One easy way to tell is that some printers of pirated English books put pinyin or even Chinese characters on the back cover, in case they themselves don't know what the book really is," Yang says, showing a Penguin paperback of Gabriel García Márquez's "One Hundred Years of Solitude" with its Chinese transliteration, "Bai Nian Gu Du," on the back.
With a founding team from Q&A site Zhihu and book and movie review site Douban — which both attract young and well-educated users — Déjà Vu is good at fostering a community atmosphere among its customers, who may receive recommendations from user-contributed book lists with titles such as "Manga for Adults" and "Books You Should Never Read." In May, the platform called for feedback from its users — whom it calls "mental shareholders" — and put some of the more than 5,000 suggestions into practice. For example, users can now pay a deposit to keep a book in the warehouse for up to 10 days and wait for other good titles to become available so they can save on delivery costs.
Luo Xuewei, an editor at Thinkingdom Media Group Ltd., a major Chinese publisher, says most of her colleagues are enthusiastic about Déjà Vu, though she thinks that one platform can only bring so much change. "That Japan has so many stores for old books is thanks to its prospering publishing industry," she says. "In China we're still far away from that."
But brick-and-mortar secondhand bookstores find it hard to operate in China. Lu Yi, the owner of a secondhand bookstore in Shanghai called Mephisto, mostly stocks literature and books on politics. He has had to move three times since his store opened in 2015, as former landlords decided to sell the apartments he had used for his business. Now located on the fourth floor of a quiet residential building in central Shanghai, the bookstore is also his home. His 14-month-old boy is learning to walk amid works by Lu Xun and Karl Marx.
Like most secondhand bookstores in Shanghai, Lu didn't get a proper business registration. (Déjà Vu does have one.) According to him, authorities are wary of secondhand books because oversight is more difficult: The government regulates the publishing industry as closely as it does the media, but it cannot easily control the secondhand market. Déjà Vu avoids sensitive titles by refusing any books that aren't listed on Douban or Xinhua — a government-backed bookstore chain — as well as those published before the 1980s, which lack ISBN bar codes.
Lu is skeptical about Déjà Vu's business model. "How can a computer decide what you should read while their people are busy cleaning books? Their books have no character," Lu says. But despite his doubts, he agrees it's good that there are more ways to trade secondhand material. And, he says, he plans to sell a few books on Déjà Vu himself.
Editor: Kevin Schoenmakers.
(Header image: Déjà Vu employees clean books in the company's warehouse in Tianjin. July 31, 2018. Wu Huiyuan/Sixth Tone)