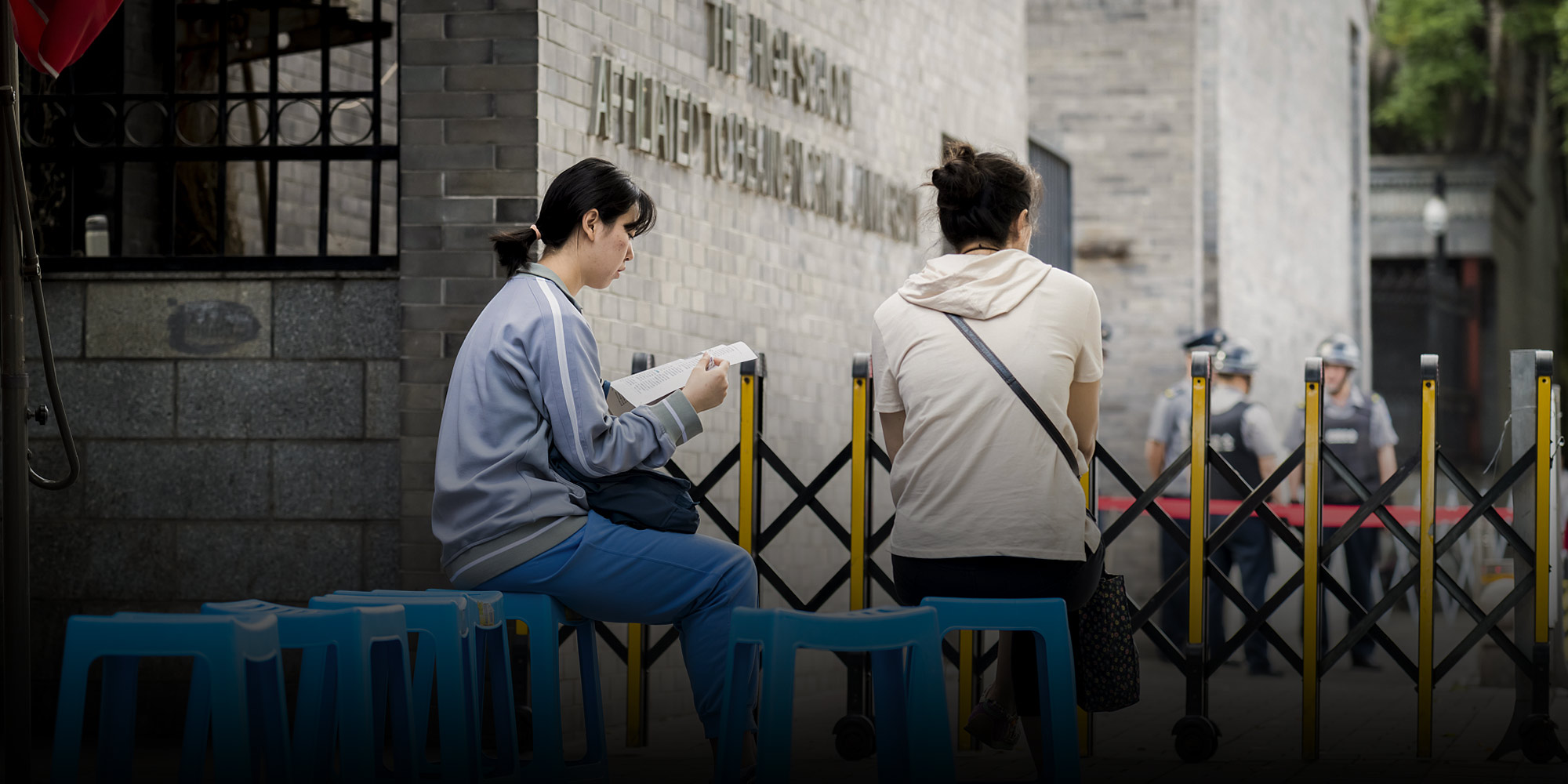 VOICES & OPINION
How China's Middle-Class Moms Became Their Kids' 'Agents'
The shortcomings of state schooling are making mothers swot up on intricate local education policies.
Last month, Chinese news outlets rushed to publish the names of children who scored top marks on the gaokao, the nation's famously tough college entrance exam. But I remember how, in July 2016, another list was making the rounds: the 51 extracurricular courses — including literature classes, physics competitions, intensive math — that Beijing's top gaokao student had taken in the preceding six years at a private teaching organization, along with who had taught him.
The revelation of this teacher caught the attention of Yu Mei — a pseudonym — whose son was then a seventh-grade student in Beijing. Although her kid had several years to go before he applied to university, Yu was hoping to get him a head start on the competition. Hurriedly, she rang the abovementioned tutoring company and tried to sign up her son for the same literature class as Beijing's top-ranking student. But she was too late: The classes were already full.
"Shadow education" — extracurricular classes that reinforce existing school curriculums — is extremely popular among urban, middle-class Chinese parents. Last year, the after-school tutoring market for primary and secondary school students was worth 624 billion yuan ($93.2 billion), according to an influential industry report. And most companies are targeting one consumer group: moms.
Fierce competition for university places in China is a key factor behind the growth of shadow education. But there is another cause, too. The country's creeping privatization of educational services is changing the relationship between the state and families. Unconvinced that admission to a good college is obtainable within the state education system, more and more families are turning to private companies to pick up the slack.
Prior to the sweeping economic reforms that transformed China in the 1980s, the state supported the care and education of urban children. The work unit system organized families around a particular industry and location — for example, a coal plant — and often set up schools and daycare centers on-site or cooperated with existing public institutions. Private schools, meanwhile, were virtually nonexistent. This relieved, to some extent, mothers who were expected to both work and raise families.
But systemic reforms during the 1980s abolished the work unit system, taking with it the benefits in education and child care. As the state receded from public life, individual families took on more responsibility for their children's education. And because Chinese mothers disproportionately shoulder the burden of bringing up the kids, they then had the additional job of shaping their children's academic lives.
Although many urban parents now share child care responsibilities more equitably than before, mothers remain predominantly in charge of managing their children's schooling. For many middle-class moms, their responsibilities have expanded so rapidly that they have more or less become their children's agents, representing their kids' educational interests in a hyper-competitive world.
As agents, mothers must build and maintain an information network, understand the educational services on the market and requirements of their children's target schools, schedule their children's study timetables, and organize their educational materials. The ultimate goal is to help their children land spots at prestigious high schools and colleges.
But you can't just throw money at shadow education and get effective teaching in return. The private market is minutely subdivided, and a multitude of courses exists even within the same subjects. Then come considerations about a child's compatibility with different companies' teaching styles and difficulty levels. Mothers must gather accurate information about all these educational products and weigh which is best-suited to their child's aims; it's not enough to pick a teacher at random and have things fall into place.
Zhang Jing, a mother whose daughter is in first grade, says: "Sorting through all these resources takes a huge amount of work. You have to figure out how to schedule classes, group students who are about the same level, and interact with other parents. And you have to learn to screen out scammers, too."
Ma Wei, the mother of a student at a top middle school in Beijing, is proud to say that her son, nicknamed Xiao Tao, possesses both upstanding virtues and excellent academics. Ma is not shy about claiming credit for both, saying that all of Xiao Tao's accomplishments are the fruit of her hard work.
"It all comes down to your powers of observation," Ma explains. "If you can figure out your children's interests, nature, and skills right away, then you can correct them. Schools are inherently different: Their approach relies on the teaching style of each teacher, and the quality can vary a lot. Mothers are constant; we will always be there. Getting to the root of a problem starts at home, not at uselessly pointing fingers around elsewhere."
For mother-agents, education grows more competitive by the day, and the secrets of getting into higher education seem ever-changing. Many mothers browse online education forums or parenting groups in order to understand the education policies of individual city districts, degree programs at specific universities, and real estate prices in school districts. They wade through an ocean of information on enrollment strategies, educational services, and academic requirements.
Mapping out their children's futures is an exhausting task. Yet mothers remain convinced that there is no way to ignore the social compulsion to burnish their kids' academic potentials in the private sphere. Despite the long hours, the lack of sleep, and the high stress levels to both them and their children, mothers draw contentment from the perception that they are doing right by their children, genuinely enjoy spending more time with their kids, and can bask in the reflected glory of their success.
Translator: Katherine Tse; editors: Wu Haiyun and Matthew Walsh.
(Header image: A student and her mother wait for the start of the college entrance exam outside a school in Beijing, June 7, 2018. Xu Cheng/VCG)