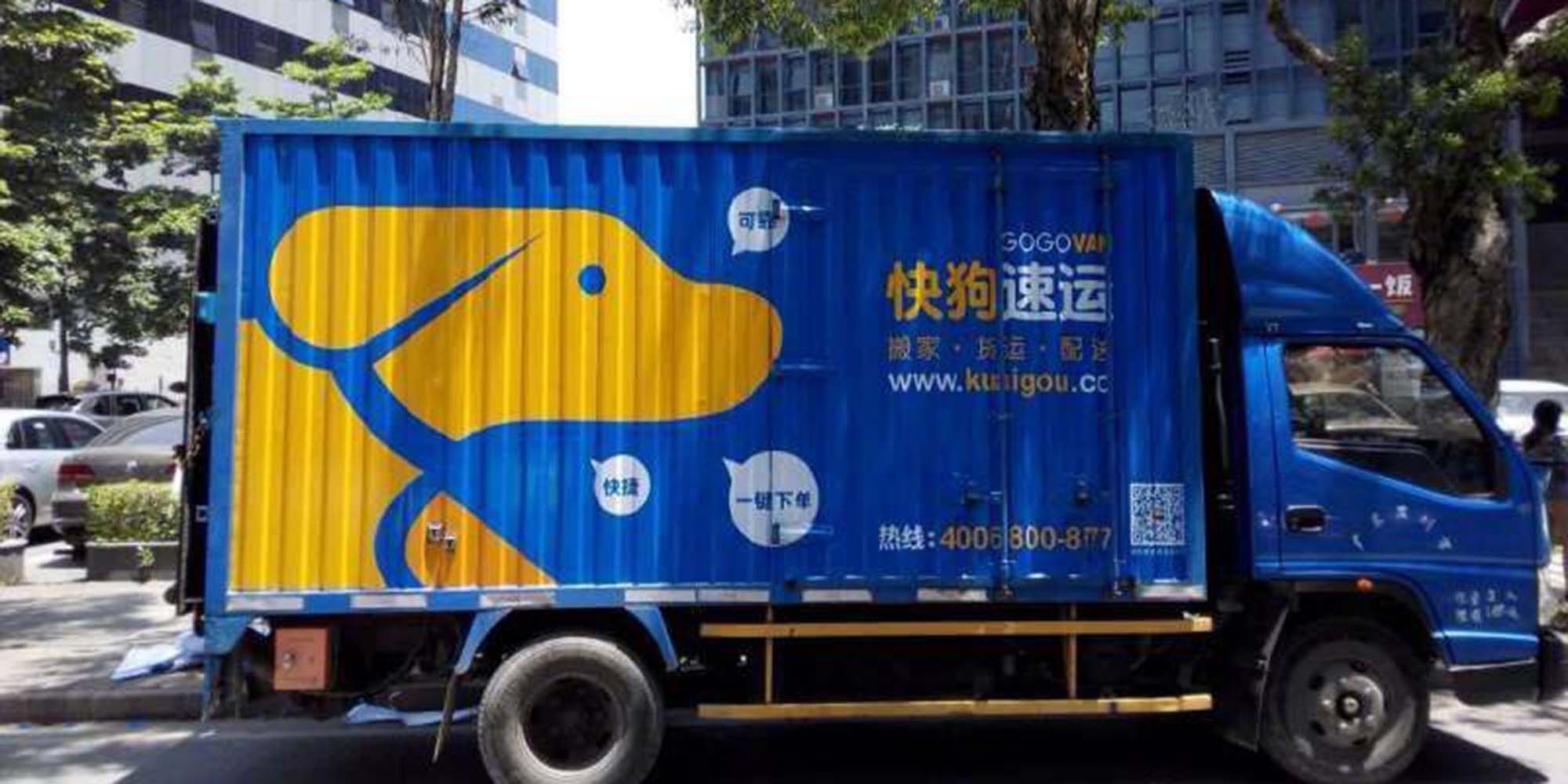 NEWS
'We're Not Dogs!' Say Truckers Protesting Company Name Change
Freight drivers say they'd prefer just about any other animal-themed name than 'Fast-Dog Delivery.'
The dog days of summer may be waning, but Chinese logistics company 58 Suyun is taking plenty of heat online after deciding to change its name to Kuaigou Dache, which roughly translates to "Fast-Dog Delivery." Almost immediately, the rebranding was lambasted by the company's truck drivers.
On Sunday, a video from a Chinese media outlet showed how freight drivers in Zhengzhou, capital of central China's Henan province, had gathered at 58 Suyun's branch office in the city to voice their opposition to the name change, announced on Aug. 17. Many drivers feel the new name has double meanings implying that either they themselves or the customers they serve are "dogs."
"It'd be acceptable even if they changed the name to 'a pack of wolves and tigers' — but why does it have to be dogs?" says one driver in the video. Although dogs are considered man's best friend in many Western cultures, the word can be insulting in China, where it is often interpreted as "lousy," "damned," or "low-status," depending on the context. In fact, many vulgar or derogatory terms in Chinese include "dog" for added malice. "Dog fart" in Chinese is equivalent to "bullshit," and calling someone a "mongrel" in China is akin to calling him a "bastard." Calling someone the son of a female dog, meanwhile, has the same excoriating effect in both China and the West.
"We have a fundamental dignity as human beings," says another driver in the video. Many of his peers have hung large red banners on the sides of their trucks bearing slogans opposing dog decals or canine-themed paint jobs being applied to the vehicles.
"If I call a client to check the [order] status, am I supposed to say, 'Hello, this is Fast Dog'?" asks another irate driver. "I can't say that! It would be cursing myself and the company!" Other drivers claim that some 58 Suyun customers have already insulted them since the rebranding by leaving comments such as "Send a 'dog' to pick up the goods" while ordering delivery service though the company's app.
On microblogging platform Weibo, netizens have joined the discussion surrounding 58 Suyun's new name, too, with many accusing the company of being inconsiderate and disrespectful. "There are so many names to choose from, so why did they have to pick this one?" commented one user. Some netizens have even wondered whether the drivers' protests might actually be part of a bizarre publicity stunt by 58 Suyun, pointing to web browser Sogou and music-streaming app Kugou — both of which have gou, the word for "dog," in their names — as examples of companies that haven't been criticized for their canine-inspired monikers. Still other netizens have called out the 58 Suyun customers who made fun of their drivers by calling them "dogs."
58 Suyun is not the first Chinese company to see pushback after incorporating an animal into its name. In November 2016, Alitrip, a travel-booking app owned by Chinese e-commerce giant Alibaba, was widely condemned by the country's Muslim community for renaming its app Fliggy — or "Flying Pig Travel" in Chinese. Under Islam and other major religions, pigs are considered unclean, and consuming pork is forbidden.
On Monday, 58 Suyun published a statement on its official WeChat page in response to the recent online discussion. The company explained that its new name, Fast-Dog Delivery, was actually being adopted from a Hong Kong logistics firm with a phonetically similar name that had merged with 58 Suyun in August of last year. The company added that while drivers would not have to drive "Fast-Dog" vans if they felt uncomfortable, it would continue to use the new name.
Beijing-based 58 Suyun, which means "58 transport" in Chinese, is the freight division of 58 Home, a subsidiary of New York-listed 58.com Inc. The company raised $250 million in its latest funding round, which concluded in July, and claims to have over a million registered drivers in six countries and regions, serving nearly 8 million customers in 339 cities.
Editor: David Paulk.
(Header image: A 58 Suyun truck bearing the canine logo of its new name, 'Fast-Dog Delivery,' August 2018. From Weibo account @新浪科技 )